New York artist and designer Sebastian ErraZuriz has created a sleek new piece of furniture which can be conceived into a cabinet. The Wave cabinet was inspired by a paper fan, and has a surface that can be waved back-and-forth and therefore can be considered a rudimentary fan which is made out of wood.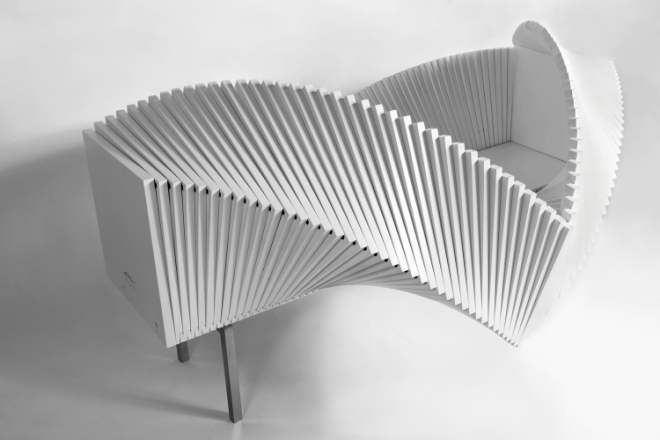 This Wave cabinet made out of lacquered baltic birch, steel and glass is mounted on hundred slats which can be considered to revolve around a pivot. Instead of it opening up like a conventional door, it can be opened up from any direction into a different pattern and closed when not in use which would then look like a rectangular box cabinet. Each wooden element is connected to the other, so moving one can ripple a chain of motion along the surface. The center is hollow, and the structure allows whatever you store inside to seemingly portray it into different style each time you open the cabinet. This can also be a highly decorative and desired object.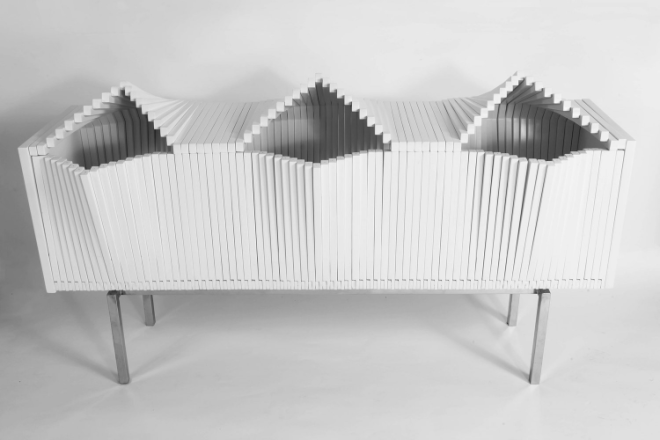 The designer has thus used his imagination as a tool to change our perspective through a simple but radical change in a process we're beginning to understand through advances in furniture design.
The New York based artist explains:
"I am inviting people to look at one of the simplest forms of furniture design and to forget that we're talking about furniture, instead to see it as a way of breaking a box. I love the idea of creating beautiful furniture; nevertheless I am much more interested in using the medium as an excuse to trigger people's curiosity and create a connection with them".This design encompasses the understanding of simple actions and reactions, an eloquent action but also more sophisticated understanding of intentions, such as determining whether or what the user can create out of his imagination.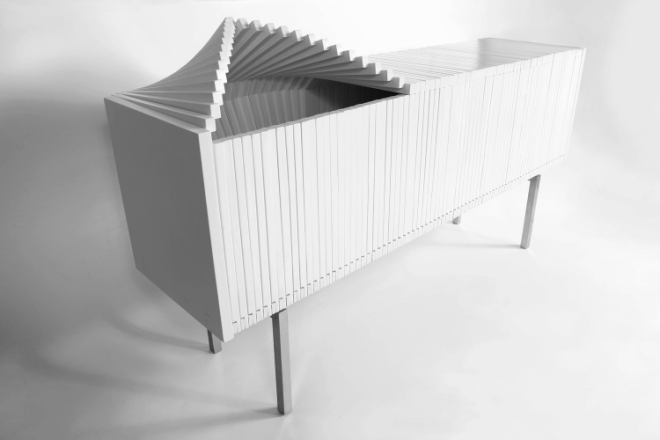 Imagination can thus provide us with rich lifelike experiences and with the designer's new design it will indeed give us a powerful opportunity to develop empathy and compassion so we can continually project our own sense of meaning onto people and things. But it can do even more: it can literally reshape and retrain our thinking and give it a new way of regarding a design. Our whole experience of life is filtered through this kind of design sense.
When it comes to his prior art, the past project of Errazuriz's Wave Cabinet most resembles is this one: the Explosion Cabinet, a sideboard made of interlocking slabs of maple that does what it says on the tin. The Wave Cabinet, though, is a very influential design as it shapes a person's thinking by simple spatial manipulations of the system thus helping us to mediate such interaction.
Immaterial Column, Porcupine cabinet, Magistral cabinet, Explosion Cabinet, Piano shelf are some of his thought provoking works that allows the user to look back and wonder at the ability to form mental images of things or events. These designs offer high skills in the perception and representation of their conspecifics.