As someone who loves to cook but doesn't quite have expert culinary skills, I am always looking for recipes that simplify some of the more complex dishes out there.
In addition to clever food hacks, there are quite a few recipes that help make cooking easier — like with this yummy 30-minute stromboli dish.
And now, I can confidently tackle delicious stuffed artichokes with
this
extremely simple recipe, just like an expert cook!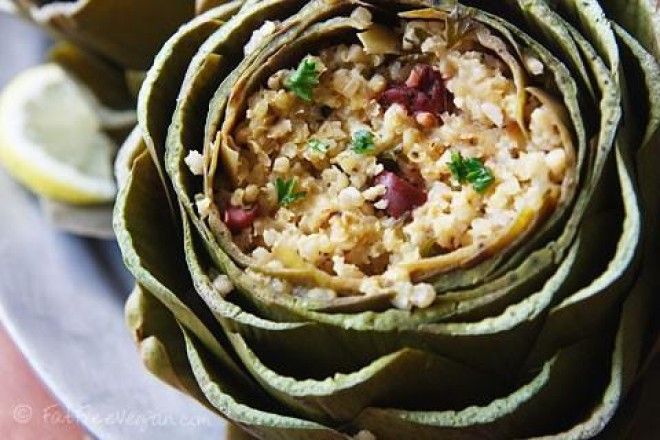 In this exclusive video, Italian chef Joe Tarasco will take you through the steps to prepare restaurant-quality stuffed artichokes right in your own kitchen.
The artichoke, in particular, has always seemed like a daunting vegetable, but Tarasco makes it seem very easy to work with. I can't wait to give this a shot myself.
Scroll through below for this stuffed artichoke recipe, and then watch the video to see this professional chef preparing them right before your eyes!
Stuffed Artichokes
Cook: 90 minutes
Prep: 20 minutes
Serves 4
Ingredients
4 artichokes
1/3 cup onion, chopped
6 cloves garlic, chopped
1 cup Parmesan cheese, shredded
1 cup bread crumbs
1/2 cup parsley, chopped
Salt
Chicken stock
Olive oil
Instructions
Preheat oven to 400 °F.
For each artichoke, remove the stem, trim the top, and trim any sharp tops to the outer leaves.
In a large mixing bowl, combine onion, garlic, Parmesan cheese, bread crumbs, and parsley.
Open the tops of each artichoke and add salt, as desired.
Fill artichokes with stuffing mixture.
Pour chicken stock into the bottom of an oven-safe pan, and place stuffed artichokes on top.
Drizzle olive oil on artichokes, as desired.
Cover and bake at 400 °F for 90 minutes.
Top with additional olive oil, serve, and enjoy!