One Sunday morning in April 2014, 31-year-old Rob Young lay splayed on his living room sofa. He was bickering with his partner Joanna Hanasz.
Young insisted that he would rather stay in and watch the TV coverage of the London Marathon, rather than go for a walk in the park with their son Alexander.
At that time, running wasn't really Young's thing. He thought it was "boring." He would run the occasional 5K on the weekend, but nothing more.
So Hanasz teased him. "You'll never run a marathon," she said.
"I will," He replied. "I could run fifty."
"Fifty marathons!?" Hanasz laughed.
"I'll bet you twenty pence (about thirty cents) I can," Young said, offering his hand. A marathon is 26.2 miles. The next morning, Young's alarm rang at 3:30 a.m. He got up, printed off the Richmond Marathon route, and ran it. Afterward, he went to work at the car parts business he managed as normal. He felt so good that instead of returning exhausted after finishing his shift, Young went straight back to the park to run another. That week he completed a total of 262 miles — or 10 marathons.
He was addicted.
"On one day I realized that all of my dreams and passions that I've always wanted, pretty much all my life, could all just happen," he told Business Insider.
During the 365 days of the last year, Young ran 370 races that were at least 26.2 miles long. Some of these races were "ultra-runs," which are even longer than 26.2 miles, meaning he actually ran the equivalent distance of 422 marathons.
Fascinated by Young's story, I decided to go for a run with Young around Richmond Park in London. The plan was to interview him while running. However, given my apparent inability to speak after a few kilometers of jogging, it was fortunate that Young also welcomed me into his apartment, where he told more about his story.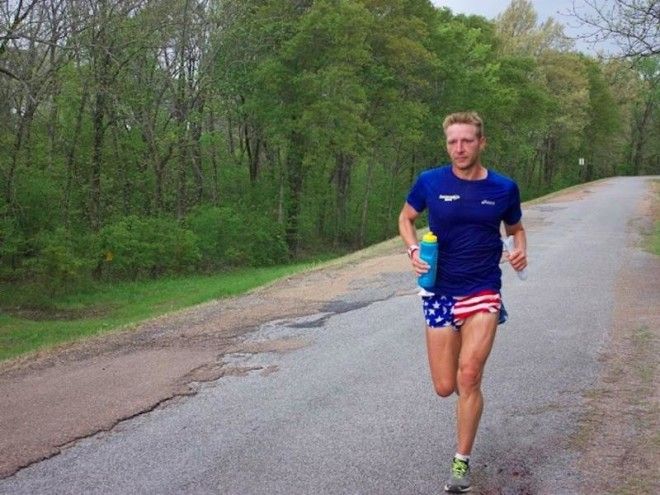 Rob Young running in the Trans-American Footrace.
Sitting in Young's bright flat, with Rob, his partner Joanna, and their two children, I was met with a perfect family scene. This only made it more difficult to imagine the cruel and dark beginning of Young's life.
He was born in a small village in Yorkshire, where, as a child, he was physically and psychologically abused regularly by his father. As Young writes in his book, "Marathon Man," he was locked in a suitcase and thrown down the staircase on multiple occasions. Another time, he was nearly hung to death. Young, his sister and mother escaped their violent, drunk father when he was six-years-old.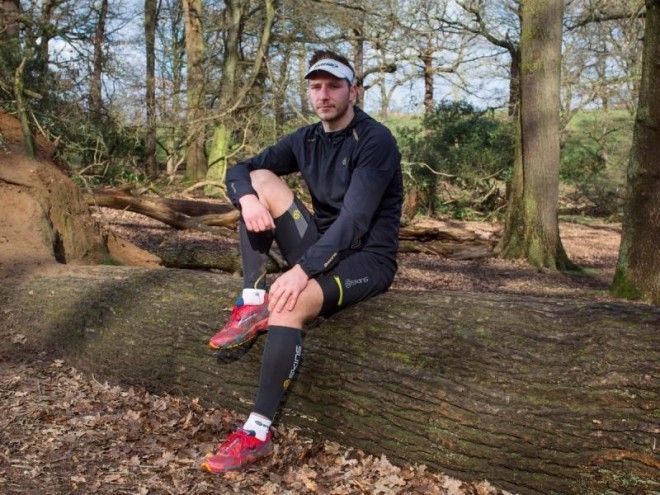 Rob Young at his favourite training ground: Richmond Park.
Young says he "forgave" his father "a very long time ago" and he has "almost forgotten" the abuse. However, physical and mental scars remain. Young talked about the one positive consequence of the abuse he suffered at the hands of his father: "I think the pain is the only thing that I take from my past which I can utilize in the running. I'm just able to shut off pain. If you do something to me now I'll feel it, but if I know it's coming I can just switch it off."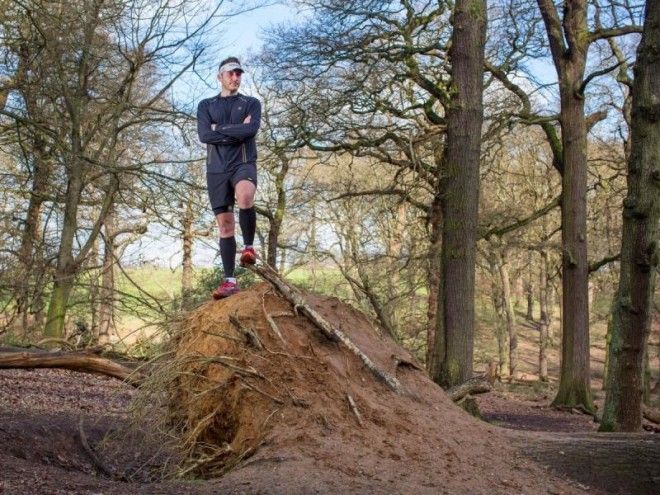 Aged eight, Young was sent to his first orphanage, after his mother had a breakdown. Here he felt compelled to get into fights with older boys and often skipped school.
Fortunately, aged 12, Young was taken in by a kind man he described as his godfather: Peter Wells.
Young credits Wells, a knowledgeable deputy headmaster who eventually became his foster parent, with educating him and turning him into a decent, respectful person.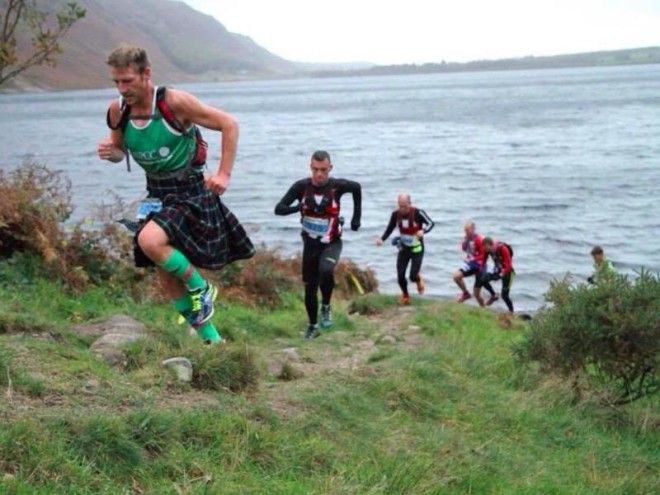 Rob Young leading the pack during the Ennerdale 50km race.
As Young grew older, he began to live a normal, quiet, and happy life.
He joined the British Army as a member of the Royal Corps of Signals after finishing school. Perhaps prophetic of his future energy, Young said being a soldier was "easy," at least when not serving in a war zone.
"You probably only actually spend a few days of the week working," he said. "Most of the time you spend playing sport or just standing around chatting."
Young excelled at the physical side of being in the army. Here he got his first taste of endurance sport, competing in biathlons and triathlons. He was also very quick at cycling and swimming, but, ironically, he was held back by his slow running speed.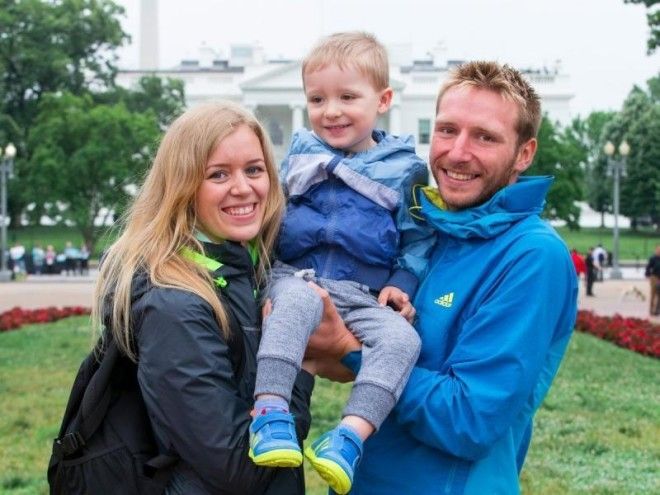 Joanna (left,) Alexander (center) and Rob (right.)
Young left the army aged 23.
Afterwards, he had a succession of jobs before eventually becoming manager at the car parts business he worked at when he ran his first marathon. Not long after leaving the army Young said he stopped taking sport seriously and became a "couch potato."
He's now the father to three children: 9-year-old Alexander and one-month-old Lilly-Mai with Hanasz, as well as Olivia, who is eight-years-old, from a previous relationship.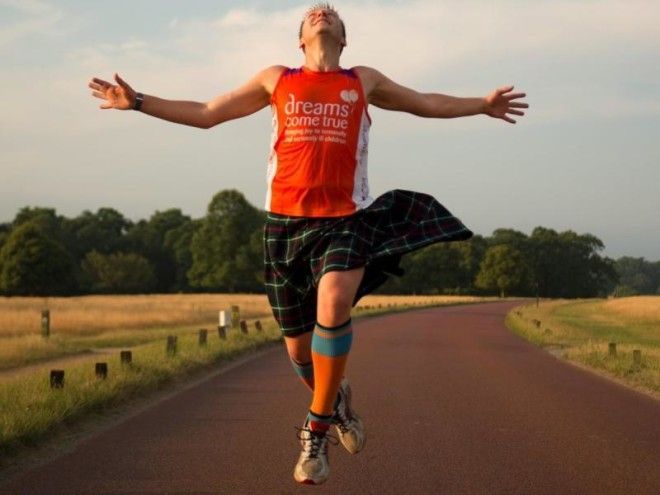 Young running a marathon in Richmond Park.
At 31, Young ran his first marathon and never looked back. He says in his book "Marathon Man" that after about three weeks of running marathons every day, his body had adapted to the strain.
Just 46 days after making the bet with Hanasz, Young ran his 50th marathon. On July 16, after 94 days, he ran his hundredth.
"To be honest, I don't think I'd ever been happier in my whole life," Young wrote in his book.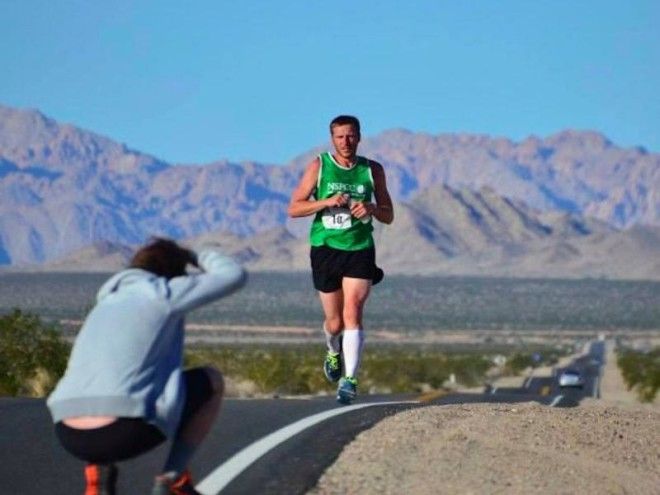 Rob Young during the Trans-American footrace.
From January to June 2015, Young completed one of his most impressive challenges to date. He won the Trans-American Footrace with a total time of 482 hours and 10 minutes.
The 3,100-mile run starts in Huntington Beach, California, and passes through Arizona, New Mexico, Texas, Louisiana, Arkansas, Mississippi, Alabama, Georgia, South Carolina, North Carolina, and Virginia, before finishing at the White House in Washington D.C.
Young won the six month-long competition with 30 hours to spare, and he even flew back to the UK to run the London Marathon in the middle of the race.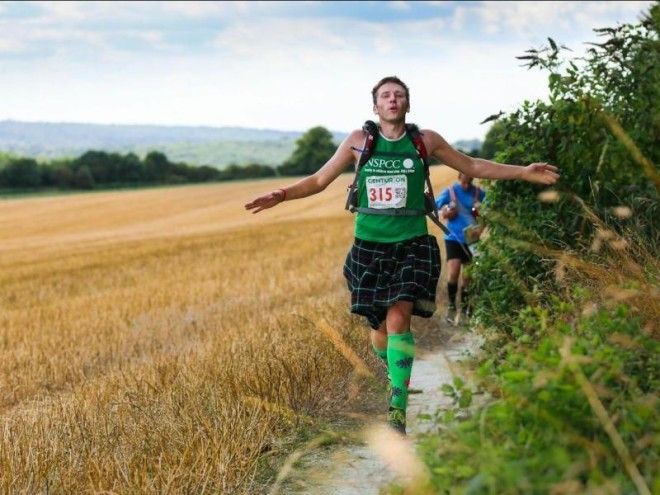 The Ennerdale 50km race.
"On a whim," Young decided his next challenge would be breaking the world record for the longest run without sleep.
He had his eyes on Dean Karnazes' record. Karnazes, a lean, tanned Ken Doll from LA, had somehow managed to run 350 miles without sleep in 2005. It took him just more than 80 hours.
Armed with just £40 ($57) for a train ticket to the start line and food to keep him sustained, Young beat Karnazes' record on his first attempt in July 2015.
He ran 373.75 miles around the UK in 88 hours and 17 minutes, without a wink of sleep.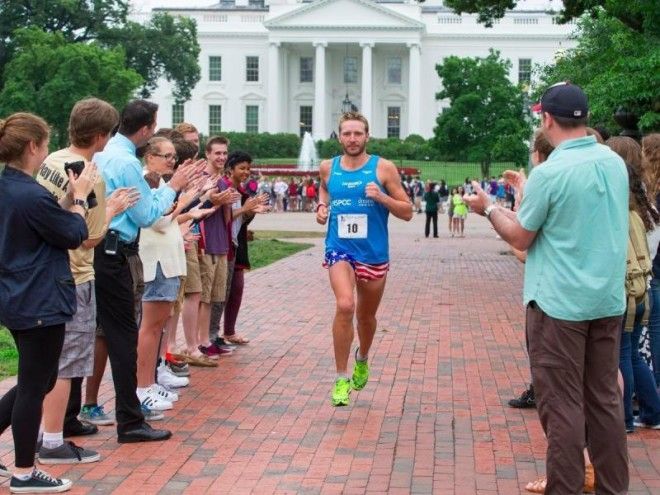 Young claiming victory at the Trans-American Footrace in front of the White House.
During the Trans-American Footrace, Young's diet consisted of high-calorie junk food — exactly what nutritionists advise athletes to avoid.
He'd aim to eat around "three burgers" and his favourite "Sonic milkshake," before moving onto the "pastas, rice, meats, and vegetables."
Doing this, Young says he was able to get between 8000—12,000 calories per day, which just about prevented him from losing weight.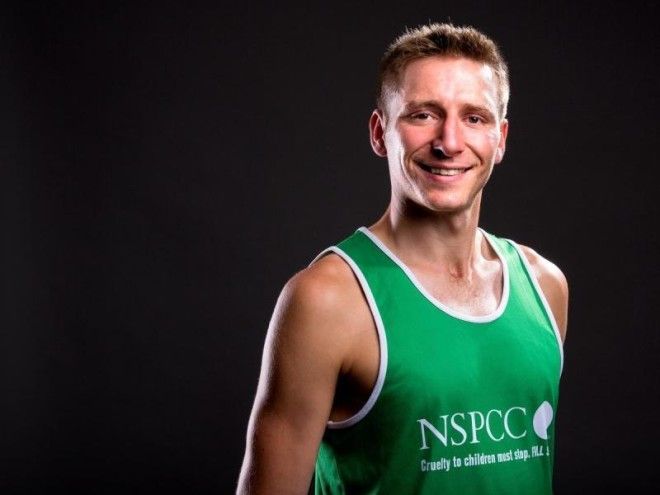 Young raises money for The National Society for the Prevention of Cruelty to Children (NSPCC) among other charities.
Young has two major motivations.
First, he wants to test the limits of human endurance. The other is to make the world a better place for children.
He has raised more than £200,000 ($285,000) for various children's charities — including Dreams Come True, Great Ormond Street Hospital, and the NSPCC — since he started.
In recognition of his sacrifices for children's' charities, the "Marathon Man" was made "International Champion of the Year" at the Peace and Sports awards in Monaco last year.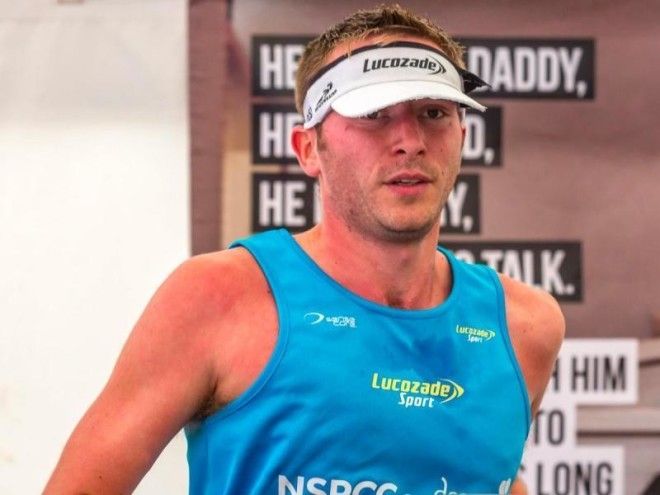 Young counts Lucozade Sport as a sponsor.
Financially, it has been very tough for Young and his young family.
During the Trans-America race, he quickly burned through his entire life savings. At one point during the race, his partner and child at home in the UK had no money to pay rent.
Understandably, Hanasz, who was supportive from the very beginning, finally put her foot down.
"You've got to come back, otherwise we're going to have to split up," she said.
This was when Rob landed his first major sponsor, energy drinks brand Lucozade Sport, which gave him just enough money to stay out in America, as well as to support his family back home.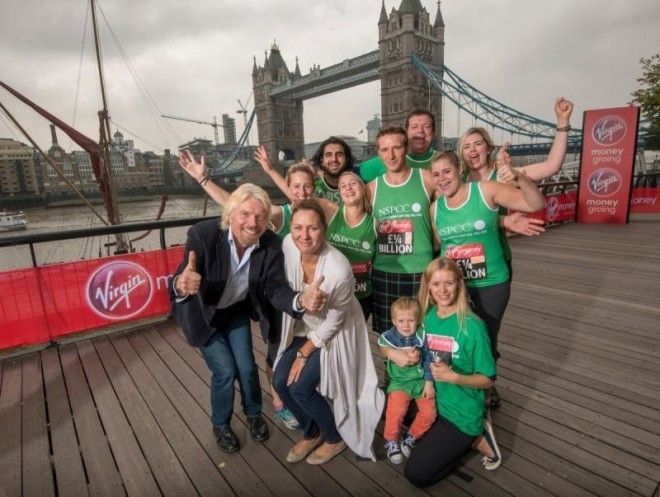 Richard Branson and NSPCC runners at the London Marathon in 2015.
However, the sponsorship money was not very much. Once Young had paid a month's rent and deposit on a new flat, there was nothing left.
Since then, UK clothing brand Skins also decided to sponsor him, but things are still tight.
The "Marathon Man" and his family still often rely on favors from their large network of friends to survive.
At his peak, Young was burning through a pair of running shoes every week and a half. It's for this reason that Young suspects he's still without a shoe sponsor.
He said: "I need a sponsor. I think maybe they're scared because I just go through all of their shoes. Maybe I'm not the right face, but again, if I'm going through a pair every week and a half, how good can the shoes be?"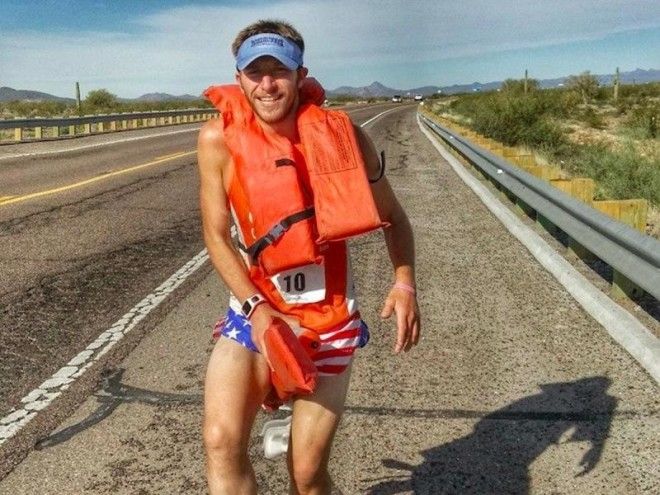 Young running with a lifejacket he found beside a tiny puddle in Arizona.
The financial problems that come with quitting your job to complete unbelievable feats of physical endurance can, at least partially, be solved by sponsorship, but how is it possible to persist despite the constant physical hardship?
He explained: "A lot of people see the marathon as something quite daunting and quite hard. When they get to 16 miles they start to struggle, but when I get to 16 miles, I'll be like: 'What sort of game am I going to play now?' I'm a bit bored."
Often, Young runs despite serious injuries. He has suffered three stress fractures on his left leg, one on his right, many broken toes, and badly-swollen knees with "popped water sacks."
The injuries sound gruesome, but Young most horrific early experiences have made them bearable in comparison.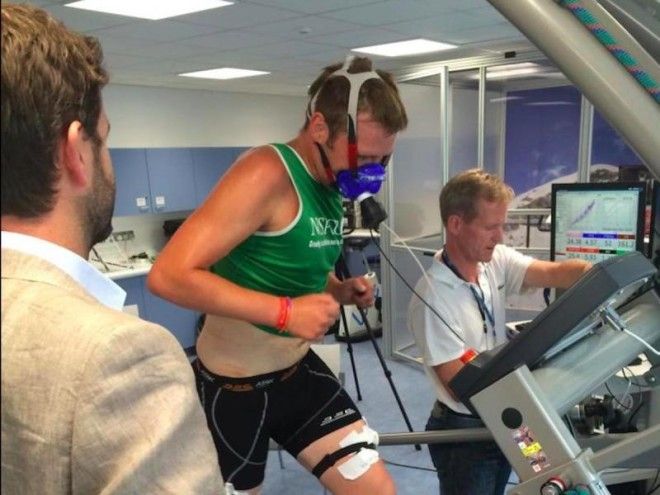 Dr Courtney Kipps has studied Young's miraculous physical endurance in his laboratory at the Institute of Sport, Exercise, and Health.
Young described himself as having moved "beyond records."
So what's next for the Marathon Man? One idea is to run all the way from the top of Alaska to the bottom of South America.
The second was conceived during a conversation with Sir Ranulph Fiennes.
The distinguished English explorer mentioned a specific crossing of the North Pole, which he described as "impossible."
Eyes lit up, Young told Fiennes: "Just give me the bloody gear and I'll do it."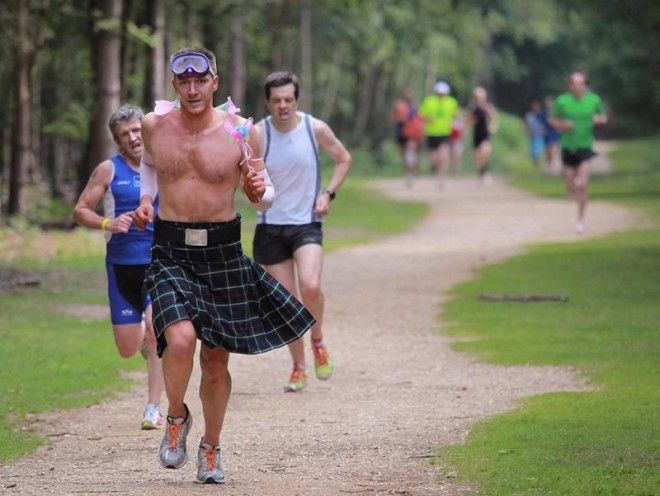 Young running in Richmond park wearing snorkels and a kilt, after making another bet with some children.
"Hopefully one day I'll see the big [world] record or the big endurance thing to do. I want something which will make me go 'wow,'" Young said.
"I don't see things as impossible to do. I see things as possible to do and I just need the financial backing and the resources to go and do it. For me, it's testing the limits of human endurance, whatever it may be, whether it's running or not."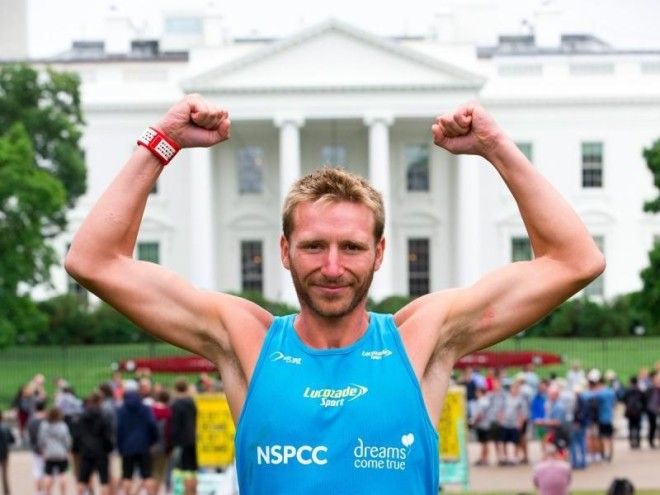 Young celebrates winning the Trans-American Footrace in front of the White House.
As Young gave me a lift to the station in his car — a gift from a friend — I asked him if he plans to wind down after completing the big challenge.
His response was quick, without hesitation: "No, this is me. I think, from my childhood and what I've been through in my life, I'm still here purely based on the fact that there's something big for me to do. I think I've got to do something with the next generation, but also to really push the limits of human endurance."