Dipa Karmakar has created history by becoming the first Indian female gymnast to qualify for the Olympics. The 22-year-old put up a strong performance in the final qualifier, scoring 52.698 points to secure a place in the Rio Olympics 2016.
Behind Karmakar's achievement, is a story of guts, hard work, and determination. Karmakar is one of the few female gymnasts to regularly land the Produnova, one of the most dangerous vaults in the gymnastic world. She has also logged the highest score on a Produnova in the world.
While artistic gymnastics looks beautiful and graceful, the Produnova demonstrates how it requires considerable strength and courage. The risky manoeuvre involves running towards the spring, a jump by blocking the hand, swinging the legs into two somersaults during flight, and finally, a difficult landing that can break the neck and cause spinal injuries if it is unbalanced.
Bronze medal winner Dipa Karmakar of India performs during the women's individual vault final in the artistic gymnastics competition during the Commonwealth Games 2014 in Glasgow, Scotland.
In 2014, Karmakar had become the first Indian woman gymnast to win a Commonwealth Games gymnastics medal, when she got a bronze at the vault event in Glasgow in 2014. She was also the first Indian woman gymnast to compete in the finals of the World Championships in Nov. 2015.
Karmakar is also the first Indian gymnast from the north-eastern state of Tripura, one of the few regions in India where the sport has an avid following. The daughter of a weightlifting coach, she began practising gymnastics at the age of six, and had to train extra hard because she had flat feet as a kid.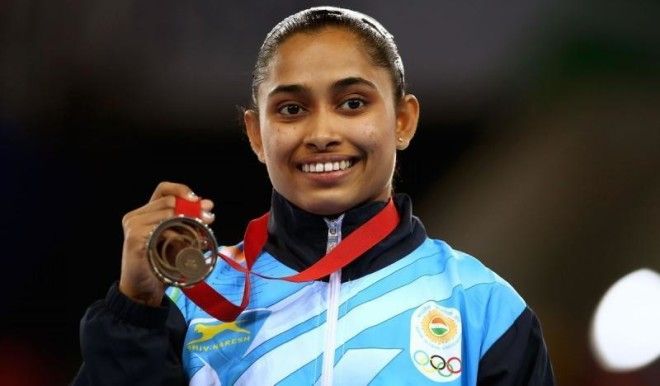 Bronze medallist Dipa Karmakar of India poses during the medal ceremony for the Women's Vault Final during day eight of the Glasgow 2014 Commonwealth Games on July 31, 2014.
In cricket-mad India, gymnastics still has a low profile, but Karmakar is slowly changing that. The last Indian gymnast —- male or female — to compete in the Olympics was in 1964. She has spoken about feeling hurt when people compared gymnastics to "circus tricks".
After her Commonwealth Games win, cricketing legend Sachin Tendulkar famously lauded her achievement in a speech. With her Olympics qualification, Karmakar has shown that she is a trailblazer in more ways than one.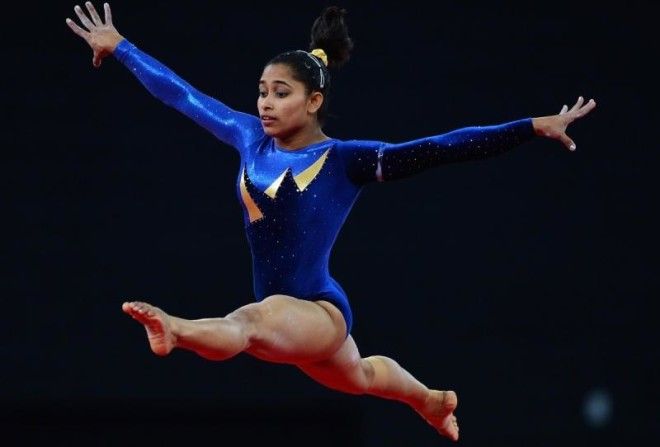 Dipa Karmakar of India performs on the floor during the Women's All-Around final of the Artistic Gymnastics event during the 2014 Commonwealth Games in Glasgow, Scotland, on July 30, 2014.