1 2/3 cups all-purpose flourOne of my favorite memories growing up was picking strawberries with my family at the local strawberry farm. And afterwards, there really was nothing quite like snacking on a mouthwatering strawberry, freshly picked.
Whenever possible, our family would use this delicious fruit for one-of-a-kind recipes, like these strawberry and Nutella French toast roll-ups or yummy strawberry shortcake. But it never dawned on us to try to make a miniaturized version of shortcake!
You can make strawberry shortcake cupcakes right at home, either with fresh-picked strawberries, or fruit from your local market.
And with the weather starting to get warmer, there will be nothing quite like this light and fresh dessert to cap off any meal. I may just whip up a batch for my next barbecue!
Scroll through below to check out this simple process.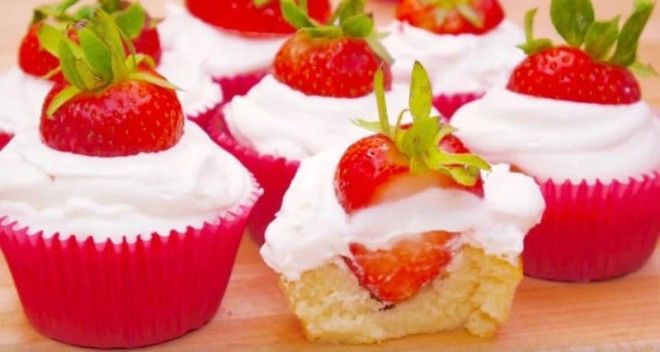 Ingredients
1/2 tsp. baking powder
1/4 tsp. baking soda
1/2 tsp. salt
1/2 cup butter, melted
1 cup sugar
3/4 cup milk
2 egg whites
2 tsps. vanilla extract
1/4 cup yogurt
12 strawberries, sliced across middle
Whipped cream
Instructions
Preheat oven to 350 °F.
In mixing bowl, combine flour, baking powder, baking soda, and salt.
In separate mixing bowl, beat butter, sugar, milk, egg whites, vanilla extract, and yogurt with an electric hand mixer.
Pour in the flour mixture and beat with electric hand mixer.
Pour into cupcake tray and bake at 350 °F for 20 minutes.
Cut a hole from the middle of each cupcake.
Place bottom half of each strawberry in each hole.
Add whipped cream and top half of strawberry.
Serve and enjoy!