The riots erupted after a mostly white jury did not reach an excessive force conviction against the four white police officers who were videotaped beating black motorist Rodney King after he fled from police in an attempt to outrun a speeding charge.
Soon after the jury's verdict was announced, rioting, looting, and arson quickly spun out of control. By the time the National Guard came in to put an end to it, six days later, 52 people were dead, over 4,000 were injured, and $1 billion worth of property had been damaged.
These stark images from the LA Riots reveal a city on the brink of collapse — and provide a haunting testament to the continuing history of police brutality in America.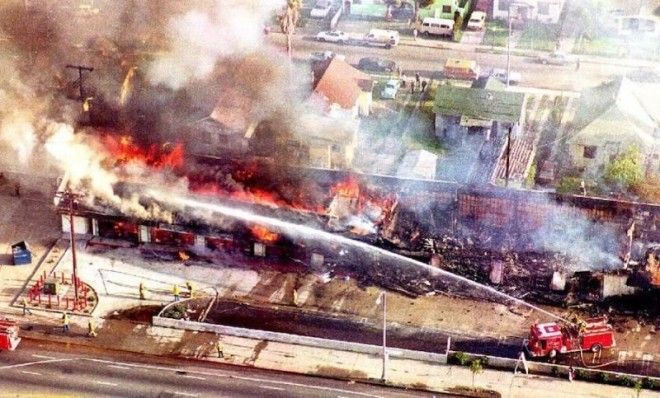 A fire department crew sprays water on a burning mini-mall.
Taken by by George Holliday on March 3, 1991, this image shows the Rodney King beating that ultimately led to the riots.
People and their belongings line a sidewalk across from a burned out apartment. The apartment was attached to a row of stores that were set on fire and looted.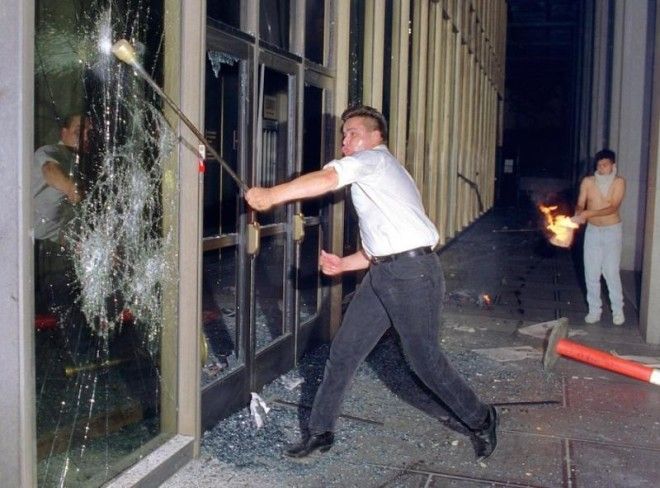 A rioter breaks a glass door of the Criminal Courts building, downtown Los Angeles.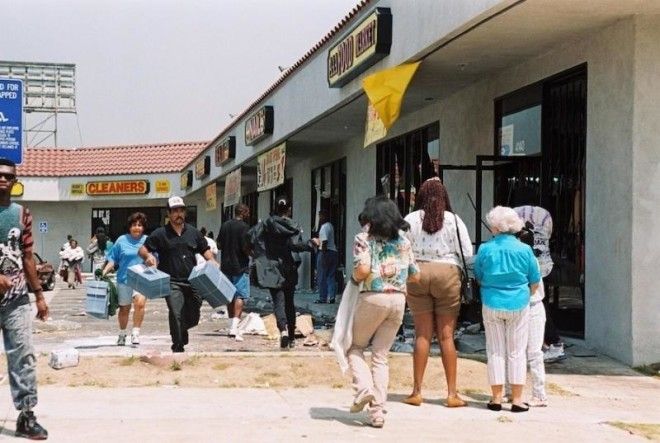 Looters carry goods out of a shopping center.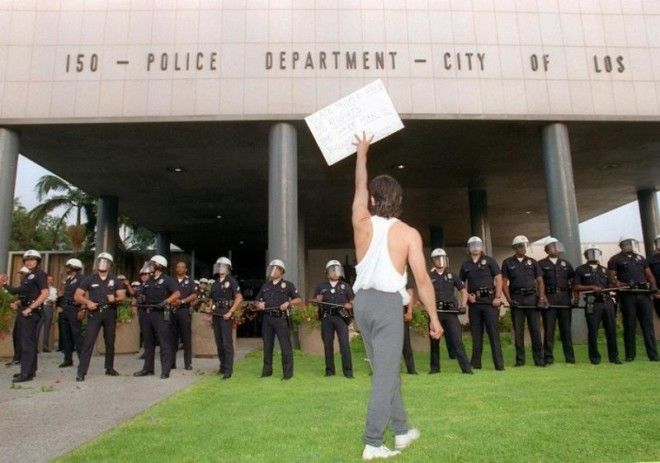 A demonstrator protests the verdict in the trial of the four police officers accused of beating Rodney King outside the Los Angeles Police Department (LAPD) headquarters.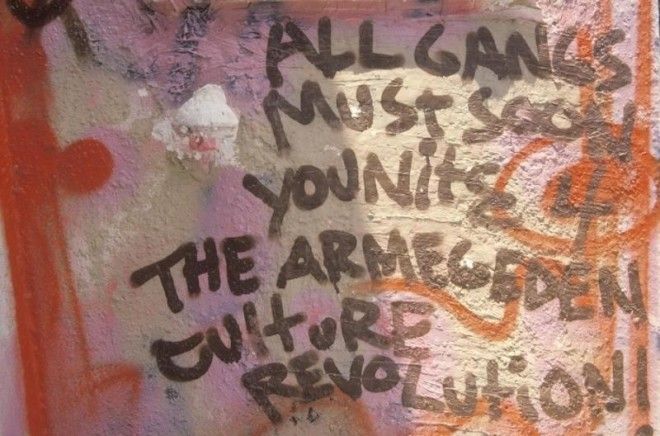 Gang graffiti after the riots, South Central Los Angeles.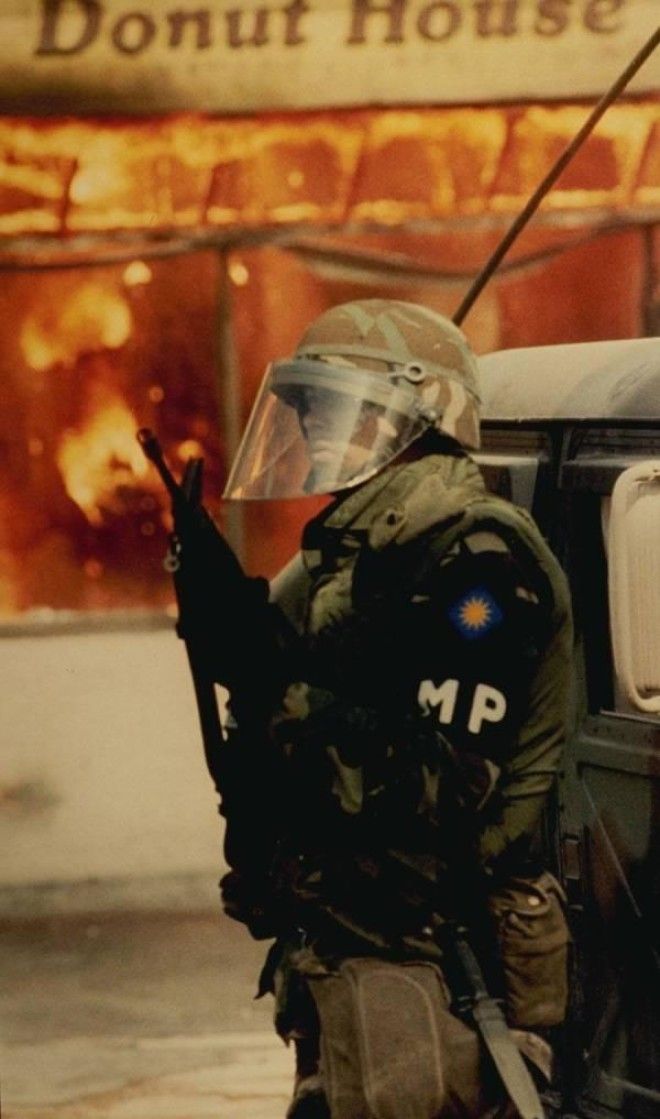 A National Guardsman stands watch over a strip mall in South Central Los Angeles during day two of the riots.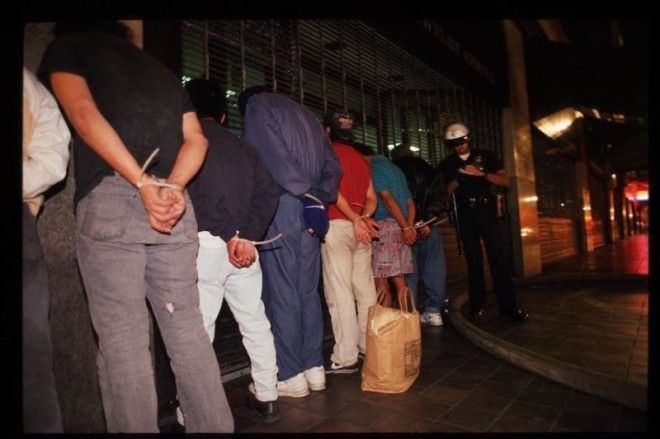 An unidentified police officer watches rioters in hand restraints.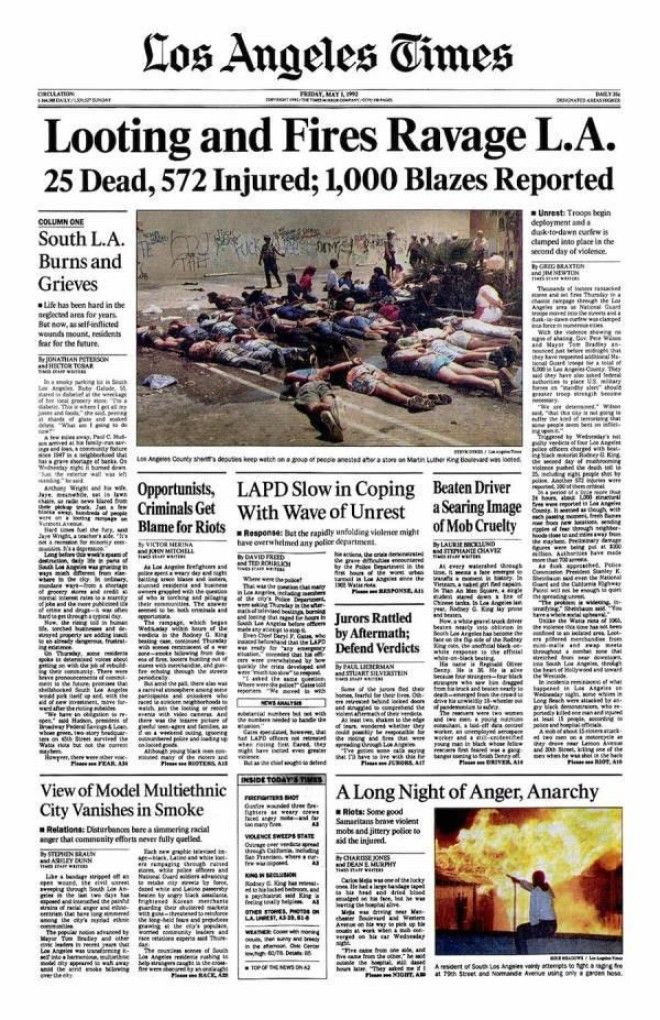 The front page of the LA Times during the riots.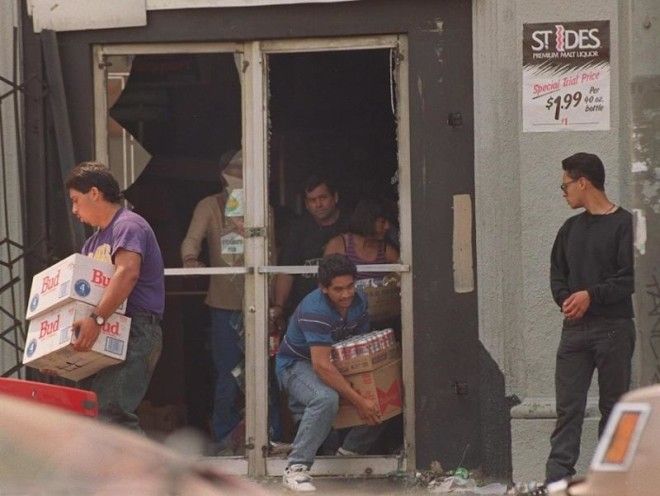 Looters leave a liquor store with cases of beer.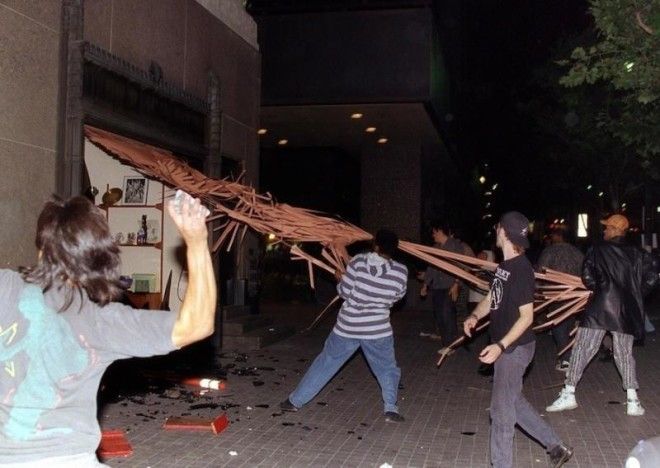 Rioters destroy an iron gate from a store in downtown Los Angeles just hours after citywide rioting and looting broke out.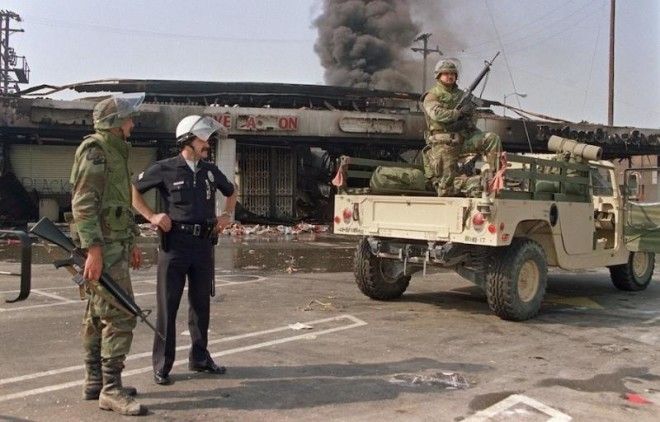 National Guardsmen and a police officer take up security positions in front of a burned and looted shopping center on day three of the riots.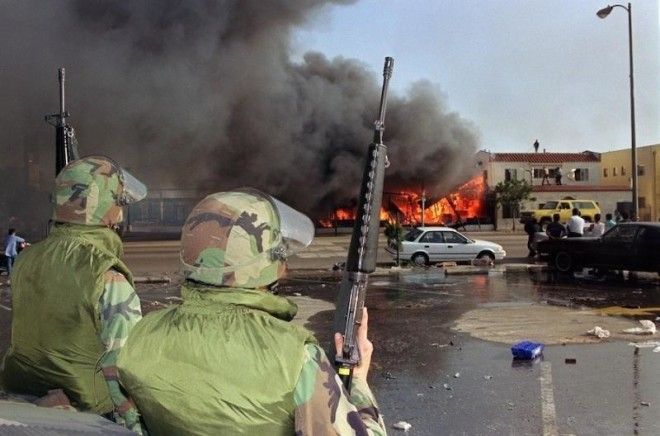 National Guardsmen watch a business go up in flames in South Los Angeles.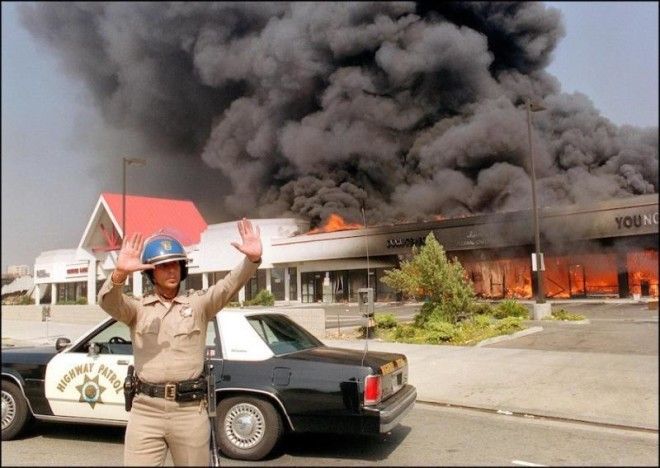 A California Highway patrolman directs traffic around a shopping center engulfed in flames on day two of the riots.
Part of a group of about 100 protesters gather outside the East County Courthouse in Simi Valley, California on May 5, 1992 to protest the Rodney King verdict.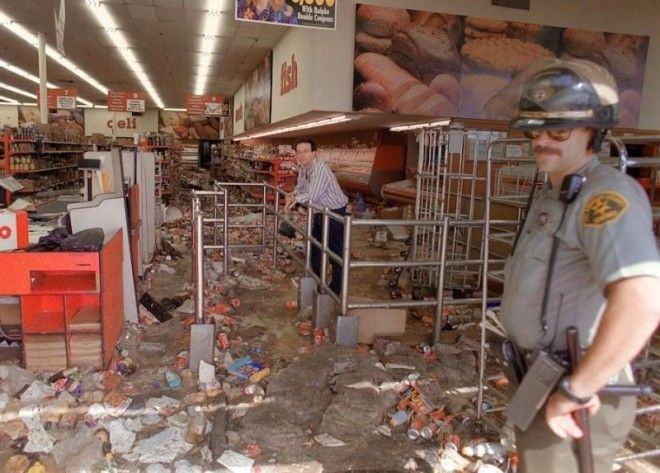 A store owner and an LAPD officer survey the damage caused by looters.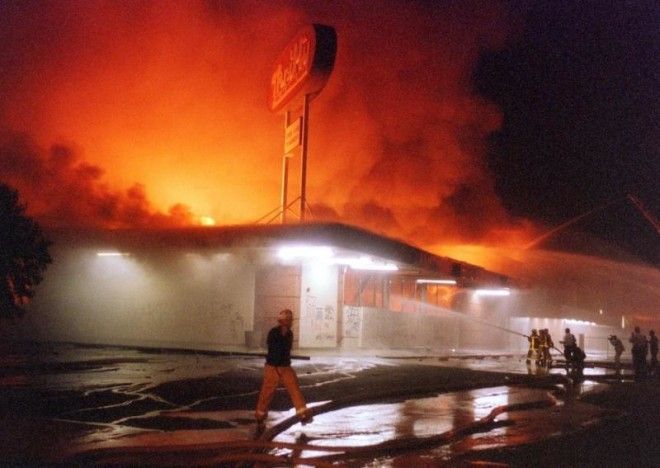 Flames roar from a Thrifty Drug store in the Crenshaw area of Los Angeles.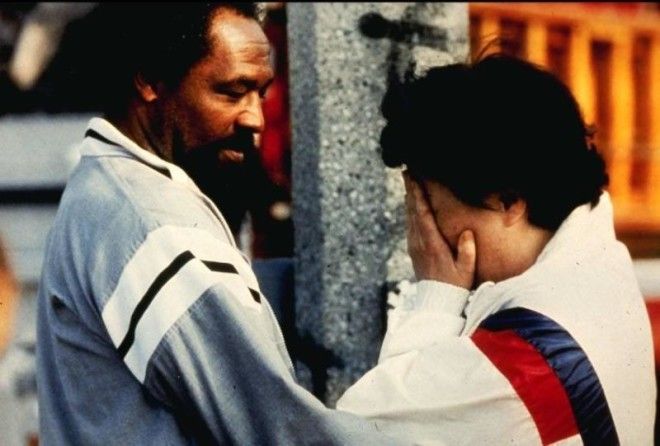 A Korean store owner is comforted by a local resident after she returned to find her place of business looted and burned in South Central Los Angeles on day two of the riots.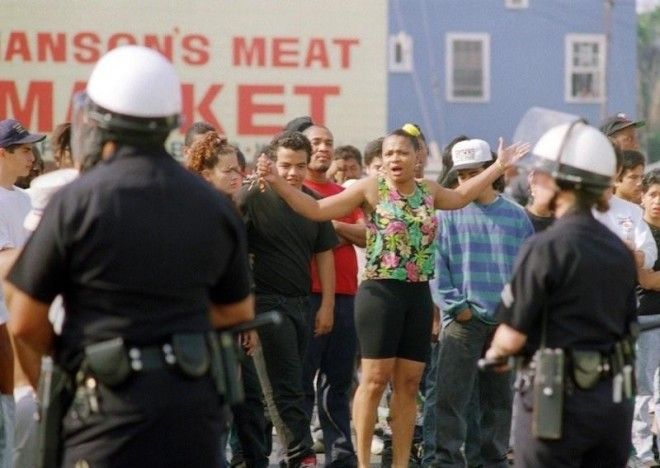 A woman yells at Los Angeles police officers who are standing guard outside a shopping centeron day two of the riots.