While analyzing these images, they noticed that an elliptical area around 1.2 miles (2km) wide had been steadily rising by about 2 cm per year. This sort of phenomenon usually occurs in abandoned mines, but there was no such thing in or around Willand.
"We generally see this sort of uplift where there has been mining works and the pumps have been switched off, allowing the water to gradually seep back into the ground," said Dr Andy Sowter, Chief Technical Officer at GVL. "But I contacted the British Geological Society to ask if there was any history of mining in the area and there is none. Willand is in the middle of nowhere, and there were no mines, so we have no idea what is going on."
Experts say that the fact that both the urban areas and the surrounding fields are rising in unison suggests that the cause lies deep underground, and have expressed concern that it could involve a huge leak or environmental discharge.
"It's fairly sizable, the whole town is moving here," Dr Sowter added. "I think the authorities definitely need to go down there and investigate what is going on. If it is down to liquid seeping underground, or some sort of discharge of waste then that could be a threat to the environment. If this is not a natural occurrence then it is symptomatic of something happening underground so it's important to find our what that is."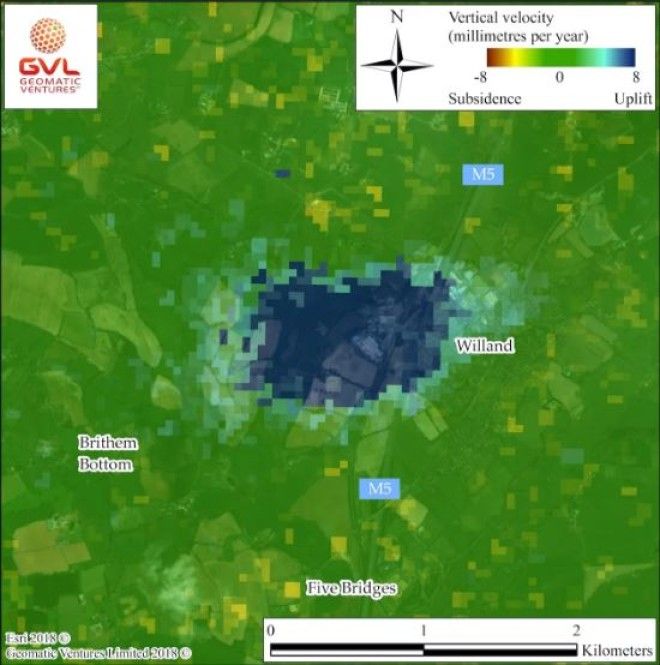 Willand villagers are unlikely to notice the changes, and since the whole area is rising at the same rate, structural damage is unlikely to occur, but scientists are concerned about the effect it might have on a high-speed rail passing through the area, and on the M5 motorway.
"We've spoken to the Environment Agency and the British Geological Survey, and right now we can't explain it. We don't know why it's going up," Dr. Andy Sowter told the BBC.