But do you think you've noticed every single tiny detail from the films?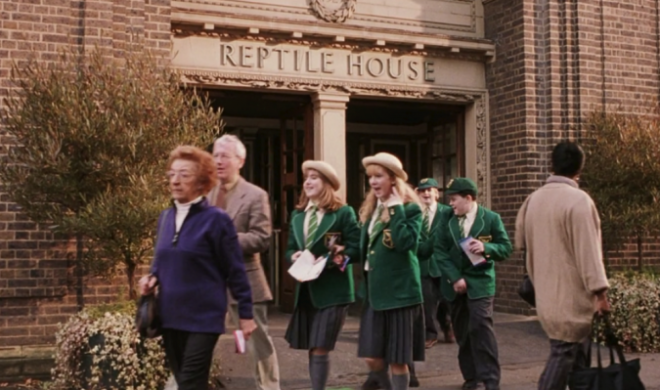 This first detail is found in Harry Potter and the Sorcerer's Stone. When Harry ends up tagging along to Dudley's birthday celebration at the zoo, we see the above group of students coming out of the reptile house. They're all wearing green — the primary color for House Slytherin. Coincidence? Nah.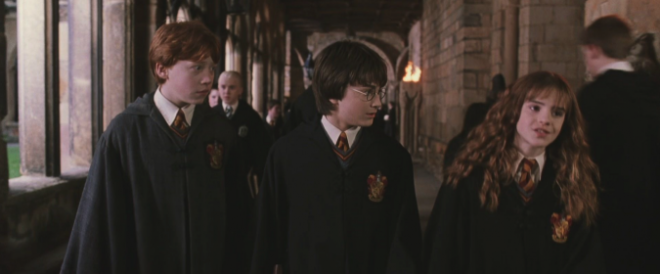 Take a look at Ron's robes in this scene from Chamber of Secrets. See how they're lighter and slightly more dingy than Harry's and Hermione's? It's because they're undoubtedly hand-me-downs from his older brothers.
Watch Snape's movements during his battle with Professor McGonagall in Deathly Hallows Part II. Not only is he not attacking; he's actually deflecting McGonagall's attacks so that they hit the Deatheaters behind him.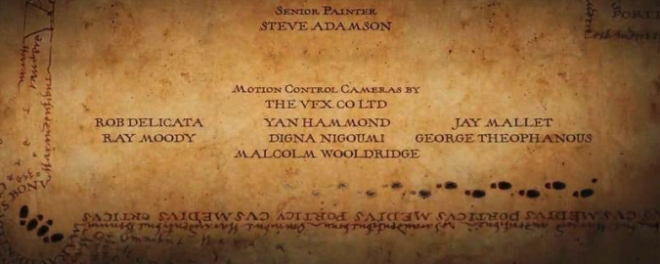 This is from the end credits of Prisoner of Azkaban. Pretty standard stuff, right? Until you look at those two pairs of footprints in the bottom lefthand corner…
Watch as Harry's eyes easily follow the Snitch when it takes off from Wood's hand.
Now, look at Wood, who can't for the life of him find that flying golden ball. Harry was born to be a Seeker.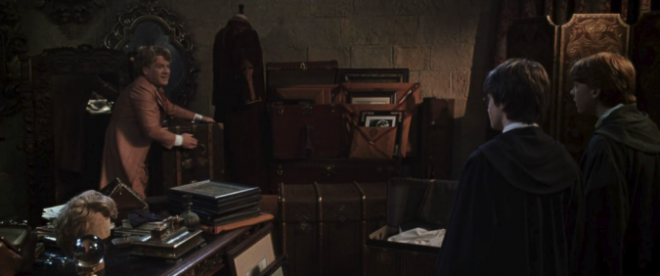 We know that Gilderoy Lockhart is a pretty vain individual, but this scene from Chamber of Secrets reveals something you might not have noticed before: He's also bald.
Check out his second wig on his desk.
Look closely at the Leaky Cauldron sign as Harry and Hagrid approach it in Sorcerer's Stone.
It starts out black but then reveals itself as wizards approach. Pretty clever security!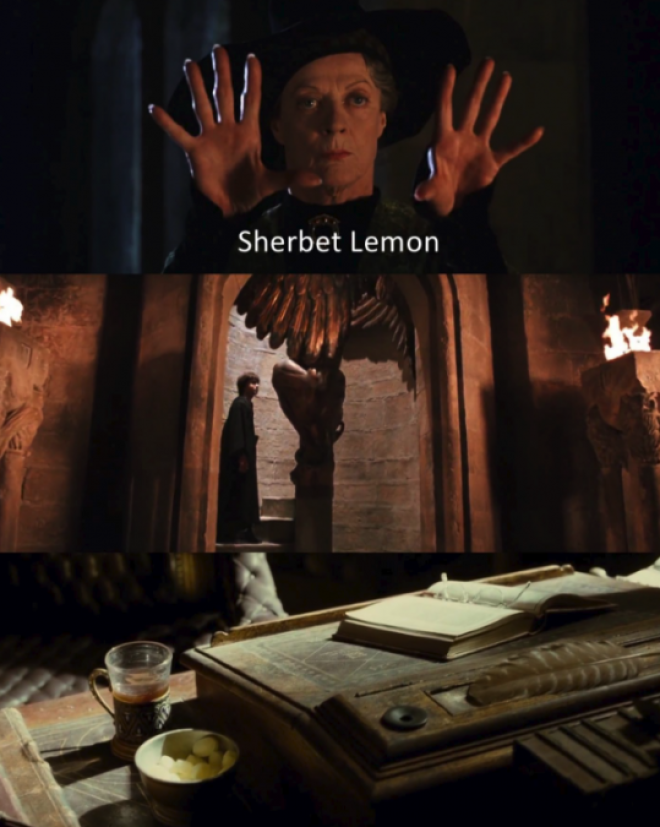 In Chamber of Secrets, the password to Dumbledore's office is "Sherbet Lemon" (a candy similar to lemon drops).
In Half-Blood Prince, we see a bowl of sherbet lemons on Dumbledore's desk.
Have you ever wondered exactly what it was that Neville forgot? A closer look at the fourth panel above shows that he forgot his robes!
Luckily, he eventually went back to get them. And it's a good thing, too, since those are what saved him after he took off to catch the Remembrall when Malfoy threw it.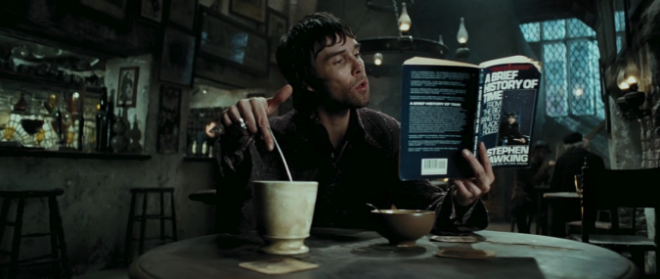 Recognize this guy? He's a wizard seen in Prisoner of Azkaban.
He's reading A Brief History of Time by Stephen Hawking — interesting, especially since that's the movie that introduces time travel!
(P.S. In real life, this wizard is played by Ian Brown from the band The Stone Roses!)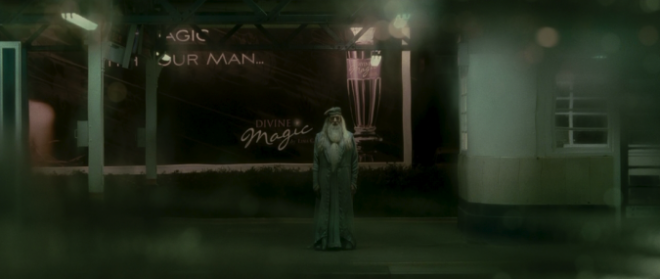 Did you notice this billboard behind Dumbledore in Half-Blood Prince?
It's for a perfume called Divine Magic. Once again, there's no way that's a coincidence.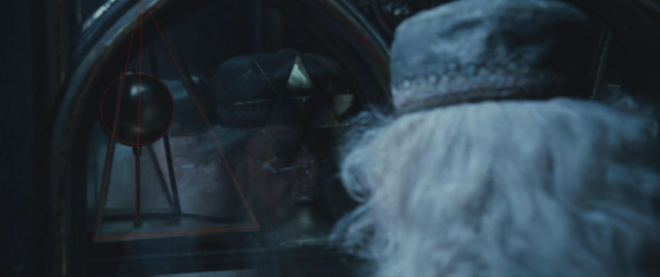 In Goblet of Fire, Dumbledore brings Harry to his office to warn him about the dangers he may face.
And there just happens to be a Deathly Hallows symbol there.
(This is especially mindblowing because this film came out two years before Deathly Hallows was published! J.K. Rowling had a lot of influence over the set design, which is how the Hallows got there.)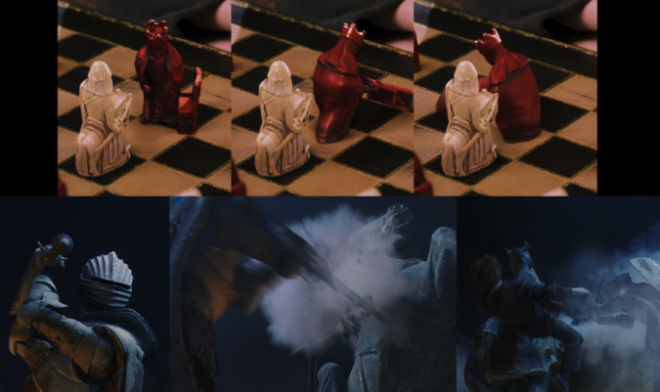 In Sorcerer's Stone, Ron and Harry play a game of Wizard's Chess wherein the Queen captures the opposing Knight.
Later, when Harry, Ron, and Hermione play the life-size game of Wizard's Chess, Ron (playing as a Knight) sacrifices himself to the opposing Queen.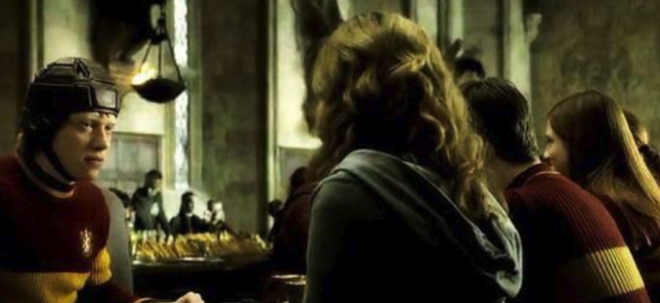 OK, this one is just kind of bizarre.
Look closely at the wall right above Ginny's head in this scene from Half-Blood Prince.
There seems to be a word written there in the shadowy shape. Can you see it?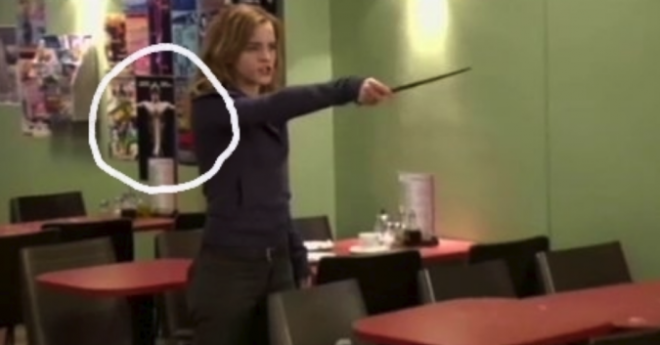 In the background of the cafe in Deathly Hallows Part I, there's a poster for the play "Equus" — a play that starred Daniel Radcliffe and Richard Griffiths.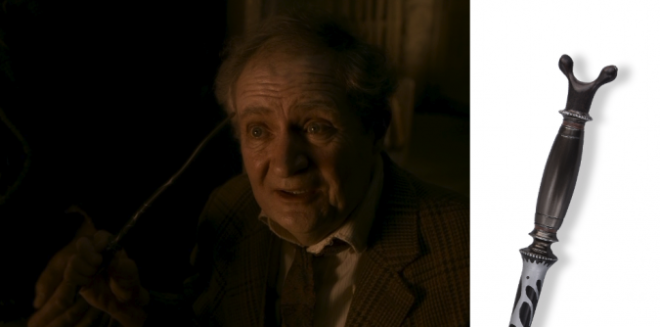 Here's a closeup of Professor Slughorn's wand handle.
It has the horns. Of a slug. Get it?
After Hermione arrives late to Divination in Prisoner of Azkaban, you can actually see her hide her Time-Turner in her robes.
Obviously, this is well before Harry and Ron (or the audience) knows she has such a thing.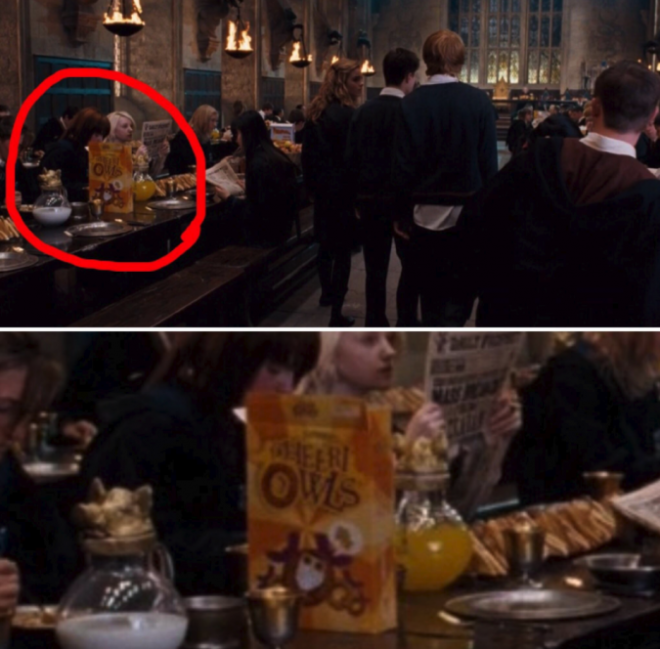 What do Hogwarts students eat for breakfast? Magical versions of cereals we all know and love, of course.
Case in point: this box of Cheeri Owls.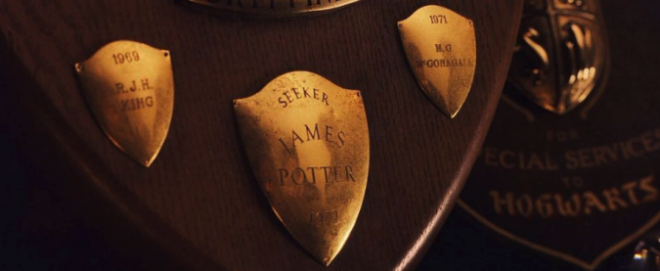 At one point during the first movie, we see a closeup of this plaque in the Gryffindor trophy case with Harry's dad's name engraved on the center shield. But look at the name on the right side: M.G. McGonagall.
And speaking of Quidditch…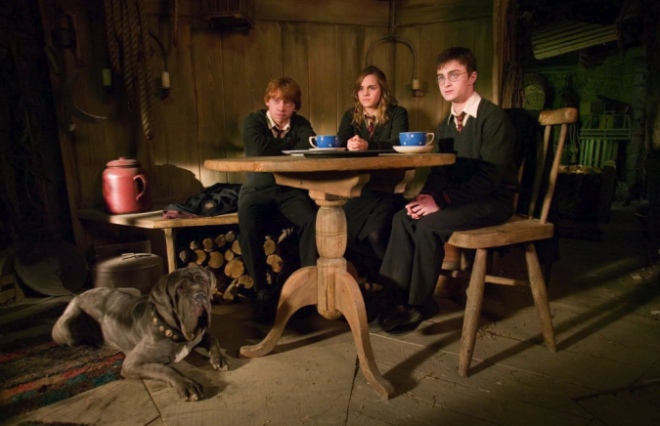 This isn't a mind-blowing realization; just a fun detail to observe.
Check out the cups on Hagrid's table. His teacups are the size of giant mugs!

Although he's touted as "The Boy Who Lived" and admired for his potential, Harry doesn't cast a spell once during the whole first movie.
When they're on the train to Hogwarts in The Sorcerer's Stone, Ron's hair part magically changes from the middle to the side in one instant. Probably just a mistake…but it adds to the magic, doesn't it?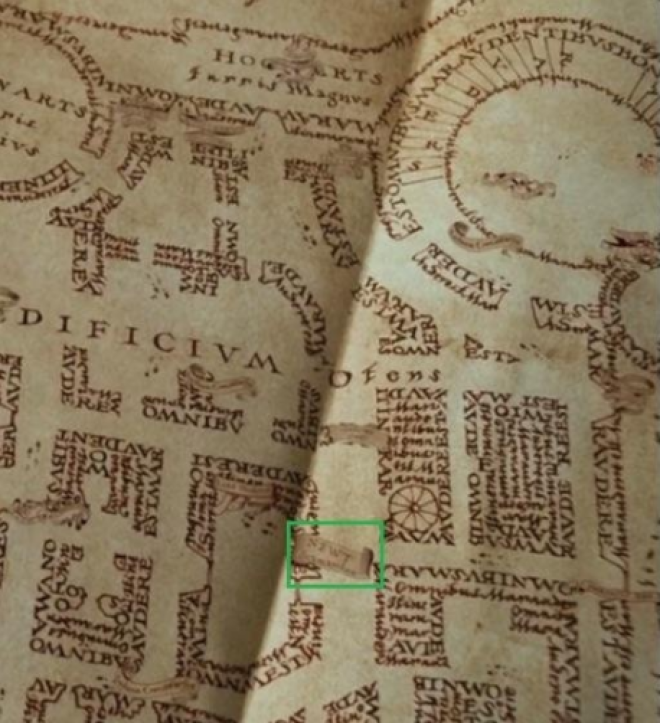 Newt Scamander (from Fantastic Beasts and Where to Find Them) actually visited Hogwarts during Prisoner of Azkaban. His name appears on the Marauder's Map when Fred and Geroge first show it to Harry.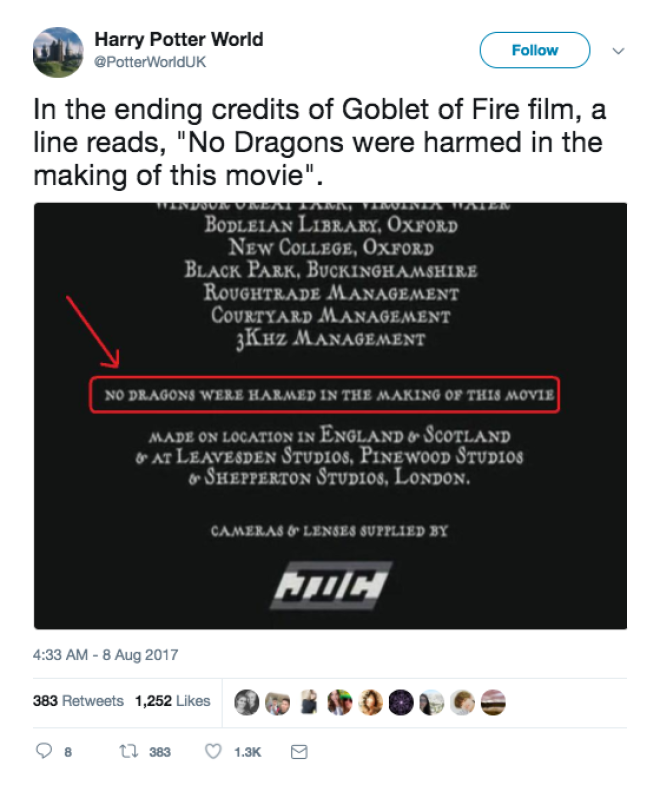 In the credits for The Goblet of Fire, the filmmakers make sure to reassure us that no dragons were harmed in the making of the film.
During the Quidditch World Cup, you can briefly see Dobby, at this point a free elf, riding a llama in all the excitement. He can do whatever he wants, after all!