In the North Atlantic as allied ships were facing the wrath of the German U boat Menace, England faced a crisis of a different kind. The shortage of steel was plaguing the ship breaking industry and war ships was in short supply. One British scientist then created the unthinkable.
1. Project of ship made from ice was passed by Lord Mountbatten and Winston Churchill
British Scientist Geoffrey Pyke who worked at the war headquarters as chief advisor to Lord Mountbatten. Pyke came up with a fantastic idea of making an aircraft carrier out of ice. He felt that ice is hard and would not sink. Damage could easily be repaired by freezing new chunks of ice.
His incredible idea would be created from a huge chunk of an arctic ice berg whose leveled surface would act as a landing platform. The hollow center would protect aircraft. He actually sold the mad idea to Mountbatten and even convinced Winston Churchill. The new project was named Habakkuk!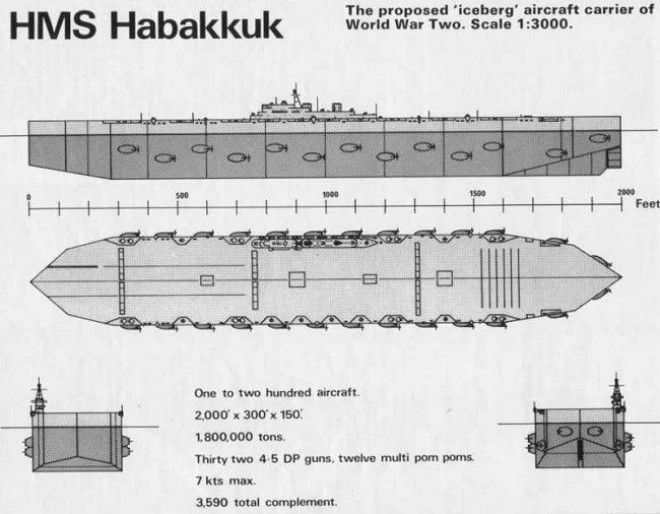 2. Habakkuk would be a massive gunship cum aircraft carrier
Habakkuk would be 2000 feet long and 300 feet wide. It would weigh 2 million tones and would have a hull 40 feet thick making it torpedo proof. It would also be armed with 40 double barrel gun turrets and several light anti- aircraft guns. It would accommodate 150 bombers or fighter planes. A cooling system would keep the ice refrigerated and hard preventing it from melting.
The project actually took hold where a 1000 ton prototype was built on Patricia Lake in the Canadian Rockies. The ship was fitted with a 1 hp refrigeration system to cool it during summer. In a huge boost to the project, researchers from Brooklyn Polytechnic discovered a wonder material named Pykrete that was derived from freezing sawdust mixed with water.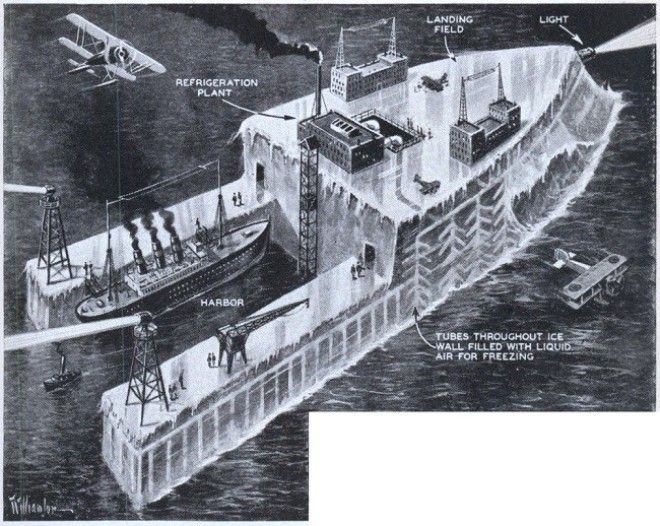 3. The ambitious project for a secret ship made form ice
The new material was compression resistant and 14 times stronger than ice. It could even be machined and cast into different shapes like metal. The miracle material was the exact item Pyke needed to complete his project. the blueprints for the aircraft carrier was drawn up where one Habakkuk ship would require 300,000 tons of wood pulp, 25, 000 tons of fiberboard insulation, 35,000 tons of timber and 10,000 tons of steel. The cost was estimated at 700,000 pounds.
4. Construction and cost problems
During construction, problems arose pushing up the costs to 2.5 million pounds. Moreover the speed was only 6 knots which was to slow for a war ship. The biggest problem was the raw material as there was a shortage of wood and steel. Moreover the entire infrastructure was so massive that it could not be afforded by the army.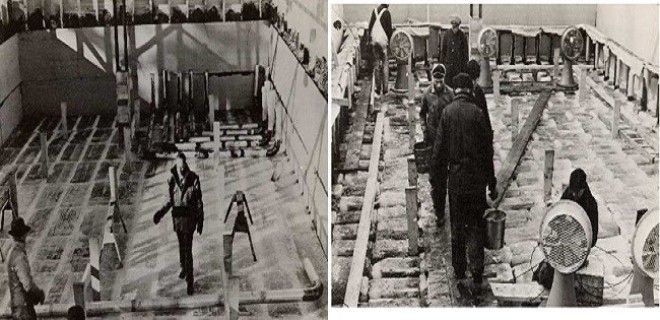 5. Scrapped due to surmounting costs and shortage of manpower
Ultimately Project Habakkuk was scrapped and the money generated was reassigned to building an airstrip in Azores that would enable the allies to hunt U-boats easily in the Atlantic. Larger fuel tanks to British aircraft were also added with the money so that patrol time over the Atlantic could be extended and escort for carriers increased.
The only proof of Project Habakkuk, the secret ship made from ice is its prototype now lies at the bottom of Patricia Lake in Alberta Canada. In 1985, a diving expedition recovered the wooden walls of the hull bitumen insulation and cold air ductwork. The divers also placed an underwater plaque to commemorate the project.