The one place where you can find lots of books is definitely a library. There are many libraries that exceeded its limit and have created awesome architecture. Here are 10 libraries every compulsive and greedy for reading must absolutely visit.

#10 Tianjin Binhai Library China

This library in China is definitely one of the most interesting and awesome one. It has incredible architecture and the most noticeable feature is that the library is covered with books from ceiling to floor in white shelves.

#9 National Library Of Belarus

This library of Belarus maintains the largest collection of Belarusian printed materials. It ranks third in the world for its collection of books in Russian.

#8 Bishan Public Library

Bishan Public Library is located in Singapore and apart from hosting a great collection of books, it is well known for its architecture.The design of the library has won a number of awards for its architecture.

#7 The Library of El Escorial Spain

The library is of the Spanish royal sites and has functioned as a monastery, basilica, royal palace, pantheon, library, museum, university, school and hospital.

#6 Oxford University Queen's College Library

Oxford University Queen is a great college and considered as one of the top colleges in the world. Apart from all that it has a great library and great collection of books must visit once if its possible.

#5 Tama Art University Library

Japan is one of the fastest growing countries in the world and has a great infrastructure and if you visit its library you will definitely fall for it. It houses a collection of materials on design, architecture, film, photography, and other related topics of study.

#4 Strahov Monastery Library

There are many libraries that look like it has been taken out straight from a sci-fi movie. Strahov Monastery in which the library is located was founded as early as the 12th century and ranks among the oldest monasteries in Czech lands.

#3 Bibliothèque historique de la ville de Paris

Every couple dream is to visit Paris, France once in their life. But This library is definitely must visit if you are in Paris not just because of its architecture but also for the collection it hosts.

#2 Utrecht University Library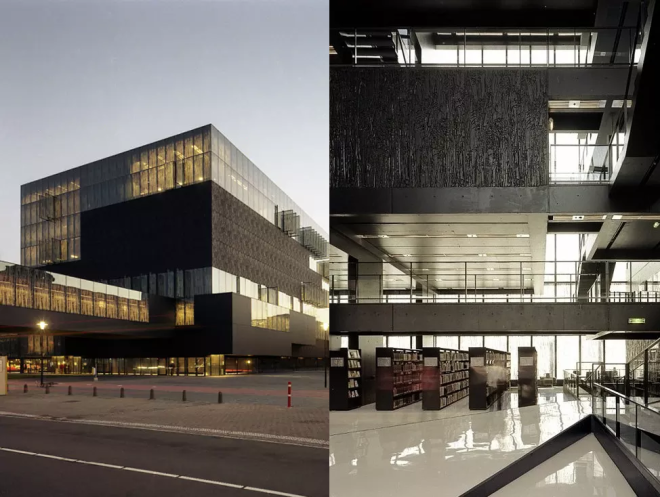 The renowned university also consists of a great library with an amazing collection.

#1 Cottbus Library

Germany definitely is one of the great countries with lots of great structure and Cottbus Library is definitely one of them. It has an amoeba-like footprint and a glazed glass façade that is covered with repetitive white text and images