Rolligon is a trademark name for a type of tires designed for use in rugged terrain or for traversing the soft ground of a desert or the tundra. The tires have large surface areas and are filled with very low-pressure air—as low as 5 PSI (pounds per square inch). For comparison, a typical car tire is pumped to about 30-35 PSI. Because the weight of the vehicle is distributed over a large surface, it exerts much lower pressure on the ground compared to conventional tires. Furthermore, the low pressure in them allows the tires to deform easily, swallowing up bumps and obstacles rather than going over them. As Life magazine noted, running over someone with a Rolligon gives the person "about the same sensation as a vigorous massage".
Rolligons were invented by William Hamilton Albee, who was a teacher living in a small Eskimo village in the Bering Strait, Alaska, before he became an inventor and founder of a company. While on a fishing trip, in 1935, William observed a group of Eskimos hoist a heavy wooden boat loaded with about 4 tons of catch out of the water and into the muddy bank using several bags of inflated airtight sealskin, which they rolled under the boat. William watched the fishermen in fascination as they effortlessly drove the boat up a slope despite the gravel and stones.
William Albee returned to California, and in 1951, began working on a modern adaption of the Eskimo bags. He designed bag-like tires made from nylon impregnated with rubber, that were very flexible. They deformed easily but did not expand. After many consultations, the Goodyear Tire and Rubber Company agreed to manufacture them according to plans designed by Albee. Eventually, Albee founded the "Albee Rolligon Company" and began producing vehicles fitted with low pressure tires. Later, with the help of the U.S. Army, Albee's company released a Jeep, a Reo truck and a Dodge Power Wagon, all equipped with Rolligons. The final creation was a 7-ton off-highway transporter, the "Albee Rolligon"—the one pictured above, with the smiling woman underneath.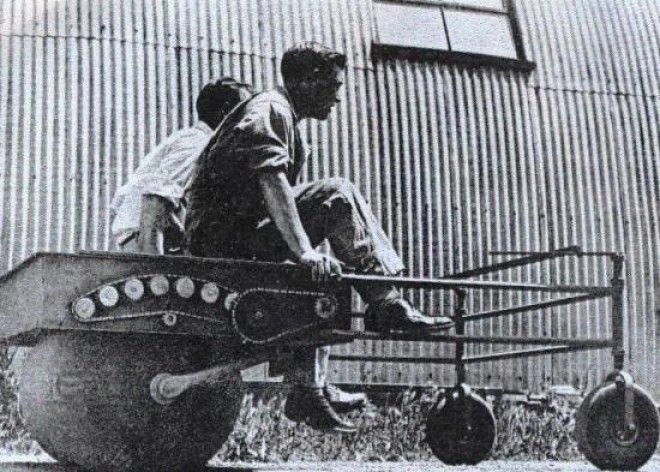 The first prototype Rolligon built by William Albee.
Unfortunately, William Albee failed to turn the concept into a successful business. His company ran into financial troubles, forcing Albee to sell his company's assets, in 1960, to John G. Holland, who renamed the company Rolligon Corporation. The Rolligon trademark is now owned by the Texas-based National Oilwell Varco (NOV), the world's leading supplier of equipment and components used in oil and gas drilling. NOV still manufacturers Rolligon-equipped vehicles. Their biggest clients are oil companies operating in northern Alaska.
Rolligons play a huge part in the maintaining of oil fields in Prudhoe Bay in Alaska's North Slope. This region is as flat as a soccer field and entirely covered in permafrost, resulting in the formation of an abundance of small lakes and ponds, because the spring snow melt as nowhere to go. Only the Rolligons can transport supplies and men efficiently in this topography. The added benefit of the Rolligon is that they do not damage the tundra.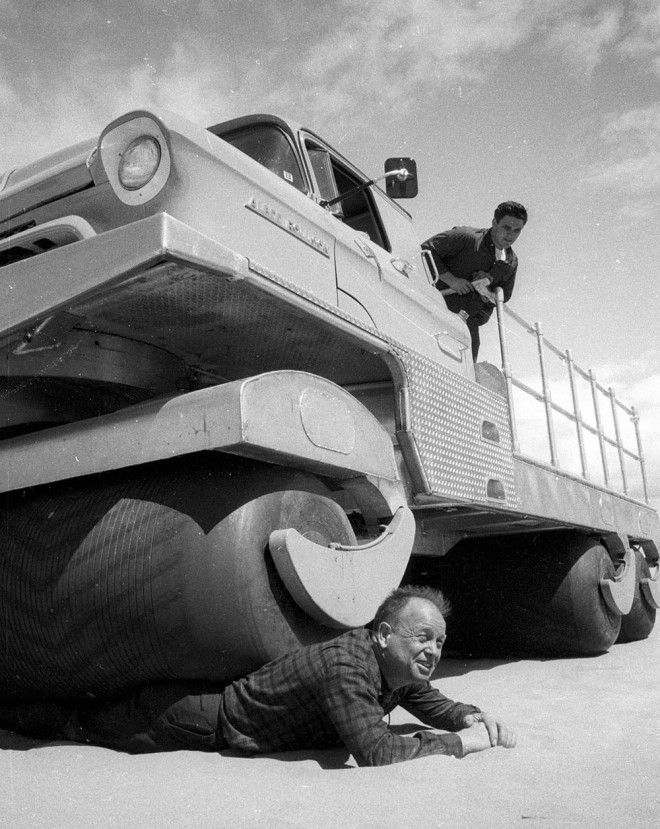 The inventor himself getting happily run over by his own invention.