Shriver, noticing this undeniable similarity between the two, confronted her husband when the illegitimate child was almost 14. Schwarzenegger then confessed to having an affair with Mildred Baena, who was employed by the family for 20 years. The Terminator actor and Shriver filed for divorce in May 2011 after 25 years of marriage and Shriver moved out of the couple's mansion.
Baena gave birth to Schwarzenegger's illegitimate son, Joseph Baena, less than a week after Shriver gave birth to their fourth child, Christopher Schwarzenegger in September 1997. Since the confession, Schwarzenegger has taken financial responsibility for Joseph and continues to have a relationship with him. The actor even bought his former housekeeper and love child a four-bedroom home in California.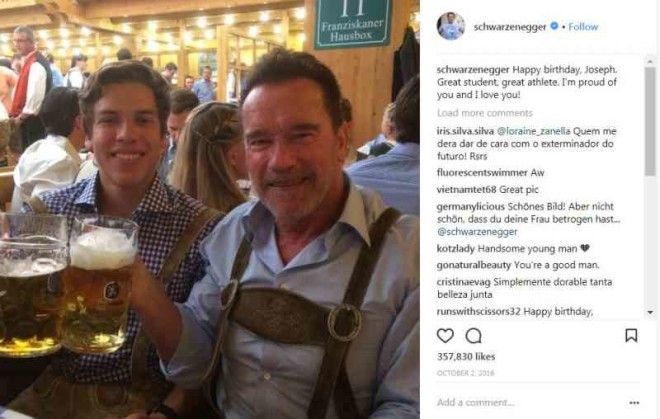 A business major at Pepperdine University, 20-year-old Joseph Baena is looking more and more like his famous dad. When the two have stepped out together people can't seem to get enough of the uncanny resemblance between the two.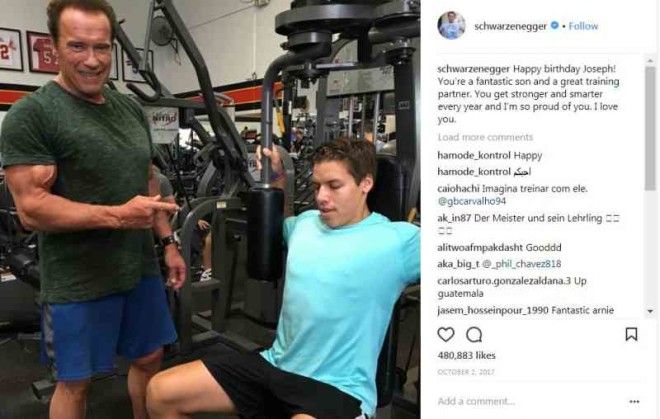 It's not just the face, either; Joseph clearly acquired his father's muscular physique as well. Joseph appears to be just as physically active as his father, taking an interest in weight-lifting and rugby. The father and son have also shared photos working out together.
The former Mr. Olympia told TMZ Joseph is "fantastic, strong, and smart." When they asked Schwarzenegger whether Joseph would take after his father and get into the movie business, however, Schwarzenegger said he has "no idea." We have a feeling if Joseph does end up following in his father's footsteps, picking up an acting gig won't be too difficult for this Arnold Schwarzenegger doppelganger.