He has spent the last ten years transforming himself. Tattooing most of his skin black with several coats of ink, dying his eyes and implanting stretchers in his nose and under his bottom lip. The process is far from finished, but the result is striking.
Eli's obsession with body modification started from a young age after his uncle came back from Spain with a huge tribal tattoo.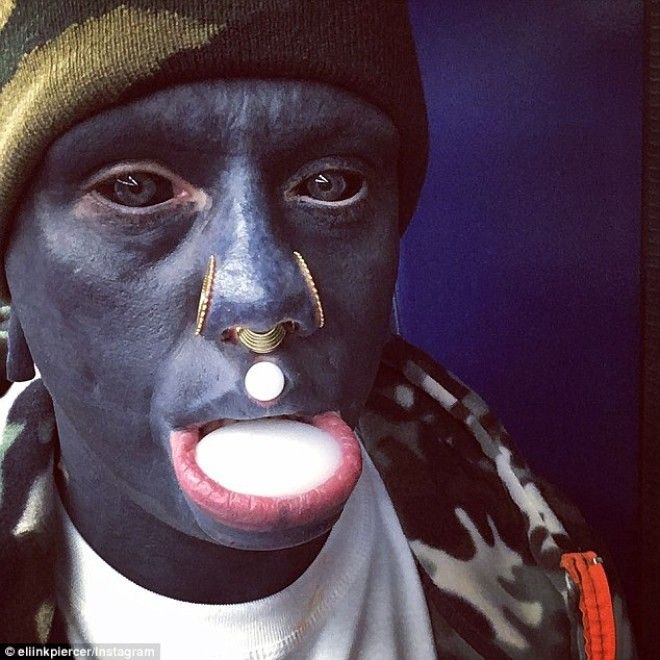 Eli Ink, a 27-year-old tattoo artist from Brighton, sees his body as a walking exhibition of his finest work. Has been transforming himself for ten years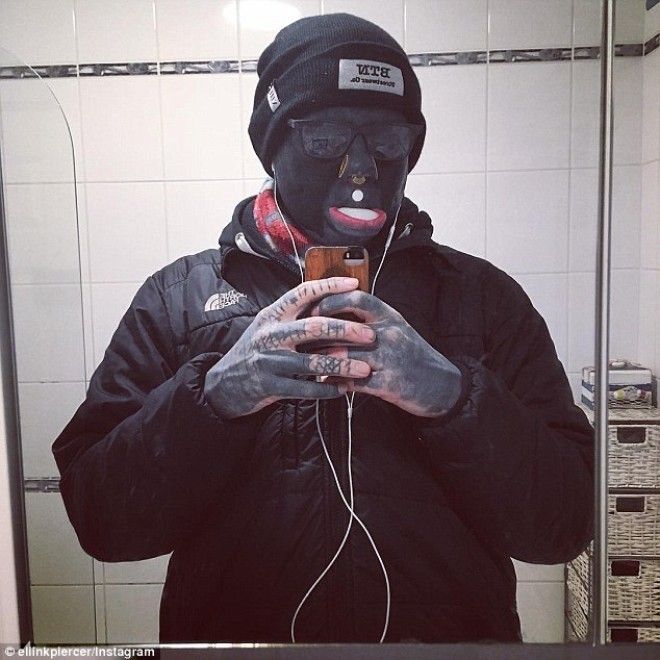 He has tattooed almost all of his body in several coats of black ink, dyed his eyes and inside his mouth and has stretched his nose and bottom lip to fit large rings
'In my opinion, the only person who will only ever understand my transition properly is me. I don't attempt to describe it to anyone,' he told MailOnline.
'I've always been blown away by art itself. Picasso is a huge childhood inspiration to me, especially abstract art, but I do like all forms of art. Body art was just the next local step for me growing up.'
You can easily see his obsession with the abstract on his own body. It's a philosophy that guides the choices he makes.
'I wanted to look like an abstract character in one of Picasso's paintings. I love the abstract look, no thought , just pure expression,' he said.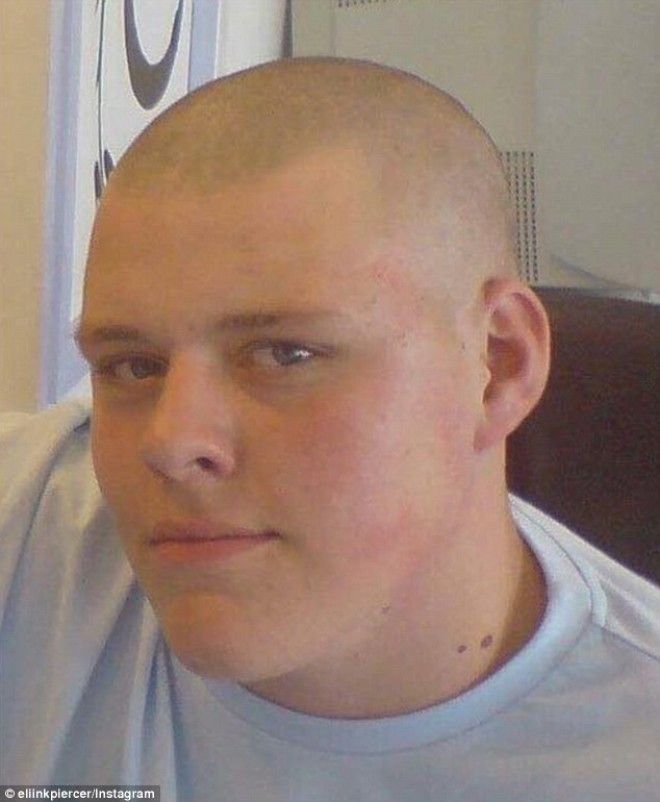 Eli before he started his transformation ten years ago. 'In my opinion, the only person who will only ever understand my transition properly is me,' he tells MailOnline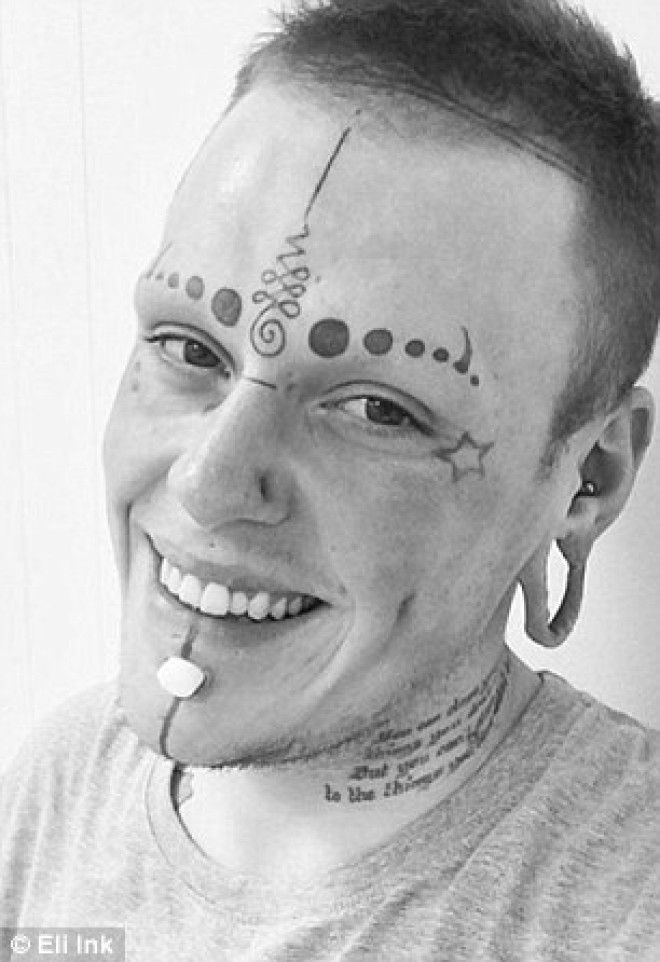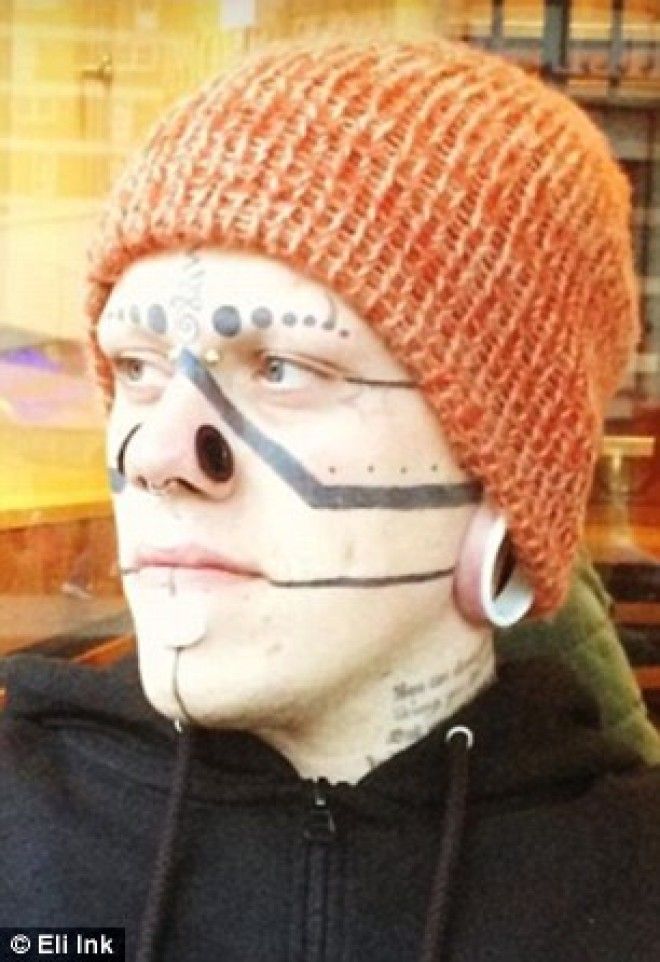 A passion for abstract art and a desire to express himself is what drove his transition
Eli Ink, whose transformation has taken ten years, says he in inspired by the work of Picasso
The inside of his mouth and the white section of his eyes were just part of that process.
Eyeball tattooing involves injecting the ink in-between two layers of the Scleral of the eye and letting it spread out.
Eli admits that this process, like a lot of body modification, can have disastrous results if it goes wrong.
'That's the risk you take letting anyone near your eyes, even trained surgeons can make mistake. Body modification is a risk taker's lifestyle.'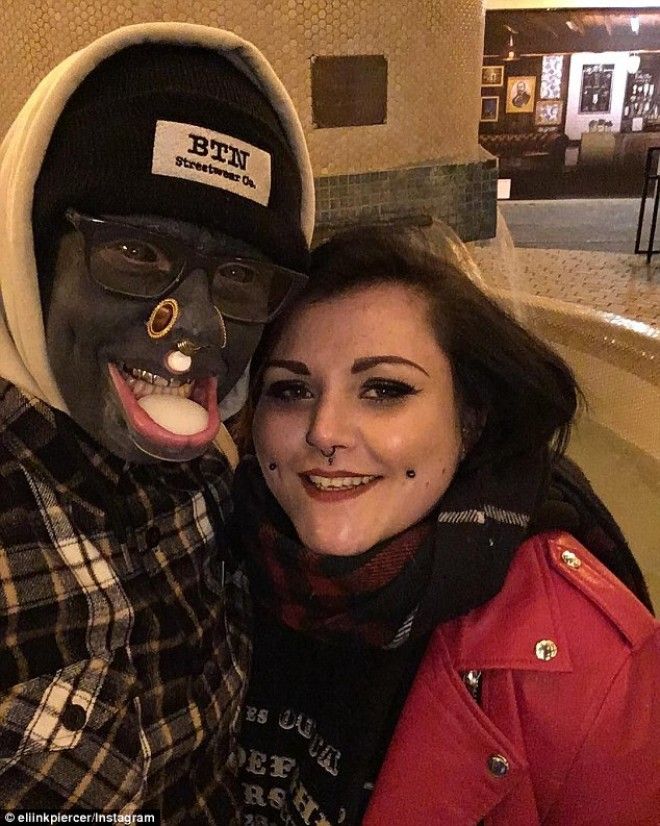 It doesn't make dating an issue: His girlfriend Holly is also part of the body-mod scene
Dating doesn't seem to be difficult though as he has a girlfriend Holly, who is also part of the body-mod scene and they are madly in love.
Before he got involved in the body modification scene he had his own gardening company and experimented with drawing and painting then moved into full time tattooing.
Body modification is any altering of a person's physical appearance, including tattoos and in more extreme cases tongue splitting and scarification.
Eli belongs to a sub culture within the broader definition known as Modern Primitives who pay homage to the rites of passage in primitive cultures through their modifications and practices.
'I wanted to look like an abstract character in one of Picasso's paintings,' he tells MailOnline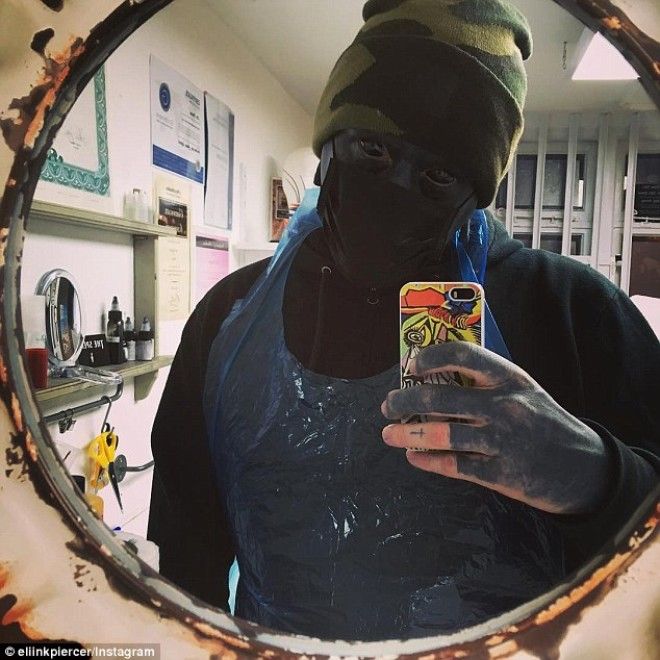 Eli owned his own gardening company before he got involved in body modification. He had always loved art though and was often painting or drawing in his spare time
He said the scene is 'forever expanding its knowledge and growth, with more and more amazing artists from all over the world constantly growing and learning new things about art and the body.'
The scene is quite small and it often becomes a lifestyle. Eli is no exception as he studies ear lobe reconstruction, tattooing, ear pointing and scarification.
'I will never be finished. It will take me the rest of my life to finish my studies but I am dedicating the rest of my life to body modification and perfecting my work,' he said.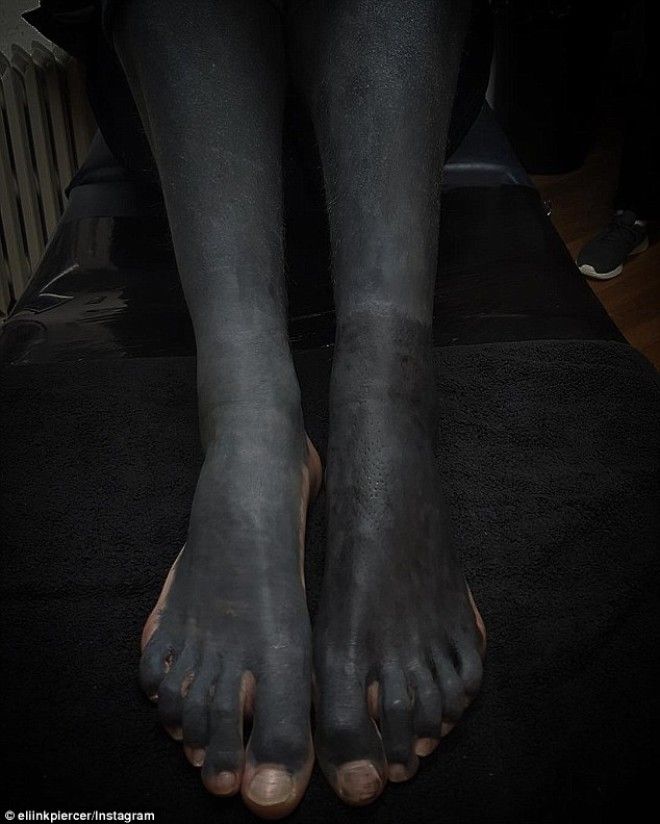 Apart form working on his transformation Eli works as a tattooist, piercer and performs ear lobe reconstruction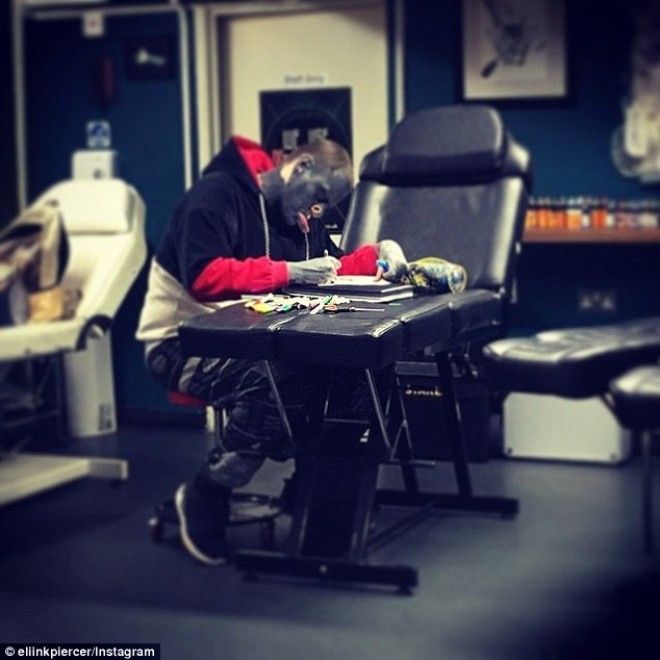 'I will never be finished': Eli says his transformation will never be perfect, but that is what makes it more beautiful
'My work is not perfect, there is still room for improvement, everyone must start somewhere.'
Eli said the negative reactions don't bother him anymore.
'The best is always nice compliments, that's always nice to hear, either from tattoo collectors or just passers-by, the worst is always older generation looking down on you and making you feel worthless.'
'But this is all a state of mind. I don't take much notice anymore,' he said.