How often do you pay attention to ads and get inspired by them? If you got used to ordinary advertisements, here are 16 examples that prove that art is all around us.

1. "Be born again" for Dr. Kim's office specializing in plastic surgery.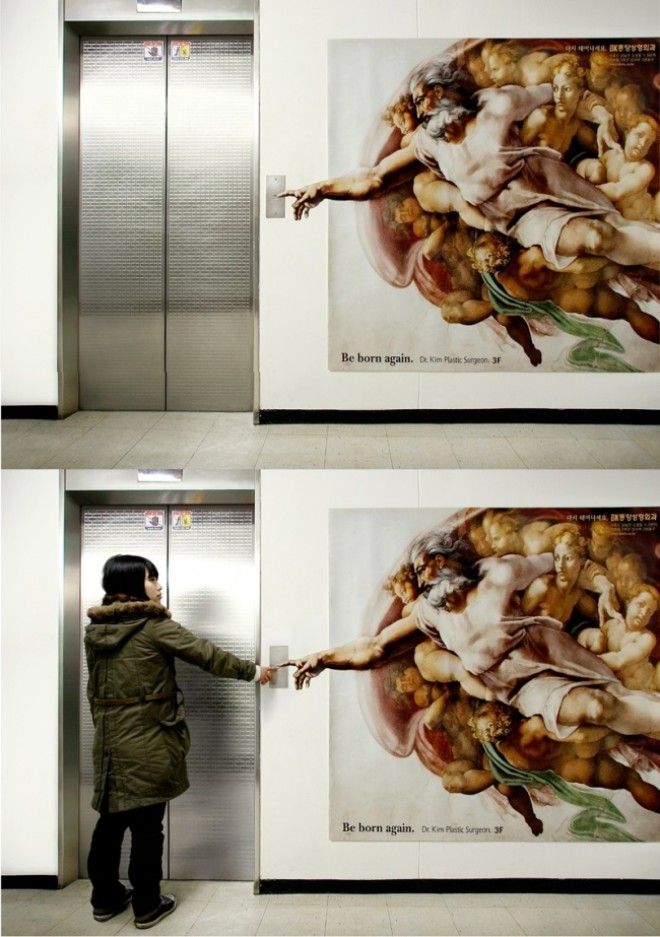 Michelangelo's masterpiece, The Creation of Adam, went on another level of advertisement art used by Dr. Kim's plastic surgery office.

2. "Wake up" with Maxwell House!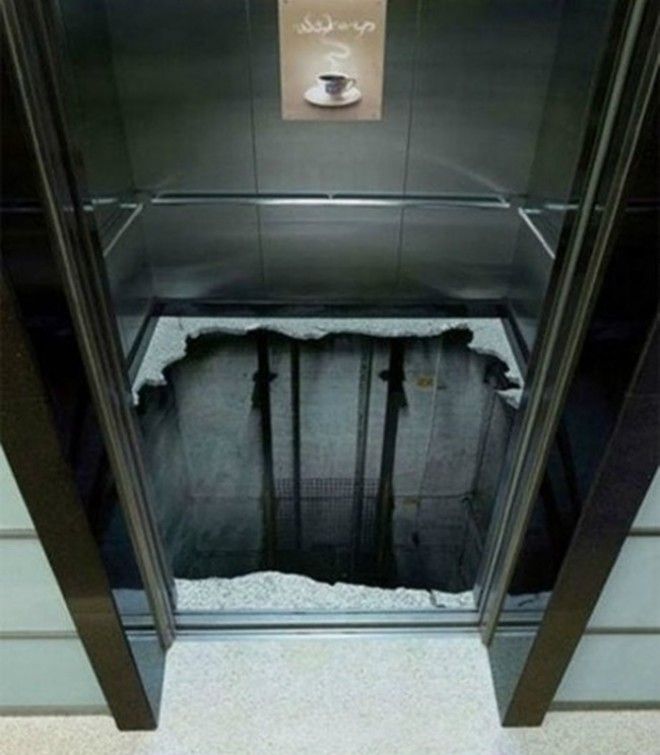 Not only will Maxwell House's coffee make you wake up, but you'll also get a great rush of adrenaline while taking the elevator to work. This ad was in China in 2008.

3. Gold's Gym elevator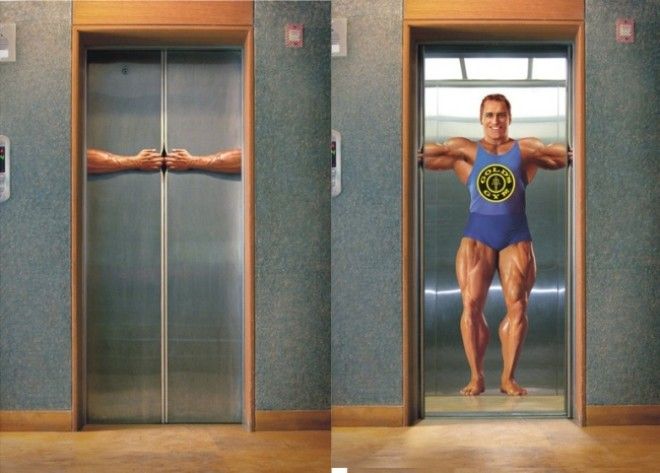 Gold's Gym is a huge chain of international gyms, they are well known throughout Canada and the US. It was originally founded in 1965 by American bodybuilder and businessman, Joe Gold.

4. "The Divorce Elevator" to the office of divorce lawyer Sabina Stobrawe.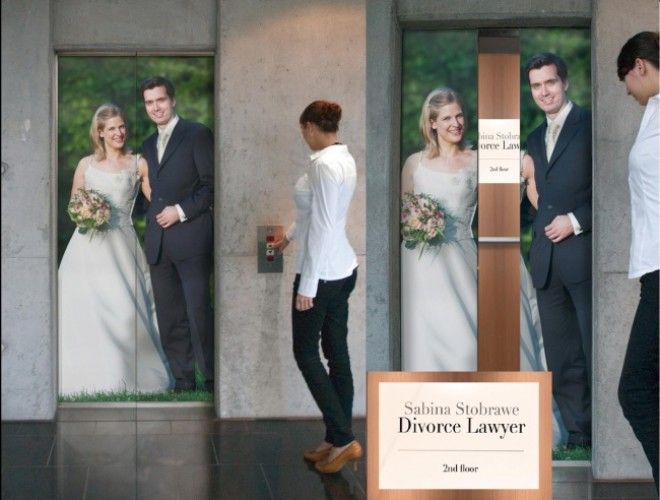 A typical wedding photo was placed on lift doors in a law firm in Germany. Unfortunately, every time the doors opened, the couple split up. However, when the doors open, people in the same position can immediately find help on the ad with the name and the office floor of a divorce lawyer.

5. Superman — the movie elevator.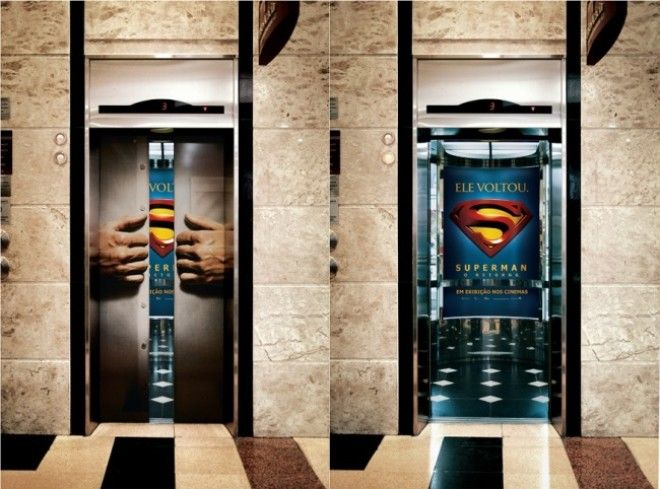 This ad was made before Superman Returns was to be released in 2006 in a Brazil cinema.

6. "Bald man" ad by hair-loss prevention brand Folliderm.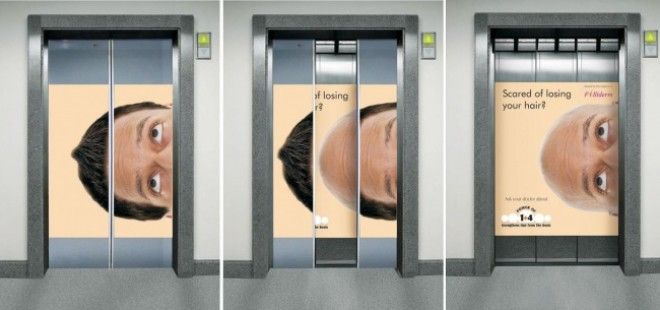 "Scared of losing your hair? Ask your doctor about Power 1+4!" says the ad of an Indian brand for strengthening hair roots, Folliderm. They weren't allowed to use their real brand name so there's a different one on the advertisement.

7. Domino's Pizza challenges everything.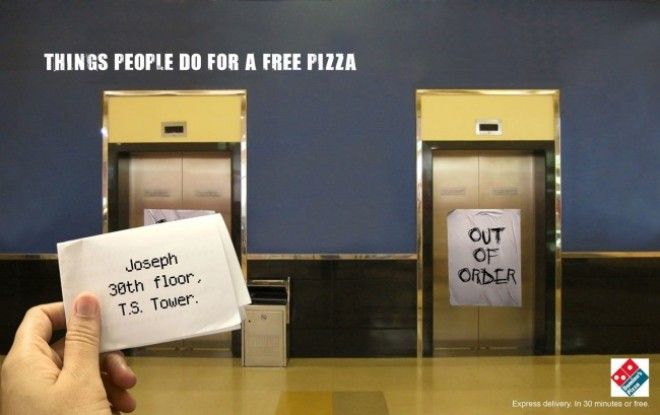 Domino's Pizza is an American pizza restaurant chain all over the world founded in 1960. Since 1973, Domino's Pizza has been guaranteed that customers would receive their pizzas within 30 minutes of placing an order or they would receive their pizza for free.

8. Great Lakes Science Center in Cleveland.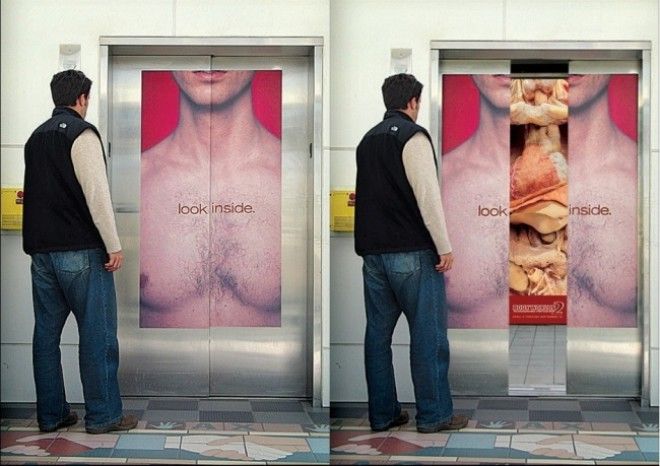 The Great Lakes Science Center is a museum and educational facility in downtown Cleveland, Ohio. The center's exhibits support STEM (science, technology, engineering, math) with exhibits including the BioMedTech Gallery, advanced energy, science phenomena, and space.

9. "Scales" for Science World.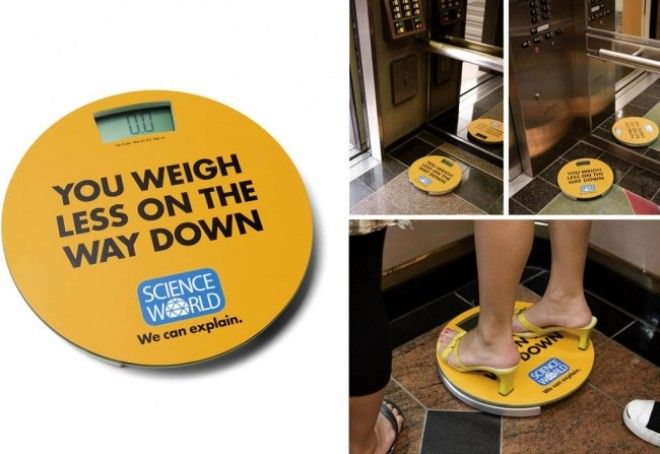 "Through science and nature, we ignite wonder and empower dreams." This is a mission for Science World, where people reveal the riddles of our world.

10. Shams Taekwondo School's "Elevator kick" in Bahrain.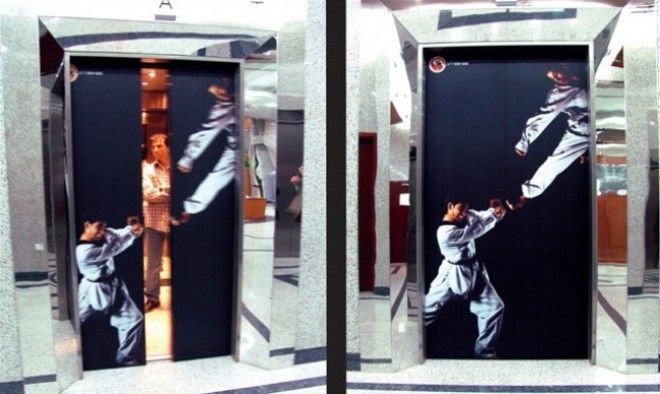 After Shams Taekwondo School released this ad to promote the school's 15-year anniversary, they received 15% more phone calls that week and expanded the school.

11. "Give me five" elevator for a radio station.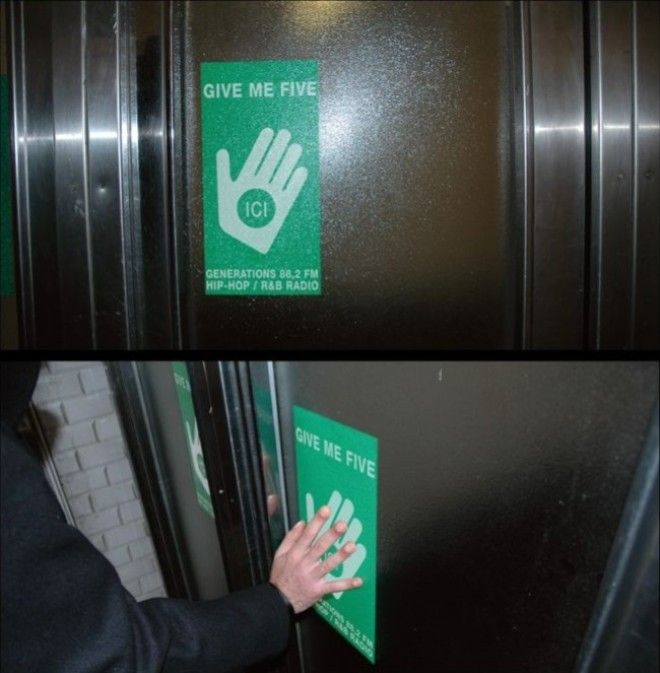 Générations is a French radio station located in Paris and dedicated to several genres such as hip-hop, soul music, and disco.

12. Already want to buy some of Kagatani knives?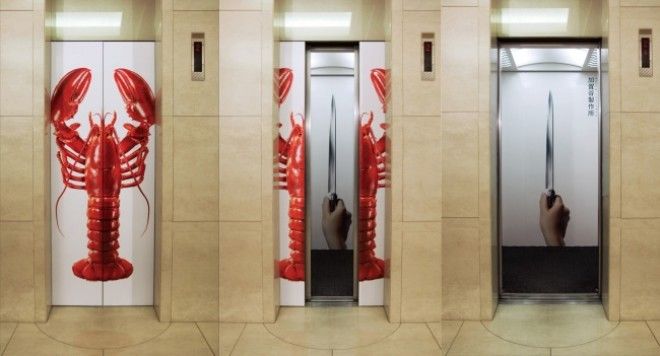 Kagatani is a cutleries manufacturer and distributor in Japan with a 120-year history. Knives manufactured by this company are made by hand by skilled artisans.

13. Swiss skydive "Free Fall" elevator in Switzerland.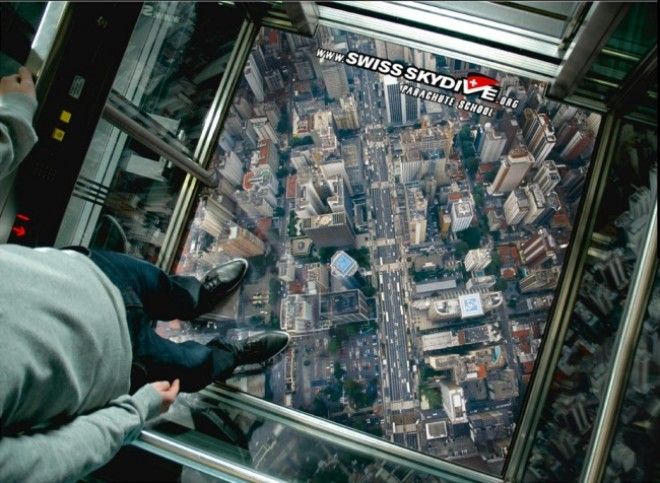 This Swiss skydive school might be the biggest skydive school in Switzerland.

14. Would you like to drive the Ford Escape elevator?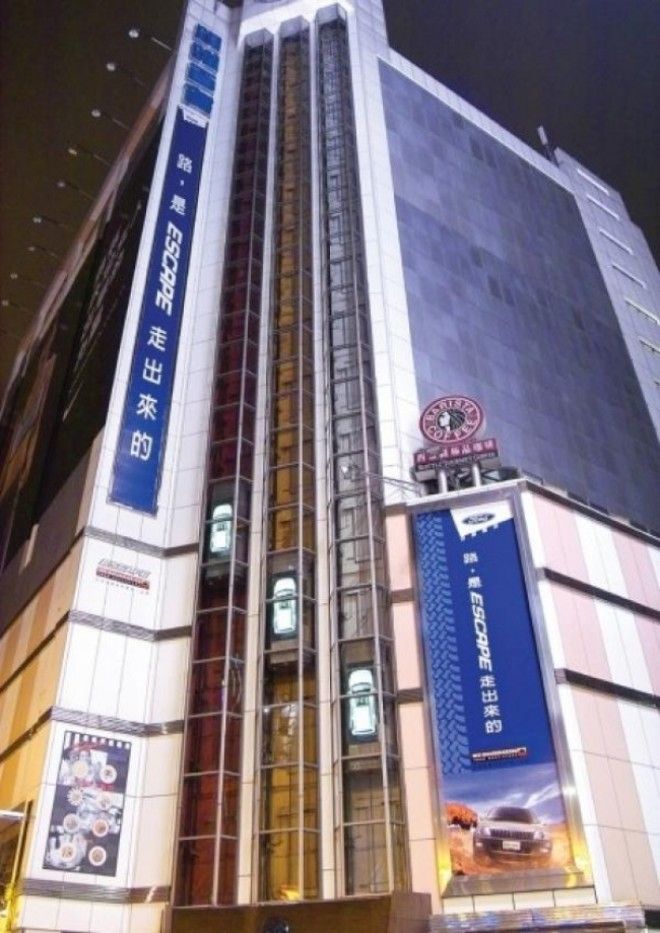 This ad is for Ford Escape 4×4. It was located in China and was released in January 2004.

15. Resident Evil: Extinction elevator.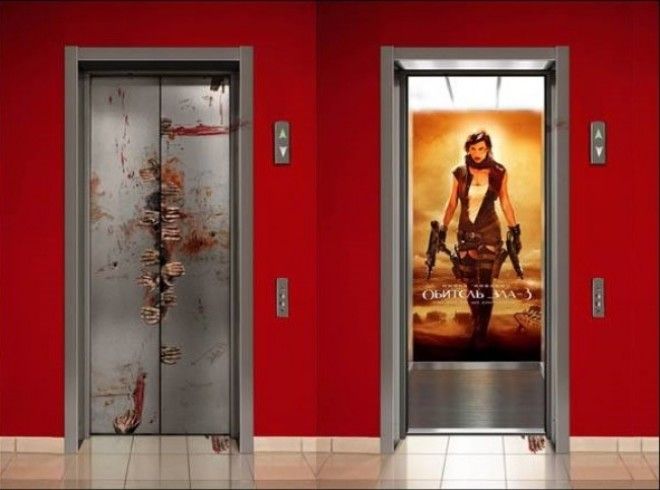 The Resident Evil elevator was created and placed before the release in 2007 in Kiev, Ukraine.

16. Elevator calling you to watch your step.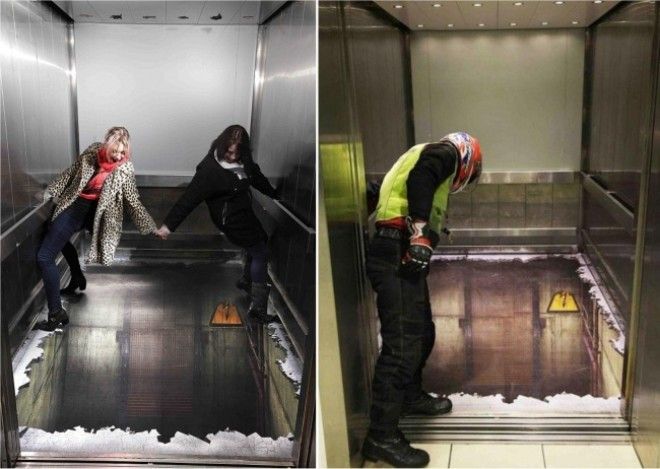 This 3D illusion was created by artist Andrew Walkerto to prepare Londoners for a new attraction — Nemesis Sub-Terra.