More than 600 young women were supposedly tortured and killed on Báthory's orders at Čachtice.
Who was the Bloody Lady?
Elizabeth Báthory was born in 1560 and, despite a noble upbringing and royal lifestyle, earned herself the reputation of being the world's most prolific female serial killer. She was born into the noble family who controlled Transylvania, an area that includes parts of present day Romania, Hungary, and Slovakia. She was married by age 14 to Ferenc Nádasdy of another aristocratic Hungarian family, but her family name socially outranked his, so she kept it and he adopted it as his own after their marriage. The newly married couple lived for many years in the Nádasdy castles in Hungary at Sárvár and Čachtice (now in Slovakia). While there, she was known for taking several lovers and bearing her husband four children. Nádasdy died in 1604, when Elizabeth was 43.
After her husband's death, the rumors about her perverted mutilation and murder of young girls began to spread. The list of crimes she committed against these young women is grotesque and disturbing. For example, she was accused of smearing servant girls with honey, then leaving them oustide to be bitten by bees, wasps, flies, and ants. She was also accused of depriving her servants of water and making them drink their own urine, mutilating them with scissors, knives, and her own teeth, and burning them with metal sticks. She is known to have buried servants alive, beaten them to death, and forced them to stand in ice cold water until they died.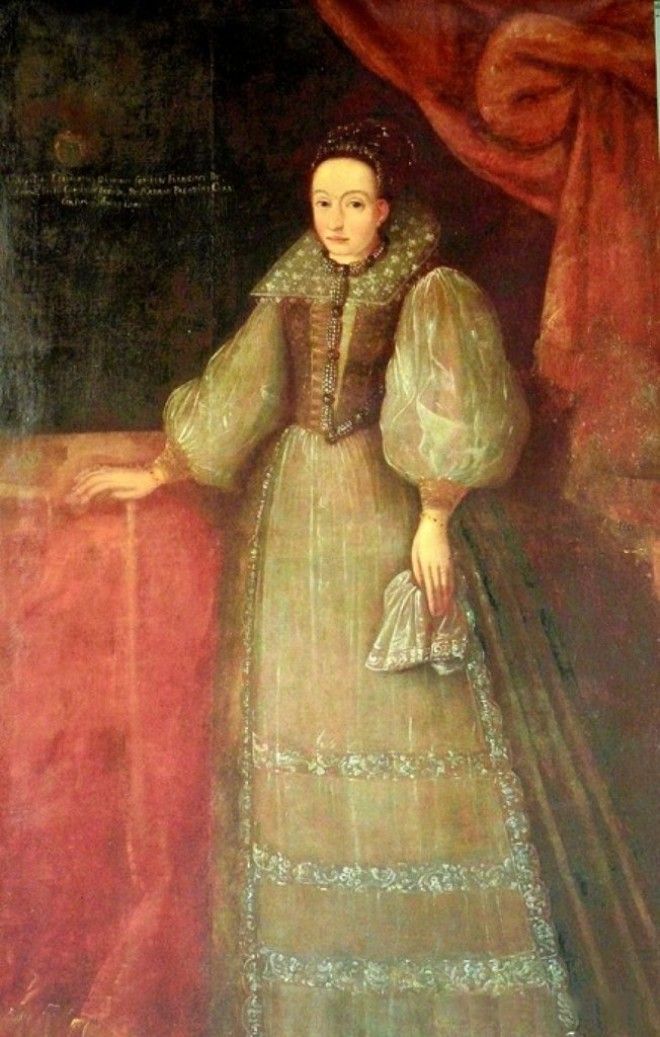 A portrait of Elizabeth Báthory

The trial and the Bloody Lady's demise
Hungarian authorities eventually heard so many complaints about Báthory that they assigned Gyorgy Thurzo, the Palatine of Hungary, to investigate her crimes and to conduct a trial that included more than 300 testimonies. According to the testimony given by servants who acted as her accomplices in these crimes and kept her secrets for years, she killed between 30 and 650 young women. No one is sure of the actual number, as the numbers offered by her alleged accomplices during her trial ranged greatly.
During the trial, servants testified that they had witnessed Báthory force servants to cook and eat their own flesh. Other servants claimed that she stuffed corpses under a bed and continued to feed them as if they were still alive for days. One servant claimed that she forced burning rods into the mouths and even vaginas of the girls she tortured. Due to the evidence brought to light in the trial, three of Báthory's servants were sentenced to death and another one was imprisoned for life. Báthory herself was not put on trial due to her family's standing, but was imprisoned in a room in Čachtice Castle, where she eventually died at age 54 on August 14, 1614.
Some of the ruins at Čachtice Castle

Brief history of Čachtice Castle
Before Čachtice was home to the Blood Countess, it began as a sentry point on the road to Moravia. Originally built in the 13th century, the castle served several noble families before meeting its demise. Máté Csák, a Hungarian oligarch who ruled the northwestern territories of medieval Hungary used it as one of his residences. Next, the Stibor of Stiboricz possessed it as one of his 31 castles. Elizabeth Báthory was the next resident, and certainly the most well-known. Due to the myths surrounding her murder of young girls, Čachtice Castle was featured as the "Castle of the Blood Countess" on the The Scariest Places on Earth, an ABC Family show. It has also appeared on Ghost Hunters International on the SyFy channel.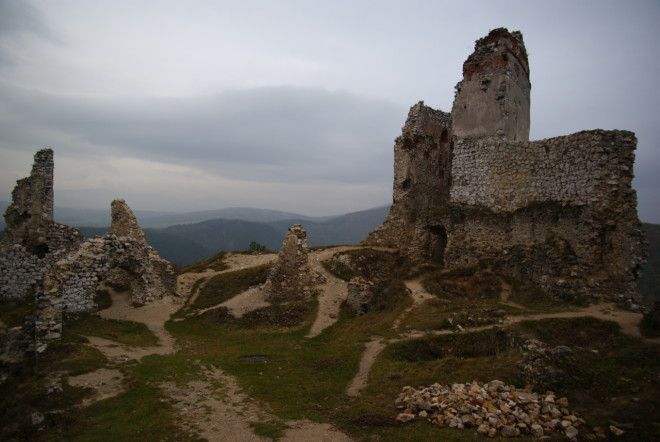 Čachtice Castle ruins with a view of the hills of the Carpathians beyond

Visiting Čachtice Castle today
The castle is a ruin, but was restored to safe conditions and reopened to the public in 2014. Present-day visitors can take a 45-minute hike along a marked trail from the town of Čachtice, and then walk around Báthory's old living quarters, the likely location where she was imprisoned and died. You can enjoy a beautiful panorama of the Carpathian Mountains and the town from the castle.
Below in the town, you can visit the church where Báthory's body was originally interred, before it was sent back to her hometown in Hungary due to local protest. The town of Čachtice additionally offers the Čachtice Museum, with information about the area during the medieval period and history of the castle. A large, wooden statue of Elizabeth Báthory stands in the main square. Several books, movies, and TV shows have featured aspects of Elizabeth Báthory's story, and while it's impossible to know which parts of her story are true and which are a myth, it is certain that Čachtice Castle was the lair of one of the most evil women who ever lived.