You might think he's even more badass when you discover that he has an incredible love of motorcycles. So, while either shooting on location for The Walking Dead or off on hiatus for a bit, Reedus grabs a bike, travels to some location and tours around with a buddy for AMC to produce the travel show Ride With Norman Reedus. He even took co-star Jeffrey Dean Morgan out on one of the episodes and Dave Chappelle as well.
He goes to some really interesting and beautiful places to try out a new bike, spend some time with a friend, take in the view, play around a bunch and learn all sorts of new things. It's actually not a bad show and it's been renewed for a third season so there will be more locations to talk about this year. But until then, here are 20 beautiful spots that Reedus has traveled to on his bike for the show Ride With Norman Reedus.

20. Sagrada Familia Barcelona, Spain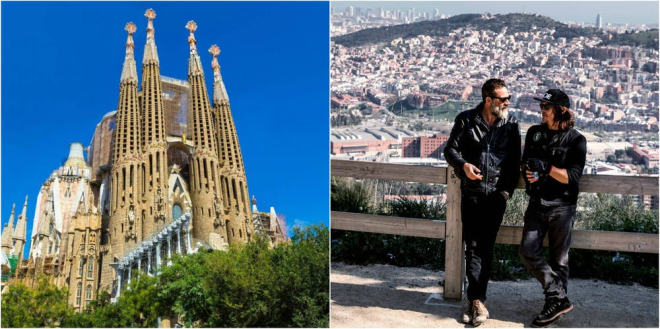 First of all, Spain is just a beautiful country in general. Almost no matter where you go you'll find something gorgeous to look at. But it wasn't enough for these two Walking Dead stars to just take a bike tour through Barcelona. Oh, no.
They had to go to the unfinished yet stunning Sagrada Familia Catholic church. Construction on the church was started in 1882 but still has not yet been completed. By the time it is complete it will have taken many times longer to construct than the pyramids in Egypt. That being said, carving and hacking at blocks, while time-consuming, is nothing compared to the intricate work of this church. It is projected to be finished by 2026, but there are no guarantees. It is currently the largest unfinished church in the world.

19. The White Sands Of New Mexico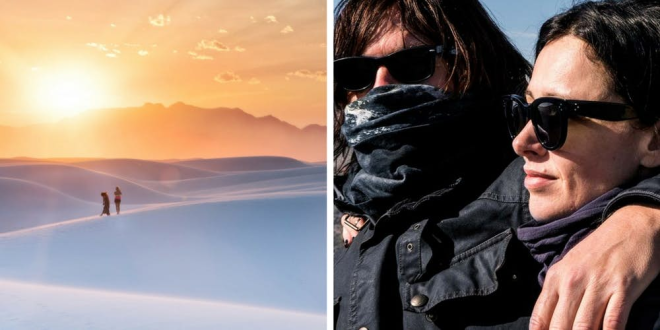 Norman Reedus goes for a ride with musician Aimee Nash into the White Sands of New Mexico. This is a stunning place of pure, white sand dunes that roll like typical hills of grass.
The sheer expanse of the place is incredible and awe-inspiring. Of course, just riding through the sands isn't all that Reedus and Nash get up to. They also go on big zip line tours, eat a bunch of chili, and do some weapons testing. And when I say weapons testing, I mean government level, military grade weapons testing. Which is pretty exciting. Though, I have to be honest when I say that the beauty of the White Sands is more exciting to me than testing potentially marketed weapons used to kill people. That's just not my sort of thing.

18. The Twisted Sister Of Texas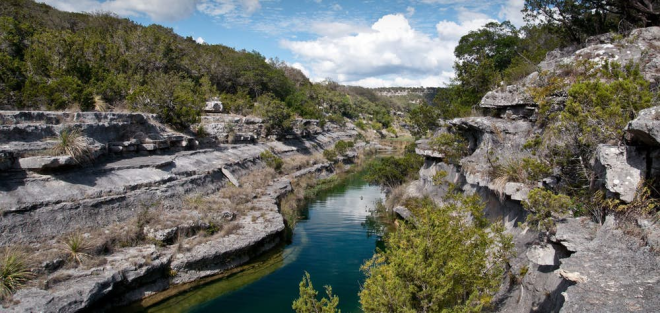 Along with artist friend Jack Lamagno, Reedus takes to the bike and goes roaring through Texas to ride the 100-mile loop known as the Twisted Sisters. Essentially, this 100-mile stretch is just loaded with twists and turns with not a lot of safety for the rider.
There are plenty of cliffs and valleys for a rider to tumble into and not a lot of guard rails around the whole stretch. This is how Ride Texas describes the route: "The route follows canyons and climbs jagged, steep hills; the roads offer many tight, twisty curves with sheer drop-offs alongside and not much in the way of guardrails. In one 15-mile section, there are approximately 65 curves! Experienced riders bliss out on this ride. Beginners are cautioned to focus on the road—even when a panoramic vista pops up along the way."

17. The Penn Center, South Carolina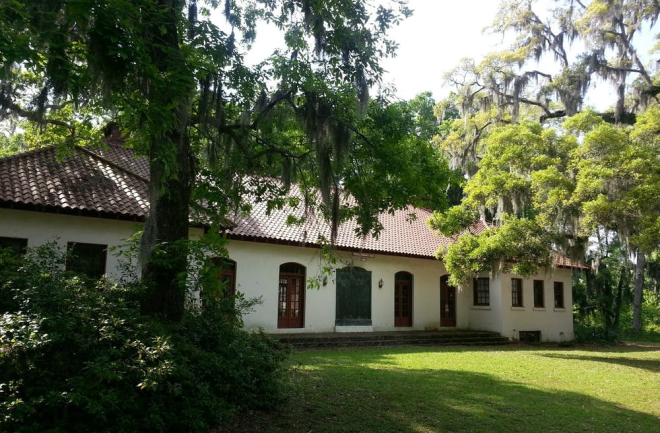 This photo is of the Penn Center in South Carolina. It's a beautifully secluded museum where Norman Reedus and Dave Chappelle go to learn about Gullah history. In case you don't know who the Gullahs are, they are descendants of enslaved Africans brought to the States who predominantly live in South Carolina and Georgia. They have been described largely as an island-dwelling group of people.
In terms of heading to the Penn Center to learn about them, the museum itself rests on the beautiful South Carolinian island of St. Helena's. The island is fairly large with about 64 square miles of land but in that whole stretch of land, there are only about 9000 people living on the island. So, not only is it beautiful but it's also quiet!

16. Pismo Beach, California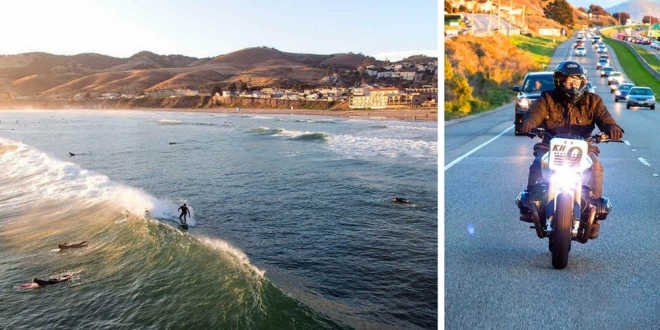 If you love surfing, chances are you'd love Pismo Beach. Aside from the fact that you can catch waves there, you also get an amazing view while you surf to shore. The rolling hills, the beautiful villas, and of course, plenty of places to grab a drink once you get out of the water.
Reedus takes jewelry designer Imogen Lethonen out for a ride around certain parts of California and they happen to make a stop at Pismo Beach. Oh, I should also point out that Pismo Beach isn't just the beach. It's also the city where this and many beaches like it can be found. The city is home to a ton of Californian wineries. It boasts a giant monarch butterfly shelter and it even has a place called Dinosaur Cave Park. So there is both a lot of fun and a lot of earning learning to be done at Pismo Beach.

15. Dante's View, Death Valley CA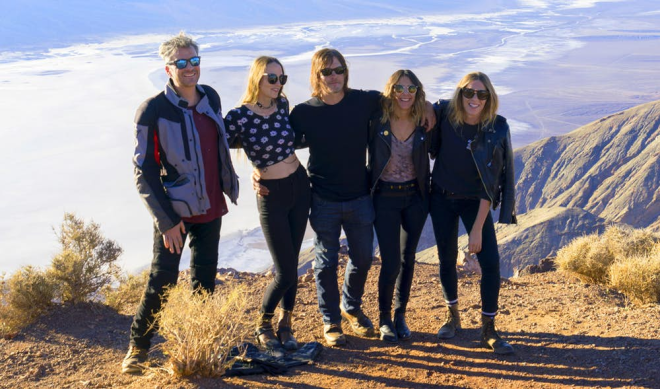 Reedus starts this ride out in Nevada where he and best acting buddy Balthazar Getty roll through Las Vegas. But they eventually end up in California and go into Death Valley where they meet up with Nina and Anya of the organization Babes Ride Out.
They all end up at a place called Dante's View. Every place in Death Valley sounds horrible and horrifying. I mean, the name Death Valley already isn't encouraging. But Dante's View is at the north side of what is called Coffin Peak on the Black Mountains. It is a gorgeous view of Death Valley at over 1600m above the valley floor. Apparently, to get there you have to ride about 25km from Furnace Creek in the Death Valley National Park. Everything sounds so foreboding about this place. So it makes total sense that bikers would love the place.

14. Savannah, Georgia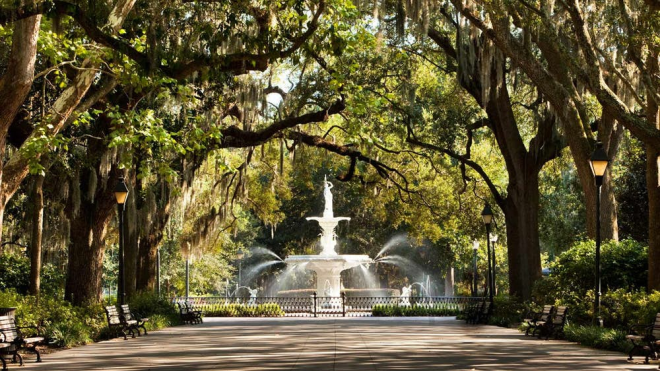 This particular shot is of Forsyth Park in Savannah, Georgia. Savannah is just a river crossing away from the state of South Carolina. It's a coastal town that boasts a lot of historical architecture, cobblestone streets, beautiful parks, horse-drawn carriages for some reason, a giant cathedral…and an island racetrack. So this place makes perfect sense for Reedus to take Dave Chappelle across to Hutchinson Island to race a bunch of vintage bikers from Coastal Empire Moto on the Hutchinson Island Race Track.
Considering how quiet and quaint the rest of the area seems to be, it's amazing that petrol-heads managed to get themselves a whole island to race around on. That being said, I'm sure the city preferred it that way anyway.

13. Sea Islands, South Carolina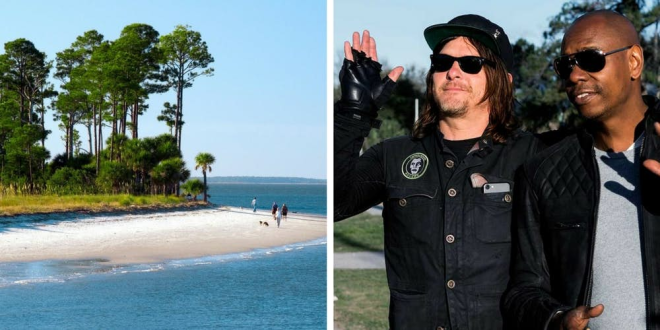 In the episode of Ride where Norman Reedus takes out Dave Chappelle, they start out from Charleston, South Carolina so it makes perfect sense that they spent some time touring the Sea Islands.
Now, the Sea Islands are not specific to South Carolina by any means. They stretch across South Carolina, Georgia, and Florida. There are over 100 islands along this length of the U.S. coast and there are some amazing and beautiful views to behold. The islands have a lot of dark history though in spite of how gorgeous they may be. They were originally settled by certain native tribes and then were taken over by the Spanish to settle colonial missions. During the Civil War the islands were used by the Union Navy. In the 1960's, there was a great deal of activity in the area for the Civil Rights Movement.

12. Sitges, Spain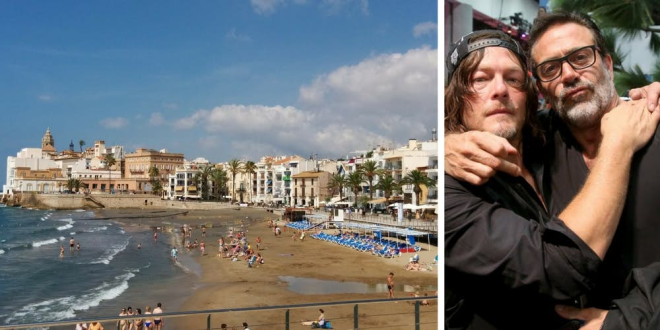 Sitges is a pretty compact coastal town with a lot crammed into it. Its beaches are lined and bookended with many grand and stunning mansions. There are several museums that feature plenty of history about the local Spanish culture. Ocean on one side, mountains on another, and mansions surrounding, Sitges is a pretty darn attractive place to be, even if you have no money to spend.
Jeffrey Dean Morgan went along with Reedus to Sitges. It turns out that Reedus used to live in Sitges at one point in the 1990's, so he even got to meet up with a few old friends while touring there. Apparently, the town is well known not just for its beauty, but also for its restaurants, tourist shops and wide selection of gay bars and nightclubs.

11. Nevada Highway 160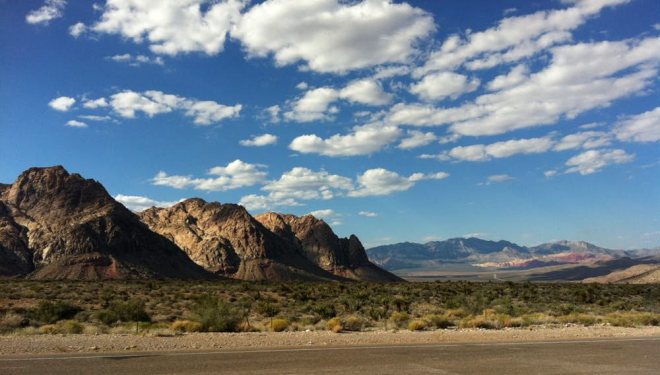 When Reedus toured with his buddy Balthazar Getty, they rode 120 miles from Las Vegas to Death Valley on the Nevada Highway 160. The 160 connects to Route 95 eventually at a place called Pahrump which is slowly becoming a simple outlying community of Las Vegas people. So the highway now has two unofficial names attached to it.
Those who live in Las Vegas refer to it as the Blue Diamond Road (at least when it comes to the part closest to the city). Otherwise, the rest of the highway stretch is referred to as Pahrump Valley…which is a kind of unfortunate name. No matter what they place is called though it is gorgeous. It might seem like a lot of the same but looking out at all those rocky outcrops stretched along the desert sand with a bit of green here and there…it really is breathtaking…and not just because of the heat.

10. The Big Island, Hawaii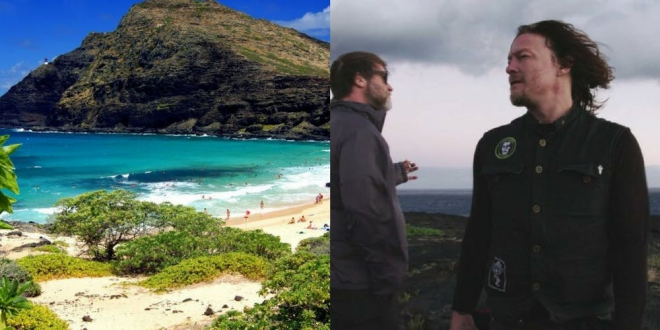 It still seems strange to me that Hawaii is a state, but it had been for coming up to 75 years soon enough, so I guess everyone should be used to it. Now, the thing about the Big Island is that it's actually just called Hawaii. The state is in reference to all of the Hawaiian islands, but the Big Island itself is simply called Hawaii. The place is pretty incredible.
I've only ever been to Oahu (one of the other islands) but the Big Island is pretty exciting. It has two active volcanoes on it. It has beaches of both green and black sand. It's got plenty of places to go snorkeling or surfing. The rainforests are abundant and beautiful. Basically, Hawaii is just one of the best places to live. Of course, you have to take your chances there. It's all good to go for a ride along the mountainous and shoreline roads but you also have to worry about volcanic eruptions and hurricanes wiping the island out…

9. Fontana Dam, North Carolina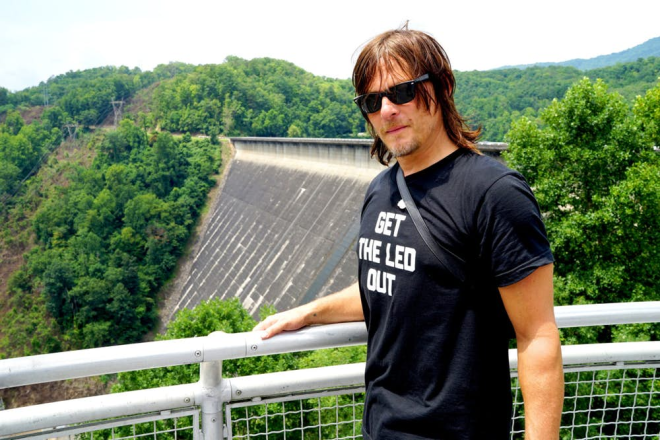 The Fontana Dam was once the fourth tallest hydroelectric dam in the world. It is currently the tallest in the Eastern United States standing at some 480 feet. It is found on the Little Tennessee River and it holds the Fontana Lake which is more than 10,000 acres of space. That's a pretty hefty lake and dam to hold it up.
The Appalachian Trail runs across the top of the dam and the dam itself is not far of from the Great Smoky Mountains. Reedus takes out Jason Paul Michaels from Brother Moto out for this tour. Jason
Paul Michaels is a custom bike builder, though he doesn't bring a custom bike with him for the tour they do here. I have to say, it must be really hard to ride a bike when you must be spending so much time looking around at the beautiful view. Especially from the top of the dam.

8. Joshua Tree, California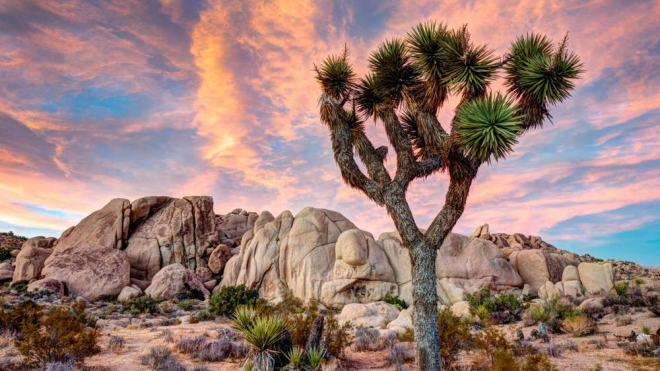 Before we even get started, to those of you U2 fans out there…no. This specific touring location was not named after the "iconic" U2 album. The album was named after the type of tree that this place in California is also named after.
The Joshua Tree is a twisted and spikey tree that lives in this desert area. It is likely to be scary, thinking about being stranded in a desert with a broken down motorbike, surrounded by trees that will always make you think of a famous but awful band. And it's got to be so beautiful to see the rocky crags and the desert floor of the California High Desert littered with cacti and similarly twisted and spikey trees.

7. Overseas Highway, Florida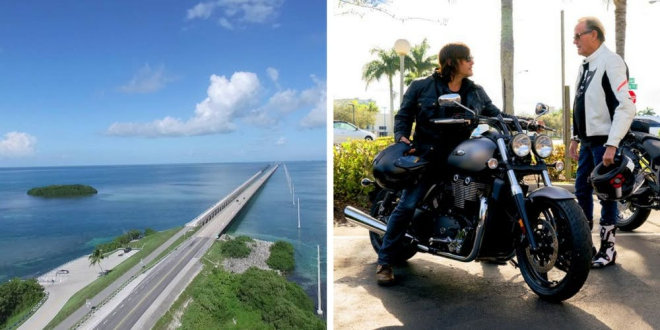 The Overseas Highway is actually scenic route to take when driving from Miami to Key West. It's pretty remarkable to think that there is a whole 113-mile long highway in the ocean stretching from one city to the other. You'll even notice from this photograph that there is power running all the way along it as well.
When this bridge was first created it was a railway but after a hurricane back in 1935, it couldn't be repaired by the railway company so Florida purchased it and turned it into the highway you see now. The episode where Reedus takes this route to Key West is pretty awesome because Easy Rider star Peter Fonda is the guy riding with Reedus! Apparently, Fonda is one of Norman's idols. And given that Easy Rider is such a biker movie and Reedus is such a biker fan…it makes perfect sense.

6. Great River Road, Louisiana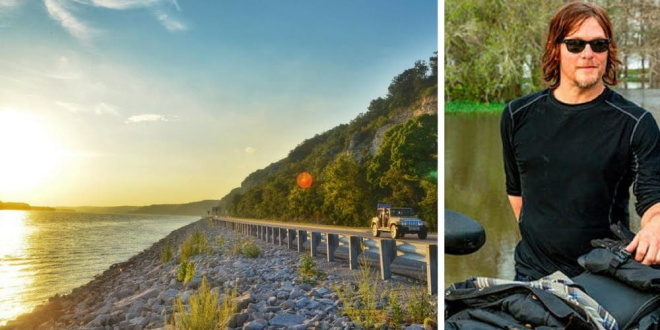 In one episode of Ride, Reedus takes out Mastadon guitarist Brent Hinds through Louisiana. It's a beautiful state already but then there is the stretch of the Great River Road that runs alongside the gorgeous Mississippi River. Now, to be fair here, Louisiana is not the only state that gets to boast of having this road.
This highway stretches along ten states. Minnesota, Wisconsin, Iowa, Illinois, Missouri, Kentucky, Tennessee, Arkansas, Mississippi and Louisiana all get to share this wonderful road. Even Canada once had a share of it that stretched into both Manitoba and Ontario. The reason the two bikers took to the Louisiana stretch of the Great River Road was to have a stunning scenic route to take into New Orleans.

5. Blue Ridge Parkway, North Carolina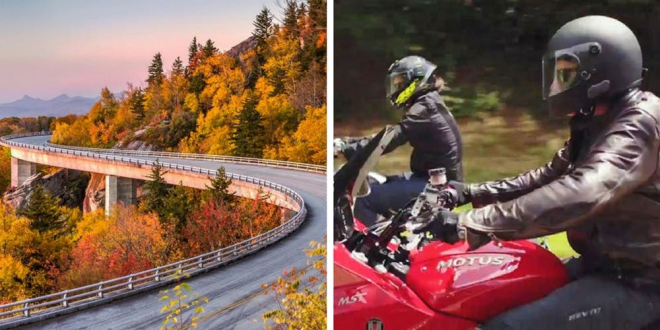 Here's the thing. The Blue Ridge Parkway winds through several States. It goes from Virginia down through the Carolinas and into Georgia. Well, Reedus and his buddy Jason Paul Michaels start out in Georgia and end up on the Parkway up into North Carolina.
They hit this stretch between stops at the Fontana Dam and Asheville, NC. As you can see from the photo, this is a beautiful route to take during Autumn. Looking out from the Blue Ridge Mountains at the vibrant Fall colours has got to be a breathtaking sight, for sure. I don't know how anyone could deny that. After all, there is a reason that Reedus and AMC choose routes like this. It's all about the eye candy.

4. Pacific Coast Highway, California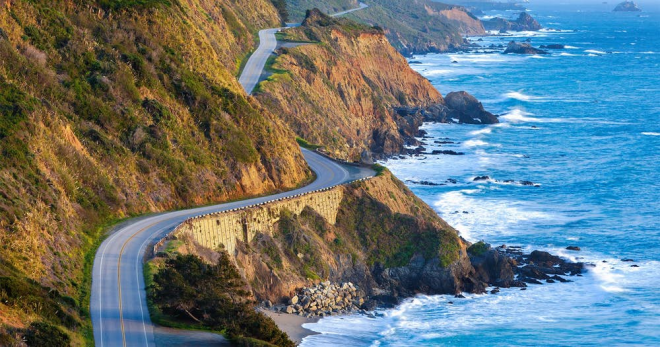 There is something about California that is truly amazing. Aside from all of the beautiful beach bodies wandering around at all times of the year. I mean…the state is full of mountains, desert, forests, ocean beaches…it's just a beautiful state. Anyway, without gushing too much, Reedus takes his designer friend Imogen Lethonen out for a tour of the Pacific Coast Highway (PCH).
It's a beautiful biker route to take if you can keep control while you take in the gorgeous scenery. Of course, with Reedus there are several stops along the way, including dune-buggying on the coast and hitting up places like Pismo Beach and Santa Barbara before they finally end up in Santa Cruz which is apparently a big biker town.

3. The Everglades, Florida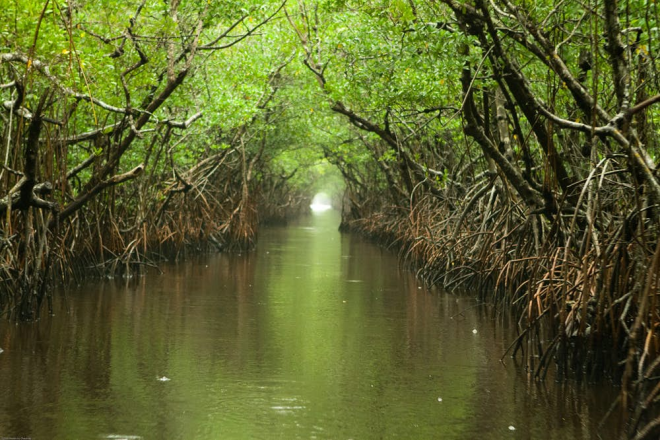 The one thing I don't think of when I think of the Florida Everglades is…biker route. I just don't equate the two. I think of alligators and swamps and reeds, but not motorbikes. But who am I to really judge? I've only been to Florida once, and I never toured the Everglades.
That being said, when Norman Reedus took his idol Peter Fonda out for a tour…they didn't tour the Everglades with their bikes. It would be hard to run them through those swamps. Either way, the Everglades is a gorgeous spot to visit. With over 1.5 million acres of wetlands to explore, it's a pretty incredible place home to the leatherback turtle, the west-Indian manatee, and the Florida panther. All of which are endangered. Which makes total sense when you think about the Florida Panther NHL team. That's probably why they're fifth from last in the league right now.

2. Asheville, North Carolina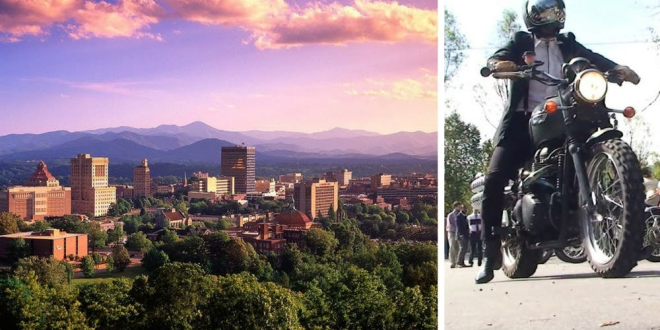 Reedus rides out with custom bike builder Jason Paul Michaels and goes for one hell of a tour from Atlanta, Georgia through the Blue Ridge Mountains to Asheville, North Carolina. Now, the wonderful thing about Asheville is that it isn't on one end up of the mountains or the other. It is a city set within the Blue Ridge Mountains. And it's a beautiful city at that.
Just look at the wonderful cityscape above! That's a pretty fantastic view. And it's so lush and green. A city that can still have a lot of nature spread throughout it is really worth visiting. It's wonderful when you can see that sort of harmony. While Reedus and Michaels are in Asheville, they take in some mini-bike races and they also get ripped on moonshine. Sounds like a fun place to be when you're up in the mountains.

1. Atchafalaya Basin, Louisiana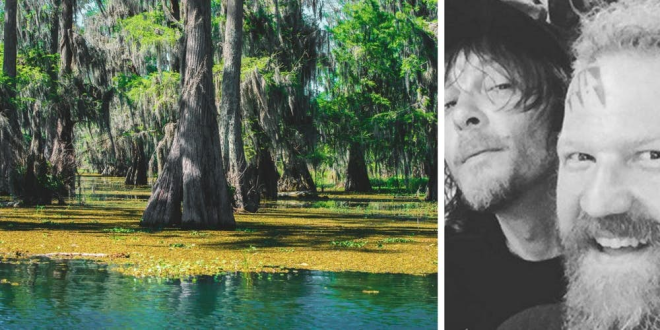 When Norman Reedus and Brent Hinds go for a tour of Louisiana, they start off their ride in Lafayette. Shortly thereafter, they do a tour of the Atchafalaya Basin (also known as the Atchafalaya Swamp). This is the largest wetland area in the entire United States.
This basin is where the Atchafalaya River and the Gulf of Mexico meet. The basin is made up of both forest and wetland areas. The divide is about a 70%/30% split. Considering this is the largest wetland area in the States, just think about how much forest there must be if it takes up 70% of the area. This wetland contains the largest stands of cypress trees in the whole of the U.S. as well. This would be one hell of a place to take an airboat tour of. So long as you don't run into too many gators that is.