She is the usual Amazon shopper and one day she discovered a feature that sends carpets and fabric samples, completely free of charge and delivered straight to her door. She told Bored Panda, "I definitely got carried away ordering that many! I got one small delivery at first, then yesterday the mountain arrived".
The Imgur user noted that she felt that the carpets would make a great cat scratcher. She told Bored Panda, "I never requested these under the pretense of making a purchase, and if a company can not afford to give away free swatches then they shouldn't offer." But when you order the amount of carpets as this girl did, you're bound to make enemies with the delivery guy.
By the time this woman splurged on the samples, there were so many individually wrapped packages that the delivery guy needed an extra hand. The woman continued telling Bored Panda, "My boyfriend was home and awake so he helped the delivery guy bring everything inside. That's why there's an empty hamper in one picture-he was using it to carry a bunch at a time!"

Luckily, Rowdy's boyfriend has a laid back, amazing personality and decided to take on the mountains of packages in good spirits. "My boyfriend is so laid back that after the mountain of parcels was inside he woke me up to watch me freak out," she told Bored Panda.

She continued, "I was in disbelief, then all I could do was laugh and apologize. I felt awful, but it was already done so might as well make the best of it! He helped me clean everything up then we played with the cats." What a guy
!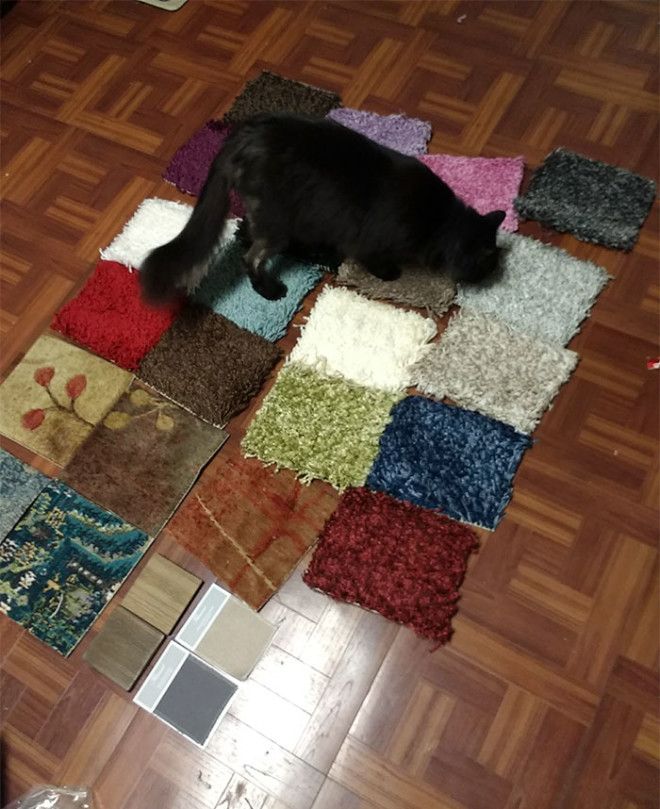 The woman apparently learned her lesson on binging. I mean, on her defense the way things were packaged, she simply could not expect that. Out of the goodness of her heart, she decided to donate the excess samples to local animal shelters.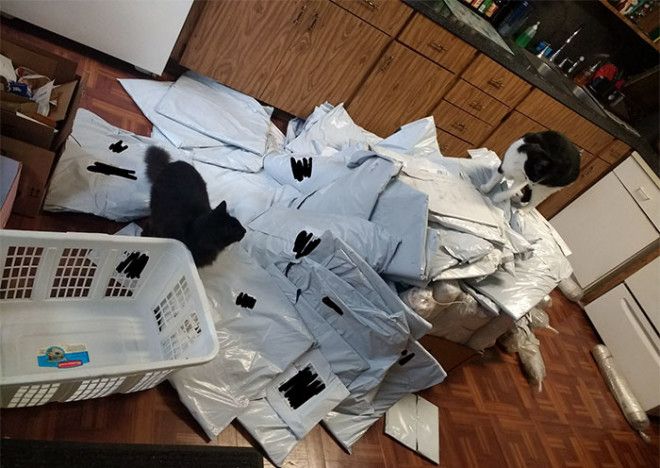 The Imgur user noted, "I can't bring myself to sell something I got for free. I'd much rather donate and share." Well, at least her obsessive purchase was eventually put to good use. I'm sure she made a bunch of animals, who are in need, pretty happy. Imagine being a kid and getting a bunch of toys for free…it's honestly a great feeling.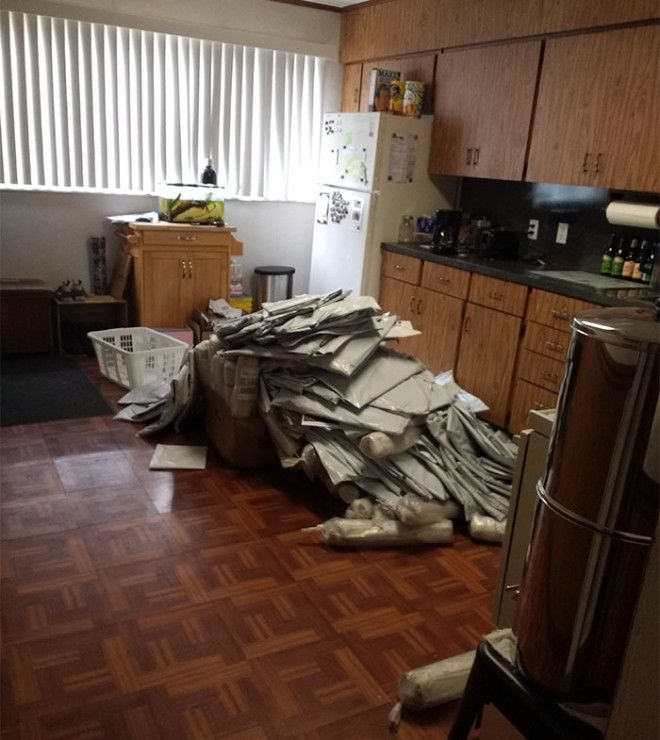 For the record, Rowdy did order a small amount at first but didn't think that the texture was so good, so she ended up ordering more. She noted, "The first bundle arrived and it was a good amount but I realized not all of the textures were gonna be good so I ordered more".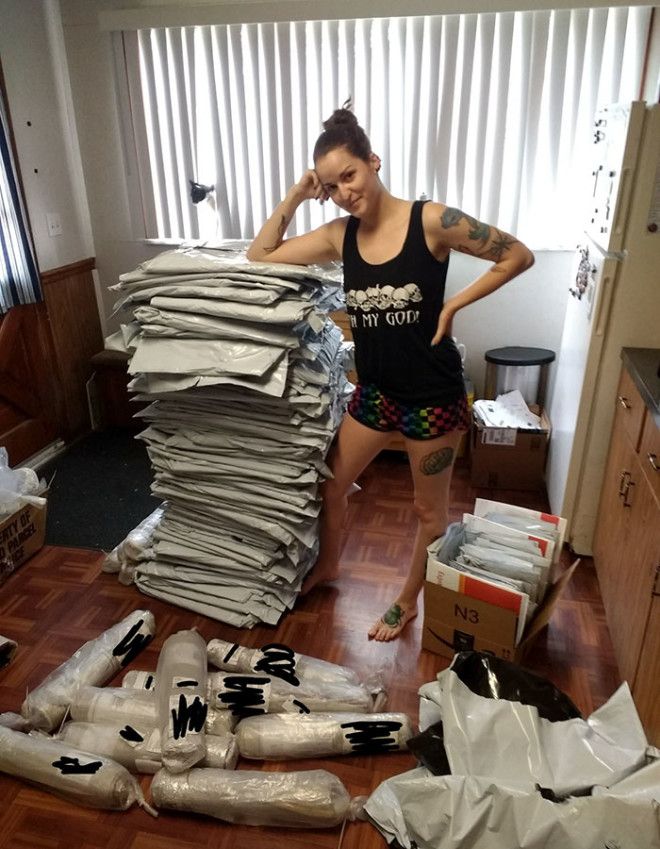 If you think this woman is exaggerating with how many carpets she ordered on Amazon, just look at the photo below. That's just the beginning of it too. She told Bored Panda, "I am on night shift so I was woken up to this. The delivery guy is not happy. I swear I didn't realize I ordered this many and I thought they were all going to be small!!".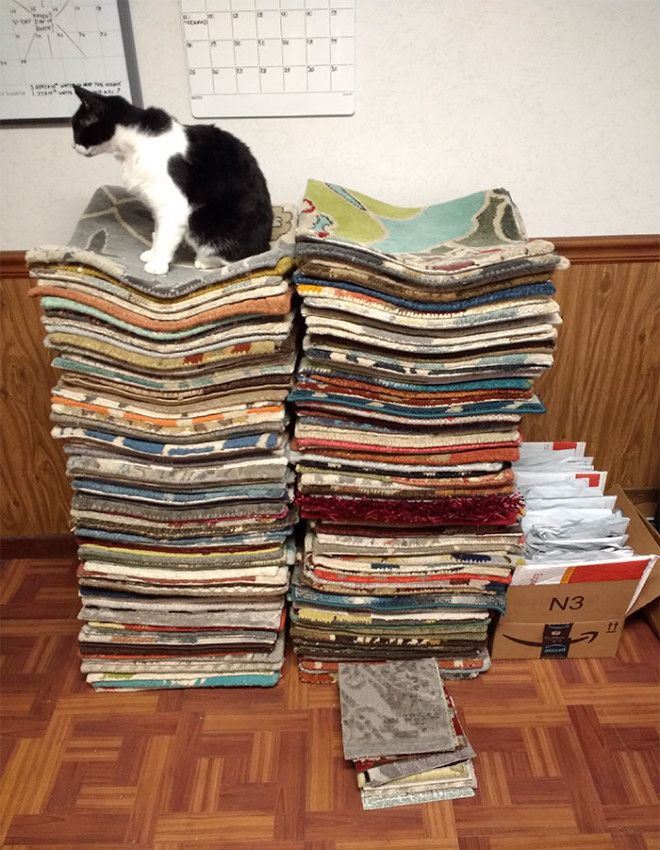 The Imgur user hilariously noted that she had no idea that the packages weren't as small as she thought. She noted, "They are not small. The cats are super interested and I'm laughing hysterically out of nervousness that my future husband might realize I'm a psychopath and leave me".