After the fight, McGregor headed to Ibiza for a vacation with his family. While he was there, he marvelled at a $590-million superyacht owned by Russian billionaire Andrey Melnichenko. McGregor was so obsessed with it that he drove around it and took multiple pictures of the superyacht to post on his Instagram page. It inspired him to keep on fighting so that he could one day purchase a yacht such as that one. McGregor made this caption on Instagram, "The 360 million dollar "sailing yacht A" pulls up out the back garden this morning. "Sailing yacht A" its called. That's how you know the owner doesn't need to give a bollox about anything. Sailing yacht A. Most expensive sailing yacht in the world. 360mill. Owned by a Russian billionaire. Google it. Crazy!" McGregor may not be able to purchase a superyacht, but he's certainly not hurting financially anymore. Check out his lavish purchases since the Mayweather fight.

15. A Yacht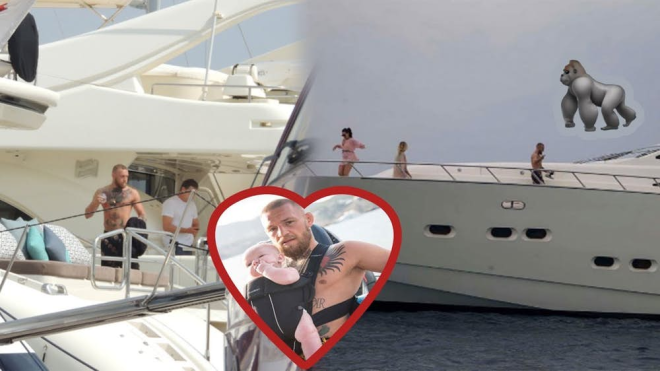 He may not be able to purchase his own yacht yet, but that hasn't stopped him from vacationing on them for long periods of time. "I'm going to hit Ibiza for a childhood friend's wedding and going to hire a 100-foot yacht. Those are my plans and then we'll see what's next." After his fight with Mayweather, Conor McGregor made good on his promise to rent a yacht for his friends and family when they went on vacation to Ibiza. He spent weeks on the yacht soaking up the sun and just enjoying life. That was when he saw the superyacht and it probably made his "regular" yacht seem like a fisherman's boat. It's certainly not every day that a person can rent a yacht never mind own one so he's certainly living the charmed life of an Irishman these days.

14. Designer Clothing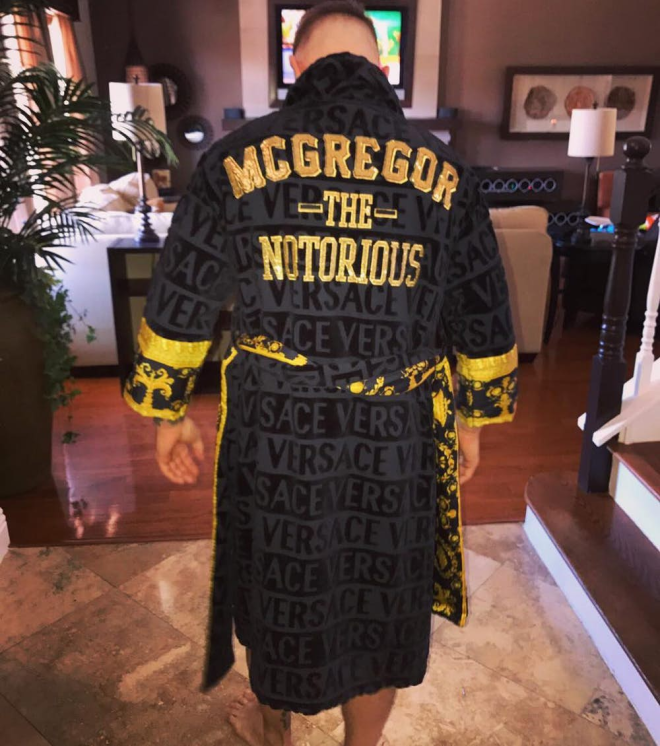 Conor McGregor is no stranger to shopping sprees, in fact, he loves to go on them regularly with his wife, Dee Devlin. Gone are the days where he has to get his clothing at Wal-Mart or thrift stores. While on vacation he spent a lot of time in his Versace dressing gown that was personalized with "McGregor The Notorious." He certainly loves taking his wife shopping though which is a woman's dream come true. They never go in and buy a few things either. When it comes to shopping, they are rumored to have spent $27,000 on one trip to the Dolce & Gabbana store in Los Angeles. That's not chump change, and that's also one store. It's likely that they probably did a lot more shopping that day as well. Though we all know how much designer clothing costs, so it could have just been a few outfits that cost that much.

13. Top-Notch Watches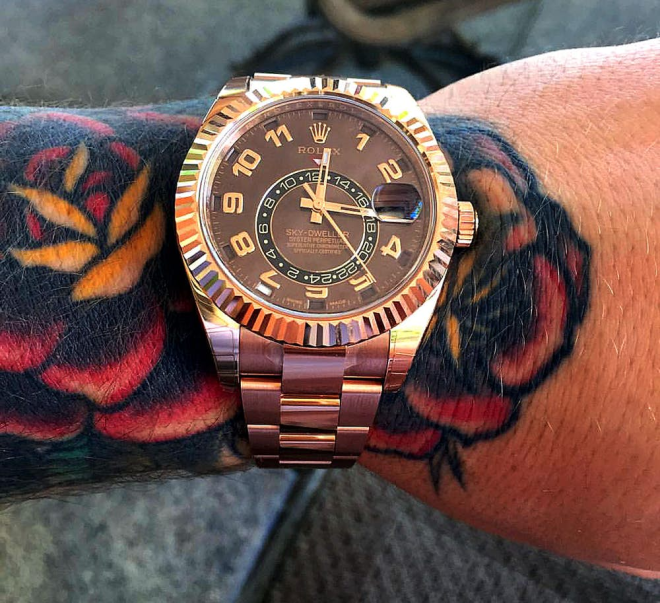 There is nothing that Conor loves these days more than buying luxury watches. He just loves the way they look on him. There is just something about wearing an expensive watch that makes a man feel like he's finally made it. We can't blame him they certainly do look flashy. The money that he spends on watches is what most of us will spend on a car. It's hard to believe that people will wear something on their wrist that will cost close to $40,000 or more but many celebrities do. He has a collection of luxury watches these days, but his favorite happens to be his Rolex Sky-Dweller which he even gave a nickname to "Galaxy Caramel." Whatever works for you we guess. The watch goes for about $36,000 and it's only one from his whole collection.

12. Nightclub Baller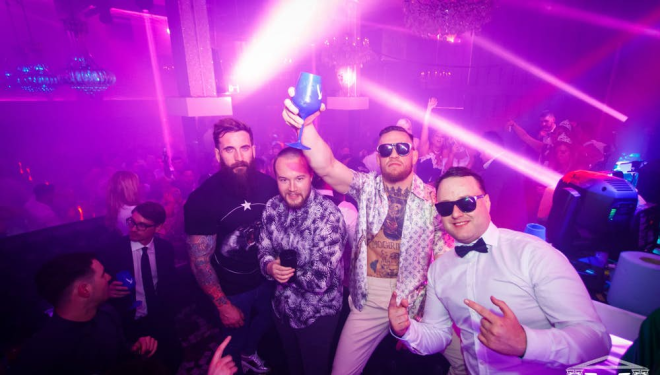 After his fight with Mayweather, Conor McGregor went on vacation and he made sure to hit the club circuit while he was away. That meant VIP booths with bottle service in Las Vegas. Not only is he known to spend a fortune at a nightclub, just imagine how much bottle service he requires for his entourage. It would be nothing to put down $100,000 in a night. Not to mention while he was in Vegas, he threw cash at women who liked to twerk for him. He often says that he likes to go out and "make it rain," and that's probably all you need to know about his spending habits at the club. A manager at Mansion Nightclub stated, "We've had lots of celebrities at the club, but this has to be the biggest event we've ever been a part of in the 6 years we've been open. It's been on another level. The reaction he gets is ridiculous, wherever he goes, it's madness. At the airport, as soon as he touched on our soil, people were hanging out of the windows trying to see him."

11. Rolls-Royce Lover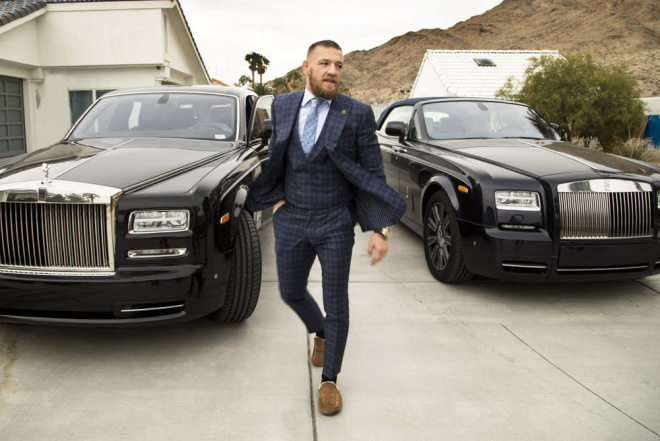 Cars are something that boys dabble in since they are young boys and their love for cars never seems to go away. Like most men, Conor McGregor loves cars, the more expensive, the better. It's got a pretty nice selection of cars at his disposal. His favorite has to be the Rolls-Royce and he's had numerous ones over the years. He's owned a Rolls -Royce Wraith but his most favorite car to tour around in has to be the Rolls-Royce Ghost. His car collection over the years has been impressive and it seems the more money he makes, the more cars he collects. His most coveted car has to be the Ghost and it has a price tag of $370,000. That is one impressive car and it's crazy to think that it's just one of many cars.

10. Helping His Family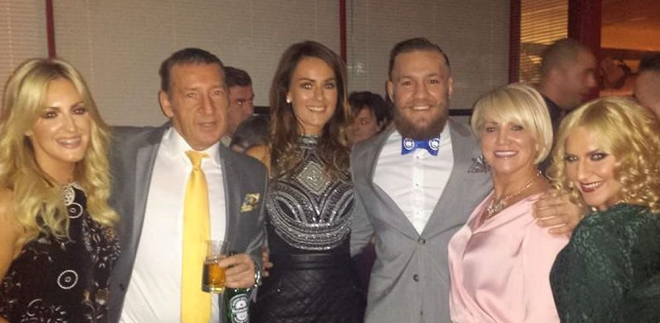 Conor McGregor has had a difficult life and out of anyone, he has a pretty epic rags-to'riches story. Like so many celebrities, he has a story of how he just believed in himself and that's how he got to where he is today. Part of becoming an insanely wealthy man almost overnight means that he can help his family out. He's been a millionaire for a while now, but his fight with Mayweather definitely put him on a whole new level. He made sure that his family was taken care of and made a personal trip to Ireland to announce to his mother, father, and two sisters that they were officially retired and would never have to work again. "I took every bill off their hands, every single bill," McGregor proudly told Ariel Helwani on The MMA Hour show. "My whole family has retired young now." Now, that's probably the best purchase he's ever made.

9. Bodyguards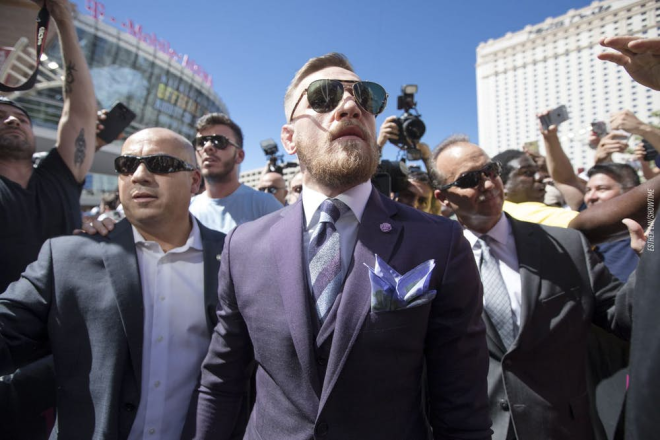 Conor McGregor can certainly handle himself in a fight, but when it comes to protecting his friends and family from threats, it's unlikely that it will come in the form of a fistfight. Celebrities over the years have been stalked and hunted by dangerous people and there are many out there that don't like who Conor McGregor is. It wasn't long before McGregor realized that he needed some bodyguards to hang out with him and his family. Rocky and Drago are the two bodyguards that McGregor hired after receiving death threats. They rarely leave his side when the fighter is out at events. We're not sure how much these guys cost, but it can't be cheap to have around the clock protection. It's pretty sad that people in the limelight get death threats for virtually just existing.

8. His Lamborghinis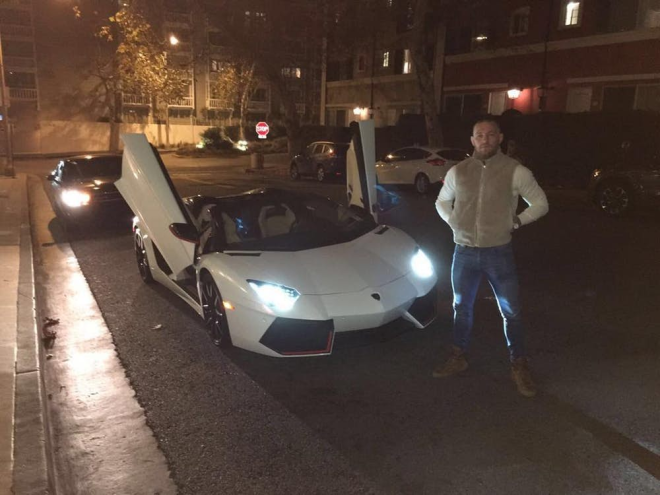 Conor McGregor has a pretty awesome car collection as we've discussed before. He not only has a bunch of Rolls-Royce at his disposal, but he has love for Lamborghinis as well. McGregor doesn't have one Lamborghini, he has three Lamborghinis that are limited edition. Some people never even own a Lamborghini in their lifetime, so it's pretty amazing that he owns three of them, all in different colours. Each Lamborghini would have cost roughly $150,000 to 200,000 each. Now that's a hefty price tag. It is rumored that Conor's $200,000 Lamborghini Hurican Avio was towed away last year while he was in Dublin. The car is rare and there aren't that many made to begin with, so fans wondered if the fighter had parked illegally somewhere because what are the chances that two Irishmen would own the same car?

7. Custom-Made Suits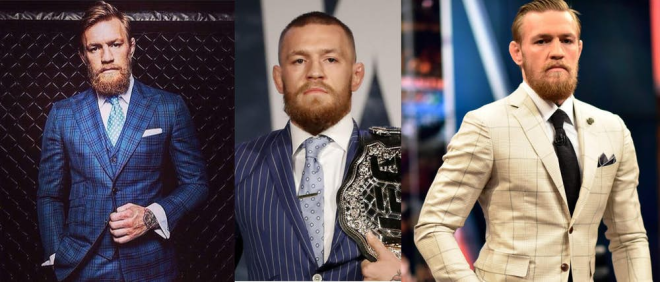 Since he rose to fame Conor McGregor has been stepping out in new threads. Although he loves his designer swag from Versace and Dolce & Gabbana, he also likes a good slick suit of his own making. He likes tailored suits and these days, he's rarely seen without a different suit. His suits run about $80,000 a piece, so that's a pretty penny that he's spending on each one. It seems that he's looking to collaborate with suit designer David August to make suits for young guys. It sounds like a sure deal because they named the line August McGregor and it is set to launch this year. He plans on making custom suits for men that will range between $500 and $1,200 a piece. We can't wait to see what they look like and it looks like McGregor is going into the designing business.
6. Cars For Everyone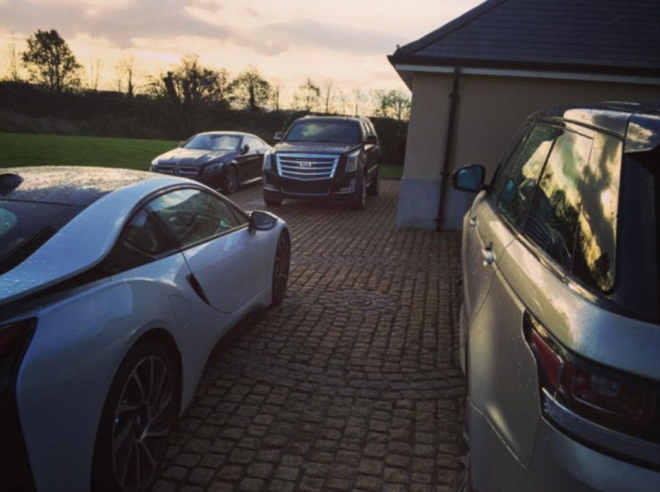 Conor McGregor doesn't just buy cars for himself; he's been buying cars for everyone. Why wouldn't he? After all, he has made it pretty clear that he's a family man and will take care of his own. Not only does he love his Rolls-Royces and Lamborghinis, he's had a $60,000 Chevrolet Stingray, a $130,000 BMW i8, a $70,000 Cadillac Escalade, not to mention he owns a bunch of Range Rovers. It's pretty obvious that he loves his cars. We would love to see the size of his garage and where he keeps all these vehicles. The same goes for his family. He treated each one of his family members to a brand spanking new BMW 5-series. Talk about a great gift idea.

5. Diamond Encrusted Rolex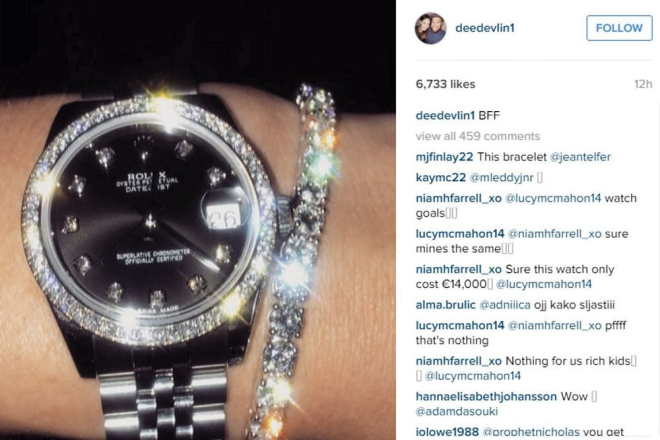 Nothing says I love you like a diamond-encrusted Rolex. When it comes to his wife, he adores her and she is always by his side. Dee Devlin has been there all along, of course, way back to the days when he was a poor boy. She has always stood by him and always told him that he was going to make it big. That's the kind of girl you want on your arm, the kind that is there for you through the good times and the bad. So, she probably deserved the watch and more. McGregor is an avid watch collector, so he knows a good watch when he sees one. He purchased this watch for Dee Devlin for Christmas and we have to say it's quite the beauty. He's always made sure that his wife is well taken care of.

4. Buying A Mansion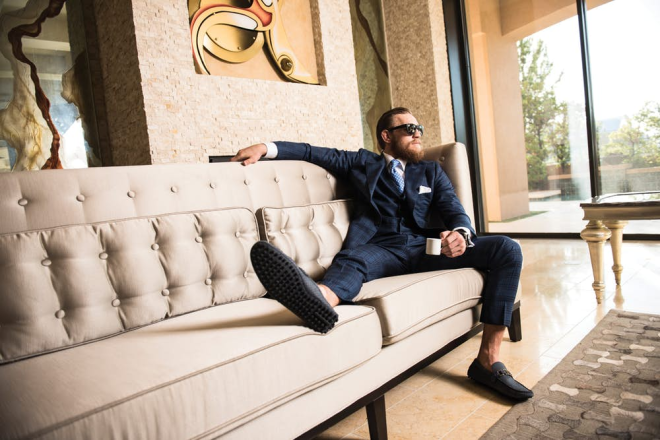 When it comes to being a millionaire, you have to have a nice home to bring your family too. Since his wealth has increased that means his lavish lifestyle can also include mansions. He owns a home in Ireland that has six bedrooms and his overlooking the Killiney Bay. He purchased it over the summer and it was once owned by Formula One race car driver Eddie Irvine. He sold it to McGregor for $7 million dollars. We're sure that it's nice to have a home in his country of birth to play around it. But that's not all he also has a luxury mansion in Las Vegas that also has six bedrooms. He's renting the $2.4 million mansion, though, so it's not technically his own. He must consider it to be, however, because he's been known to call it the Mac Mansion.

3. He Gives To The Unfortunate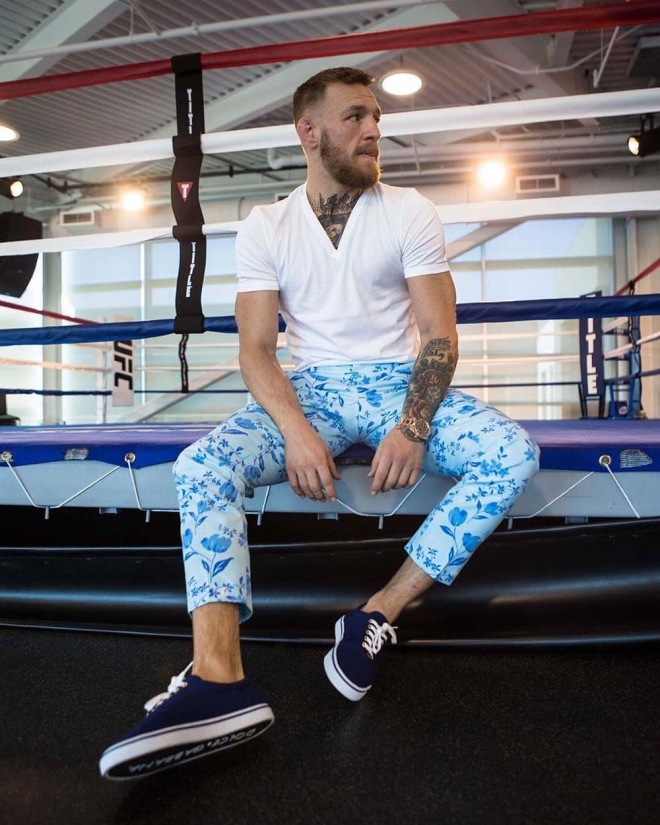 Conor McGregor is definitely someone that likes to spend his money on lavish things, like designer cars and designer clothes. He flashes his money at clubs and always has girls around him who takes care of by making his money rain. He loves to spend money, but he's also shown that he has a good heart. He showers his family with money, but he also looks after those in need. He remembers where he came from and the life that he used to lead in Ireland. That's what prompted him to donate $60,000 to homeless charities such as Simon Community and Focus Ireland. He has been donating money to the charities since 2015 and we don't see him stopping. He may have come from humble beginnings, but he's living a very different life now. He enjoys helping others who are where he used to be.

2. Press Tour Gear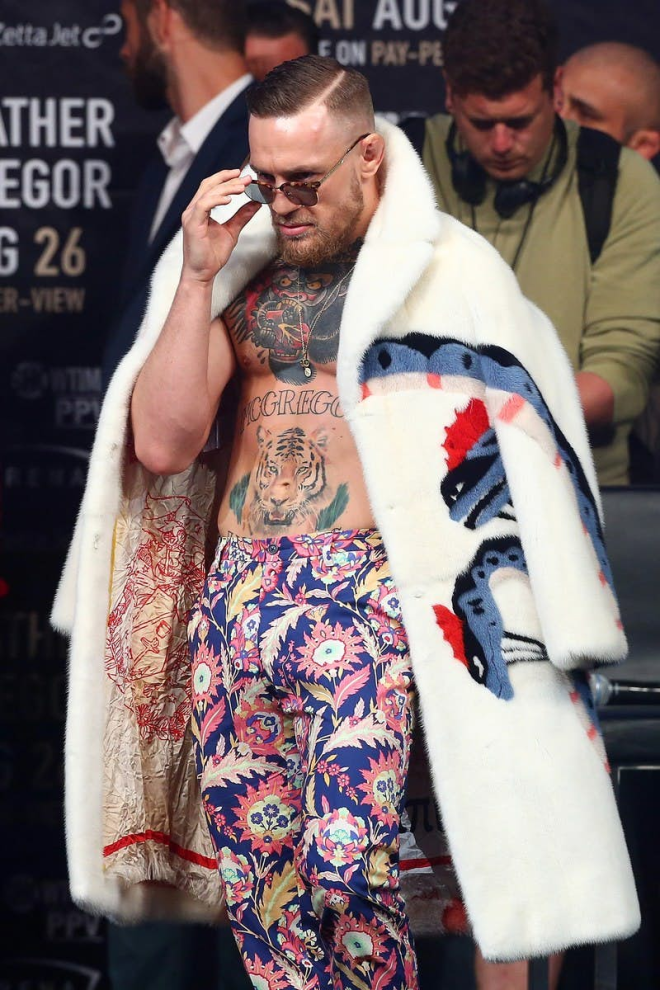 When it comes to his press tours, he likes to go out like he's ballin' at all times. He has gone to these events in some pretty "out there" ensembles, but that's just the way he likes to present himself. He's made people aware that he's destined for greatness and he dresses the part. He spends an obscene amount of money on just one outfit for a press tour so that he can make a statement to the world. To give you some idea what a World Press Tour outfit costs for McGregor we'll list it out. During the tour in New York, he wore a custom-made Gucci mink coat, Gucci silk pants, and a Gucci polo neck which he later took off. The whole ensemble cost the fighter a whopping $150,000. McGregor doesn't mess around when it comes to his press tours.

1. $300,000 Training Camps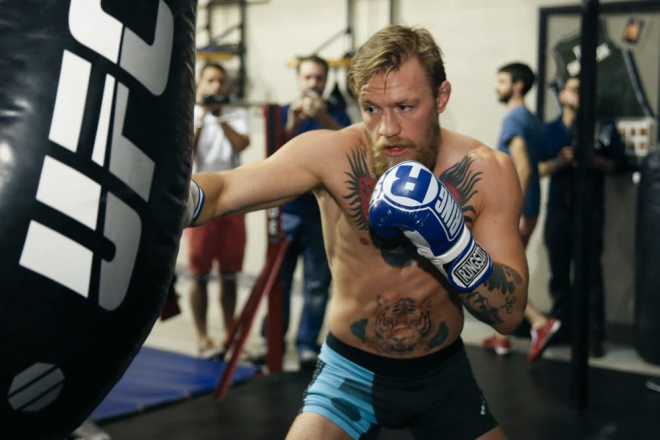 When it comes to preparing for his fights, Conor McGregor doesn't mess around, he wants the best and he's willing to pay for it. He is determined to win his fights and stay on top, so he spends a lot of money for his training. When he prepares for a fight, he uses long-time coaches Own Roddy and John Kavanagh. But that's not all; he hires a masseuse, a movement coach, a nutritionist, a performance coach, as well as a videographer that stays with him during the camp. He uses the best training partners possible as well such as BJJ ace Dillon Danis, Irish boxer Conor Wallace, and UFC fighter Gunnar Nelson. When it comes to protecting his career, it appears as if Conor will spare no expense to have the best people at his side at all times. Spending $300,000 is not much when it means hiring the best.