Then again, it is easy to see why. The guy has style and from the looks of it, he makes sure everyone he crosses paths with knows that he knows what he's doing. In every book, movie, and several other sources of pop-culture media that he was featured in, James Bond was always the guy with the swanky suit, luxurious car, and most importantly, the dazzling watches. There is an old belief that basically states that if one thing makes the man, it is his watch. Which explains why so many rich men don't go out in public wearing any old watch. As a symbol of status, a lot of guys go out wearing watches that costs them a fortune at prices that would be worth more than our cars, or even our houses. The Bond films spend thousands of dollars on the watches that Bond wears in each film and here are a few of those watches listed below.

15. Rolex Submariner — $5,000-$8,000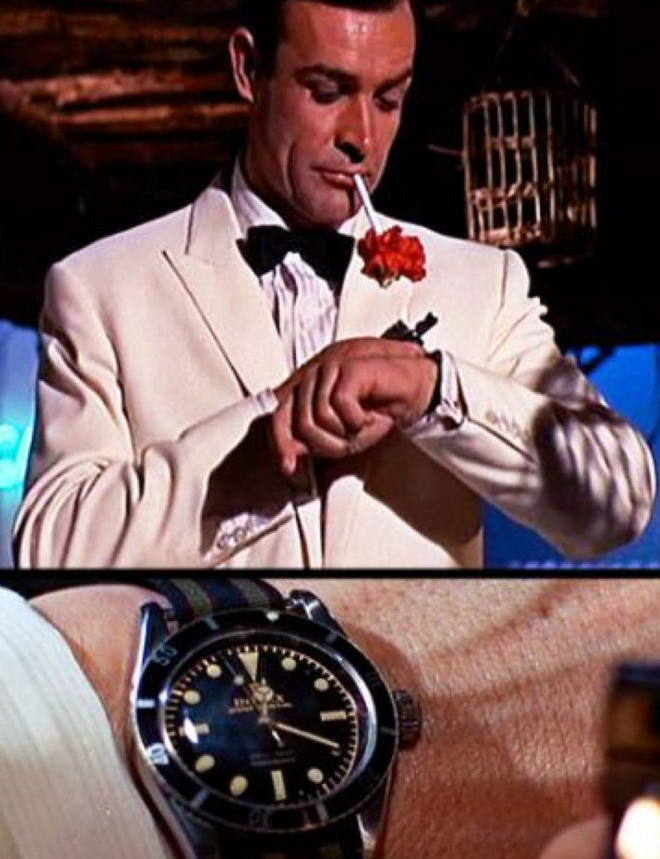 The Rolex Submariner seems to be the signature wrist watch of choice for James Bond, considering how he wears the watch in a number of Bond films, including From Russia with Love and On Her Majesty's Secret Service. Which makes sense considering that Bond wears the watch even in Bond's earliest novels. Ian Fleming himself was fond of wearing Rolex and reflected that fondness through the character of James Bond, who has been wearing Rolexes since the second Bond book, Live and Let Die. Bond first donned the Rolex Submariner in the very first Bond movie, Dr. No. The price of the Rolex Submariner normally ranges between $5,000 and $8,000.

14. Breitling Top Time — $3,000-$45,000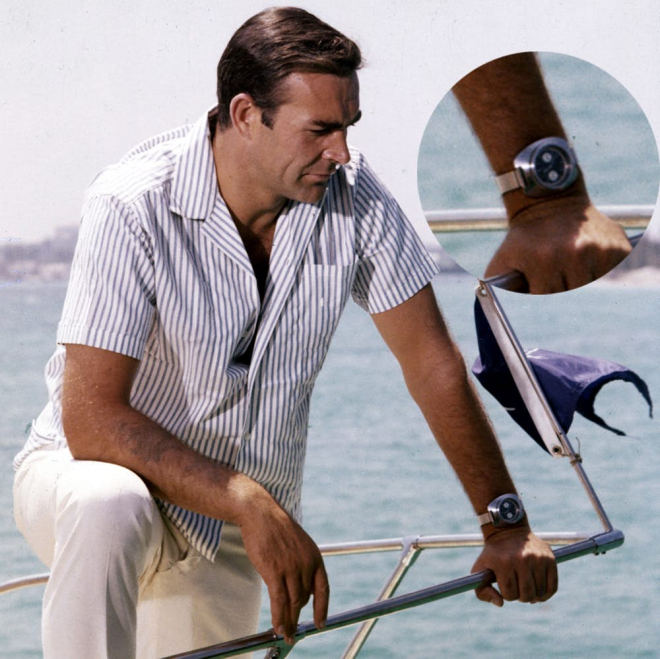 In Thunderball, the fourth James Bond movie, the special agent dons two watches. He uses his vintage Rolex Submariner to tell the time, and his Breitling Top Time whenever he needs a Geiger counter. While Breitling Top Time have long been outdated, the Breitling watch brand remains an expensive investment with most modern Breitling watches being as low as $3,000 and as high as $45,000. In 2013, Bond's old Breitling Top Time was found in a flea market in England and sold for 25 pounds, then auctioned off for a sum of about five figures.

13. Gruen . V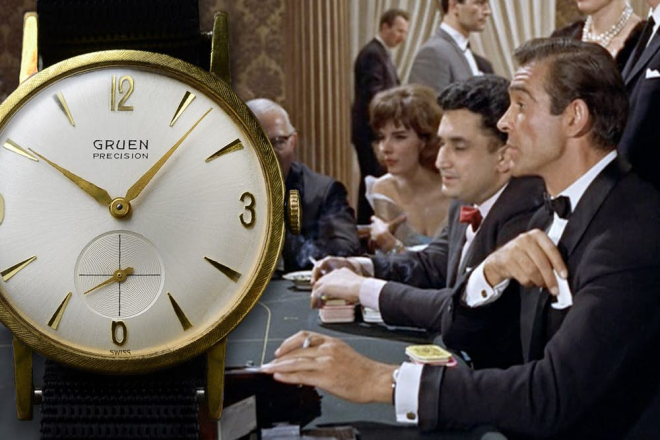 A few years back, it was confirmed that the stylish watch company Gruen Industries designed the very first watch James Bond ever wore on-screen in Dr. No. The golden Gruen brand would make a few more appearances throughout the franchise. Since these are all worn by Sean Connery, some suspect that the Gruen came from Connery's very own personal collection of watches. If so, then Connery must have quite a few pennies in the bank. Nowadays, a vintage Gruen only runs a few hundred bucks at an auction, but a brand new Gruen was far more expensive in 1962.

12. Pulsar — $300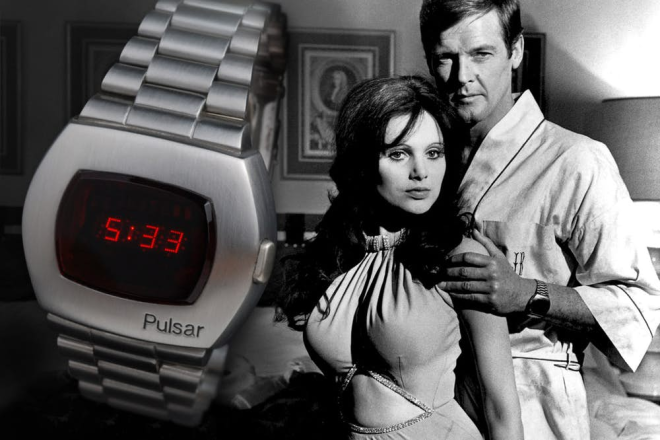 When Roger Moore took over the reigns of James Bond for the film Live and Let Die, a new era of Bond was officially underway. And with a new era of Bond came the latest introduction to a new Bond watch. Of course, Roger Moore had to don the classic Rolex Submariner during the film — it kind of comes with the territory of playing James Bond —but he also introduced the LED digitized Pulsar watch. The Pulsar is not quite as pricey as most of the watches on this list, but most Pulsars nowadays can range as high as $300, which isn't cheap by any stretch of the imagination.

11. Seiko 0674 LC — $300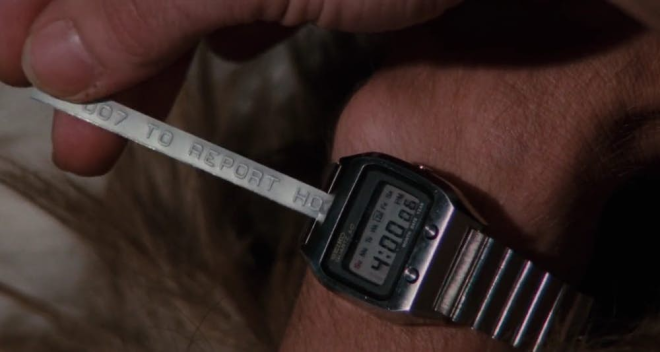 The Spy Who Loved Mefeatured a number of tumultuous affairs. Not only and most notably that between James Bond and Major Anya Amasova, but between Bond's love of two watches. Of course, it was a guarantee that Bond would wear a Rolex, this time the Rolex GMT Master, which is notable for its precise timekeeping. The other watch he wore was the Seiko 0674 LC. The Seiko works doubly as a watch that tells the time and a watch that prints out tiny labeled strips of paper, which in the film was sent to Bond from Anya's vintage Seiko 0674 LC ranges as highly as $300.

10. Seiko M354 Memory Bank Calendar — $200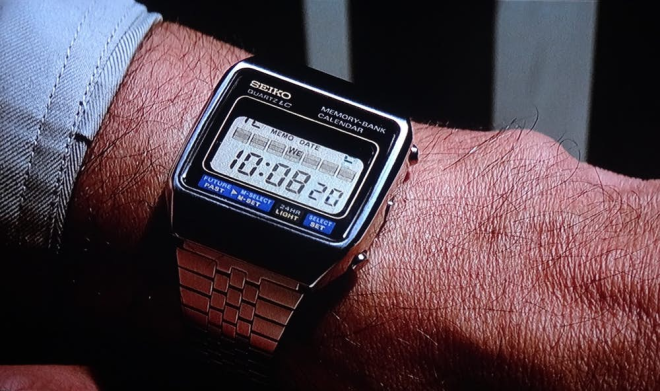 Moonraker saw James Bond shot off into outer space so it was natural that the technology on his wrist would have a flair for the futuristic on this revolutionary occasion. For the film, Bond wore the Seiko M354 Memory Bank Calendar. In the film, he uses the watch to unleash a secret explosive blast onto his opponents. Of course, this handy feature was never and is not available for the public to use in real life, but to make up for it, us regular folk can use the watch as a memo making calendar. That is if us regular folk have about $200 to spare to get a pair for ourselves.

9. TAG Heuer Professional Night-Dive Reference 980.031 — $25,000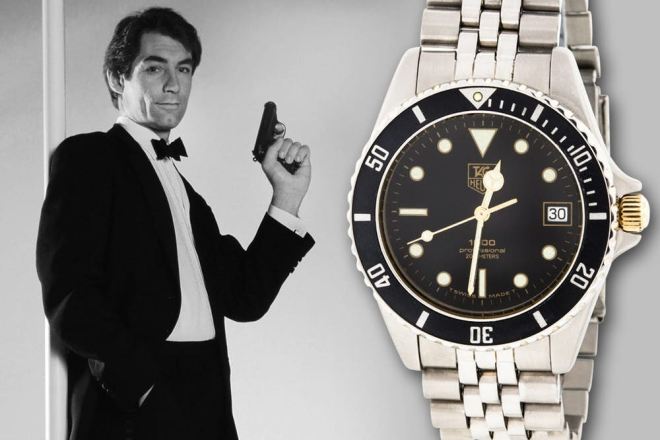 The Living Daylights was the first film where Timothy Dalton would take over the reigns of the James Bond character. This would also mark the first time that the James Bond character would rock a TAG Heuer on his wrist. This TAG Heuer in particular was a Professional Night Dive Reference watch. The Heuer watch brand was first established in 1860 before TAG acquired the rights to Heuer and rebranded as TAG Heuer in 1985, two years before The Living Daylights was released in theaters. The cheapest TAG Heuer you could find is for close to $1,000. Meanwhile, the average TAG Heuer runs for close to $6,000. These things run as high as $25,000.

8. Omega Seamaster — $4,000-$8,000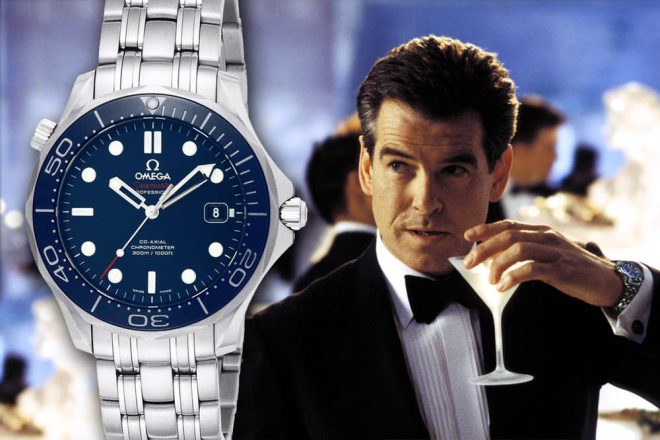 In 1995, Pierce Brosnan would take over the role of James Bond and his performance was as critically acclaimed as the film he debuted in, GoldenEye. For this film, Brosnan wore a Seamaster Professional 300M. These watches normally run in between the price range of $4,000 and $5,000, and can run as high as $8,000.

7. Omega Seamaster Aqua Terra — $7,000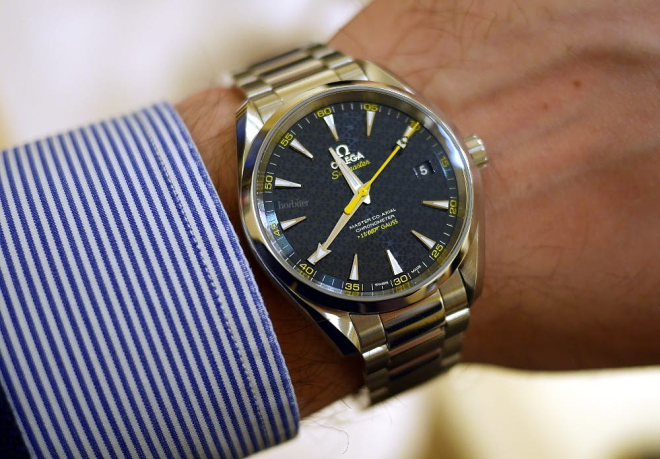 In the most recent James Bond movie to hit theaters, Spectre, Daniel Craig rocked two watches from the Omega Seamaster brand. First, for the opening sequence, he wore an Omega Seamaster Aqua Terra. For the remainder of the film's running time, he wore a Omega Seamaster 300 Spectre. The Omega Seamaster has always been a very lucrative brand and ever since being attached to the James Bond franchise, the watches seemed to have doubled in price. The average Omega Seamaster Aqua Terra is a little over $7,000.
6. Seamaster Planet Ocean — $6,000

The film Skyfall marked the 50th anniversary of the start of the
James Bond
movie franchise and to mark such an occasion, the filmmakers knew that they had to do something big. To make the film even more special than it already was, they had Seamaster build a special version of their watch specifically for the film. At their request, Seamaster turned in the Seamaster Planet Ocean 600M in a special titanium case made out of stainless steel, unlike the regular manufactured version. After filming ended, the watch was auctioned off for $254,273 at Christie's in London . In America, the Seamaster Planet Ocean can run as highly as $6,000.

5. Hamilton X Wind — $1,000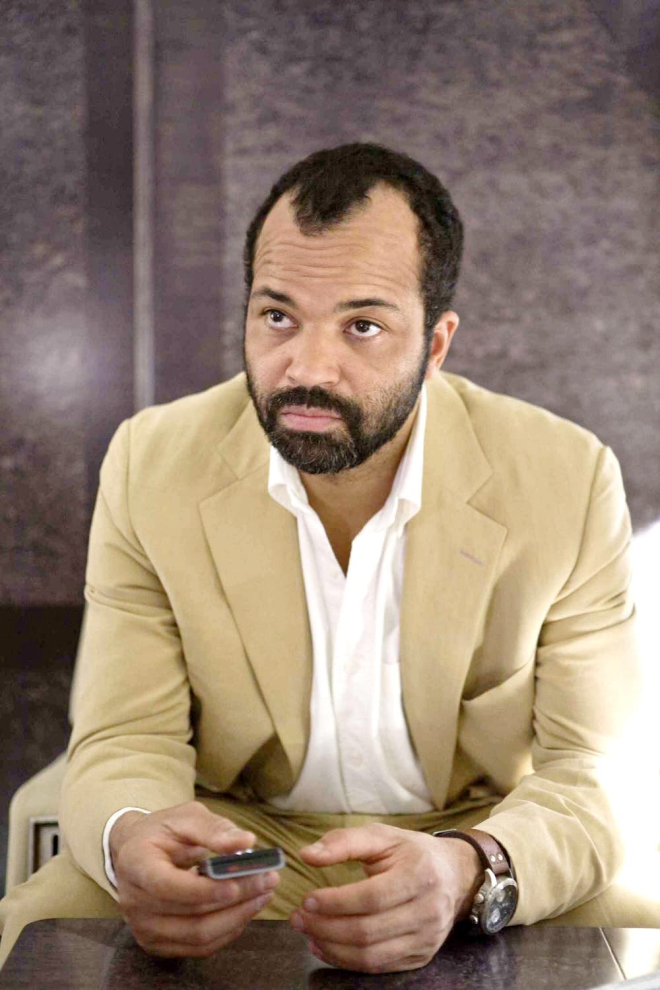 In Quantum of Solace, James Bond wears a string of Omega Seamasters — including the recently aforementioned Omega Seamaster Planet Ocean — but this time, we are not going to talk about any of them for this entry. After all, we've mentioned enough Omega Seamaster for one list. This time, we are going to talk about the Hamilton Khaki X Wind Automatic. It was not worn by Bond, but that does not make it any less iconic since it was worn by his friend and CIA Agent Felix Leiter. Being a CIA Agent must really pay the bills for Felix as the watch runs for close to $1,000.

4. Omega Seamaster 300M — $6,600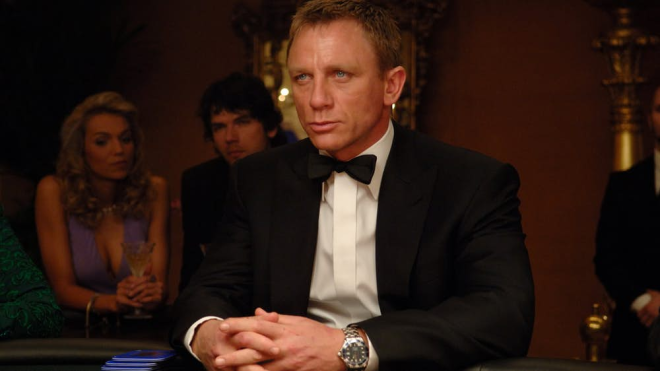 Okay, we lied when we said we were done talking about Omega Seamasters for one list, but it is way too hard not to mention the Omega Seamaster 300M from Casino Royale after it gave the franchise the most shameless product placement that anyone can find in this or any movie franchise. So Omega struck a multi-picture deal to feature heavily in James Bond movies ever since 1995 and in 2006, the brand decided to make their presence well known. So during a dialogue exchange with Vesper, she asks him if he's wearing a Rolex. He corrects her by stating "Omega." To which she responds "Beautiful." We can't blame her, though. Anything as pricey as $6,600 better be beautiful for what its worth.

3. Rolex Datejust — $4,400-$9,000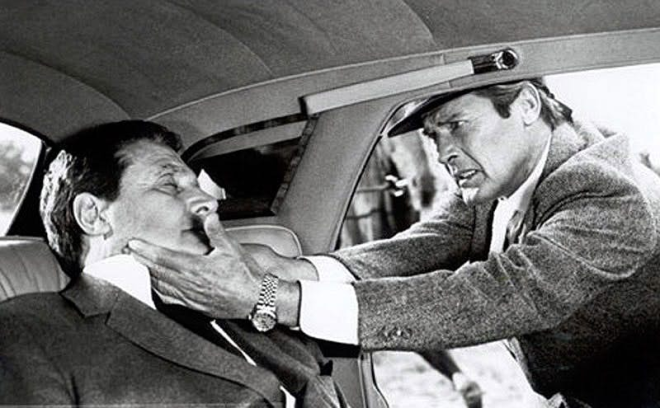 Another day, another Bond movie where our beloved hero wears a Rolex. Actually, in this particular Bond movie, A View to Kill, both James Bond and the main villain, Zorin, wear a Rolex. While James Bond is normally sporting a Rolex Submariner in his earlier films starring guys like Sean Connery or, in this case, Roger Moore, Moore decided to switch it up for once by wearing a Rolex Datejust. Anyone can get a used Rolex Datejust if they're willing to kick out $4,400. Meanwhile, a brand new Rolex Datejust runs for about $9,000. It's also worth noting that in other scenes of A View to Kill, Bond wore a few different version of the elusive Seiko; one in which being the Seiko Diver 150M.

2. Seiko TV Watch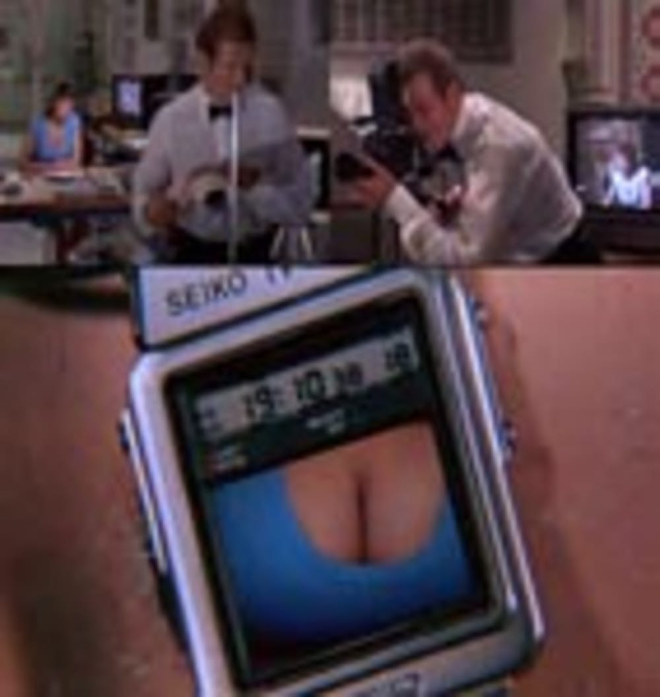 While James Bond usually opts to wear the Rolex or the Omega Seamaster, sometimes he decides to wear something from the Seiko brand. In the provocatively named Bond flick Octopussy, Bond wears the special Seiko TV Watch. On the Seiko TV Watch, Bond takes an equally provocative look at a woman's chest. He then is seen wearing the watch when he is flirting with a woman working as one of Q's assistance. It is scenes like this that tell us the filmmakers tried really hard to make this Bond entry into the franchise as lewd as possible.

1. Omega Seamaster Professional — $3,000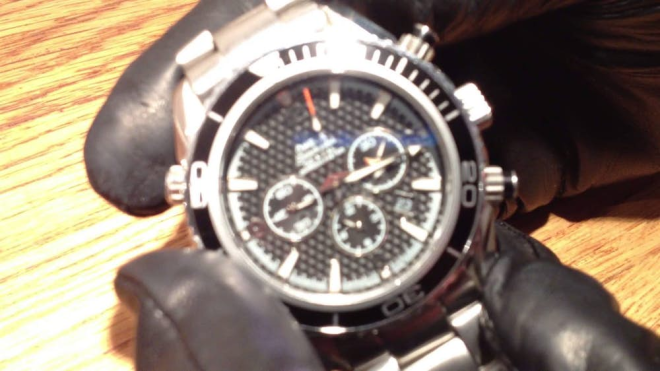 Okay, we lied again, but we promise that this is the last time we ever mention James Bond and any Omega Seamaster Professional. On this occasion, James Bond was seen wearing this watch in three back to back movies starring Pierce Brosnan. The first of which was Tomorrow Never Dies. He wore the same watch again in The World is Not Enough. In fact, the watch plays a pivotal role in his battle with Electra King by allowing him to use the watch as a source of light and as a rescue cable with a grappling hook. Finally, Brosnan wears the watch one last time when he plays James Bond one last time in Die Another Day. In any case, the Seamaster Professional costs nearly $3,000.