However, for almost 30 years between 1934 and 1963, Alcatraz Federal Penitentiary was home to some of the United States' most notoriously dangerous prisoners like Al Capone, George 'Machine Gun' Kelly, and Whitey Bulger.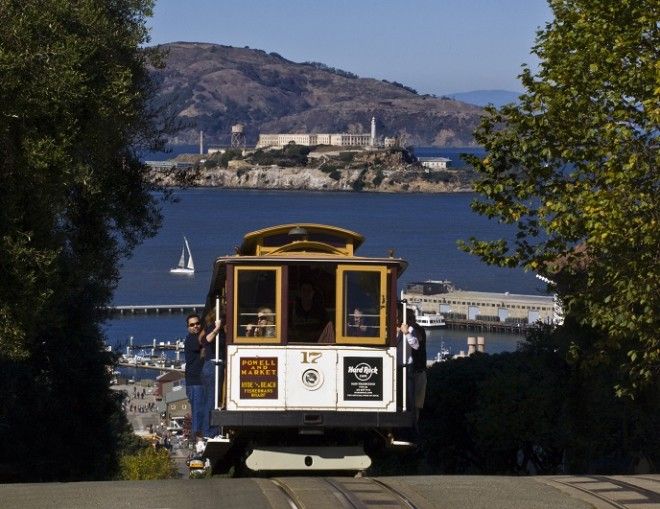 A Powell And Market Cable Car With A View Of Alcatraz Island, San Francisco, California.
Alcatraz Island, which sits 1.25 miles off shore in San Francisco Bay, originally served as a military prison in the late 1800s. But it ultimately became a destination for the most difficult federal inmates in the United States thanks to its impregnable nature.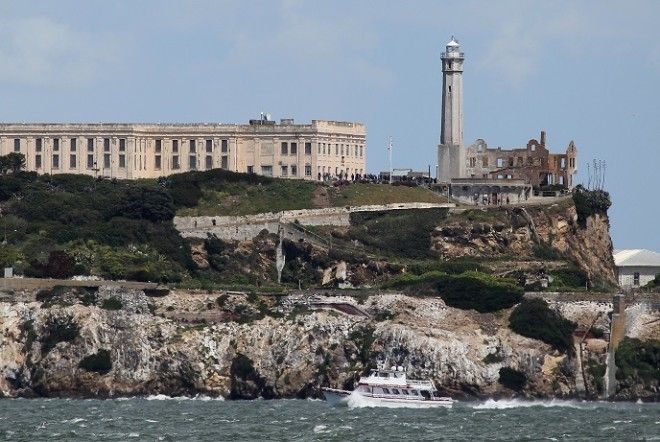 SAN FRANCISCO, CA – APRIL 07: A boat passes Alcatraz Island on April 7, 2011 in San Francisco, United States. If the federal budget impasse cannot be resolved by the Friday deadline, many national parks and monument visitor centers will face closure including the Statue of Liberty, Ellis Island, Muir Woods, Independence Hall, Alcatraz Island, and the Washington Monument.
Alcatraz was said to be escape proof. Even if a prisoner was able to breach the facility, the shivering waters of San Francisco Bay made for a borderline impossible swim to safety. Documents kept by Alcatraz officials maintain a total of 36 prisoners made 14 attempts over the course of the penitentiary's 29 years of operation, but no one successfully escaped and lived to tell their story.
However, to this day, no one knows for sure if this is entirely true.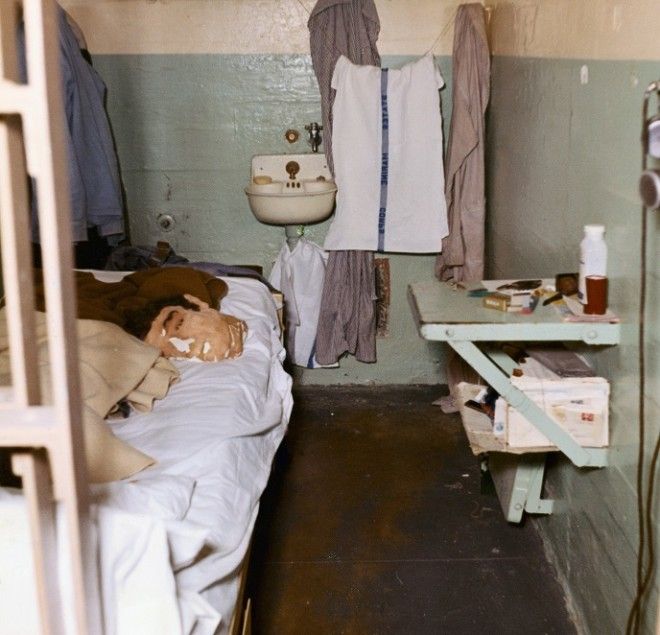 Here is one of the cells in Cell Block B in Alcatraz Prison in San Francisco Bay from which three prisoners escaped 6/12. this photo shows the entire cell, with method of concealing exit and dummy head used.
You see, on June 11, 1962 Frank Morris, along with brothers John and Clarence Anglin, managed to escape their cells after quietly chiseling away at moist concrete around an air duct for months. The three men subsequently navigated through a utility corridor, which led them to makeshift raft made out of 50 raincoats that they ultimately attempted to use to row to freedom.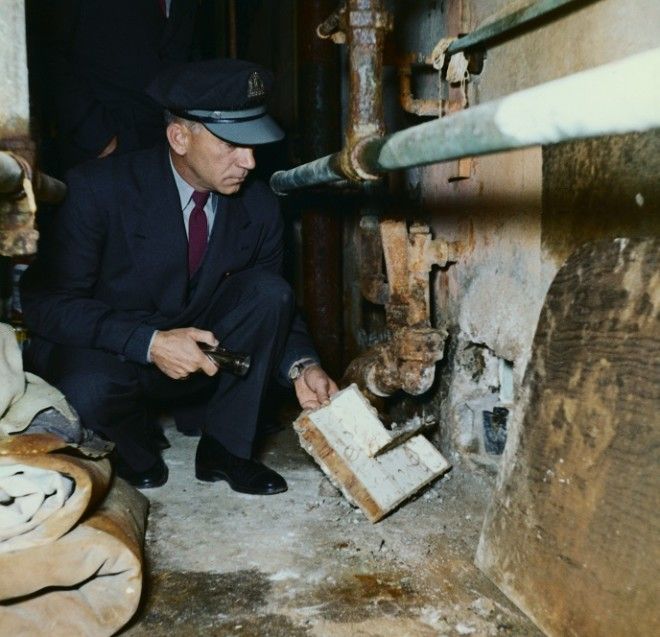 Here is one of the cells in Cell Block B in Alcatraz Prison in San Francisco Bay from which three prisoners escaped 6/12. Here is an officer showing the inside of removable section of exit cover.
The prisoners chiseled away the moisture-damaged concrete from around an air vent leading to this corridor, using tools such as a metal spoon soldered with silver from a dime and an electric drill improvised from a stolen vacuum cleaner motor. The noise was disguised by accordions played during music hour, and the progress was concealed by false walls which, in the dark recesses of the cells, fooled the guards.

The escape route led up through a fan vent; the prisoners removed the fan and motor, replacing them with a steel grill and leaving a shaft large enough for a prisoner to enter. Stealing a carborundum abrasive cord from the prison workshop, the prisoners then removed the rivets from the grill. In their beds, they placed papier-mâché dummies made with human hair stolen from the barbershop. The escapees also constructed an inflatable raft over many weeks from over 50 stolen raincoats, which they prepared on the top of the cellblock, concealed from the guards by sheets

which had been put up over the sides. They escaped through a vent in the roof and departed Alcatraz.
Despite the fact that their bodies were never found, all three men have been presumed dead for the last 56 years. However, they are still considered to be wanted fugitives by the U.S. Marshals Service.
Mug shots of three prisoners that made a rare escape from Alcatraz Island. From left to right: Clarence Anglin, John William Anglin, and Frank Lee.
This week, a letter from a man claiming to be John Anglin that was sent to a San Francisco police station in 2013 surfaced, and the FBI recently admitted it reopened the case.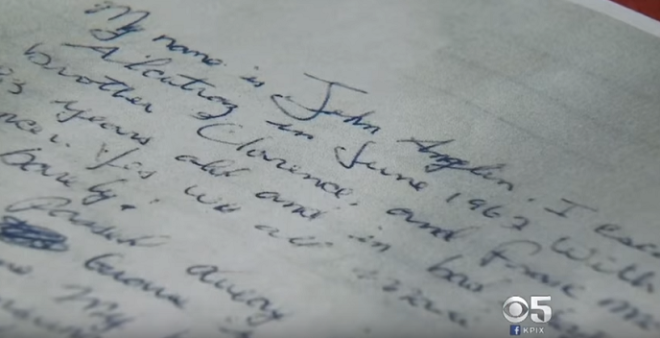 "My name is John Anglin. I escape from Alcatraz in June 1962 with my brother Clarence and Frank Morris. I'm 83 years old and in bad shape. I have cancer. Yes we all made it that night but barely!"
In the letter, Anglin, who claims to have averted capture by hiding out in Seattle, North Dakota, and Southern California over the past 50-plus years, attempts to strike a deal with police in exchange for cancer treatment.
"If you announce on TV that I will be promised to first go to jail for no more than a year and get medical attention, I will write back to let you know exactly where I am. This is no joke…"
Naturally, authorities are incredibly skeptical about the letter's authenticity.
In a statement to KPIX 5, the U.S. Marshals Service writes: "There is absolutely no reason to believe that any of them would have changed their lifestyle and became completely law abiding citizens after this escape."
"The Federal Bureau of Prisons say that they drowned once they got off of Alcatraz and their bodies were swept out to the Pacific Ocean — end of story," said National Park Service Ranger John Cantwell.
Did Anglin truly write this letter? Who knows. But if he did, it would be fascinating to see what he has to say about one of the most infamous unsolved mysteries in the history of the United States of America.