Celebrities need to stay looking their best. Whether it's through genetics, plastic surgery, or the right amount skincare, there are certain celebrities that look like they just don't age — and that's important for their career. If your job revolved around how hot people found you, just imagine how worried you would be if you had crow's feet or could spot a few grey hairs. It's easy to look past the human side of celebrities but we need to remember that just like us, they age. Some of them age poorly, too. But the people on this list? Well, they just defy all logic because for as long as we've known them they haven't aged a day.

15. Pharrell Williams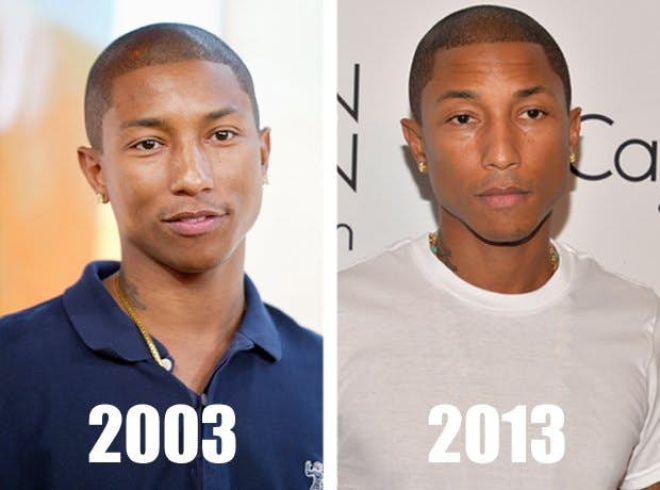 Due to how long he's been in the public eye, it seems that Pharell Williams doesn't age, but it's mostly due to how young he got into the business. Pharell has been in the music business since 1992, starting when he was only 19 years old. Today, he's only 44 years old and his career has been filled with so many highs and lows. Most people only associate Pharell with his song "Happy," but he's so much more than that. Pharell has been around for so long that he probably will never retire. He doesn't know life outside the music industry, he's been in it for most of his life!
Most recently, Pharell has found success performing with his hip hop group, N.E.R.D. The group has a unique sound that fuses hip hop with rock and R&B. Though the group has only had limited success through the 2000s, they have really found their audience with their most recent album, No One Ever Really Dies. Hopefully Pharrell makes more music that will remain as timeless as he is. Seriously. He hasn't aged a day.

14. Gwen Stefani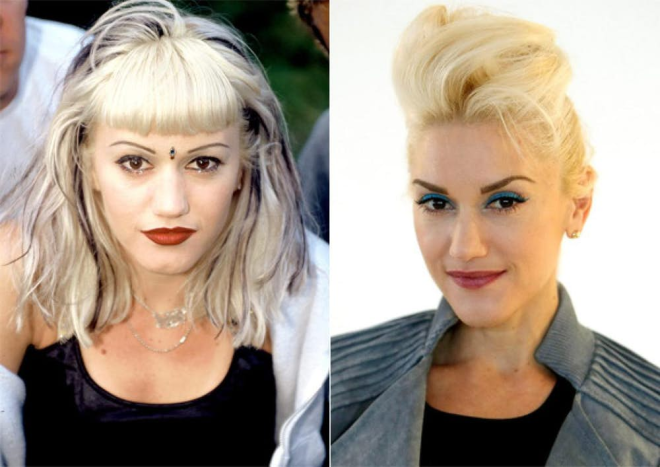 There's "no doubt" that Gwen Stefani has aged amazingly. You can tell that she looks different than when she first sang "Hollaback Girl," but it's not really due to her aging, it's more due to her style changing. Without a doubt, Stefani has access to some of the best cosmetic surgery and skin treatment programs to make sure she keeps looking beautiful. But still! She doesn't look like she's almost 50 — she could easily pass as someone in their 30s.
Though she's still making music, Stefani has become known for her role as a judge on The Voice. It makes sense that Stefani has made a change in her public image. After all, she's 48 years old and a mother. She can't parade herself on stage in skimpy outfits like she used to. Instead of falling out of the spotlight, Stefani made the move to keep making music, but to put her focus on collaborating with other artists and making new talent through The Voice.

13. Jared Leto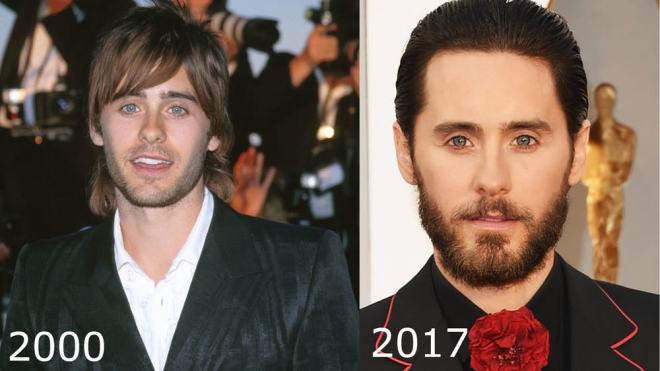 Jared Leto can do it all. He's an accomplished actor, recognized singer, and a fantastic songwriter. To top it all off, Jared Leto hasn't aged a day since entering the spotlight. His style has changed over the years which makes him look older, but he hides the fact that he's 46 years old very well. He still has the same boyish charm that he had when he first appeared in My So-Called Life.
In late 2017, while appearing on the talk show Ellen, Jared Leto was asked to play a game where he tried to guess which photo he was older in. Amazingly, Leto couldn't tell the difference between the photos — some of which were taken ten years apart — which proves that even he knows that he's not aging. He's making everyone else look bad. We can only hope that his age catches up with him one day and he goes from looking 30, to looking 60. But that's unlikely. He takes great care of himself

12. Keanu Reeves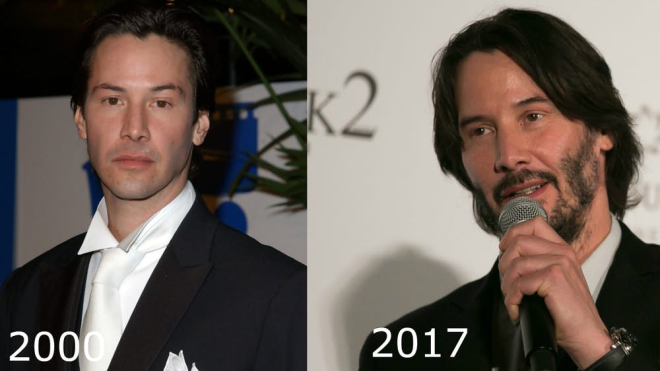 Keanu Reeves is essentially immortal. I'm sure you've seen the memes implying Keanu Reeves is a vampire because he has an eerily similar resemblance to a number of historic figures, like Charlemagne and even Paul Monet, a doctor from the early 20th century. People so convinced that Keanu literally can't age that someone made a website (KeanutIsImmortal.com) that outlines all of the evidence to say that the beloved actor is ageless. Would you believe that he's turning 54 later this year?
Believe it or not, Keanu Reeves got his start in the entertainment industry as a comedic actor. One of his first major movies was Bill and Ted's Excellent Adventure, followed soon after by Bill and Ted's Bogus Journey. These two movies are 1980s classics, but despite their success Keanu decided to ditch his comedy career and move into serious acting. By serious, I mean amazing action movies. Point Break, Speed, The Matrix, all classics. We're excited to see what he's going to bring to the table for the final movie in the John Wick trilogy.

11. Paul Rudd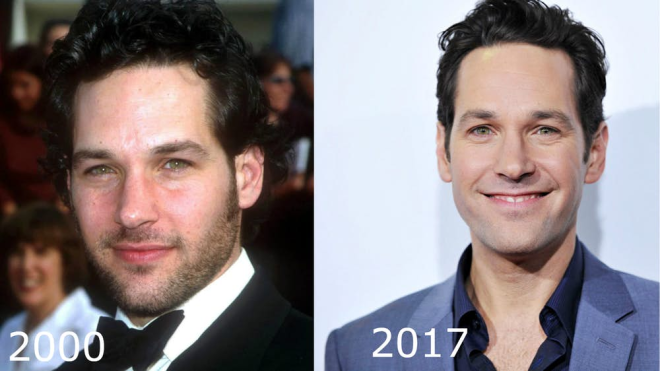 Paul Rudd has either great genetics who he is on the best skin treatment program of all time. His career has spanned three decades and he looks just a young as he did when he started acting. At 48 years old, Paul Rudd truly looks like he doesn't age. He looks the same in all of the movies he was in from 2001 until now. How is that possible?
Paul Rudd has had a roller coaster of a career. He could have easily ended up being an absolute nobody in Hollywood. Early on in his career, Paul Rudd starred in a few forgettable movies like The Cider House Rules and Halloween: The Curse of Michael Myers. His career, like many others, should have ended when he starred in the cult classic (but commercial disaster) Wet Hot American Summer. But, somehow, that failure of a movie sparked something in Rudd. He was eventually cast in Anchorman: The Legend of Ron Burgandy, followed by The 40-Year-Old Virgin, and just about every movie Judd Apatow was involved in. His comedy days are behind him, as he gets ready for the release of Ant-Man and the Wasp.

10. Eminem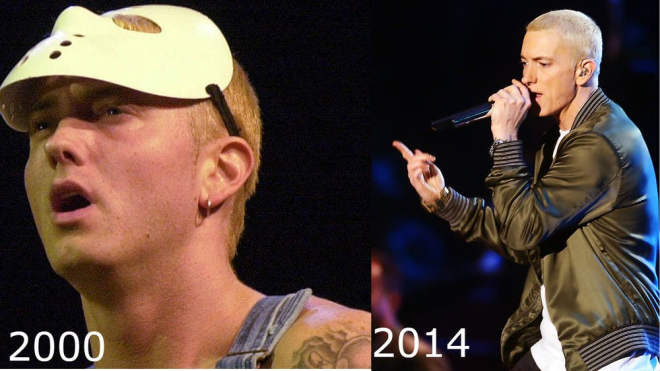 For someone that nearly died ten years ago, Eminem looks fantastic. In fact, back in 2014 when he was promoting his album The Marshall Mathers LP 2, fans were saying that he was looking better than he ever had before. As an homage to his original look, Eminem bleached his hair and he looked pretty much the same — just a little more muscular.
But Eminem didn't always look great. In fact, after his 2005 album Encore was panned by critics, he became reclusive and his addiction to sleeping pills worsened. Though he's fairly skinny now, Eminem said that when he overdosed he weighed over 230 pounds. He added that he would go out to restaurants and people wouldn't recognize him. Eminem would hear people talking among themselves to try and figure out if it was really him, only for one of them to say "It can't be him — Eminem isn't fat." But that's in the past. At 45 years old, Eminem is proof that you can grow old without aging.

9. Elijah Wood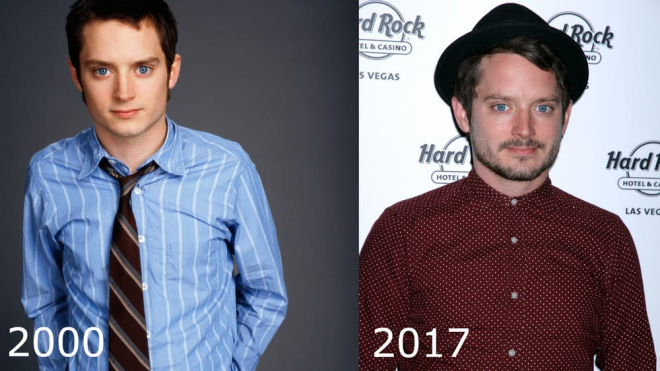 Let's be honest — Elijah Wood is only known for his portrayal of Frodo Baggins in the prolific film trilogy The Lord of the Rings. Following the success of Peter Jackson's movies, Elijah Wood was able to pick and choose the roles that he wanted, roles that weren't based around his boyish appearance. For example, he was nearly unrecognizable when he appeared as the sinister Kevin in the movie Sin City. Nonetheless, it's easy to get lost in Elijah's bright blue eyes and forget that he's really 36, despite not aging a day since starring in The Lord of the Rings.
Elijah Wood rose to fame as a child, first appearing in local commercials and later getting a role in a music video for Paula Abdul. Wood has been open about his experiences as a child star, even going as far to comment on the supposed pedophile ring that exists in Hollywood. According to him, though he was never a victim, he knew that there were parties in Hollywood where older men would prey on child actors.

8. Sandra Bullock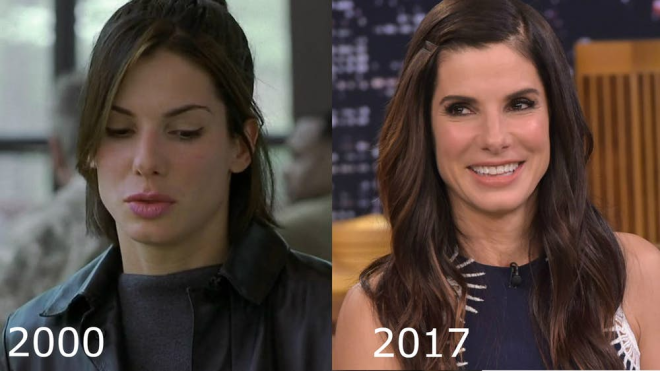 Sandra Bullock has aged a little since starring in Miss Congeniality, but she still looks fantastic. At 53 years old, Sandra Bullock is still making heads turn when she hits the red carpet. She's still being cast in movies as women that are much younger than she actually is. It's easy for a man to do, but women in Hollywood often get tossed to the side after they stop being young and hot. Lucky for her, Sandra Bullock just became old and hot.
During the early stages of her career, Sandra Bullock looked a little more mature than she actually was. Maybe she developed a mature look early on which is why she looks so great now. I remember seeing her in The Blind Side thinking that she looked way too young to be a mother of a high-school senior. But, after doing the math in my head, I realized it was completely possible and Bullock just looked fantastic.

7. Reese Witherspoon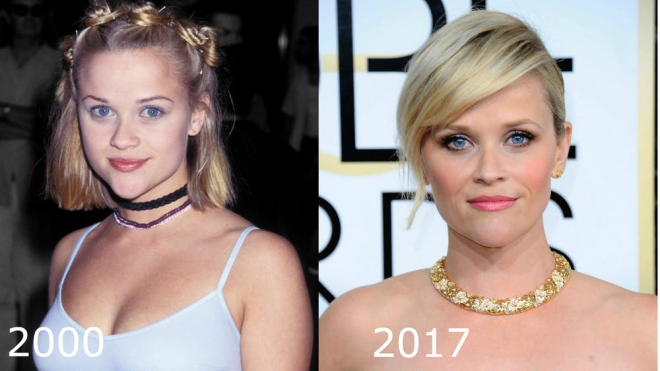 Reese Witherspoon is one of those actresses that seems like she's been around forever. She started acting young, making her debut in the 1991 movie The Man in the Moon, and showed promise from the very start. Despite her acting chops, majority of people only know about Reese Witherspoon because she played a hot dumb bimbo in the oddly hilarious movie Legally Blonde. Seriously, that movie had no business being as good as it was.
For the most part, Witherspoon has had a career filled with critical acclaim. She produced the hit thriller Gone Girl, and has been nominated for four Academy Awards and two Golden Globes. The only pitfall of her career is when she was arrested for disorderly conduct after her husband had been charged with driving under the influence. Still, at 41 years old, the world is Witherspoon's oyster. She isn't going anywhere — and she looks just as great as she did in
Legally Blonde
.

6. Joseph Gordon-Levitt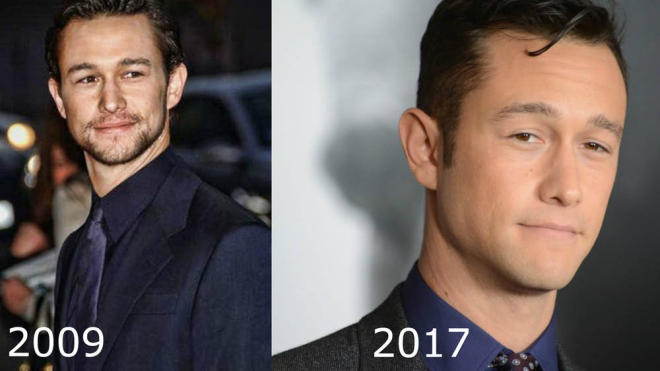 Joseph Gordon-Levitt is still a household name despite his step back from the spotlight. Lately, the 36-year-old actor seems to have taken a step back from making movies to focus on his online production company, hitRecord. His last major role was Snowden in 2016, and before that it was The Night Before which was Seth Rogen's attempt to make a Christmas movie.
Joseph Gordon-Levitt got started in Hollywood when he was only 7 years old, but it wasn't until he was a teenager that he started getting recognition. He found his breakthrough in movies like 10 Things I Hate About You, and established himself as a serious actor in the early 2000s. However, Joseph Gordon-Levitt won his fans over again and asserted himself as a Hollywood sweetheart in the movie 500 Days Of Summer. Due to his boyish charm, it's hard imaging what Joseph Gordon-Levitt will look like with grey hair and wrinkles. After all, he's had the same face for pretty much his entire career.

5. Jennifer Lopez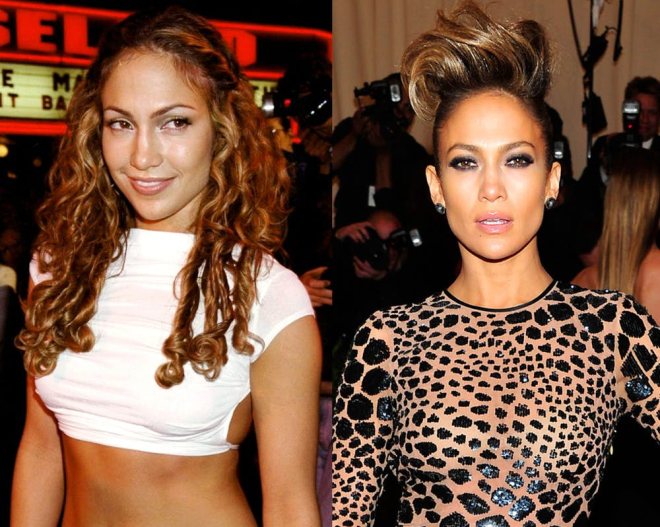 Jennifer Lopez, a.k.a. J.Lo, built an entire career on her body. Her bodacious booty led to her having a prominent music and acting career throughout the '90s and 2000s. Pop culture reporters have stated that they were impressed with how seamlessly J.Lo was able to transition between being a pop sensation to being a respected actress, who has received a Golden Globe nomination and was the first Latin actress to earn over $1,000,000 for a film.
Without even considering her age, you have to admit that J.Lo looks fantastic. Compare her to other actors close to her age. For example, Leonardo DiCaprio, who is 5 years younger than her, looks about 10 years older. It's amazing how some celebrities, particularly those whose career is based on their appearance, have been able to fight the effects of aging for so long. It's only a matter of time before her age catches up with her but for now, Jennifer Lopez remains ageless.

4. Julia Roberts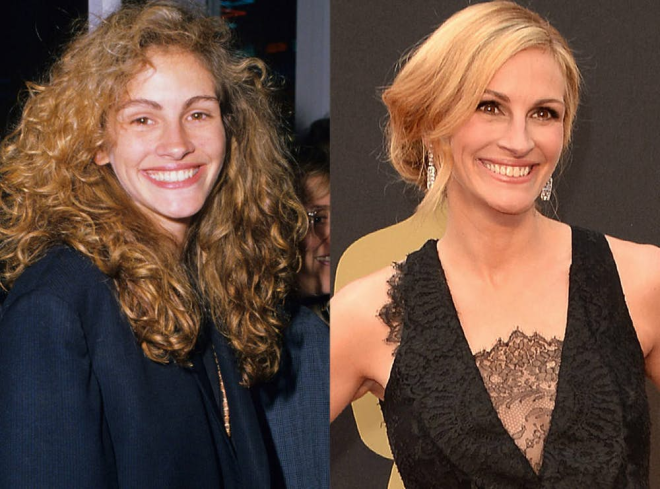 Julia Roberts won over the hearts of America when she starred in the romantic comedy Pretty Woman. The movie was originally intended to be a dark story about sex workers, but it was reworked and written as a romantic comedy that became one of the highest grossing movies of 1990. In her 50 years on Earth, Julia Roberts has been nominated for eight Golden Globes (won 3) four Academy Awards (won 1) and her movies have brought in over $2 billion at the box office.
Julia Roberts has been acting since the 1980s, which dates her quite a bit but the magic of plastic surgery and skincare is making sure she always looks fantastic. As a Hollywood A-lister, Roberts has been able to date just about anyone she wants. Her previous partners include Liam Neeson, Kiefer Sutherland, Matthew Perry, Benjamin Bratt, but has since found love in Hollywood cameraman, Daniel Moder. The happy couple met on the set of The Mexican and have three children together.

3. Will Smith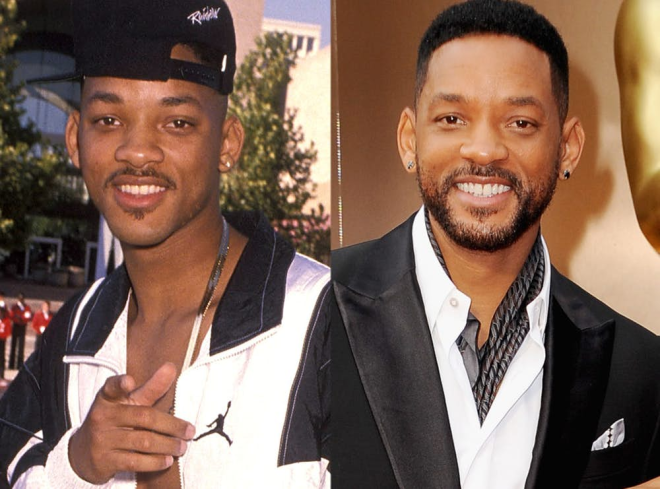 The only thing that's really changed about Will Smith over the years is his style, and that's just because fashion itself has changed dramatically since he became famous. Will Smith's lack of aging went unnoticed until his 45th birthday, when fans realized that he was now as old as James Avery was when he first played Uncle Phil on The Fresh Prince of Bel-Air. Fans were quick to note how much better Will Smith looked at 45 than Avery did.
Though now nearly 50, Will Smith has announced that he is heading back to his roots and released an album with DJ Jazzy Jeff. The album, which not many know much about, has been in the works since 2015. DJ Jazzy Jeff told interviewers that Will Smith had never stopped rapping, even when his acting career was at its peak. According to reports, the album is set to have 20 to 30 songs on it and that many of the songs have already been recorded. Quite frankly, Will Smith's acting career has been going on for so long that I think most people have forgotten that he is a Grammy-winning rapper.

2. Halle Berry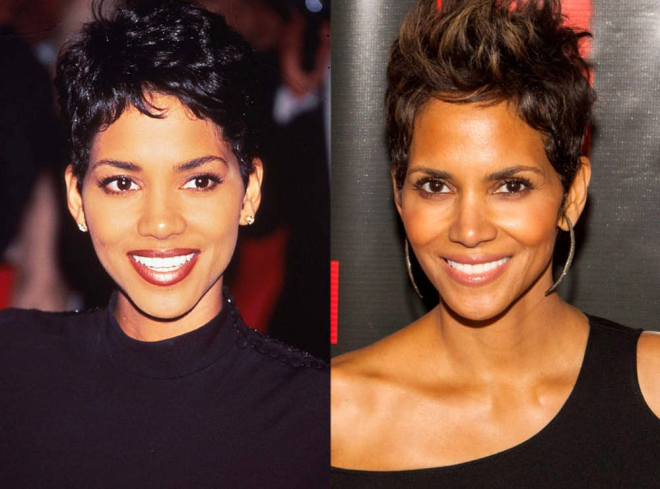 Halle Berry was once the hottest woman in Hollywood. During the 2000s, she was one of Hollywood's highest paid actresses and just about everyone's celebrity crush. She proved her acting prowess when she won an Academy Award in 2002 for her performance in Monster's Ball. Though she didn't become a household name until she was around 30, Berry was a former model who turned heads for most of her career. At 51 years old, she's still turning heads.
But, somewhere in the past 20 years or so, Halle Berry fell from Hollywood superstar to struggling actress. Everything was going great for her until 2004, when she starred in the box office disaster Catwoman (2004). She was nominated a Razzie for her performance, which is essentially the complete opposite of an Academy Award. For the next 14 years, Berry has only been appearing in movies that are considered downright terrible by most people.

1. Dave Chappelle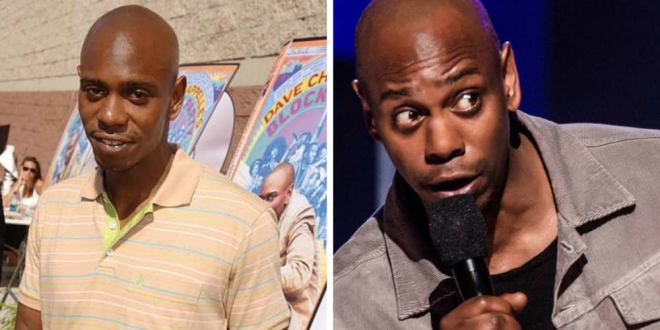 Somehow, Dave Chapelle looks better now than he did before he disappeared from the spotlight. In the 1990s and early 2000s, Dave Chapelle was considered one of the best comedians in show business. Most notably, he wrote and starred in the sketch TV show Chappelle's Show, but cancelled the show on his own terms and vanished into thin air. There were rumors that his sudden exit from the spotlight was due to addiction or mental-health issues, but it was really due to him being unhappy with the content of his show.
Dave Chappelle, now 44 years old, has since made his comeback in comedy by releasing multiple stand-up specials through Netflix. And, I have to tell you — he's shredded. He used to be a skinny comedian and now he's a borderline body builder. Chappelle is under fire from social rights activists for his most recent stand up special, The Bird Revelation, where he criticizes the #MeToo movement.