On July 15, 1997, Cunanan gunned down Versace in front of his home in Miami Beach.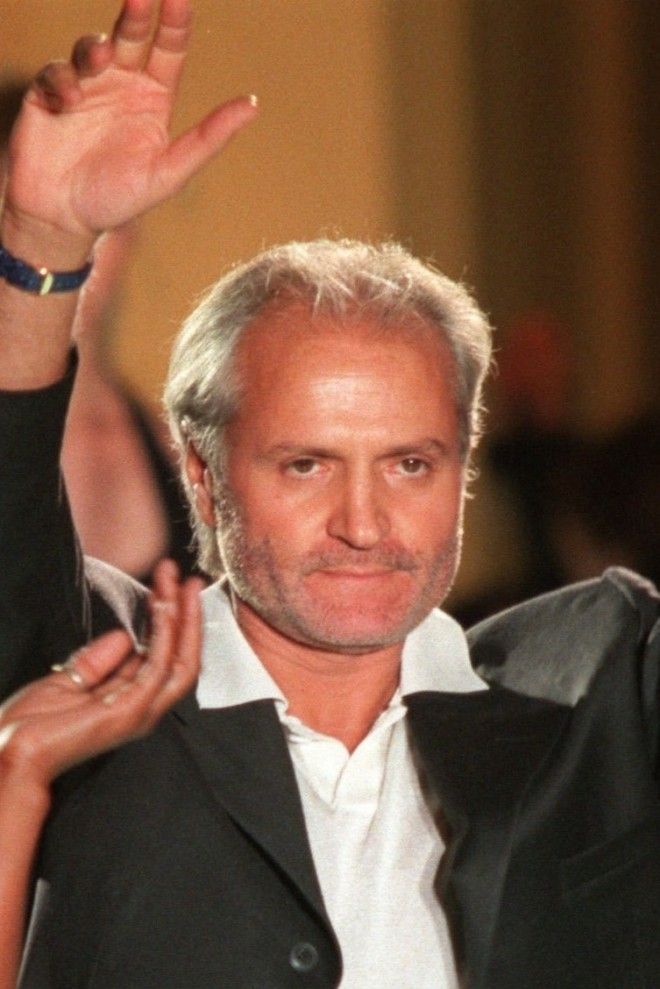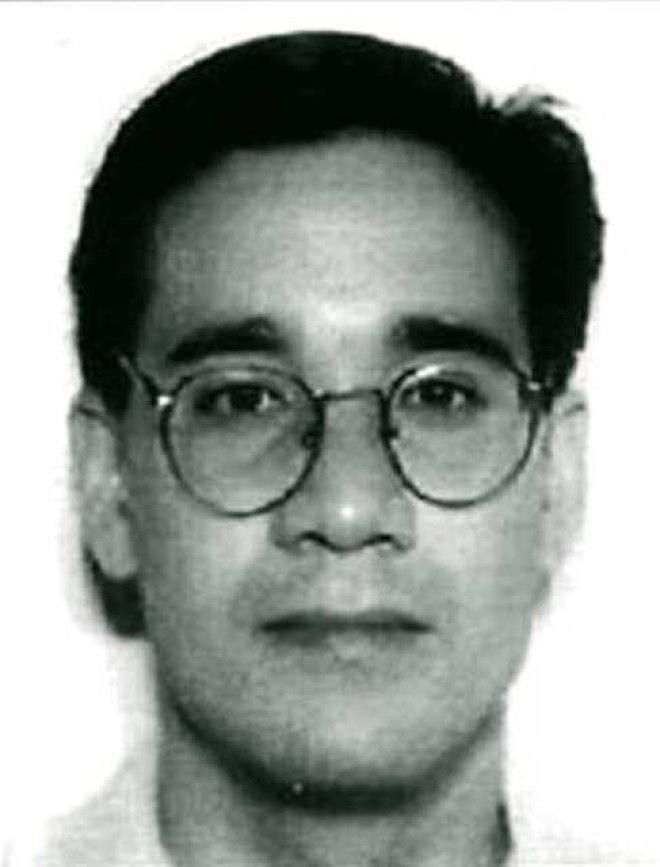 Versace was the final victim in a string of cross-country murders Cunanan committed from April through July 1997.
The other victims included architect David Madson, engineer and graduate of the United States Naval Academy Jeff Trail, real estate mogul Lee Miglin, and caretaker William Reese.
Here are some of the most powerful photos taken in the time immediately following Versace's murder:

1. A curious crowd gathered around Versace's Ocean Drive home on the day of the shooting.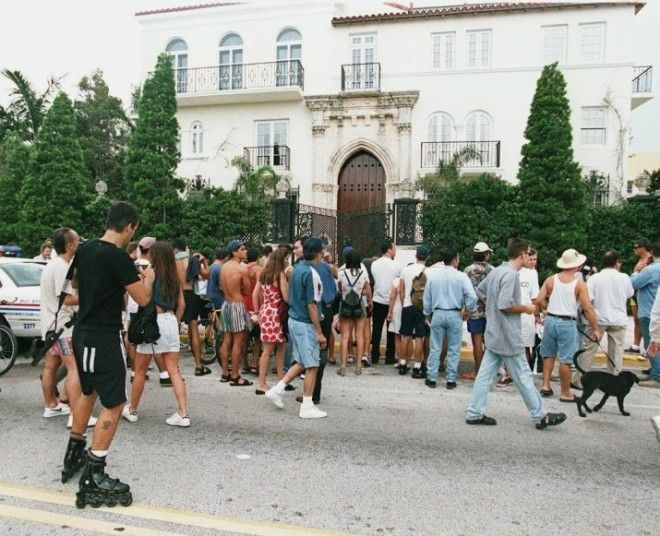 2. Mourners mixed alongside media.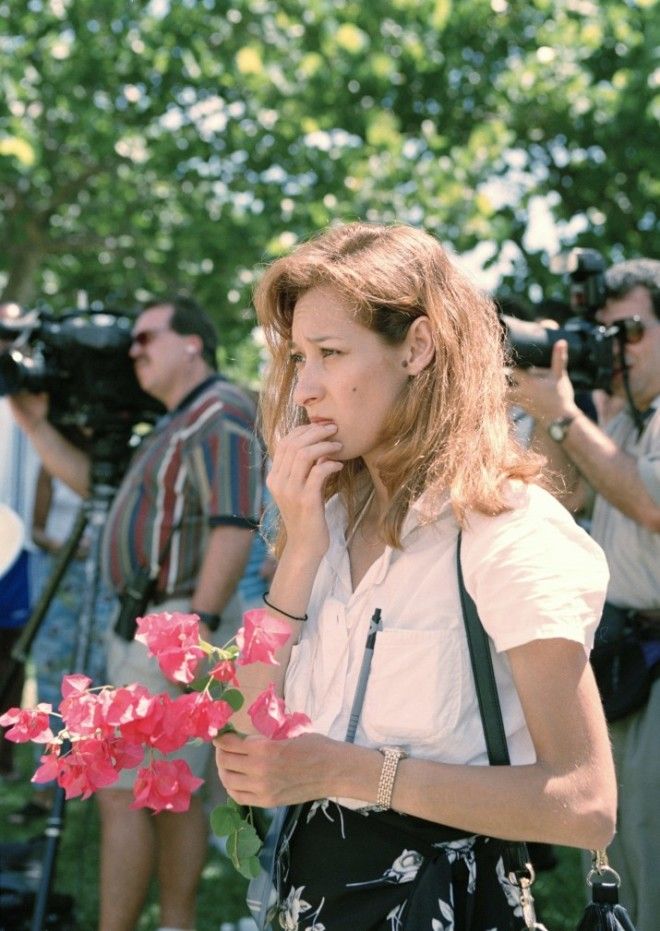 3. The steps where Versace was shot were taped off and marked as a crime scene.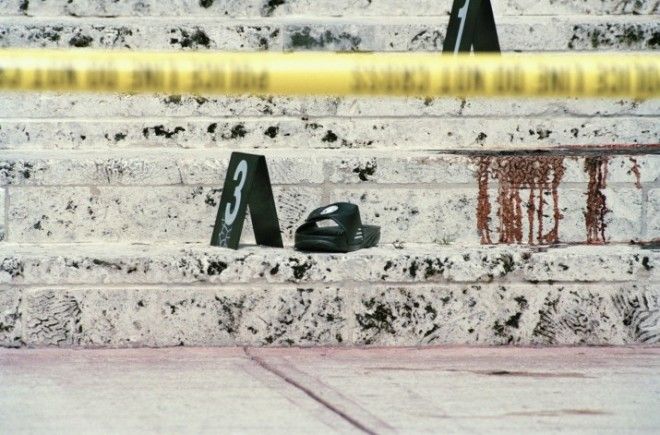 4. Miami Beach police officers examined the evidence.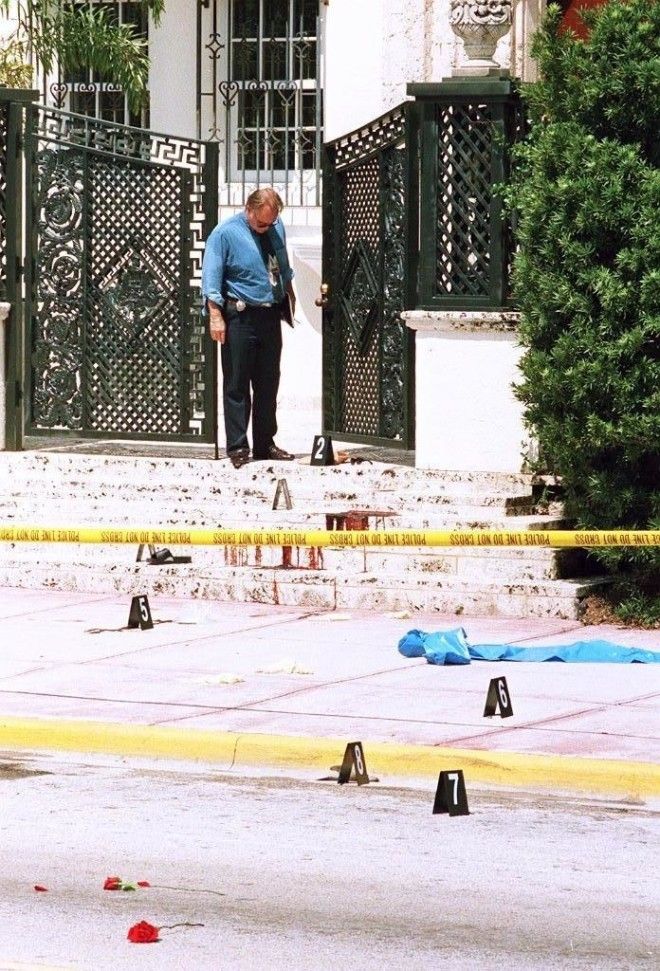 5. Others combed the ground for clues surrounding Versace's home.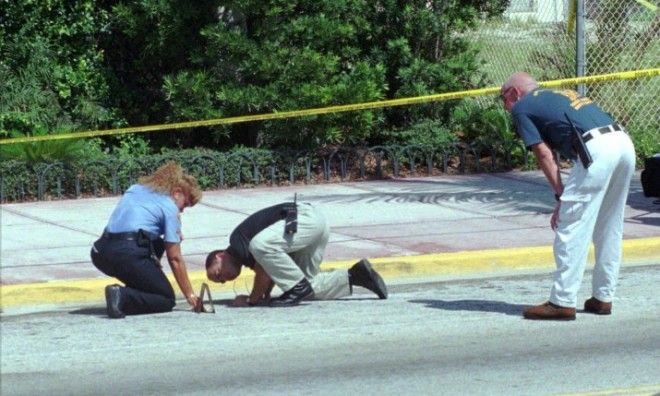 6. A suspicious vehicle was found in a Miami parking garage, which could yield clues to the killer's identity. A Miami Beach canine unit searched the alleyway nearby.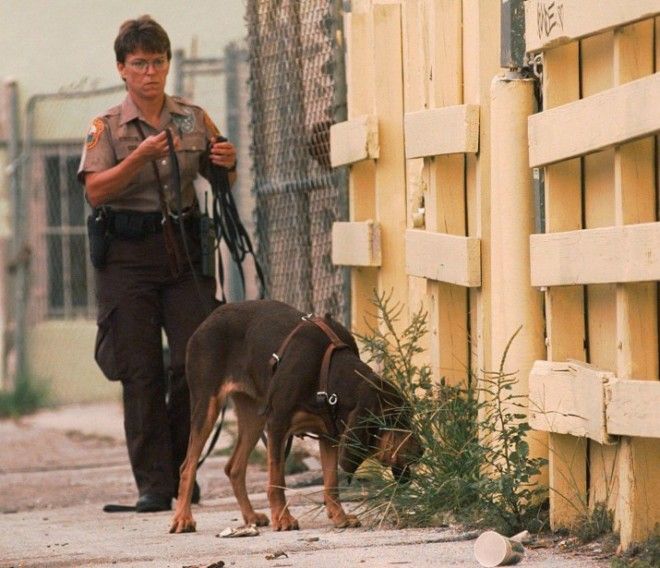 7. Authorities towed a red pickup truck out of the garage — the vehicle Cunanan stole after killing his fourth victim, William Reese.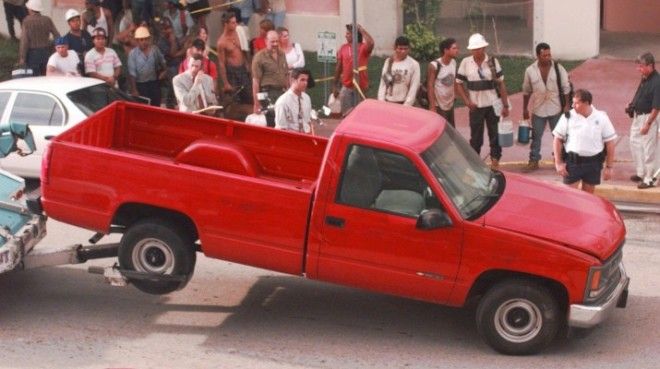 8. Police tape gone, private security stood outside the gates of Versace's home as fans began to leave gifts for the slain designer.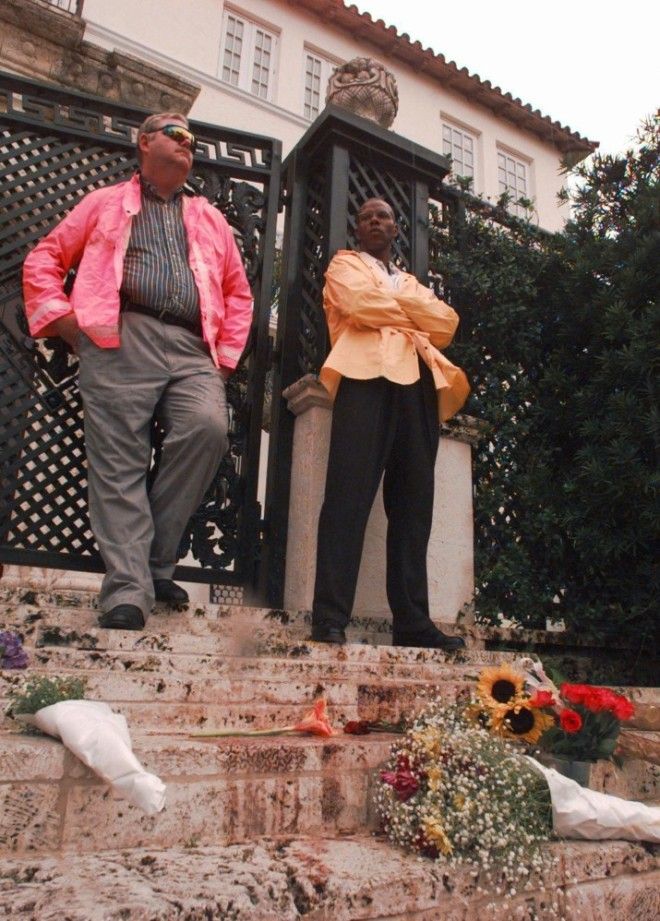 9. A day after the killing, flowers and candles filled the steps...

10. ...alongside farewell messages.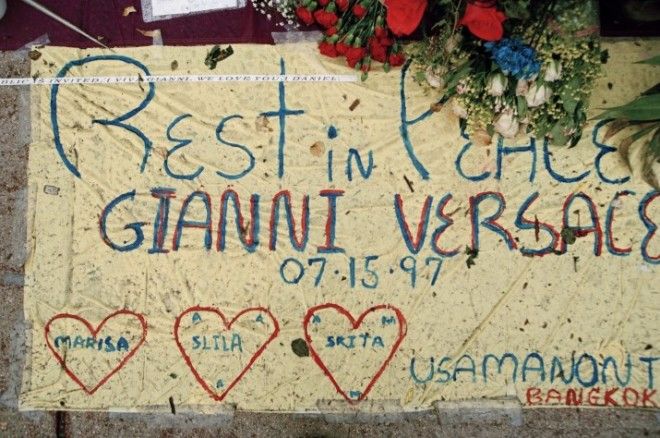 11. A woman paused with her dog to take a picture of the memorial forming outside Versace's home.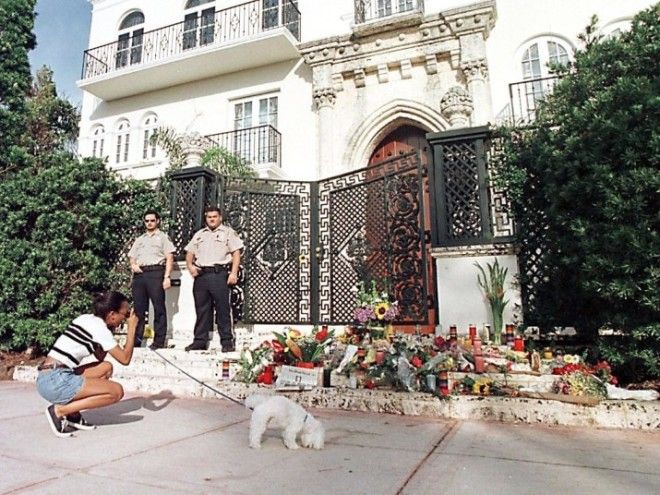 12. An anonymous artist painted the street where Versace was shot and killed.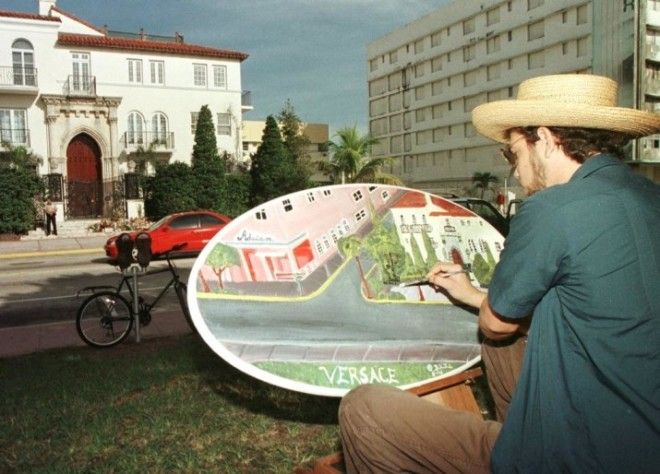 13. Fans mourned all over the world. Someone sent flowers to the Gianni Versace store on Rodeo Drive in Beverly Hills with the message "His name will live forever."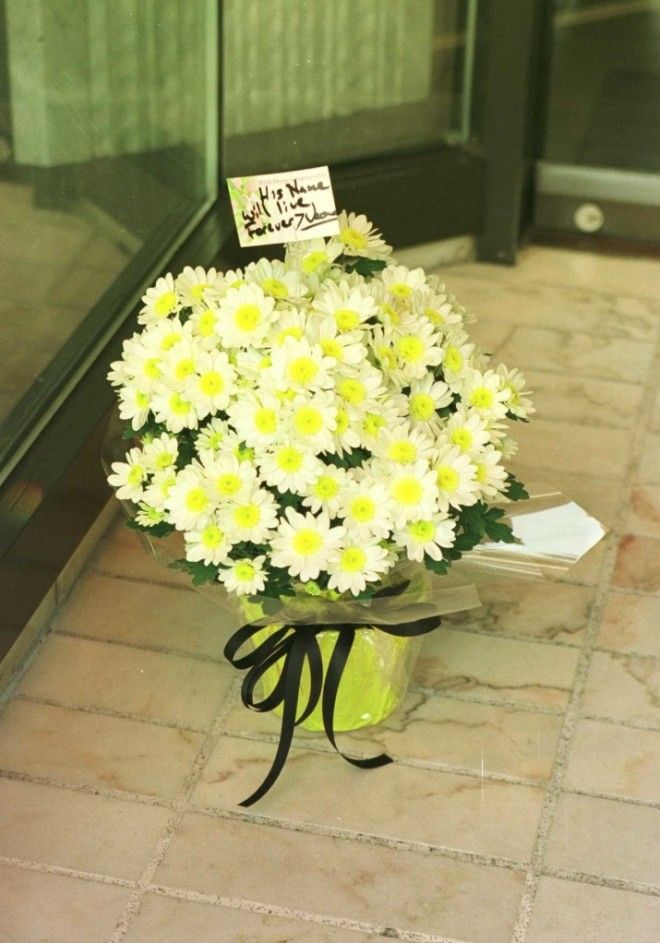 14. People placed tributes to the designer in front of his London store.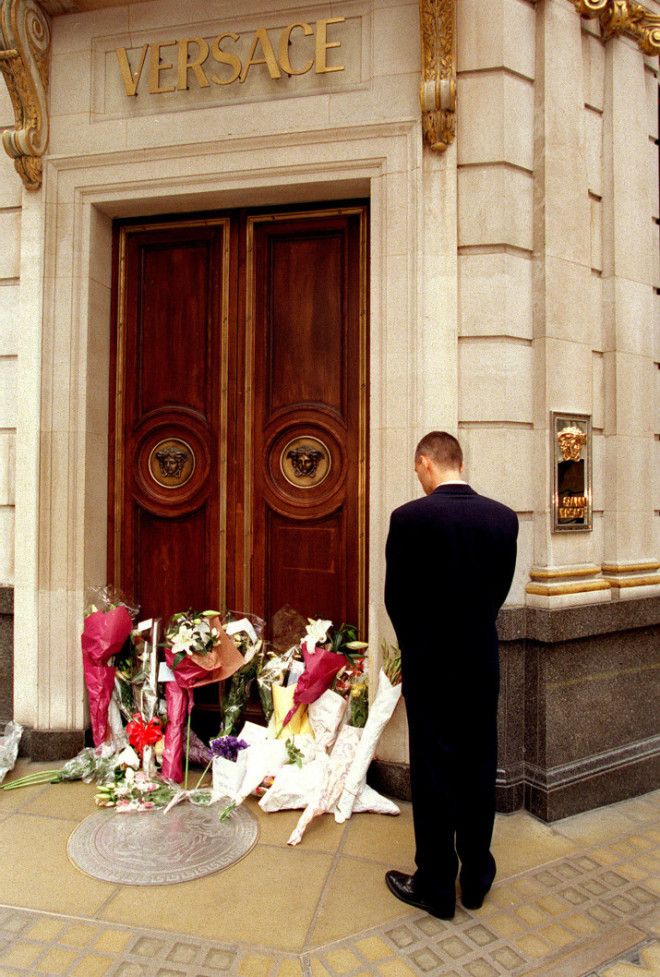 15. A well-wisher paused while placing flowers and a card in front of the entrance to the Versace headquarters in London.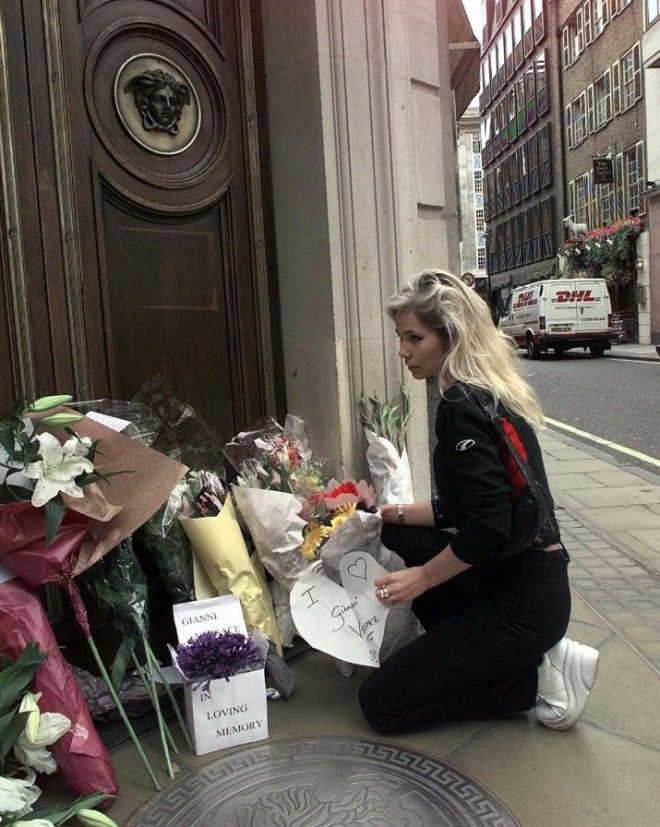 16. Versace locations across the country paid tribute to their founder.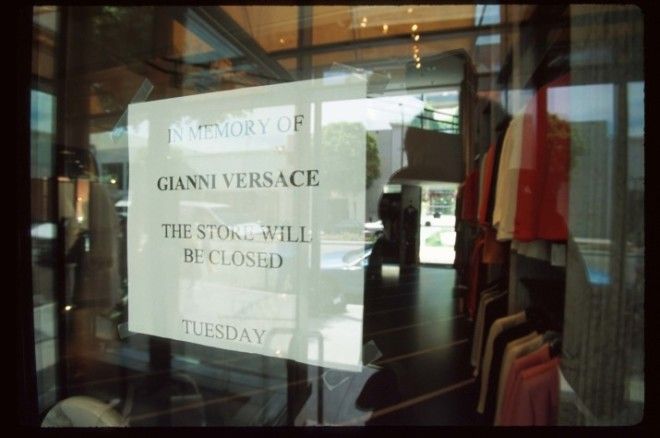 17. An employee at the Versace couture shop in Paris adjusted a black skirt on a mannequin meant to pay homage to the designer on July 15.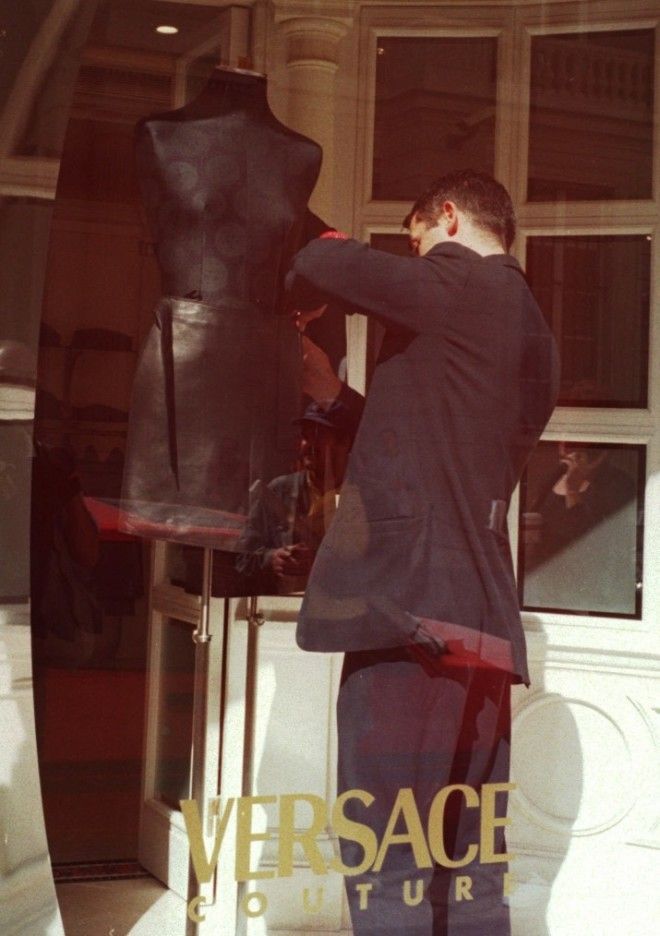 18. A sales associate at the Versace store in Moscow placed a flower under the shop's entrance sign.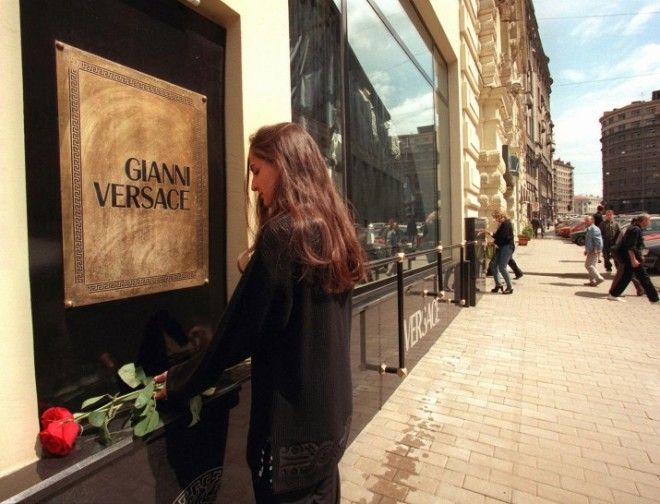 19. On July 16, notable Italian newspapers ran front-page stories reporting the murder.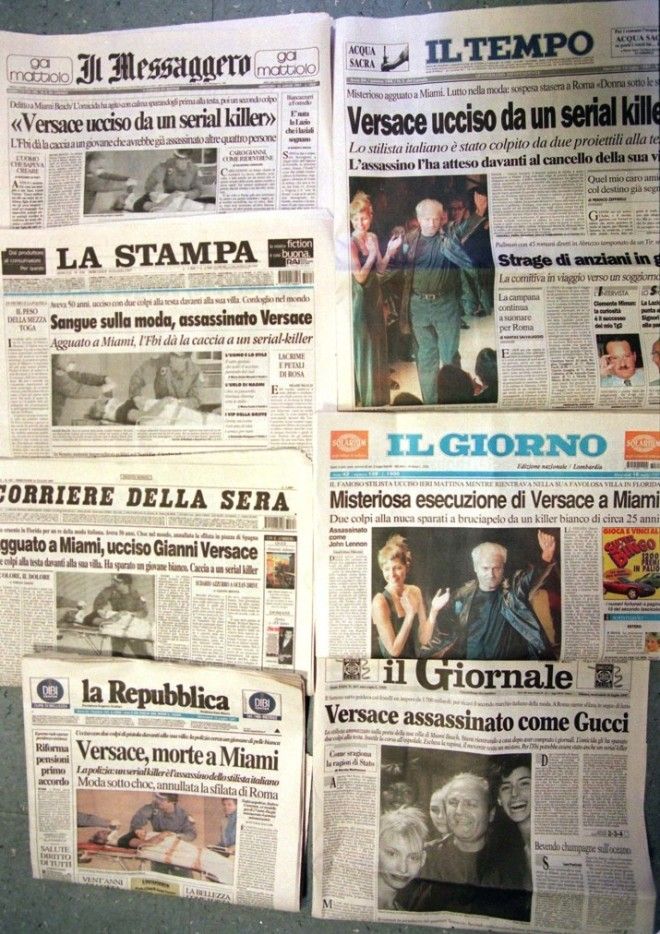 20. Onlookers gathered outside the Church of San Lorenzo in Rome, where Italian fashion designer Laura Biagiotti held a memorial for Versace on July 16.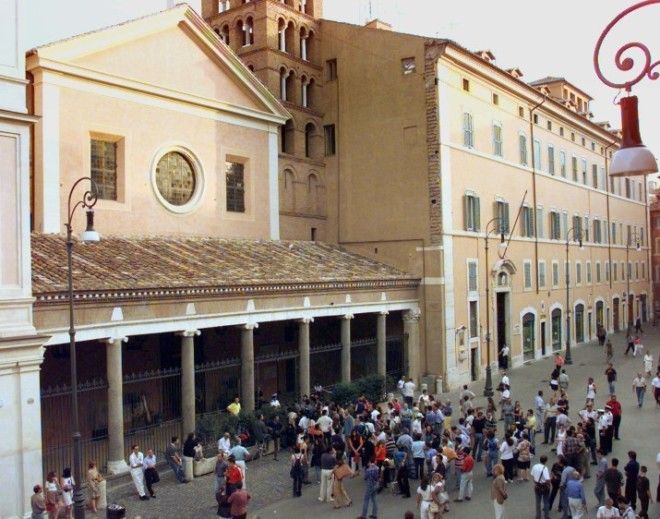 21. Italian fashion designer Valentino (left) and his partner Giancarlo Giammetti (right) attended the memorial.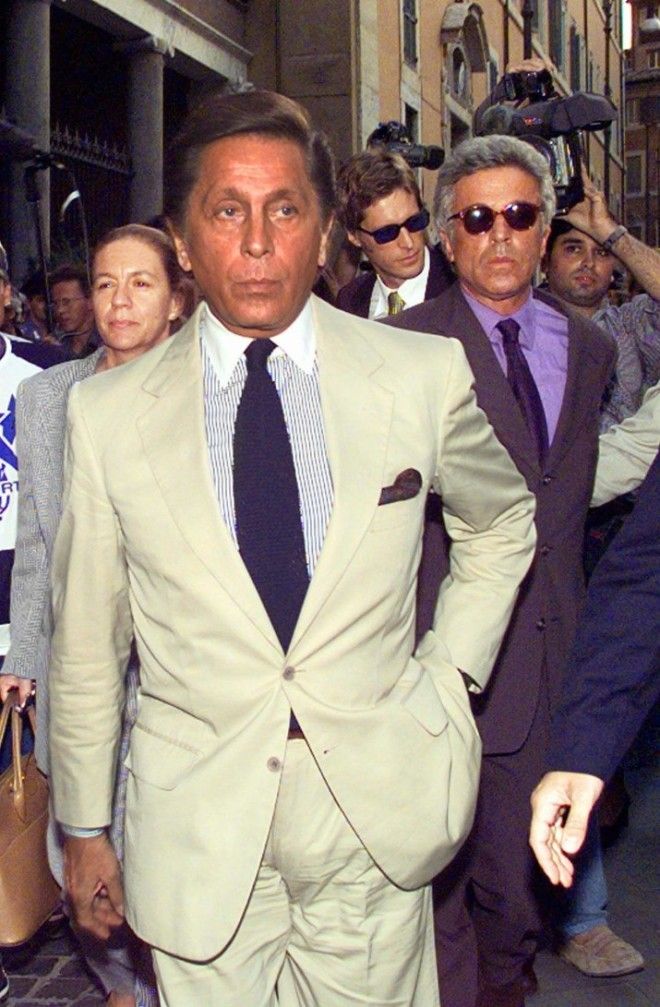 22. Dr. Phillip Villanueva, a neurosurgeon working at Jackson Memorial Hospital who treated Versace, showed the media the location of an exit bullet wound.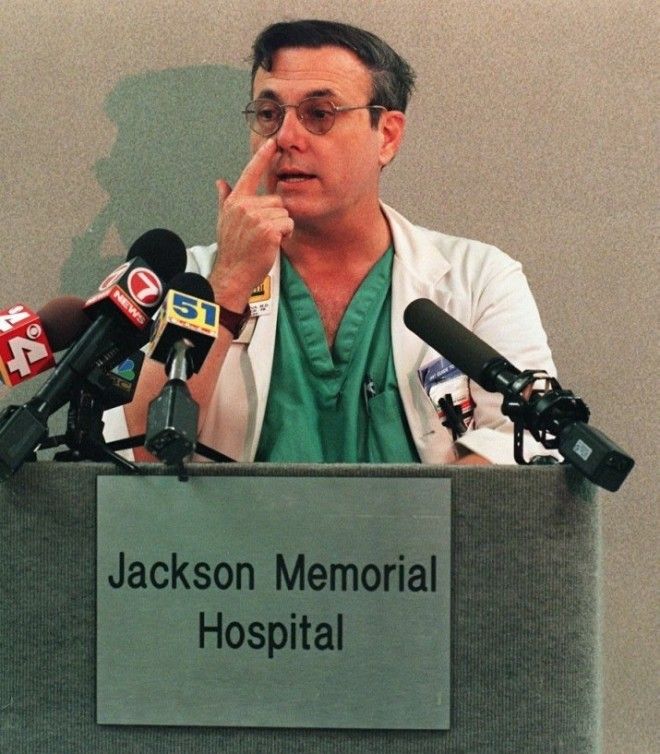 23. The medical examiner's van carrying Versace's body left Jackson Memorial Hospital on July 15.

24. Miami Beach police officer Alfredo Boza spoke about Versace's murder and suspect Andrew Cunanan during a press conference in Miami Beach on July 16.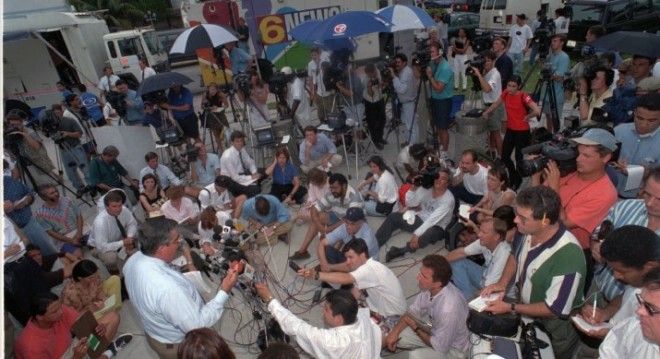 25. FBI Special Agent Paul Philips (right) and Miami Police Department Chief Richard Barreto (left) showed the media FBI fliers of Andrew Phillip Cunanan, the main suspect.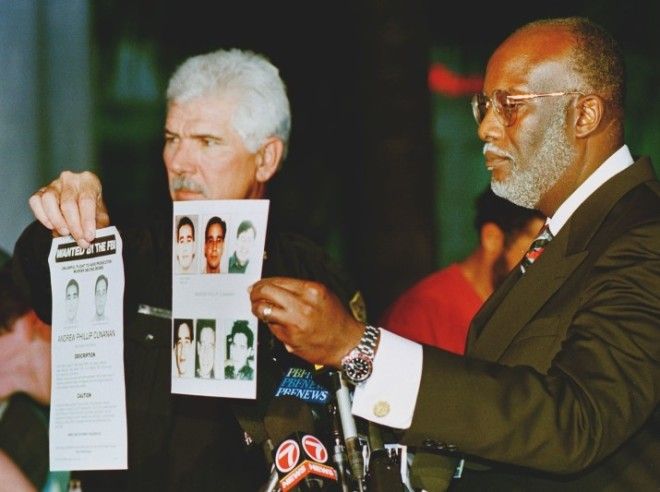 26. A national manhunt for Cunanan began. A store clerk all the way in West Hollywood, California, hung a copy of the suspect's wanted poster.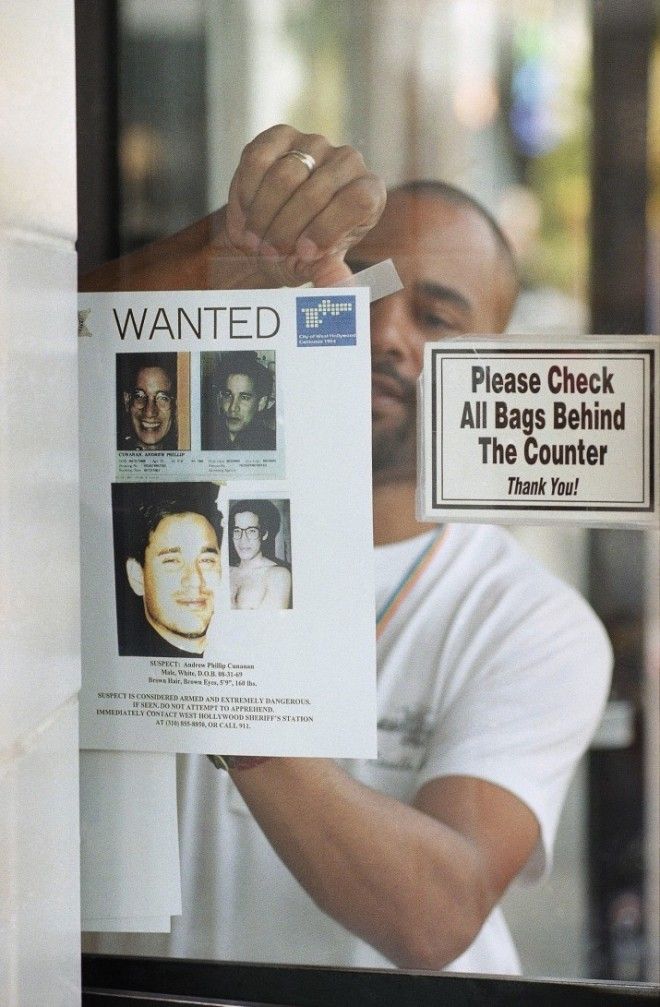 27. A family sat under a large wanted poster of Cunanan at the Edgewater Hotel in Miami Beach.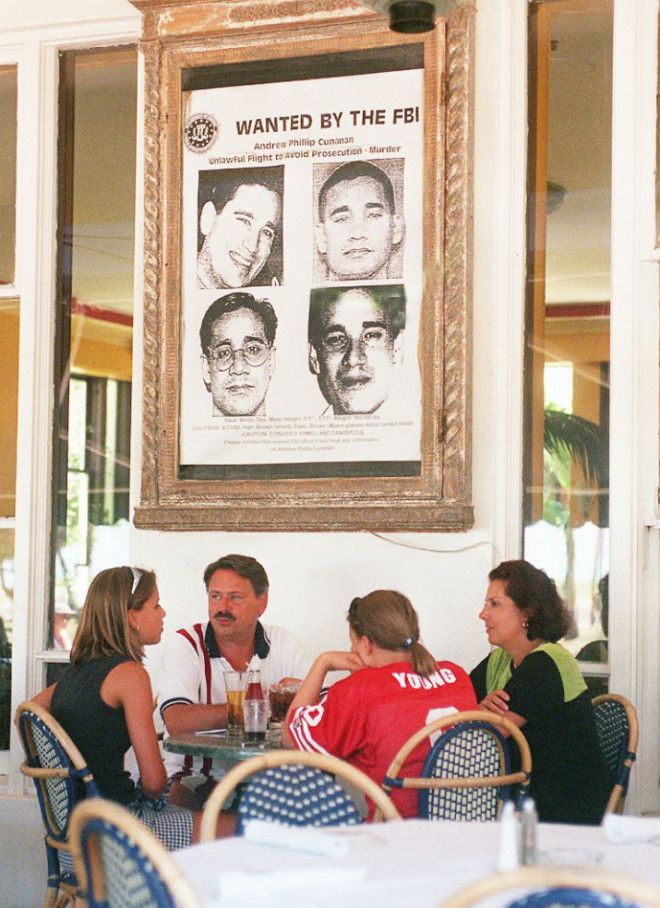 28. A private plane carrying Donatella and Santo Versace, brother and sister of Gianni Versace, arrived at the Miami International Airport early in the morning on July 16.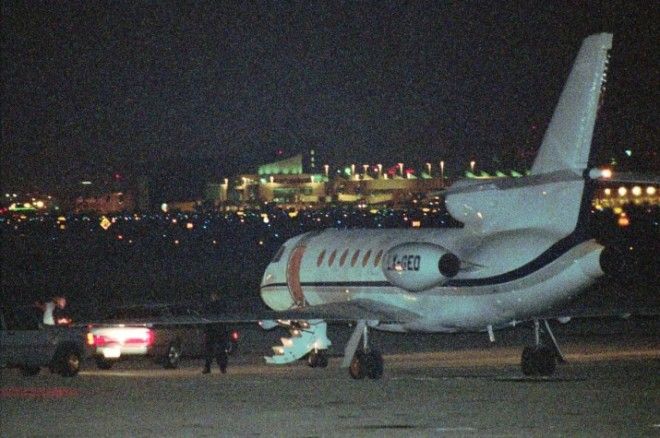 29. Donatella Versace carried flowers as she left her brother's Miami Beach home through a back door later that day.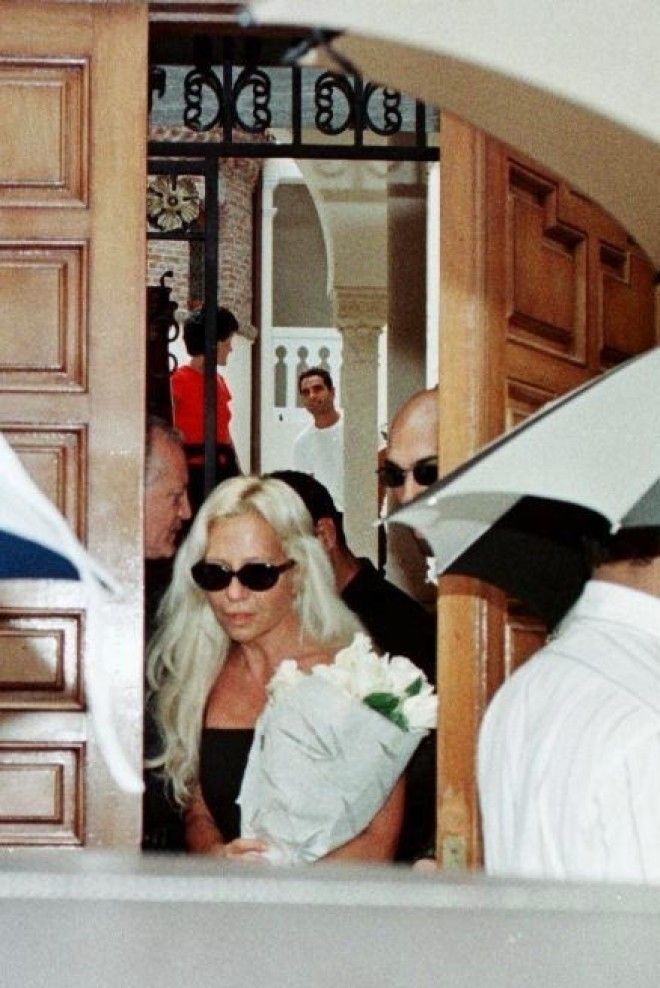 30. On July 17, people continued to surround the Versace property on Ocean Drive.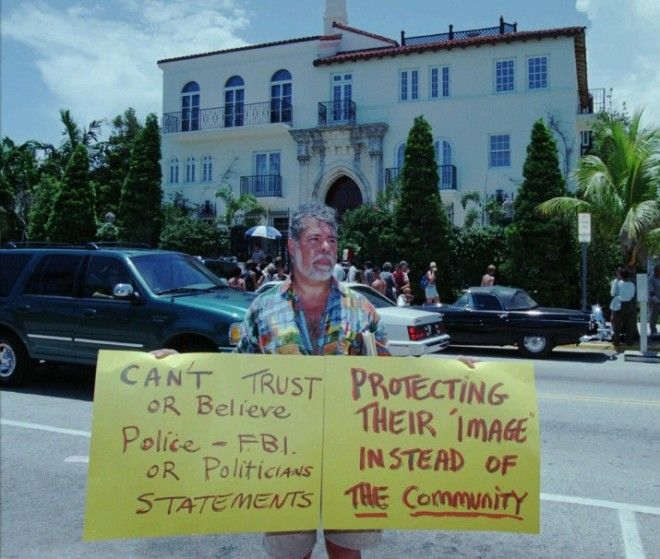 31. Donatella Versace was partially visible on July 17 as she and her brother left for Italy with the cremated remains of Gianni Versace.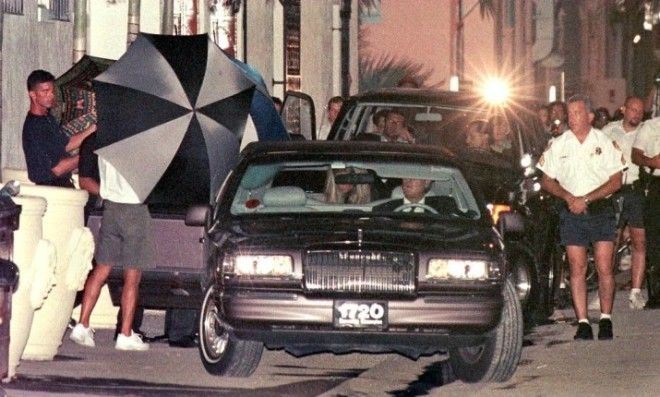 32. Santo Versace held the cinerary urn containing the ashes of his brother as he arrived at the Moltrasio cemetery in Italy on July 18.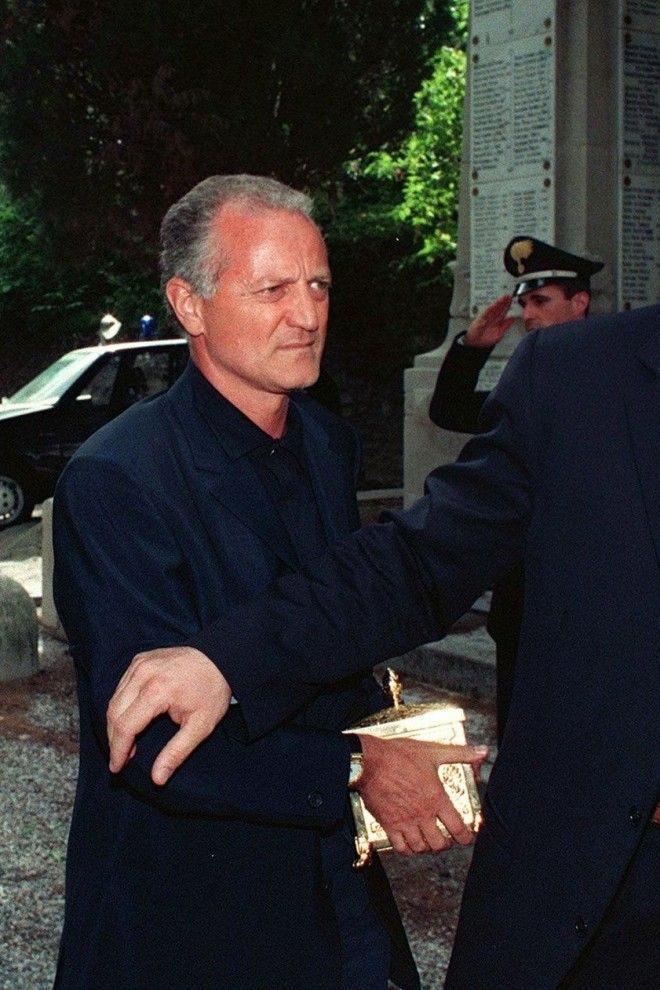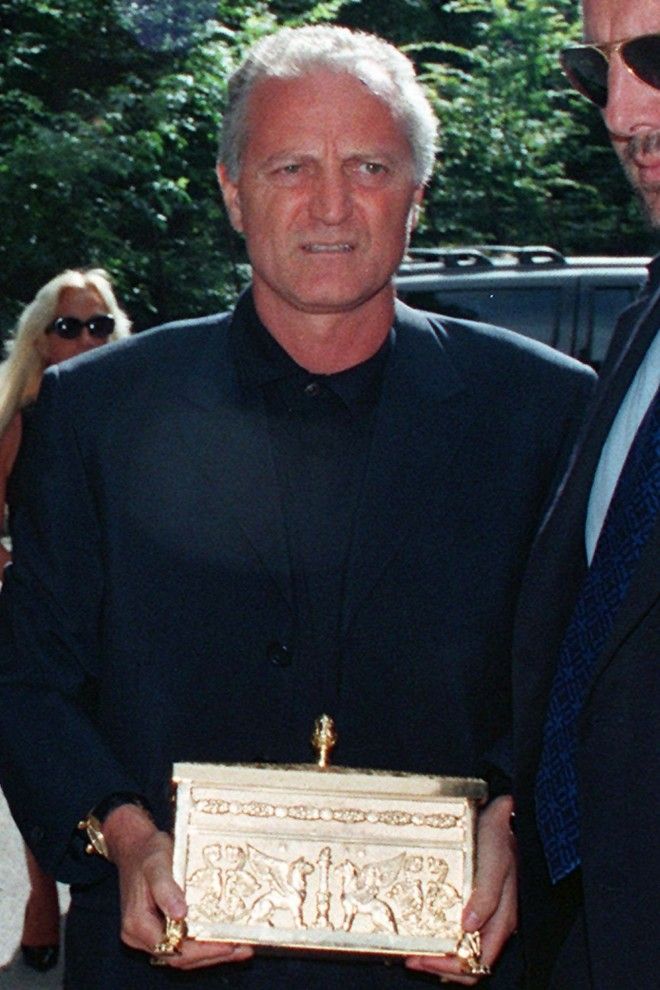 33. Mourners gathered outside St. Patrick's Catholic Church in Miami Beach on July 18 during a memorial service for Versace.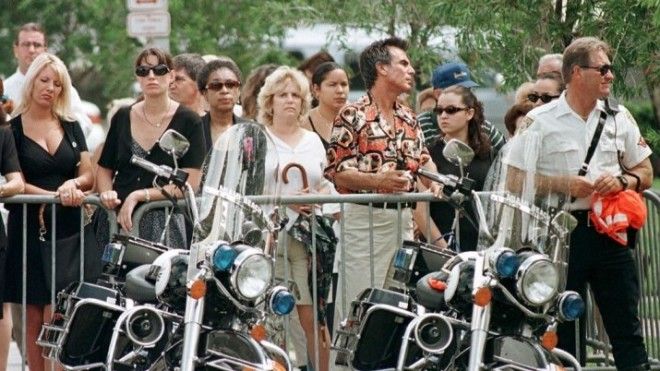 34. A "closed for mourning" sign was taped to the door of Gianni Versace's home in downtown Milan on July 21, ahead of his memorial service on July 22.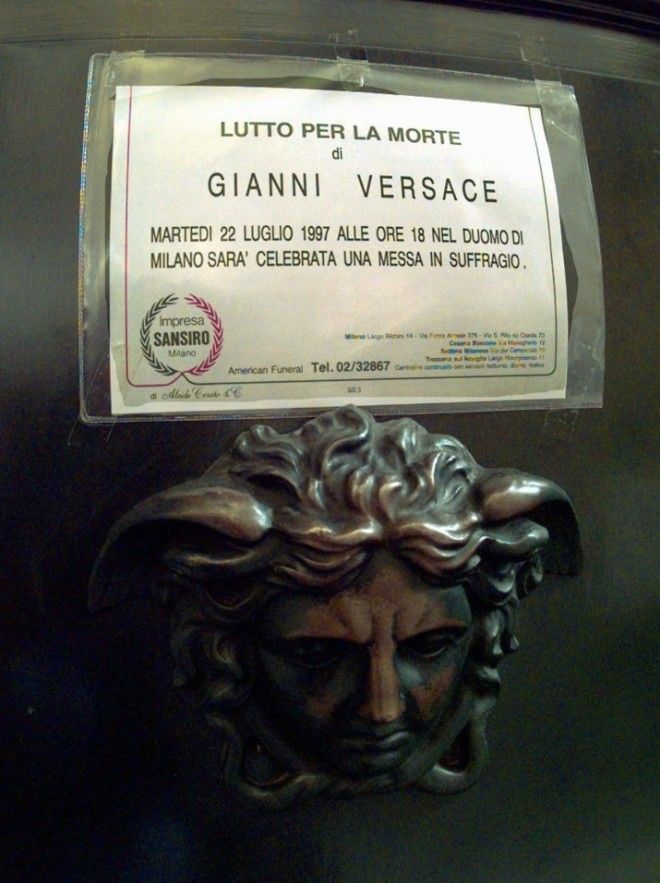 35. On July 22, people lined up outside the Gothic cathedral in Milan for Versace's memorial mass.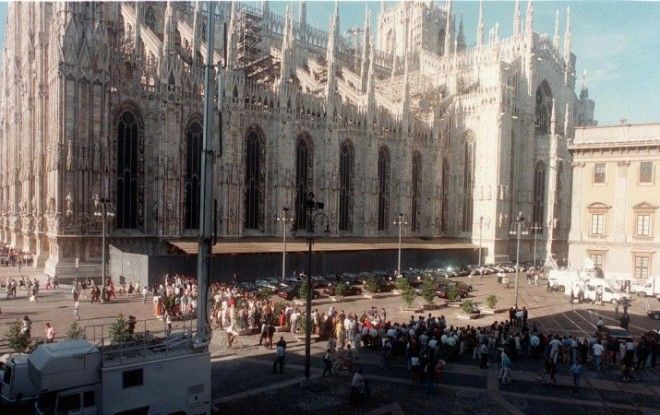 36. Mourners wore black to mark the somber occasion.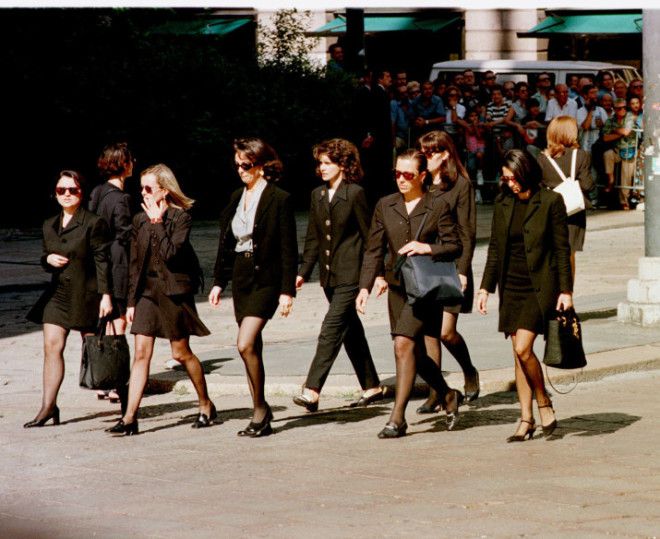 37. Donatella Versace left her brother's Milan home to attend his memorial.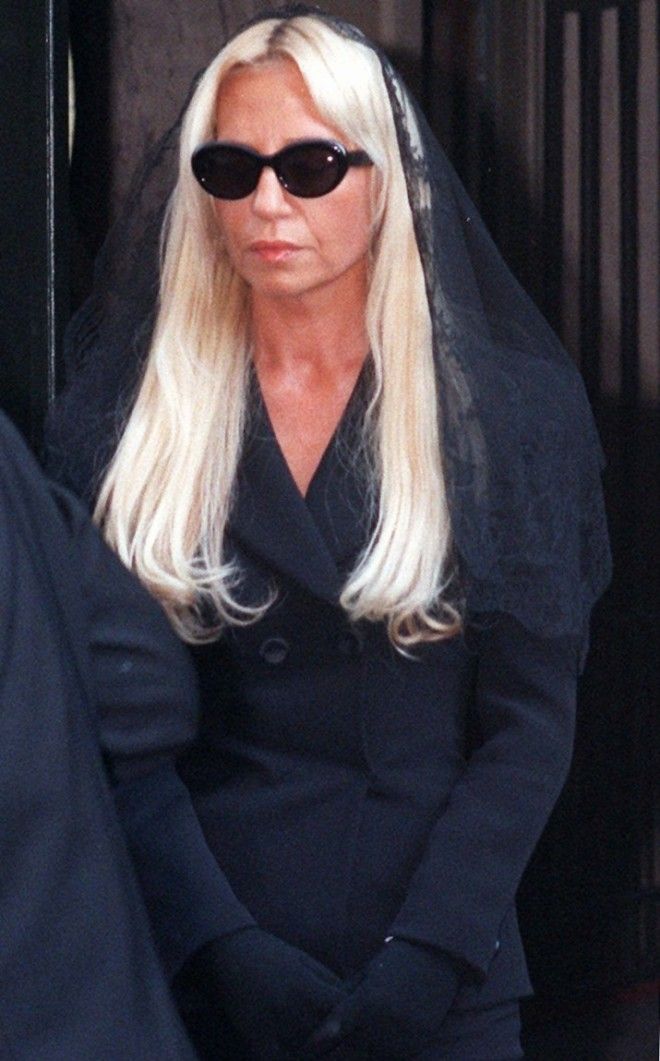 38. Model Naomi Campbell, Versace's frequent collaborator and personal friend, attended the mass wearing a black lace veil.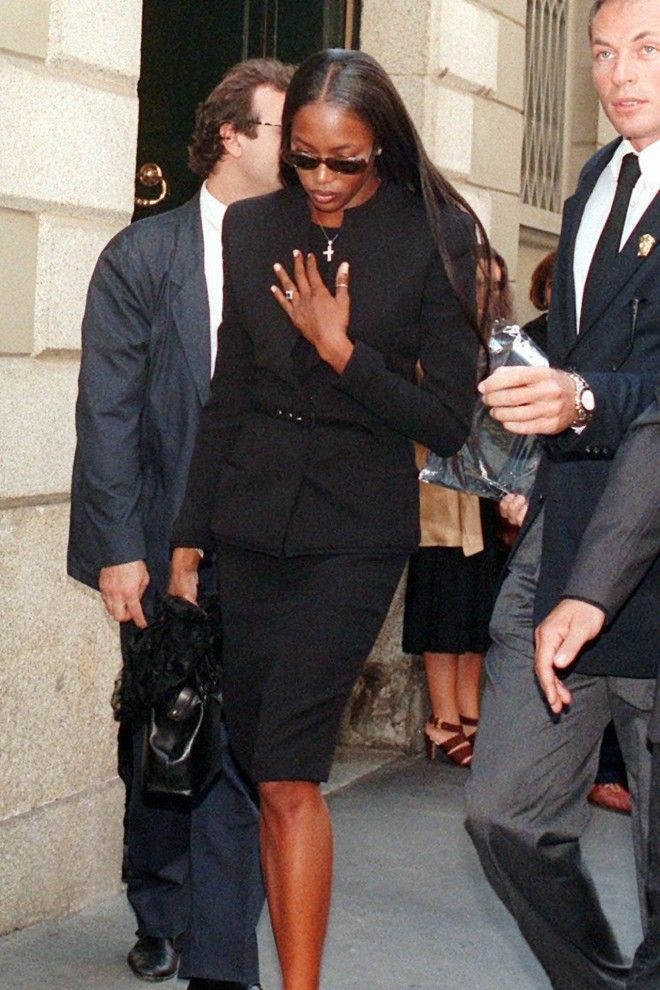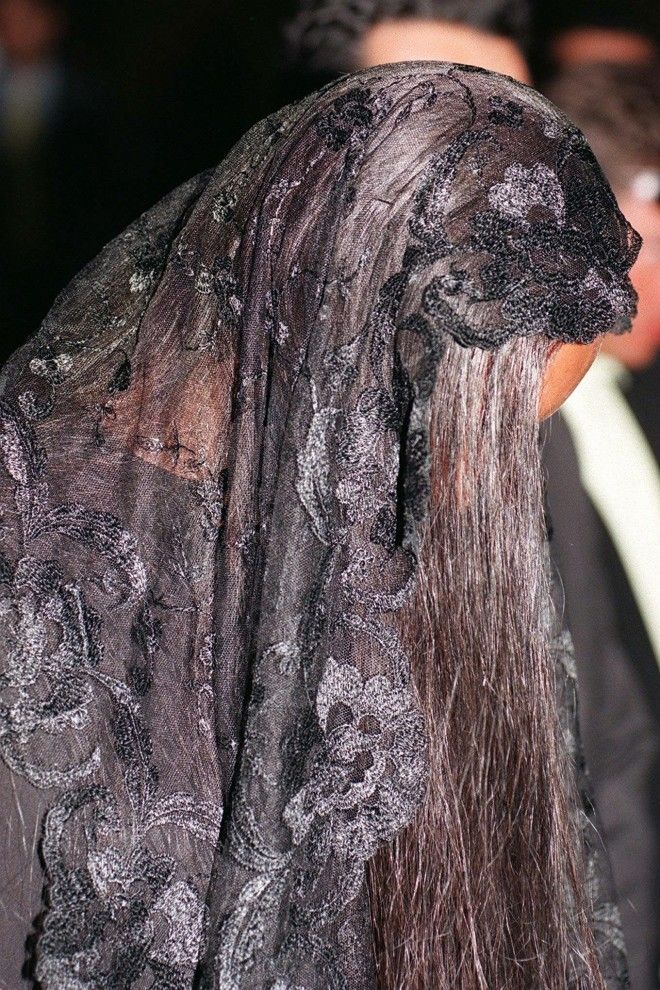 39. Celebrity attendees Sting, his wife Trudy Styler, Princess Diana, and Sir Elton John all attended the mass.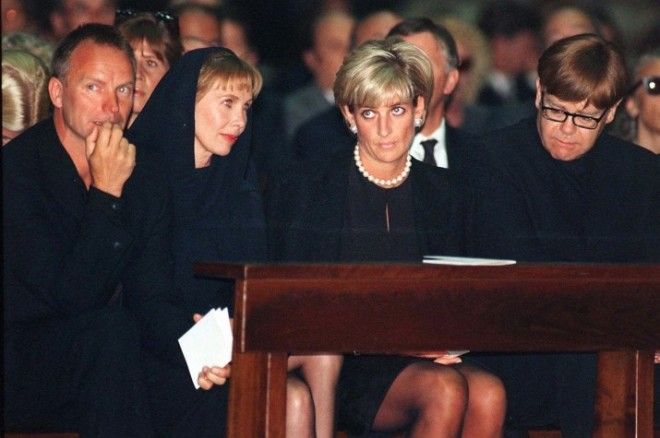 40. David Furnish comforted Sir Elton John during the ceremony.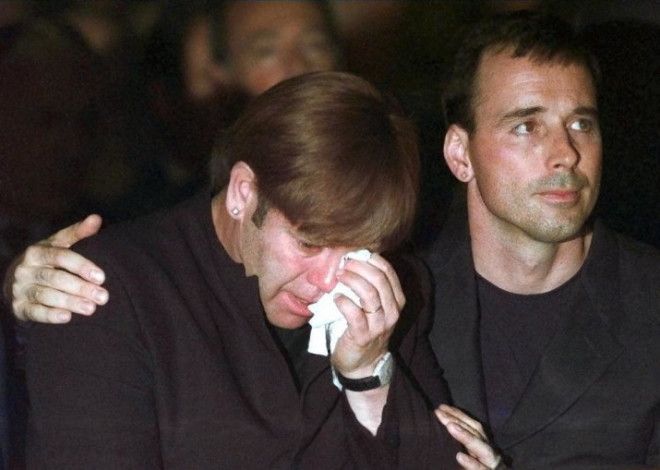 41. Santo and Donatella Versace walked inside the cathedral together.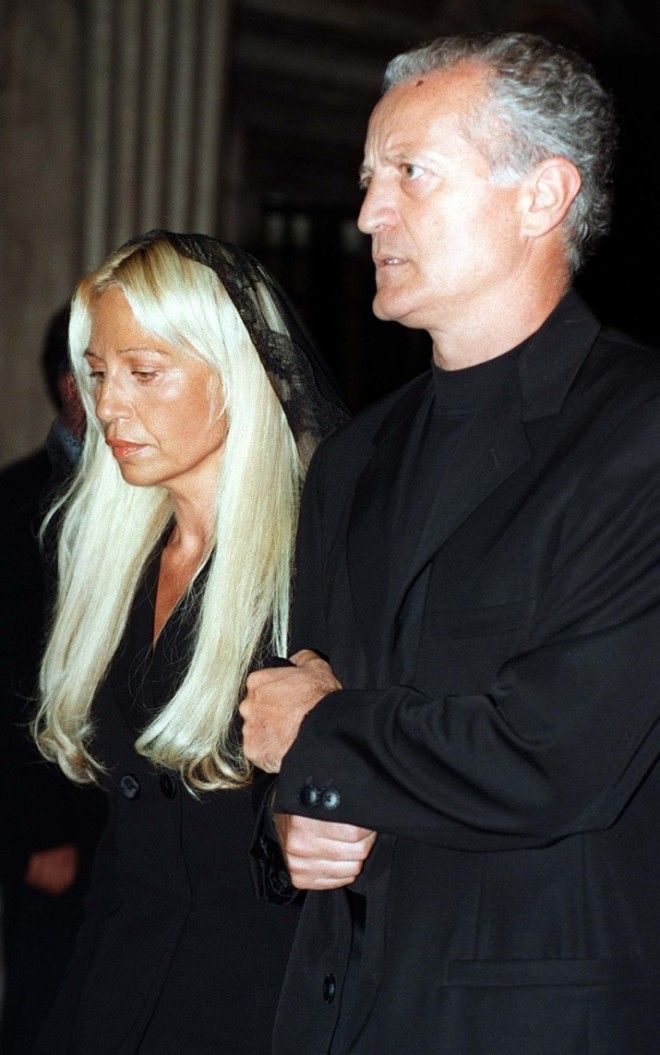 42. Antonio D'Amico, Versace's longtime partner, clasped his hands during the ceremony.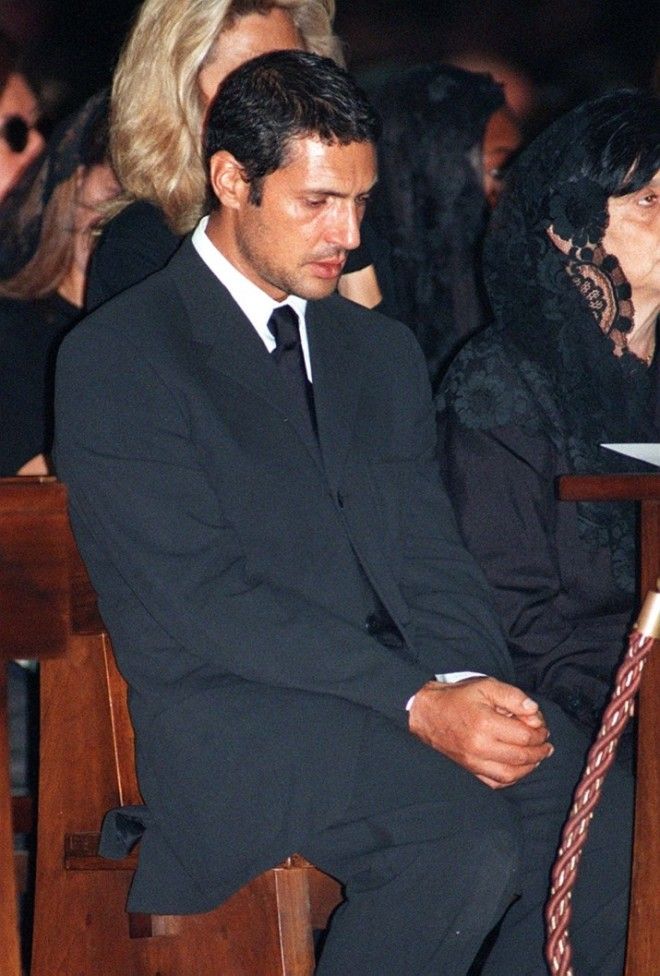 43. Tourists leafed through a special issue of Ocean Drive Magazine, dedicated to Versace, in Miami Beach on July 23. The magazine distributed 40,000 free copies to the area.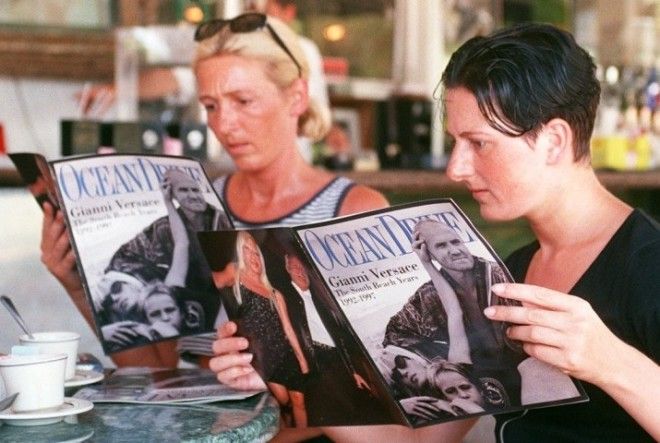 44. On July 23, police surrounded a houseboat on Collins Avenue in Miami Beach following reports of a break-in and unknown intruder hiding inside.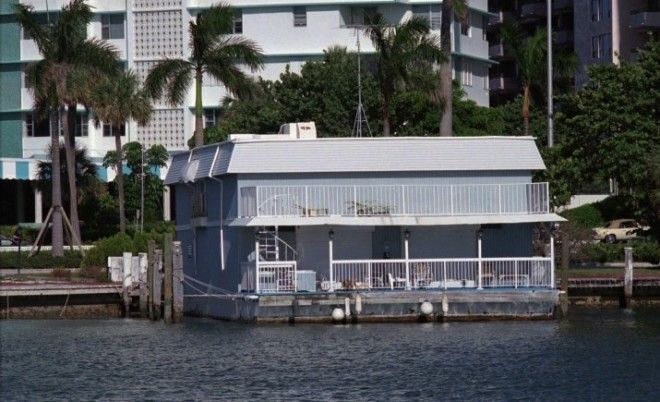 45. Police SWAT team members moved into position in front of the houseboat, located only blocks away from Versace's home.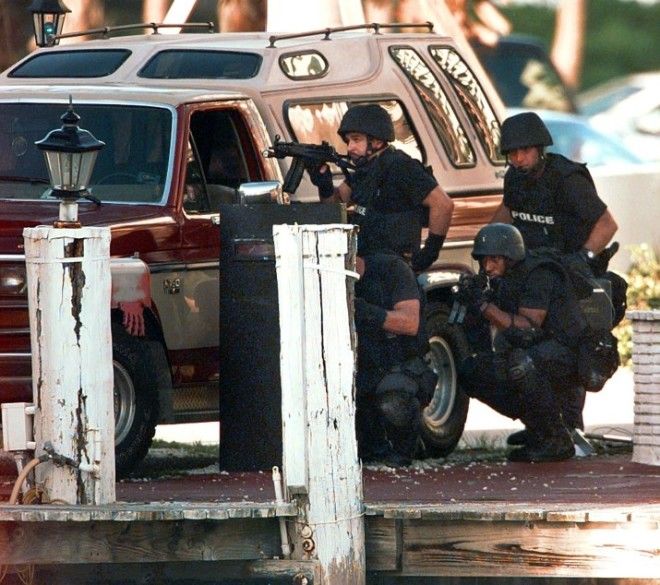 46. After entering and securing the premises, medical examiners removed a body from the houseboat.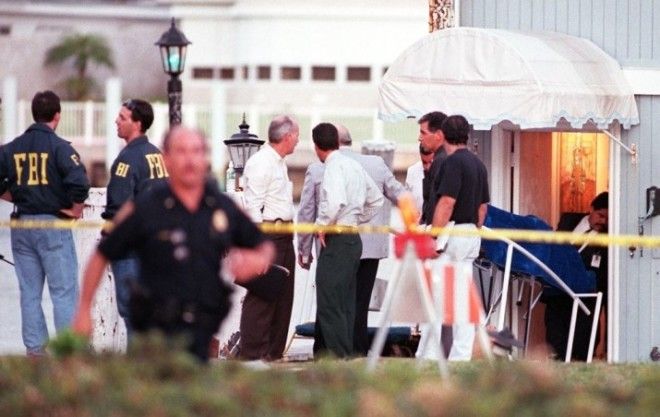 47. On July 24, Miami Police Department Chief Richard Barreto confirmed to the press that the body of Andrew Cunanan was found inside the houseboat. Cunanan died from a self-inflicted gunshot wound.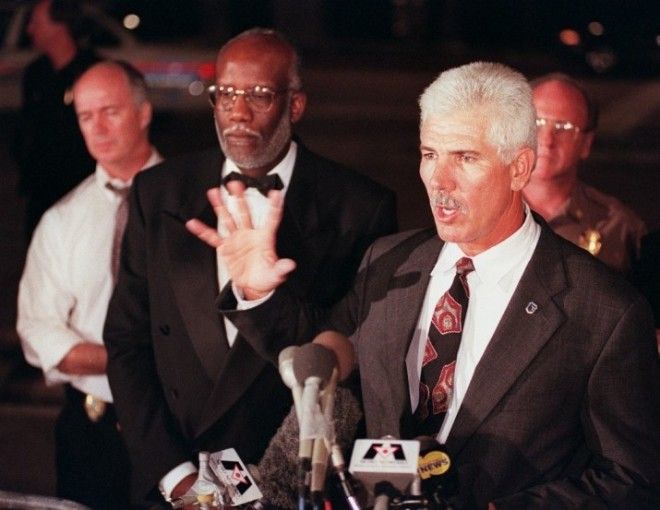 48. The national manhunt for Cunanan ended. The FBI website reflected Cunanan's updated criminal status.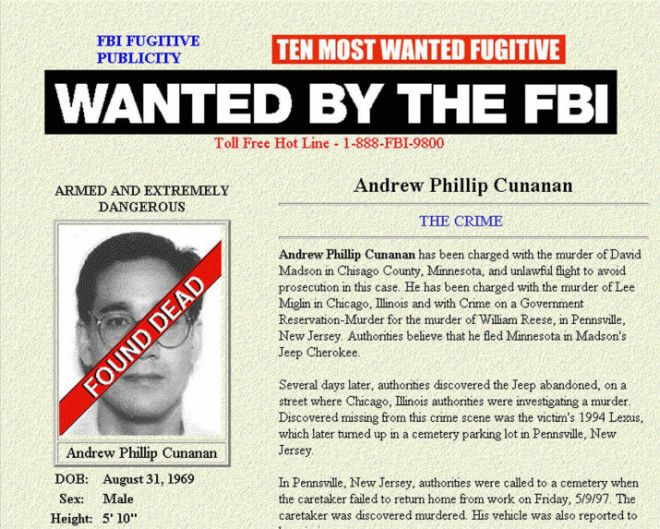 49. In September, Naomi Campbell walked in the "Women Under the Stars" fashion show in Rome. Campbell wiped tears away at the end of the show, which was dedicated to Versace.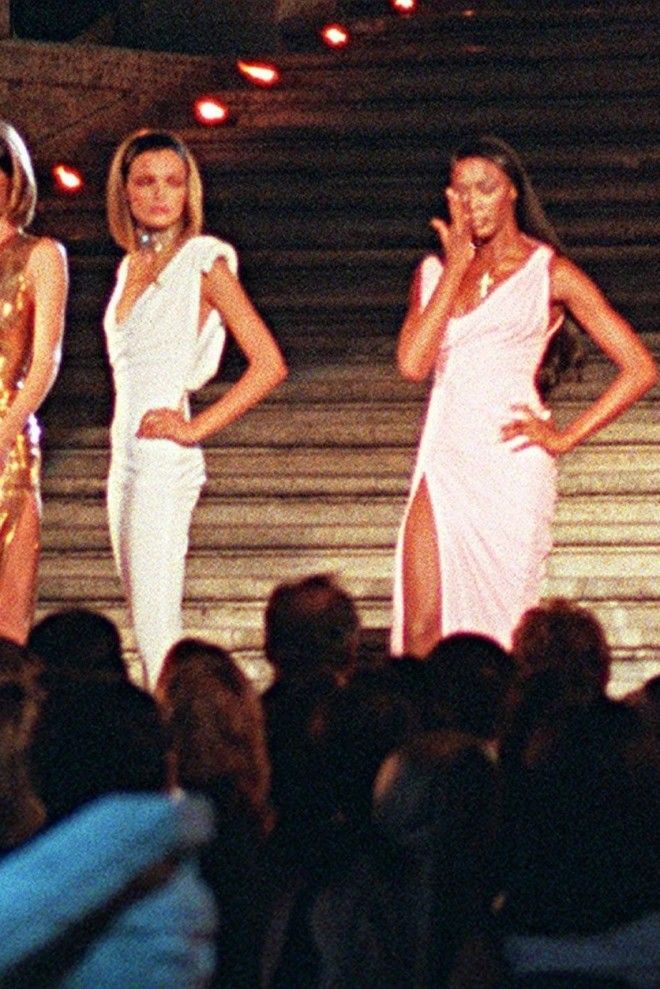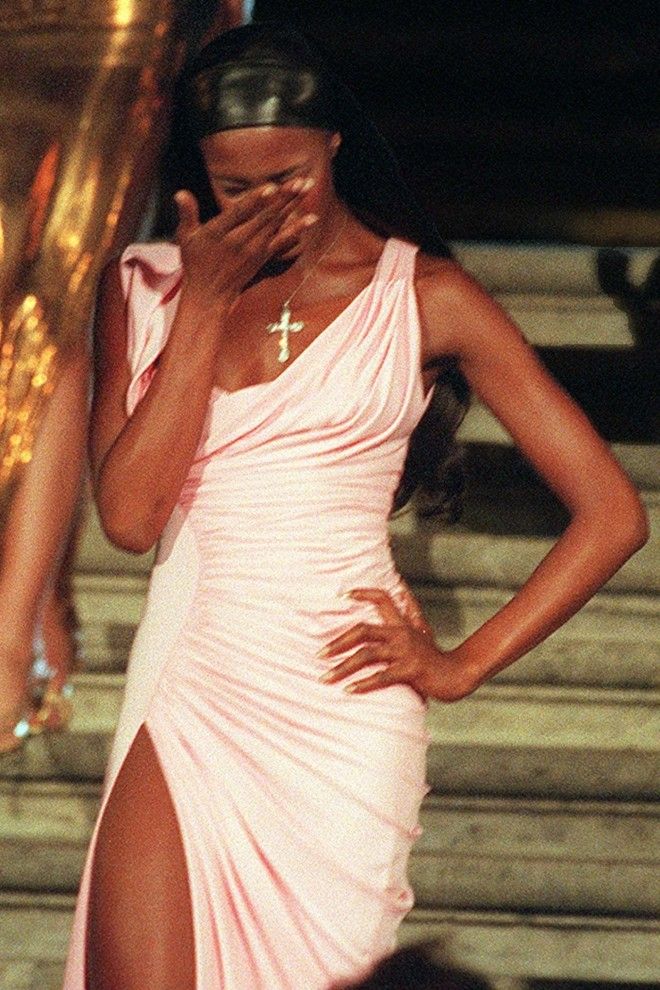 50. In October 1997, Donatella Versace presented her first collection since her brother's death. Naomi Campbell applauded her.