Considering the amount of money that these celebs make, they have no problem throwing it away on expensive and luxurious gifts. While we're very jealous of the receiver, we can't help but stand in awe at the extent celebs go through when it comes to gift giving.
In Hollywood, the bar is set pretty high in terms of gifts as it is, but some keep pushing that bar higher and higher. While it may be hard to keep track of all the expensive things Hollywood stars buy, you can always find the most ridiculous ones. Here are the 15 most expensive gifts given by celebs to other celebs.

20. A Date At The Staples Center – Justin Bieber To Selena Gomez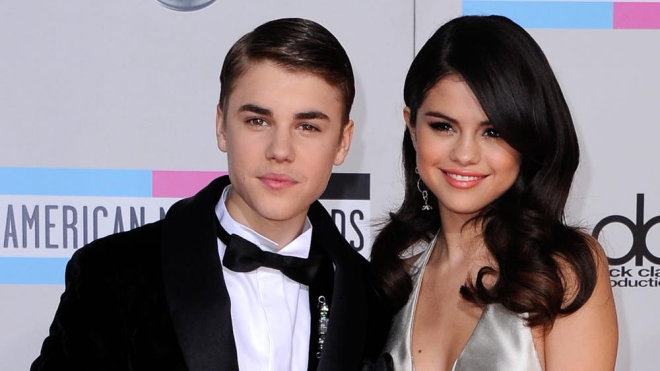 Now that Justin Bieber and Selena Gomez are back together again, it's fun to take a look back at the early days of the young couple. The two began their affair back in 2009 and since then, they've probably given each other some pretty nice gifts to show love.
In 2011, Bieber rented out the entire Staples Center just so that he and Gomez could have a romantic dinner alone.
The thing is, Bieber didn't spend anything as he got to rent out the place for free. However, if he were asked to pay for the night out, he would've spent a whopping $475,000 just for that dinner date.

19. Chanel Bike – Courtney Cox To Jenifer Aniston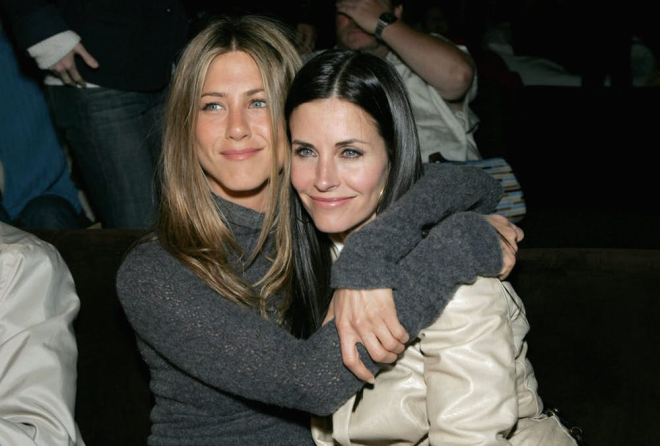 The cast of Friends has developed a special bond in the years that they worked with each other. Out of all the cast members, the two that really developed a strong relationship outside of the show was Jennifer Aniston and Courtney Cox.
Aniston gave Cox a bike, but not just any bike. It was a one-of-a-kind $12,000 Chanel bike.
The bike came with a Chanel saddle-bag and jewelled pant clips. Naturally, for a celeb, a regular bike just would not do. Besides, nothing beats Chanel anyway.

18. Black Mercedes – Kylie Jenner To Jordyn Woods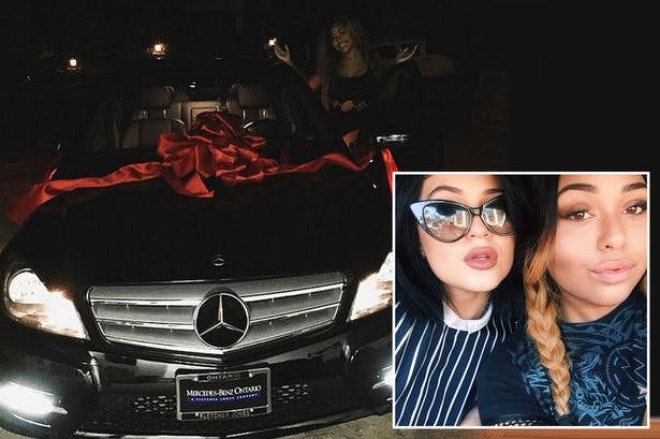 Being best friends with a celebrity does have its ups and downs but we're more interested in the ups. Apparently, it pays off being Kylie Jenner's bestie, and in 2017 she proved why.
When her best friend, Jordyn Woods turned 18, Kylie gifted her a brand new black Mercedes which costs around $70,000.
Most of us are lucky if we receive a gift at all from our best friend (it's a hard world out there for those of us who aren't famous). Naturally though, when this got released, what we all wanted was to be friends with Kylie. No one would say no to a brand new car.

17. Ticket To Space – Katy Perry To Russell Brand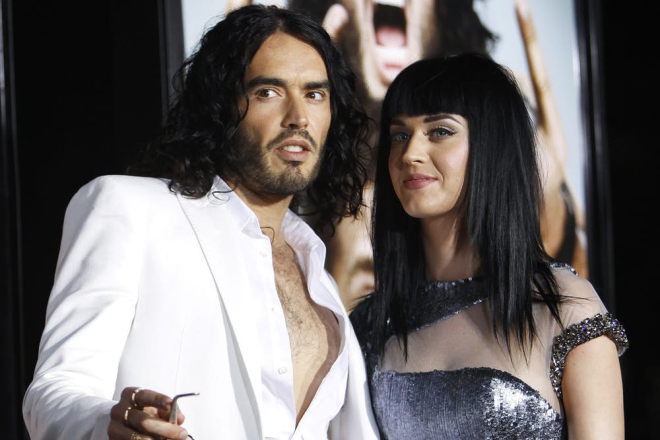 Katy Perry and Russell Brand had the throne for Hollywood's cutest couple before their split. The two were like a match made in heaven with Brand's crazy antics and Perry's charming personality. Perry had a really nice gift for Brand that was truly out of this world.
As a gift for her former husband, Perry bought a ticket to outer space from Virgin Galactic for $200,000.
Apart from being expensive, the gift is definitely one of a kind. We're sure that Brand had the time of his life, being one of the few "regular" people who got to go to space.

16. Bentley Convertible – J. Lo To Ben Affleck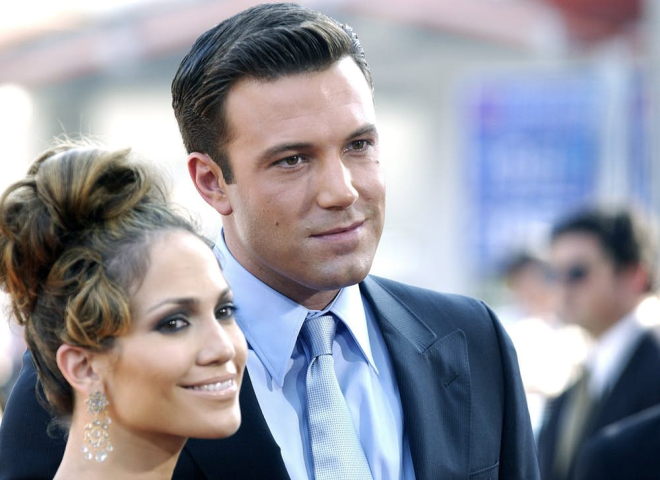 Hollywood couples seemingly try to outdo each other with the gifts they have for their loved ones. As one of Hollywood's first power couples, Jennifer Lopez and Ben Affleck also had a few notable gifts to each other before their untimely split.
Lopez gifted a $300,000 Bentley convertible to Affleck when they were still in a relationship. When the couple split, Affleck felt the need to let the car go too. In 2007, Affleck sold the car and the proceeds went to a children's hospital. At least something really nice came out of their split.

15. Jewel-Encrusted Toilet Seat – Ben Affleck To J.Lo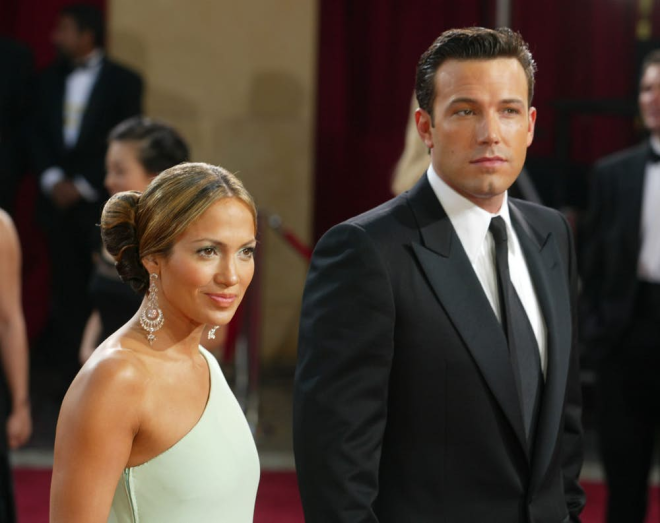 Relationships are a two-way affair, and that applies to gift giving as well. Jennifer Lopez gave Ben Affleck an expensive Bentley when they were still a couple but the actor had a few expensive gifts up his sleeve too.
As odd it may be, Affleck decided to give his lover a jewel-encrusted toilet seat which costs $105,000.
It was also reported that Affleck designed the seat himself. Affleck said, "Jennifer is my princess and she deserves only the best—even when it comes to toilets." We get that he loved her deeply, but honestly, a jewel-encrusted toilet seat is a little too much.

14. Swarovski-Encrusted Baby Bathtub – Kelly Rowland To Beyoncé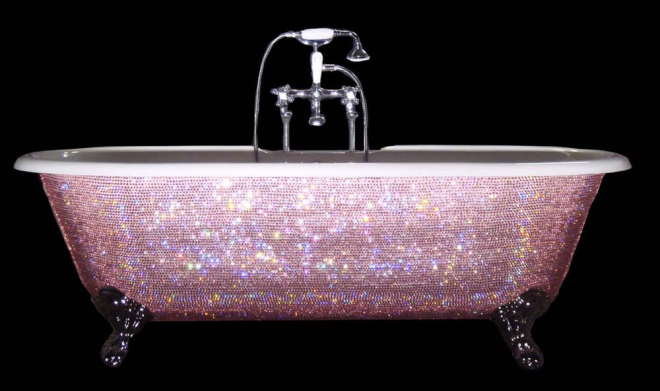 We all know Destiny's Child. It was the girl group that made rounds all over the globe! It was also the start of the career of Beyoncé. Alongside her were her friends Kelly Rowland and Michelle Williams. Though they all tended to give each other beautiful gifts, Rowland outdid them all.
When Beyoncé was pregnant with Blue Ivy Carter, she was trying to keep everything a secret including the gender of her soon to be child. That was until Rowland accidentally revealed the gender to the public. As an apology gift, Rowland gave Beyoncé a Swarovski-encrusted baby bathtub which costs $5,200!

13. Solid Gold Bathtub – Mike Tyson To Robin Givens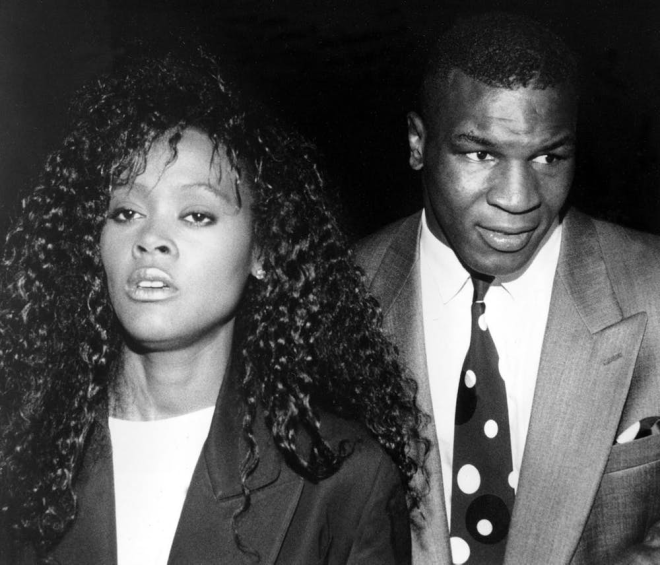 If there's one celebrity that isn't too shy on spending his hard-earned cash on weird things, it's probably Mike Tyson. One of boxing's finest was at the height of his career in the 80s and cash came pouring in as he kept downing his opponents left and right.
While married to Robin Givens, Tyson had this really weird; not to mention expensive, idea for a gift. He gave Givens a 24-karat solid gold bathtub! It cost Tyson $2 million for the bathtub. The bathtub is no longer in the possession of Givens or Tyson though as billionaire Derwood Hodgegrass bought it for half the price back in 2014.

12. Olive Tree – James Righton To Kiera Knightley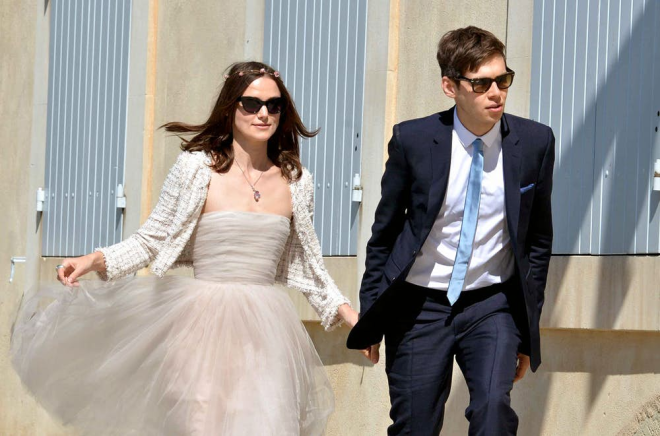 The romantic things a person can do if they had the money are amazing. Celebrities have the chance to really wow their loved ones with expensive gifts because of all the money they can spend. For English musician James Righton, an expensive gift isn't enough for his wife Kiera Knightley.
As a wedding gift, Righton bought Knightly a 100-year old olive tree which costs more than $4,000.
The tree was reportedly planted in the couple's backyard in France at their wedding. Righton even carved his and Knightley's initials on the tree. Simply put, he set the bar really high for romantic gestures.

11. Burger King Branches – Kanye West To Kim Kardashian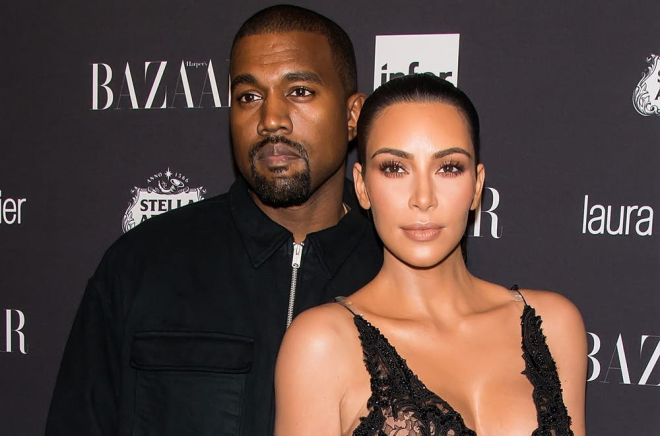 Say what you will about Kanye West but you have to admit, he shows love to Kim Kardashian like no other. Kanye isn't a penny pincher when it comes to gifts for his wife. Not only was Kanye's gift to Kim expensive, it was actually practical.
It was reported years ago that Kanye gifted a total of 10 Burger King branches to Kim as a wedding present. The branches were situated in the US, the UK, France, and Italy. The Burger King branches are definitely expensive but it's also a source of steady income for Kim (as if she even needs it).

10. Helicopter – Angelina Jolie To Brad Pitt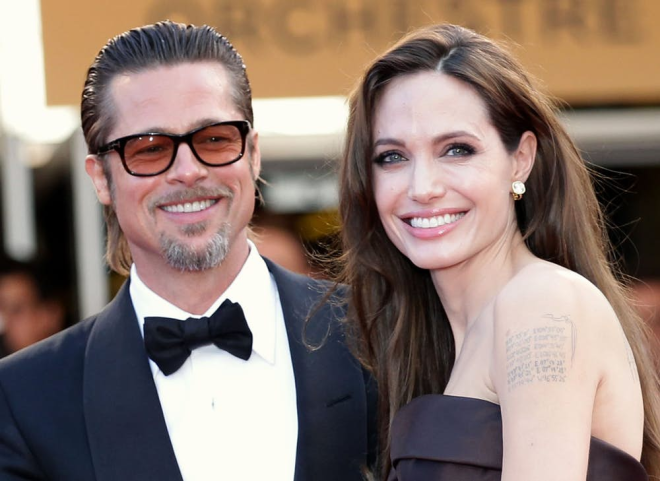 Angelina Jolie and Brad Pitt were Hollywood's power couple back in the day and these two weren't strangers when it comes to giving each other lavish and super expensive gifts. While their relationship has been buried under piles of controversy, we can't forget some of these two's best gifts for each other.
In May 2012, Jolie apparently gifted a $1.6 million helicopter to Brad Pitt, with flying lessons included.
The flying lessons were held at the couple's newly installed helipad at their home in South France. It was certainly an expensive gift and the added lessons were icing on the cake.

9. REALLY Expensive Jewelry – Marc Anthony To J.Lo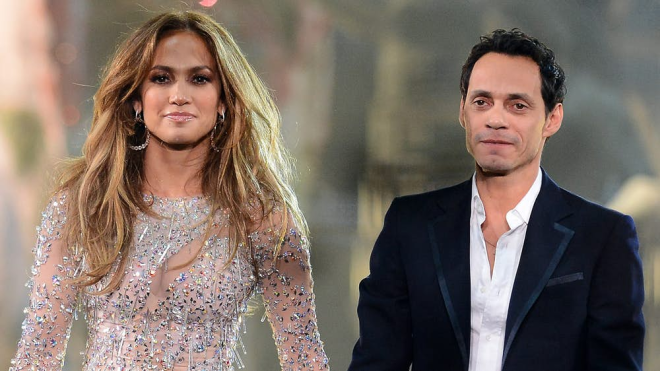 Giving birth is a big hurdle for women, but if they want to begin a family, they kind of have no choice. Marc Anthony understood the hardship that women go through during childbirth and he felt the need to give something to Jennifer Lopez when she gave birth to her twins; Max and Emme.
After giving birth, Anthony gave Lopez a $300,000 yellow canary diamond ring.
That's worth the Bentley that Lopez bought Affleck in 2001! To top it all off, it was rumoured that Anthony followed his gift up with a pair of earrings that cost $2.5 million. The earrings allegedly had the names of J.Lo's twins engraved on them.

8. Maserati – Adam Sandler To Grown Ups Cast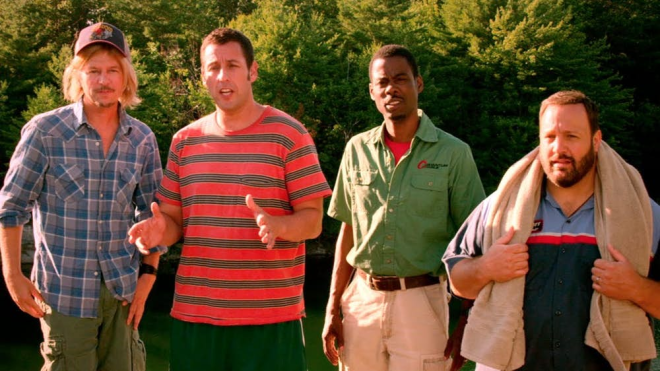 Adam Sandler is known around Hollywood as a pretty good guy. He's very loyal and thankful to his friends and as such, he often casts them in his films. He took his friendship up a notch in 2010 buy giving his co-stars in Grown Ups a gift they would never forget.
As an extra special thank you to his co-stars, Sandler gave out Maseratis that were worth more than $200k each. All in all, he gave four Maseratis in total; one for Kevin James, David Spade, Chris Rock, and Rob Schneider. It was a pretty extreme show of friendship on Sandler's side and it makes us wish we were there to co-star in the comedy with him.

7. A Night Alone At The Eiffel Tower – Kanye West To Kim Kardashian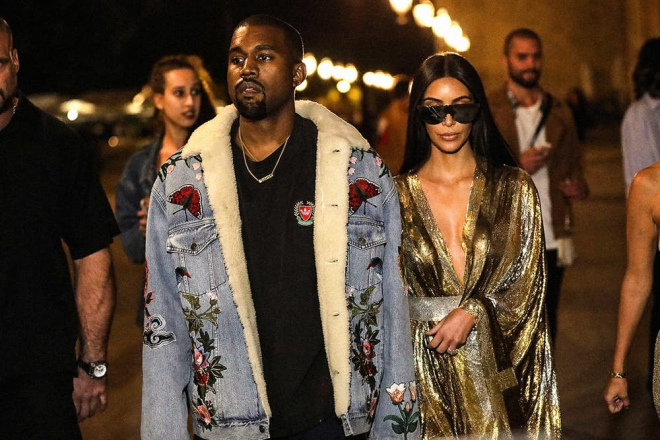 Kanye West is every woman's dream when it comes to gifts. The man isn't only known for some of the world's most lavish gifts, making him known as a romantic and thoughtful gifter. This hip-hop icon had such a gift for Kim Kardashian for their first anniversary.
A date at the Eiffel Tower sounds romantic right? Well, what about a date when no one else is there? That's right, Kanye rented out the entire tower for a night.
The price he paid wasn't disclosed but we're sure it's far from cheap. We're also sure that if Kanye could buy the Eiffel Tower for Kim, he definitely would've.

6. A Large Diamond Ring – Kylie Jenner To Tyga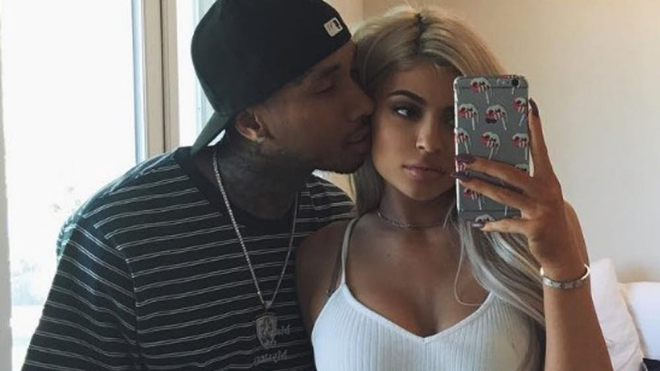 Kylie Jenner is a pretty generous gifter by Hollywood's standards. However, Jenner has some pretty generous people around her as well. Her ex-boyfriend Tyga doesn't think twice when buying gifts for Kylie, but his best gift to her yet is probably the diamond ring that costs thousands of dollars.
It doesn't take much research to know that Tyga's diamond ring for Kylie was expensive. The rock wasn't an engagement ring, it was just an innocent gift for the star. The diamond ring itself costs a whopping $33,000 which is probably the equivalent to what people spend on a wedding and not just a ring.

5. Bombardier Challenger 850 Jet – Beyoncé To Jay-Z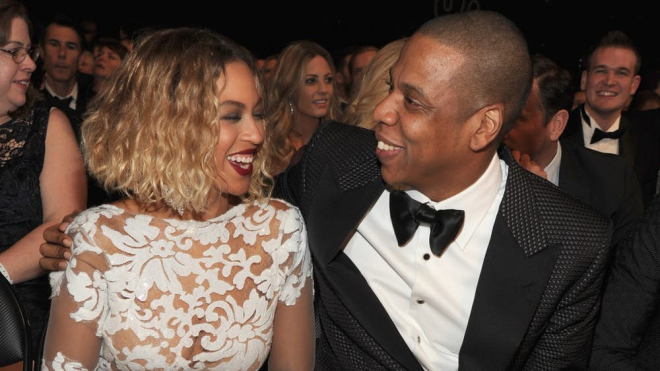 Celebs can get really crazy with the gifts they give to others. The gifts they give are not only lavish and extravagant, they're also out of this world at times.
Pop superstar Beyoncé decided to buy the most outlandish father's day gift possible for Jay-Z: she bought him a Bombardier Challenger 850 Jet. Back in 2013; the year Beyoncé gifted this to Jay-Z, the jet was priced at US$31.981 million. Fathers worldwide got a "Greatest Dad Ever" mug but Jay-Z got a jet. Tough luck dads, next time marry Beyoncé, like Jay-Z did.

4. Lamborghini – Kim Kardashian To Kanye And North West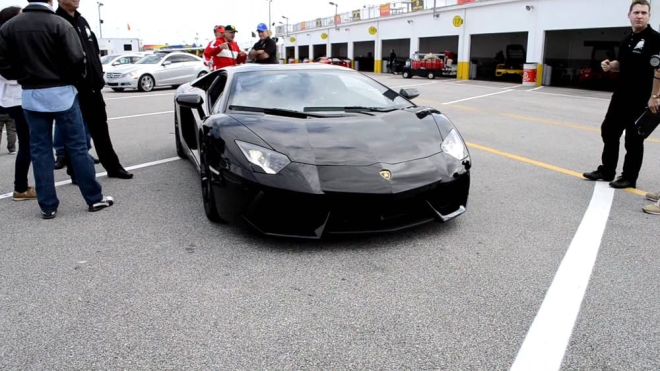 Kim Kardashian and Kanye West are currently Hollywood's hottest couple, and they are probably on the top of the list when it comes to spending money. Kanye gave Kim several Burger King branches as a gift but Kim isn't one to be outdone by her husband.
She went all out with the Christmas presents for her family. She bought a brand new Lamborghini for Kanye.
On top of that, she also bought a mini-Lamborghini for their daughter, North. But of course, North's Lamborghini isn't an actual car though. It was probably a custom-made toy car for the lucky girl.

3. Private Jet – Tom Cruise To Katie Holmes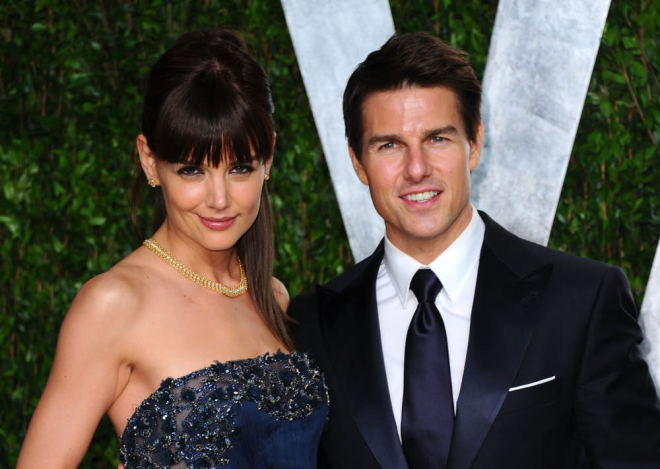 Gifting cars are not too big of a deal for Hollywood's top celebrities. It's really hard to surprise your significant other with something expensive, because as a celebrity, you're already living a lavish lifestyle. Still, despite the bar being set too high, some celebs like Tom Cruise always manage to beat expectations.
As a gift for his bride-to-be Katie Holmes, Cruise bought her a private jet. The jet cost $20 million! That's worth more than all of the gift's we've given to our friends and family. Sadly, the couple has already split but still, getting a private jet as a gift must be something magical.

2. Napa Winery – David Beckham To Victoria Beckham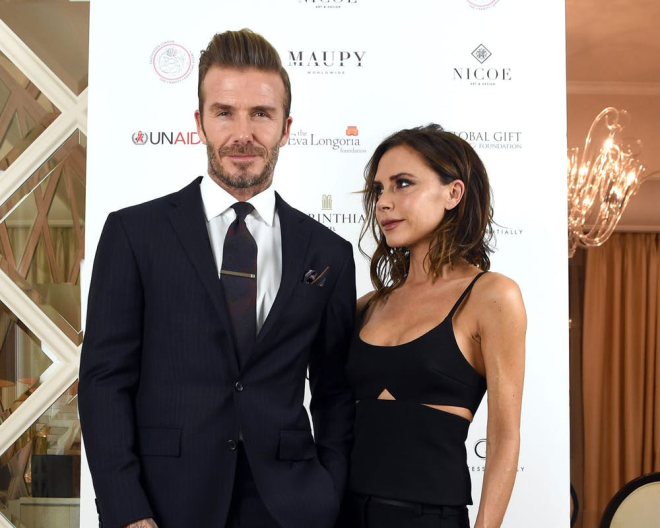 Wines and other drinks have always been good gifts to others. When it comes to celebs though, a bottle of wine is simply not enough. So sometimes a celeb has to go the extra step to make it a really special gift. The best example for this is David Beckham's gift to his wife Victoria Beckham back in 2006.
While others would gift a bottle of wine, David bought an entire Napa Valley winery for Victoria.
The actual price of the winery wasn't disclosed but the football superstar allegedly paid more than seven figures of the lavish gift. At least with this, they never have to take a trip to the store for wine ever again.

1. A Private Island – Angelina Jolie To Brad Pitt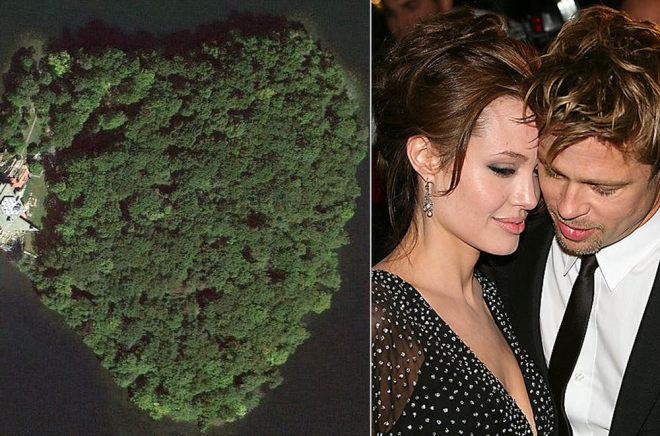 Angelina Jolie loves showering Brad Pitt with extremely expensive gifts. Aside from a helicopter and a $100,000 motorcycle, we're sure that Jolie has made a few hidden gifts for Pitt to have. Perhaps the most expensive gift she's bought him is a literal piece of the world.
Jolie bought a heart-shaped island for her former husband back in 2013. The secluded part of the world costs an outstanding $12.2 million!
Not only was the island expensive, but it was also romantic thanks to the shape it was in. It's a one-of-a-kind gift for Pitt to have, but kind of irrelevant now that the two are divorced.