In order for a movie moment to be up for possible inclusion on this list, it first and foremost has to feature someone that is recognizable enough that a sizable group of people know who they are. That also has to have been the case when the scene was shot so you won't find clips where someone that would become a star later was featured. On top of that, it needs to seem as though pretty much everyone watching the movie did not take note of the star's inclusion as they weren't focused on. We do want to make it clear, however, that everyone is different so it is always possible that some readers will have taken note of these stars, but very unlikely.

20. Bret McKenzie – The Lord Of The Rings: The Fellowship Of The Ring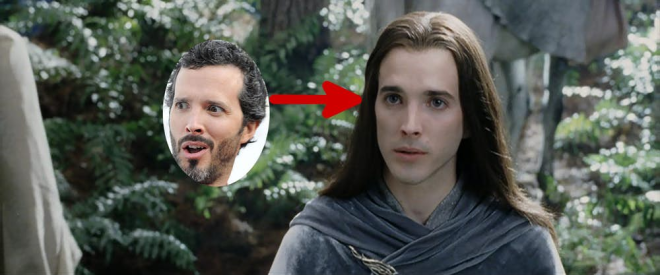 An actor and musician with an extremely loyal following that loves pretty much everything he does, Bret McKenzie is an immensely–talented performer that has had a hand in some wonderful stuff. One half of the comedic music duo Flight of the Conchords alongside Jemaine Clement, they starred in and co-created an HBO series based on personas they created for their music. Continuing to work after that ended, he was hired on the two most recent Muppet movies as the music supervisor, which led to him winning an Academy Award for Best Original Song. Cast in The Lord of the Rings: The Fellowship of the Ring as someone that escorted Liv Tyler's character on a journey, he was seen on screen but looked very different. Made up to look paler and lacking his typical facial hair, even many longtime fans of his didn't recognize him as the character that viewers later named Figwit.

19. Jimmy Buffett – Jurassic World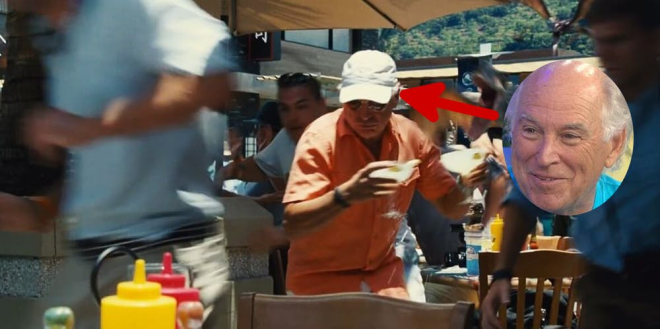 An American singer and songwriter that recorded a number of hits, Jimmy Buffett is best known for songs like "Margaritaville," "Come Monday," and "A Pirate Looks at Forty" among others. However, in his later years, he also lent his brand to the restaurant chains Margaritaville Café and Cheeseburger in Paradise, which has further cemented people's perception of him. Seen as a good-time kind of person, he seems like a dude that you'd expect to get the party going wherever he goes based on his song lyrics and business motifs. When it came to his blink-and-you'll -miss-it cameo in the dinosaur action film Jurassic World, even he couldn't have a good time in the midst of a dinosaur attack. That didn't stop him from carrying a pair of margaritas with him while trying to escape with his life, though.

18. Tim Burton – Hoffa
We have to say, this is a weird one that we have absolutely no explanation for it but enjoy that it happened a great deal nevertheless. One of the most notable directors of his generation, Tim Burton is the kind of person who makes films that have a style that is so obvious that many will recognize his work the moment they see it. A visionary person that has been working for decades at this point, among his most popular films are Pee-wee's Big Adventure, Beetlejuice, Edward Scissorhands, Big Fish, and the first two Batman films. As well-known as he is, there is still a very good chance that many fans of his have no idea that he does have a small resume as an actor. One such credit includes his cameo in the biopic Hoffa, in which he plays a corpse at an open casket funeral for some reason.

17. Michael Palin – The Witches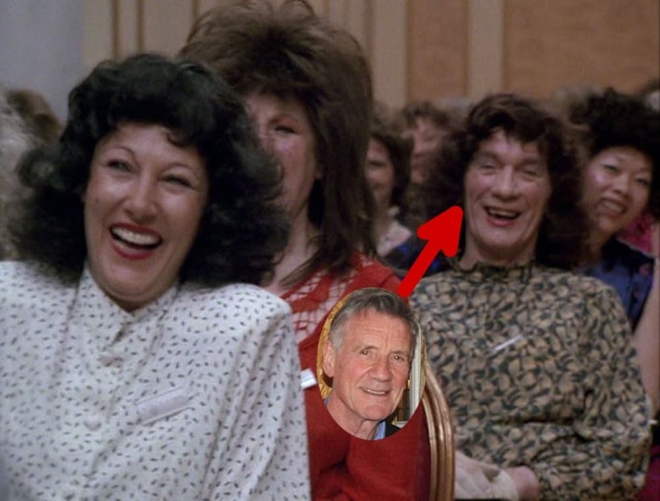 A member of one of the most celebrated comedy groups that have ever existed, Michael Palin looks like an everyday kind of fella but has been involved in some of the funniest things put to film. One of six guys that make up the group Monty Python, he and his peers wrote many films and hours of skits they starred in together. Best known for his time with his cohorts, he continued to work after they disbanded as well. One of his oddest roles came in The Witches, a 1990 film adaptation of a Roald Dahl story in which there is a scene where many witches come together to hatch their plans. Seen briefly among this group is Michael Palin in drag, which we're not surprised by as he has played many female characters but he doesn't have much of a history fading into a group.

16. David Beckham – The Man From U.N.C.L.E.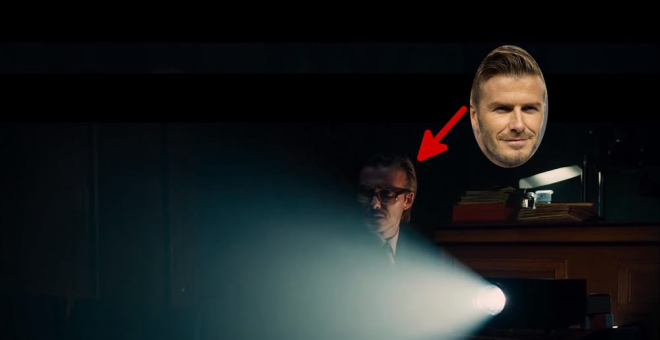 Considered by many to be the biggest sport in the world, soccer (or football, depending on the name you know it by) is an extremely big deal to millions of fans across the globe. As such, the most popular players are immensely famous and the man that has arguably managed to become the most talked about among them is none other than David Beckham. A talented player who also garnered a great deal of attention for his marriage to and family with Spice Girls member Victoria Beckham, his every move seems to gain attention. Starting to find some acting gigs in high-profile films, when he showed up in the film adaptation of the show The Man From U.N.C.L.E., only a few people took note which must have been odd for him. Cast as a projectionist that can barely be made out in the dark, he even sports a pair of glasses to further make him hard to spot.

15. Daniel Craig – Star Wars: The Force Awakens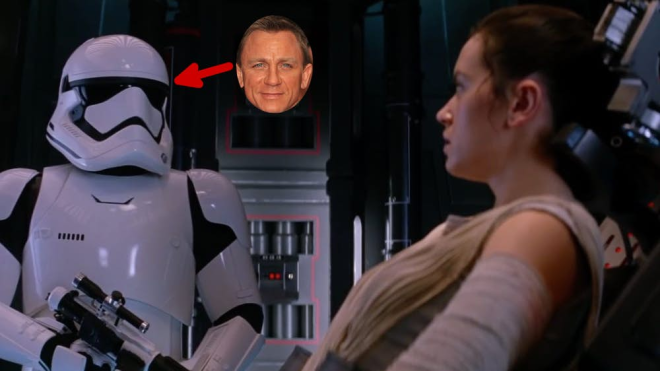 An English actor who landed a role in the film Elizabeth, that was the first time Daniel Craig stood out but far from the last. Going on to appear in or headline a long list of other movies, he killed it in films like Layer Cake, Defiance, The Adventures of Tintin, and Logan Lucky. Of course, all of those movies aside, there is no way we could argue that any of them have stack up when it comes to notoriety with the fact that he has played James Bond in four films to date. One of the stars of a film franchise that is among the biggest of all time, it seems that Daniel likes being involved in historic films as he also has a small part in another important film universe. Appearing in Star Wars: The Force Awakens as FN-1824, he was behind the helmet of a Stormtrooper that does the bidding of Rey because she uses the force against him.

14. Nathan Fillion – Guardians Of The Galaxy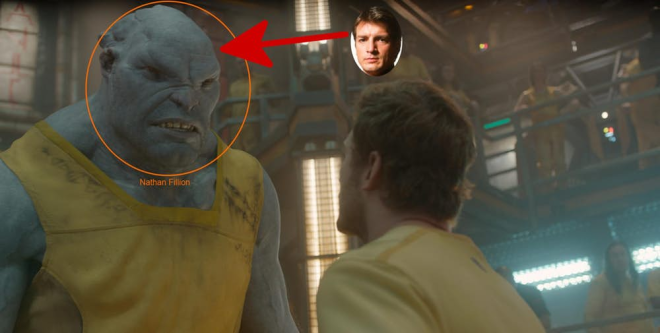 Someone that has made a career for himself out of playing people that seem to be infinitely likable, Nathan Fillion is the kind of celebrity that seems like he'd be awesome to meet in real life. Beloved by many fans for playing the lead in the show Firefly, he has also spent years starring in the show Castle. On top of that, his film career is nothing to sneeze at since he appeared in films like Saving Private Ryan, Serenity, Monsters University, and Cars. On top of those, he also starred in a little-seen horror film called Slither that was directed by James Gunn, the man behind the MCU movie Guardians of the Galaxy. Tapped to play a small role in that comic book film directed by his old friend, he played a CGI alien prisoner that is easily hurt by Groot.

13. Richard Branson – Casino Royale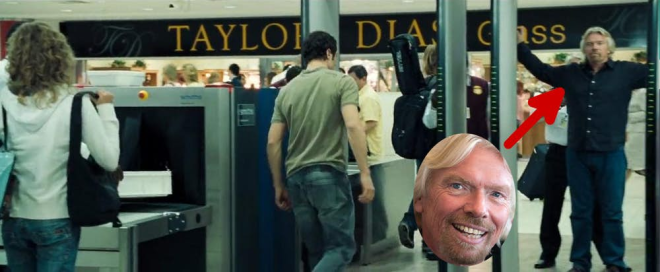 Among the wealthiest people alive today, Richard Branson founded a company called the Virgin Group that has expanded in so many ways that it controls more than four hundred companies. Also a philanthropist and investor himself, unlike many of his peers in the top one percent, he seems to be more interested in death-defying feats and world records than stodgy dinners. Able to create an image for himself as a maverick, as a result, he seems to relish his reputation and notoriety, which has led him to show up in many films and shows over the years. That said, one of his movie appearances was a tiny cameo in the James Bond film Casino Royale where he can be seen going through airport security in the background of a scene for no clear reason.

12. Bruce Campbell – Fargo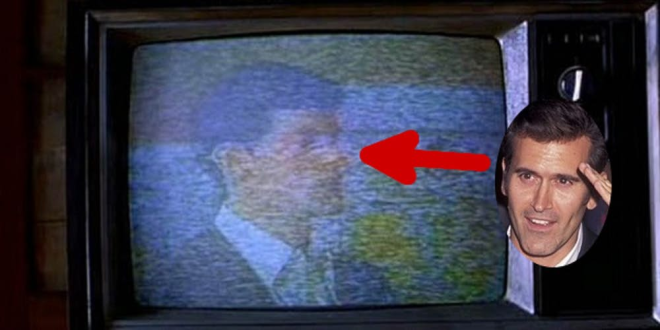 An actor that many people are likely completely unaware of, Bruce Campbell isn't anything close to a household name but he has one of the most loyal cult followings of anyone out there. Best known for starring in the Evil Dead movies, he grew up as good friends with the director of that film, Sam Raimi, and they've worked together extensively. However, some of his fans may not know that Sam and Bruce also have an extensive relationship with the Coen Brothers, which has led to all of them working together and referencing each other's films. One such example of that, when the Coens put together the highly-acclaimed film Fargo, they worked Bruce in there in a hard to notice way. A movie that includes a kidnapping, one of the criminals watches TV while holding his captive, and Bruce was filmed for the grainy footage he sees.
11. Simon Pegg And Edgar Wright – Land Of The Dead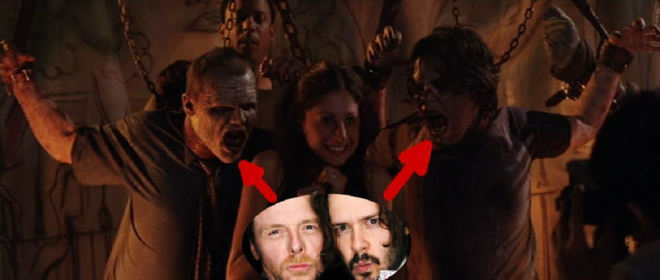 Considered by many to be one of the best zombie films of all time, Shaun of the Dead isn't your typical entry in that genre based on its comedic flair but has brilliant touches nevertheless. Seemingly influenced heavily by movies that came before it, the title of that film seemed to be a play on films made by George A. Romero, and it seemed to reference his work in other ways. Written by Simon Pegg and Edgar Wright, the two men that starred in it and directed it respectively, their work seemed to gain them a fan in the man that helped define zombies in the movie world. Invited to cameo in George A Romero's next film, Land of the Dead, Simon and Edgar got made up as zombies themselves, and the characters in the film had their photo taken with them.

10. Edward Norton – Kingdom Of Heaven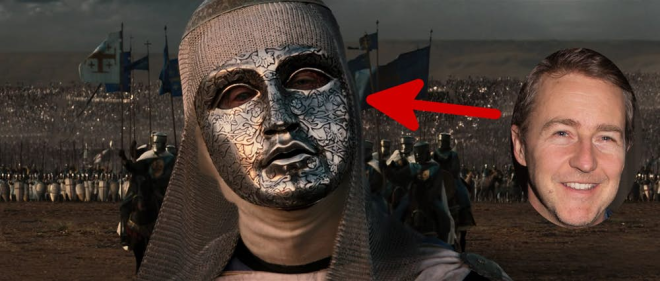 A bit of a questionable entry on this list as this actor played a somewhat major character in this film, we're still including this here as we feel it fits the spirit of this list. Cast as a so-called "leper king" in Kingdom of Heaven, Edward Norton played the ruler of Jerusalem afflicted with the disease. Spending the entire movie wearing a mask over his face in order to conceal his ailment, he relied on his voice and basic physicality to create the character. A major actor whose acting was solid and did not give away who was playing the person behind the mask, Edward's idea was that he would go uncredited to keep his involvement a mystery. Revealed by the producers for business reasons, had that not been the case, his inclusion would not have been known about by most of the film's viewers.

9. Glenn Close – Hook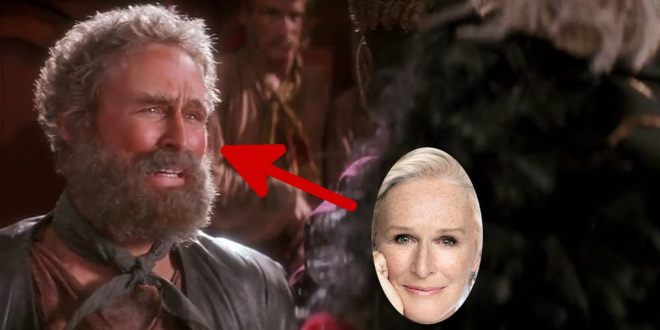 One of the most talented and respected actors of her generation, Glenn Close was never the biggest acting star around, but her involvement in a movie often indicated it would be well-made. Best known for films like The Big Chill, Fatal Attraction, 101 Dalmatians, Air Force One, and several other hit films, she consistently finds herself landing varied and interesting roles. Often put into a position to anchor a movie or play one of the most important supporting roles in them, when she shows up on the big or little screen, she casts an impressive shadow. Despite that, she opted to cameo in the Steven Spielberg film
Hook
as a bearded man under the control of Captain Hook that gets placed in a treasure box with live scorpions.

8. Steve Buscemi – Pulp Fiction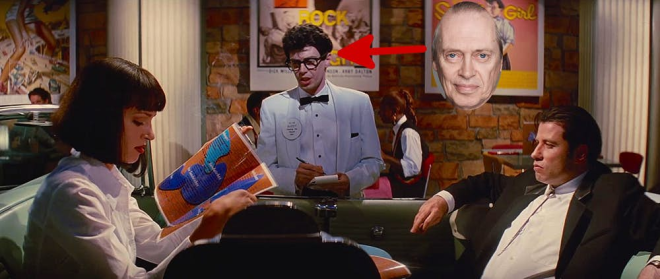 Someone who seems as though they were born to be a character actor, Steve Buscemi has proven that he can play a wide variety of characters with great skill over and over again. Cast by Quentin Tarantino in the film Reservoir Dogs that made the director a star in it, Steve played a member of the crew of men that planned a heist that went awry with horrible results. Brought back by Tarantino to cameo in his next film, Pulp Fiction, there he played the waiter dressed as Buddy Holly that serves John Travolta and Uma Thurman's characters. Dressed distinctively in that scene, you'd think he may have stood out, but since his character doesn't matter, almost no viewers paid enough attention to notice him.

7. Tom Morello – Iron Man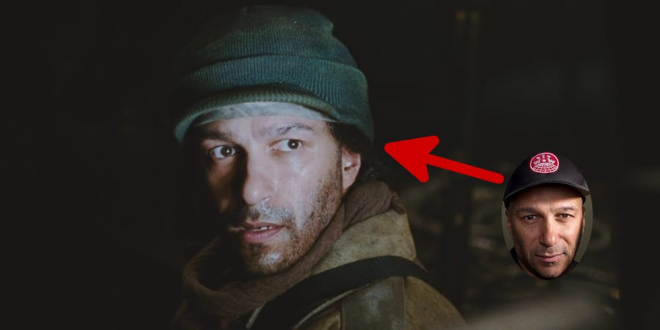 One of the most impressive musicians of his generation, Tom Morello is a guitarist and singer that has been a part of several important bands that had influential things to say. Best known as a member of the rock band Rage Against the Machine, they combined a unique sound and profound lyrical content to create songs that will get you off your seat or thinking deeply. On top of that, he has also been a solo performer and a member of other bands like Audioslave, The Nightwatchman, and the super group Prophets of Rage. Better known for the sounds he can create than his looks, when he had a cameo in the original Iron Man film as one of the men holding Tony Stark hostage, almost nobody seemed to notice. Well, at least not until he confirmed his involvement to an eagle-eyed viewer on Twitter.

6. Cate Blanchett – Hot Fuzz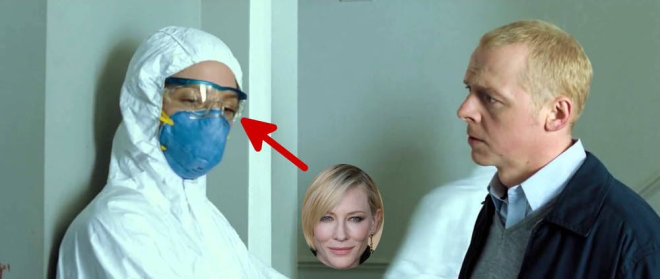 One of the most acclaimed actors going today, Cate Blanchett has been so spectacular throughout her career that she seems to have the potential to be as celebrated as someone like Meryl Streep. Best known for films like The Lord of the Rings and Hobbit movies, as well as Elizabeth, The Aviator, and Thor: Ragnarok, she has a combination of prestige films and blockbusters under her belt. Someone who seems to be a very busy performer, for instance, she is set to have four films that she is involved with come out in the year 2018 alone, and that number could still rise. Despite that, she showed up on the set of the film Hot Fuzz to play the ex-girlfriend of Simon Pegg's character who is seen on a crime scene with her face almost entirely covered by a face mask.

5. Chris Martin – Shaun Of The Dead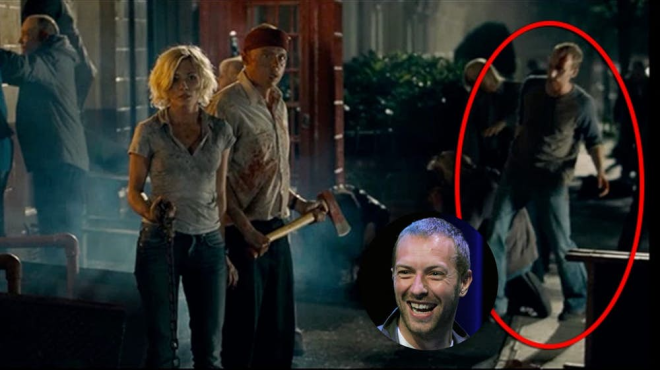 One of the most successful British bands to hit the international scene over many years now, Coldplay has got their detractors, but they've managed to win many awards and sell lots of records. Best known for songs like "Clocks," "Green Eyes," "Sparks," "Viva La Vida," and "The Scientist," all of these hit tracks helped make their frontman Chris Martin into a massive star. Considering that he has made his living standing out among such a small group, then we can understand why someone would be surprised that he is good at blending in. That seems to be the case, however, as he shambled along as a zombie just behind Shaun of the Dead's main characters in a scene near the end of the film and you'd never know it.

4. Bill Murray – Dumb & Dumber To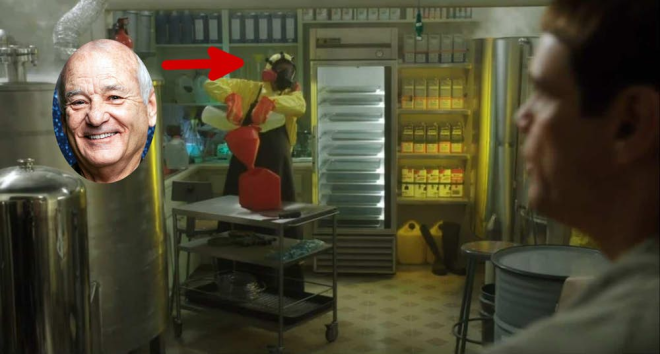 An absolute legend of the comedy world, short of some horrific scandal coming to light, it seems pretty certain that Bill Murray will go down in history as one of the most beloved figures in Hollywood. First turned into a star as one of the stars of Saturday Night Live, he would take full advantage of that momentum when he made the jump to the movie world. Best known for films like Caddyshack, Ghostbusters, Scrooged, Groundhog Day, and too many more to list here, he could retire tomorrow and still elicit many laughs based off of his previous work. Still, he seems to like to work and sometimes takes delight in doing absurd things, so his cameo in Dumb & Dumber To fits him to perfection. Portraying the roommate of Jeff Daniels' character, he appears in a single scene covered head to toe while manufacturing illicit blue drugs.

3. George Harrison – Monty Python's Life Of Brian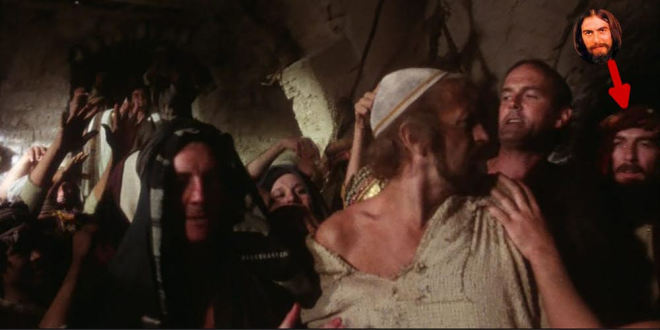 Seen by a huge percentage of people as the biggest band to ever exist, even people that aren't fans of The Beatles have to recognize their place in history and what they accomplished. One of the four members during their popular run, George Harrisonmade a lot of money and developed a great deal of power within his industry as a result. Seemingly not content to stay in his lane, however, he had an appreciation for the Monty Python guys, and when they couldn't get the money to make a film, he stepped in. Integral to the release of the fantastic film Monty Python's Life of Brian, he ended up visiting the set and cameoing in the film as someone among a throng of people seeking Brian's favor.

2. Cynthia Nixon – Forgetting Sarah Marshall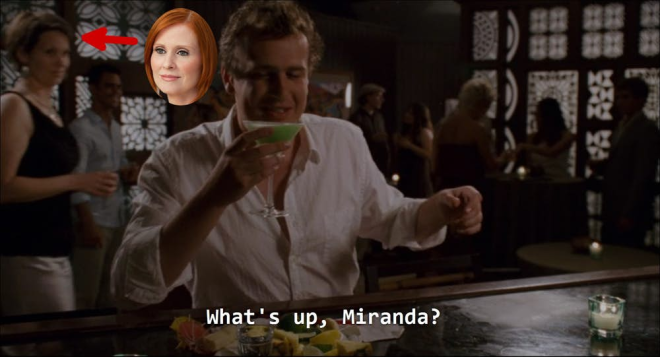 One of the most clever cameos in a movie or television show we've ever seen, we are blown away by the restraint the people behind Forgetting Sarah Marshall showed in this moment. A film about a heartbroken man on vacation that finds himself in the same hotel as his former love and her new man, Jason Segel plays a man that tries his best to have fun despite that. As a result, his character finds friends where he can, including a bar he frequents, and one night while drinking extensively, he happily begins to say everything that comes to his mind. Drinking a cocktail he finds delightful, he compares himself to Samantha from Sex and the City talking to her friend Miranda. At the exact moment, he says the name of the latter character of the woman that played her, Cynthia Nixon, walks behind him while giving him a very brief look.

1. Matthew Lillard – Scream 2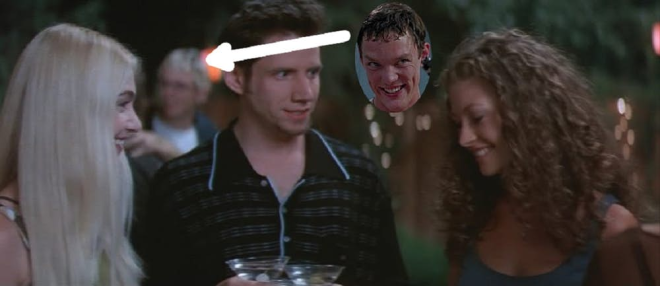 If you are a fan of this franchise of films like we are, then you are likely astonished by the fact that Matthew Lillard shows up on screen in Scream 2 just like we are. This is a spoiler for this series but we say that because he plays a killer in the first film that has his life taken from him before the credits run. However, Matthew ended up visiting the set of the second movie in the series, and they decided to put him in the background in a wig playing a party-goer that is hugging a new character named Mickey. Considering that Mickey turns out to be one of the killers in Scream 2, it ends up being a meta passing-of-the-torch moment that is brilliant for a series that is known for that kind of thing.