In order for someone to be up for consideration to be included on this list, he/she first and foremost has to be someone that starred in a movie that at one point aired during the 2000's. It does not matter if the film in question was put into production during another decade as it was released to the public at large during the years this list is focused on. Next, he/she needs to have been a part of that movie while he/she was a child star, which we define as seeming like he/she was underage. On top of that, he/she needs to have been a memorable part of the film which doesn't necessarily mean that he/she is one of its stars. Finally, he/she needs to look fantastic today which means how attractive this celeb was when he/she appeared in the series that landed him/her here makes no difference.
20. Ivana Baquero – Pan's Labyrinth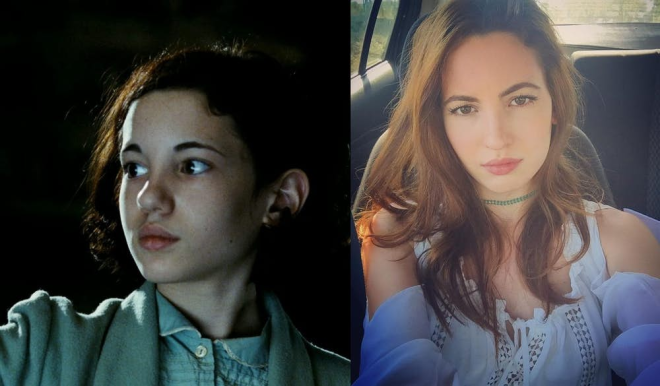 A movie that is likely unforgettable for almost everyone that has ever seen it, Pan's Labyrinth was released in 2006 and combined some aspects we see in film often but rarely together. A dark fantasy film that stars a young actor named Ivana Baquero, as with most films, the audience roots for things to work out for her character. However, in Guillermo del Toro's stunning movie, that is far from certain to happen between the dangerous creatures she interacts with and her violent and deadly stepfather. Going on to win three Academy Awards on top of the other three it was nominated for but didn't take home, the movie did a lot of things well, including introducing us to a new child star that was great. Twenty-three years old today, she has gone form a little girl you want to protect to an exquisite beauty that you want to spend time with.

19. Isabelle Fuhrman – Orphan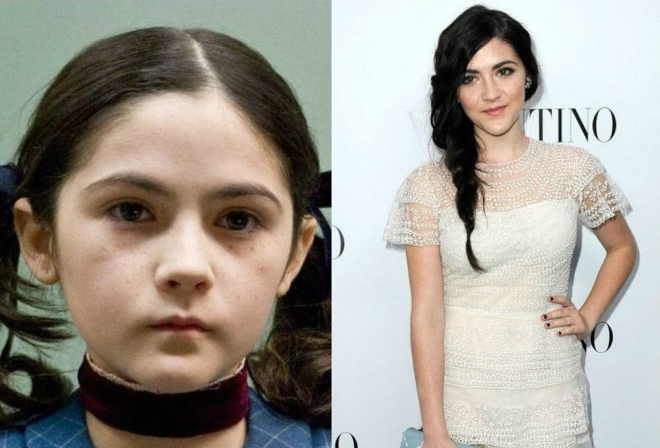 We. generally speaking, don't like to give spoilers for a film without warning our readers but we can't talk about the horror movie Orphan without giving away a major aspect of it. As such, here is your warning that we are going to talk about the insane twist that is revealed near the end of the movie. Focused on a family that adopts a girl played by Isabelle Fuhrman, it turns out that her character is supposed to be a thirty-three-year-old that pretends to be a kid to get people to drop their defenses. Actually only turning twelve the year the movie came out, she is twenty today and has become a real knockout, especially when she shows up on the red carpet where she is dressed to the nines.

18. Abigail Breslin – Little Miss Sunshine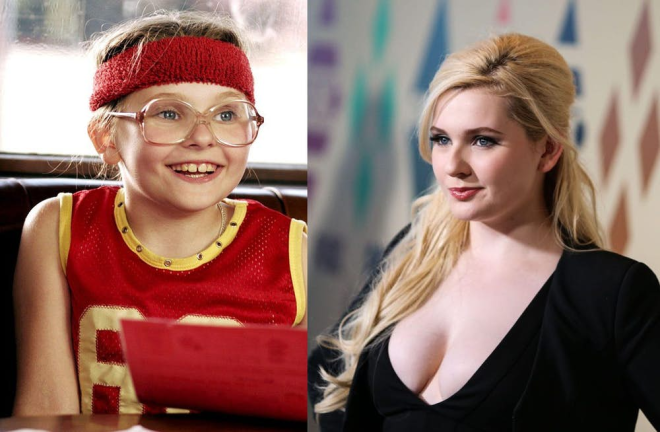 At one time a child star that broke the mold, Abigail Breslin was a major part of the ensemble cast that made the much-beloved movie Little Miss sunshine possible. Quite adorable in her part, she also stood out since she didn't look like your average kid actor and didn't seem like you could find someone in her image on any playground around the world. Since then continuing to act and show that she still has a great deal of comedic timing, for example, she was one of the most entertaining and funny parts of the show Screams Queens. A quite busty blonde that is hard to look away from any time she shows up on a red carpet, she also has an impeccable fashion sense and has a face that we find bewitching.

17. Brenda Song – Like Mike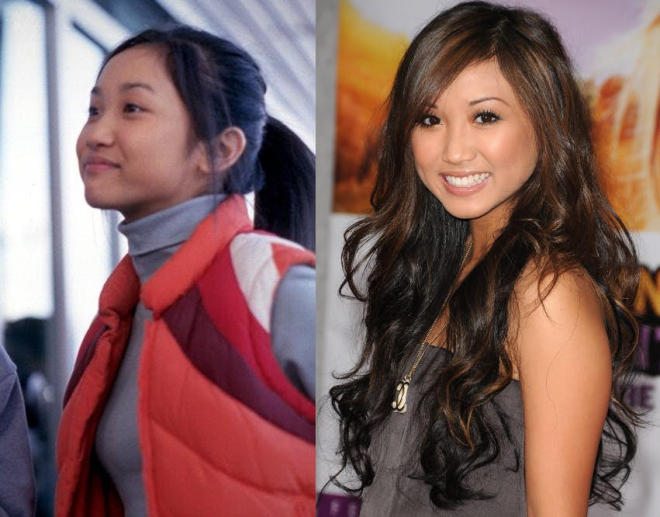 At one time a true staple of entertainment aimed at the youngest people among us, it seems clear that Brenda Song was a favorite of the many of the industry's powerbrokers. A major part of the Disney Channel at one time, she starred in original movies for them as well as the series The Suite Life of Zack & Cody on top of The Suite Life on Deck. However, it was the basketball film Like Mike, which came out the year she turned fourteen, that earned her place on this list as it is widely remembered. No longer the kid she once was, she is twenty-nine today and has grown into a woman with an amazing smile, pretty face, as well as having long and lustrous hair.

16. Danielle Panabaker – Sky High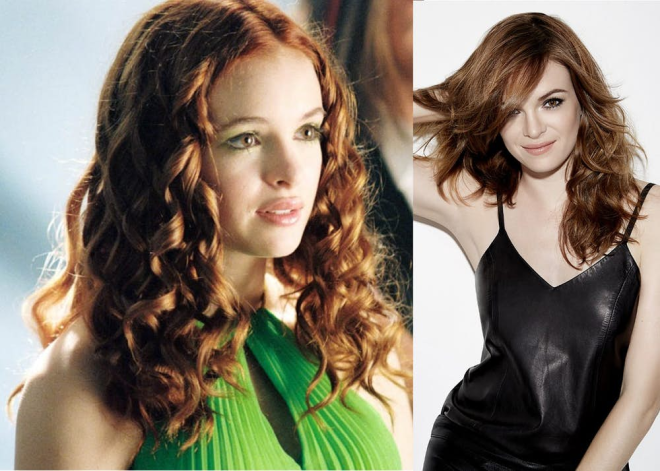 Someone who just barely qualifies for this list, Danielle Panabaker was seventeen years old when the movie that landed her a spot on this list came out, so she got in by a hair. A film that we think is hugely underrated, Sky High was focused on a school that was kind of similar to Hogwarts but was designed for kids with superpowers instead. Cast as a nature-loving teen in a flick that was her big-screen debut, she was the female lead in it and played a major part in why the story of the film worked since she was so lovable. Thirty years old at the time of this writing, her hair isn't the fiery red it was at the time she played that part, but she has also changed in other ways and is now a radiant woman.

15. Daniella Monet – Nancy Drew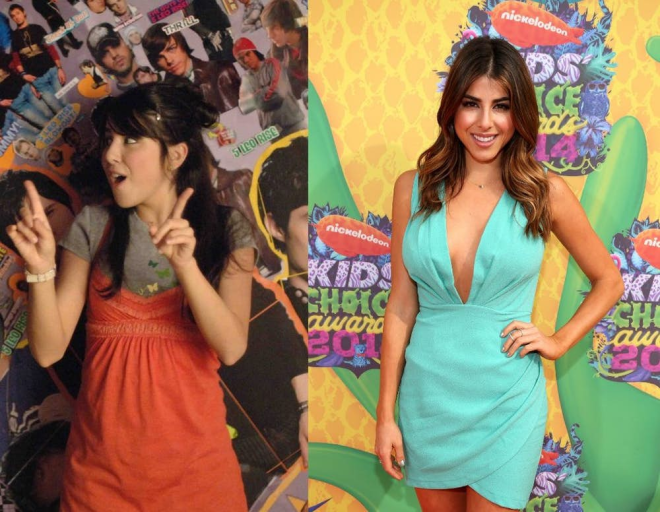 Another veteran child actor that had already found success on television by the time she appeared in the film that earned her a spot on this list, Daniella Monet had previously starred in the show Listen Up. Going on to be one of the stars of the movie Nancy Drew, she wasn't the person that landed the title role but she was an important part of the film's story nevertheless. Continuing to work consistently in the years since then, she went on to star in the show Victorious and is currently the host of a game show called Paradise Run. Twenty-eight years old at the time of this writing, she now has become someone with one of the most impressive bodies we've ever seen, and whenever she wears something revealing, she drives us wild.

14. Tamsin Egerton – St Trinian's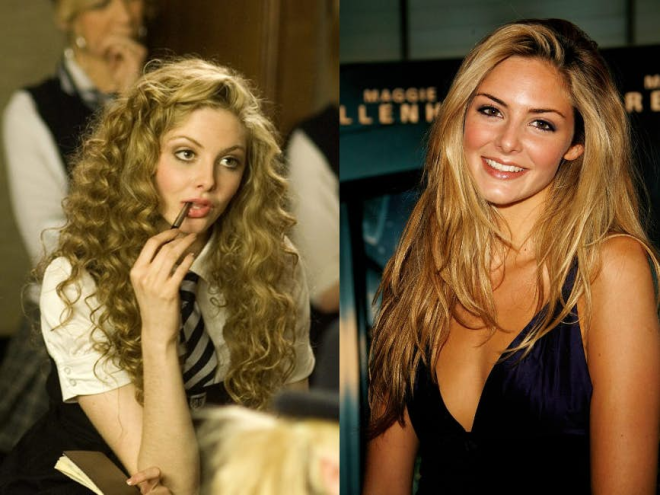 A movie that didn't exactly blow the world away, St Trinian's was a British comedy that came out in 2007 and failed to get embraced by critics. However, it did have a decent box office run based on its low budget. Featuring the work of a young actor named Tamsin Egerton, however, it holds an important place in the history of this list since it allows her to be included here. One of many young people that were among the students of the high school at the center of the movie, she was cast as a teenager at the time but things have changed a lot for her since then. Nearly thirty as we write this, she has yet to be a part of anything was released in 2017 but we're hoping that turns around soon. After all, who wouldn't want to see more of her?

13. Emma Watson – Harry Potter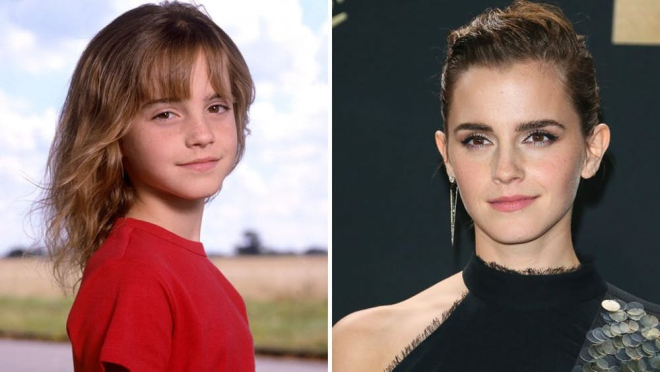 A star of one of the biggest film franchises of all time, Emma Watson was one of three child stars at the very center of the multibillion-dollar-earning Harry Potter movie series. First playing the part of Hermione Granger in the first film in that franchise which was released the same year she turned eleven, she would go on to play that part over eight flicks in total. She was also in other movies including The Perks of Being a Wallflower, The Bling Ring, as well as Beauty and the Beast, the latter of which earned more than a billion dollars at the box office. A 27-year-old woman today, she is one of the most elegant ladies in the acting scene who is also capable of looking quite alluring in her own right.

12. Olivia Olson – Love Actually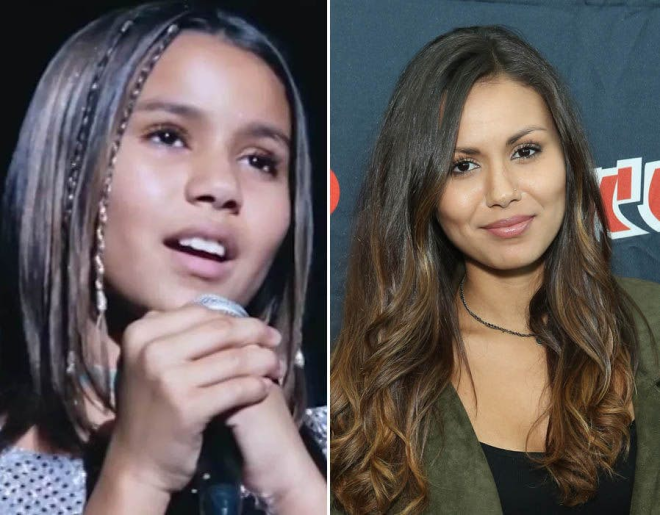 An interesting case as she barely speaks in the film that allows her to be a part of this list, despite that, Olivia Olson's part in Love Actually is largely memorable for the use of her voice. Cast as a little girl that one of the movie's main characters, a little boy, feels he is hopelessly in love with, one of the film's main moments involves them briefly speaking as she is about to leave on a plane. Prior to that, however, she was at the center of a school's Christmas show where she sang the Mariah Carey song "All I Want for Christmas" as the smitten young man accompanied her on the drums. Twenty-five years old today, all we can say is that we could totally understand if someone her age developed an all-encompassing crush on her.

11. Dakota Blue Richards – The Golden Compass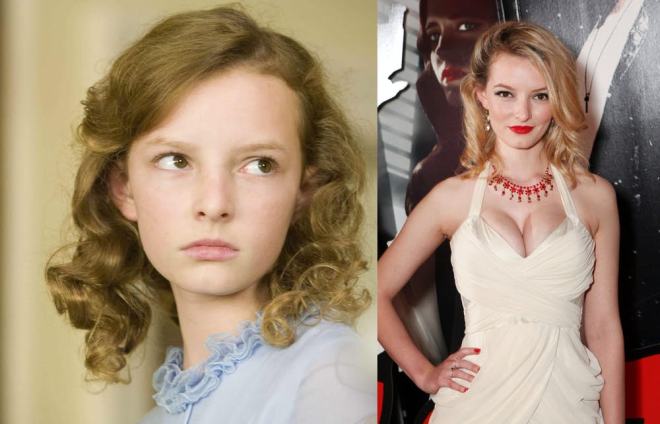 It may be forgotten today, but for a time after the immense success of the Harry Potter and The Lord of the Rings franchises, there were several other intended fantasy series that studios tried to launch. One of the most notable of the bunch, The Golden Compass has its fair share of fans but it fell significantly short of its studio's hopes which ensured that its intended sequels were dropped. Starring Dakota Blue Richard, she turned thirteen the same year that film came out and has since gone on to appear in the show Skins and other movies like The Secret of Moonacre, among others. Someone who is twenty-three years old now, she has become a buxom blonde that we can imagine turns heads wherever she goes.

10. Taylor Dooley – The Adventures Of Sharkboy And Lavagirl 3-D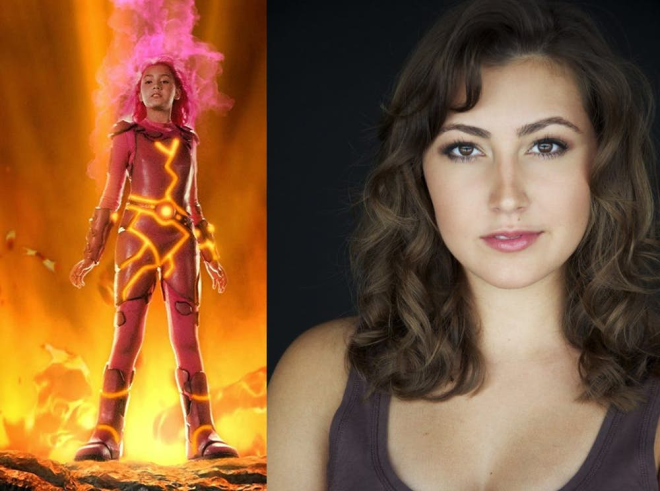 Arguably one of the most important directors of his generation, let alone of all time, Robert Rodriguez has put his fingerprints on the film industry in a big way since he rose to prominence. That said, not everything he touches has stood the test of time, and one of his less remembered films is 2005's The Adventures of Sharkboy and Lavagirl in 3-D. Following a similar format to his Spy Kids series, the movie which was aimed at kids also starred a pair of youngsters, one of whom was Taylor Dooley, an actor that turned twelve the year the film came out. Twenty-four years old now, she has become a wonderful looking woman even without the bright pink hair she wore in her biggest film to date.

9. Saoirse Ronan – Atonement
Only twenty-three years old today, despite that, Saoirse Ronan has already amassed one of the most impressive careers in the movie industry. Already earning a pair of Academy Award nominations, one came for the film
Brooklyn
but the other was due to her work in the movie she was in as a kid that earned her a place here,
Atonement
. Memorable for movies like
The Lovely Bones
,
The Grand Budapest Hotel
, and this year's beloved movie,
Lady Bird
, it is clear that she is awesome at what she does, and we hope she continues to kill it. Also a very beautiful woman that looks as though she could have jumped straight out of a painting of an angel, she simultaneously looks lovely and also like someone to lust after.

8. Chloë Grace Moretz – The Amityville Horror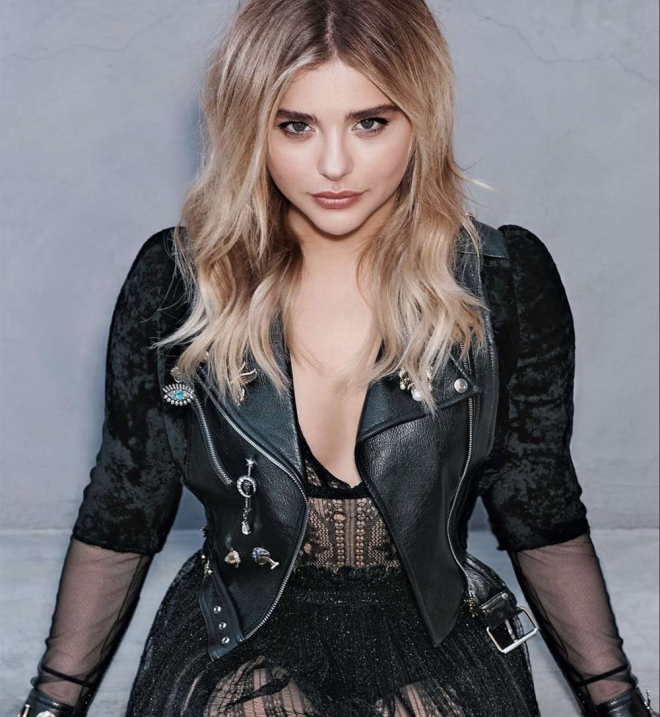 An actor that was one of many that have been a sensation in Hollywood, at one time, Chloë Grace Moretz seemed to be in the running for every major female role for someone in her age range. First showing off her huge potential when she was one of the stars of the 2005 horror remake The Amityville Horror, the movie was not beloved by many but she was great in it. Then she showed up as Hit-Girl in Kick-Ass and from there, her career took off and she has continued to demand big roles in the years since then. Twenty years old at the time of this writing, she is best known for her acting ability which we love but it should also be noted that she is a splendid-looking person who seems to have a great sense of herself.

7. Chloe Bridges – The Longshots
Another example of the fact that many of the young actors that were once seen on The Disney Channel went on to big things, many first found Chloe Bridges as part of their film Camp Rock 2: The Final Jam. That said, a few years prior to that, she played a bigger part in a kids sports comedy called The Longshots which starred Ice Cube in the main role. Otherwise known for other movies like The Final Girls today, she also landed one of the main roles in The Carrie Diaries, a show that featured the stories of Carrie Bradshaw in her earlier years. Someone who is twenty-five years old today, she is one of the most dazzling women on this list, and we think that would hold true among almost any group.

6. JoJo – Aquamarine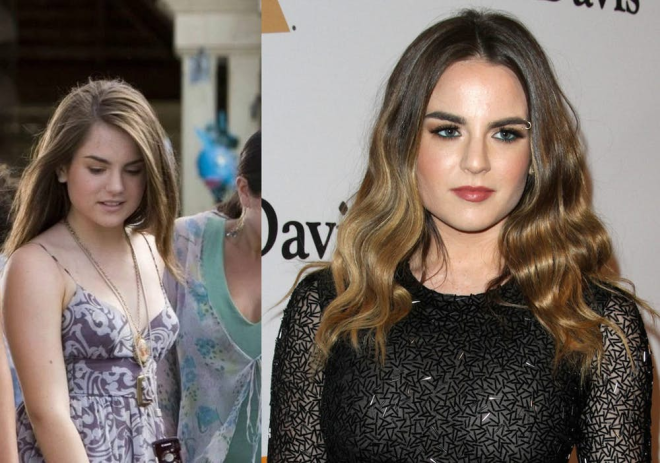 A former pop princess that first became a big deal because of her singing abilities, JoJo is best known for songs like "Leave (Get Out)," "Too Little Too Late," "When Love Hurts," and "Disaster." However, for those that didn't pay that much attention to her career, let us tell you that she also tried her hand at acting during the 2000's. One of the stars of both Aquamarine and RV, both family-friendly comedies were released during the same time and were seen by many people but are largely forgotten today. Continuing to perform her music to this day, she continues to tour regularly and dance on stage which may be why her body is so tight which is a large part of the reason why she is on this list.

5. Liliana Mumy – The Santa Clause 2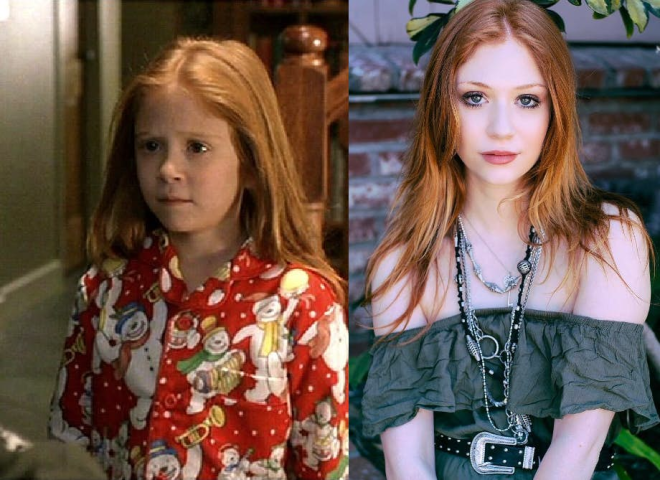 A former child star that was known for her ability to come off like a total sweetheart when she was a kid, there was something about Liliana Mumy that made audiences really like her. Cast in the Cheaper by the Dozen films, she was one of the many kids of the family at the center of that film so she fell into the background to a degree. However, in The Santa Clause 2 and its sequel, she was front and center in a lot of scenes and lit up the screen whenever that was the case. As a result of that fact, there are likely many that will always think of her from that time in her life but she is now a 23-year-old redhead who is a true beauty.

4. Danielle Campbell – The Poker House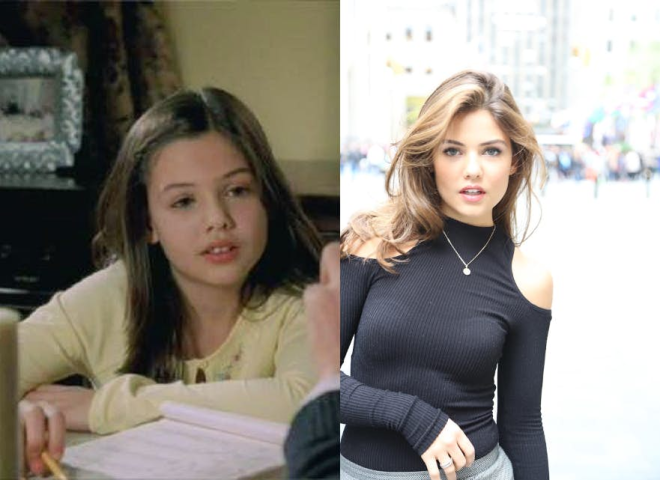 An actor that has never quite been able to punch through and become a gigantic star either as a kid or now as an adult, Danielle Campbell's career still did begin to take off in the 2000's. Making her film debut in a Jennifer Lawrence movie called The Poker House which came out in 2008 and also featured other actors like Selma Blair and David Alan Grier. Largely seen as a part of the TV scene since, she has made appearances in shows like Prison Break, Drop Dead Diva, and Runaways, which is a great show that takes place in the Marvel Cinematic Universe. Twenty-two at the time of this writing, to say that she is an alluring woman that has what it takes to make it as a model seems like a major understatement.

3. AnnaSophia Robb – Charlie And The Chocolate Factory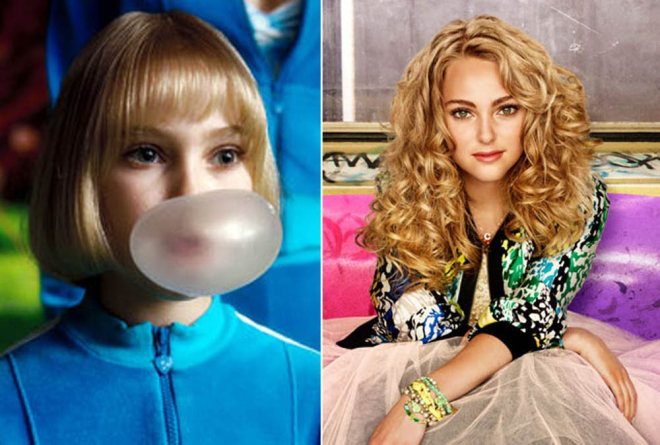 An actor that has been riding the razor's edge into stardom for many years at this point, AnnaSophia Robb has accomplished a lot in her career but has yet to become a celebrity. Still, that doesn't mean that there aren't millions of people that have seen her work since she has been a part of several films that the masses have consumed in the past. For instance, moves like Because of Winn-Dixie, Bridge to Terabithia, and Soul Surfer wouldn't be the same without her but it is Charlie and the Chocolate Factorythat lands her on this list. Another one of the 23-year-old women on this list, she is a stunning woman in pretty much every way but her impressive booty makes her even more amazing.

2. Alyson Stoner –Cheaper By The Dozen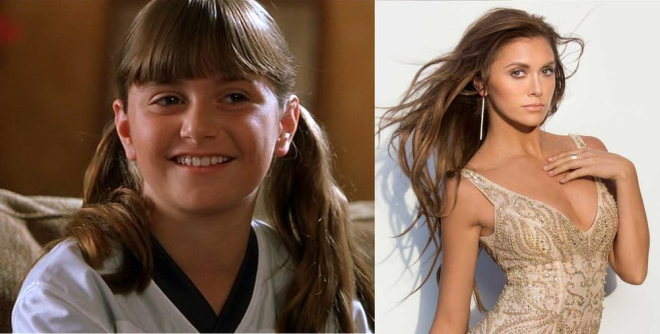 A kid that many people will always associate with her dancing in music videos put out by Missy Elliott, Eminem, and others, Alyson Stoner was a staple of MTV and MuchMusic for a period of time. For that reason, some people may have forgotten that she also did her fair share of acting including as a part of several movies that came out in the 2000's. For instance, she was one of the main characters in both Cheaper by the Dozen films on top of playing a major part in Step Up, a dance movie that took advantage of her abilities in that arena. Now someone that has reached the age of twenty-four, her figure is one that is likely to become fantasy fodder for anyone that is fortunate to see how it looks today.

1. Raquel Castro – Jersey Girl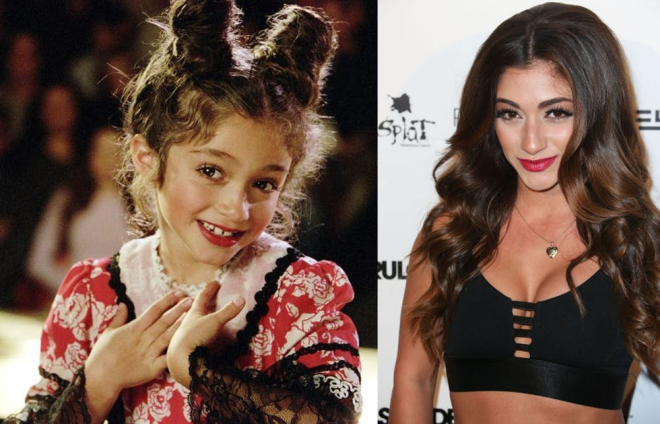 A former child star that likely thought she had reached the big time when she landed the titular role in the Kevin Smith film Jersey Girl, unfortunately, things didn't turn out that way. That was because the movie featured Jennifer Lopez and Ben Affleck, and at that time they were all over the tabloids, had starred in the horrible film Gigli together, and many people were all over them. However, that wasn't her only chance at the spotlight as she would go on to compete in the first season of The Voiceand has also appeared in several episodes of the show Empire. Twenty-three at the time of this writing, we feel fairly confident that more big things are in her future since Hollywood has always loved working with hot people and she is that, for sure.