As a result of that fact, there is a long history of stars dealing with substance abuse issues or one-time controversies that were inspired by them drinking to excess or taking drugs of some kind. When you then take into account that many celebrities are hounded day and night by photographers, it becomes clear that there must be photos of celebrities going crazy. Furthermore, many of the biggest stars seem to require attention at every turn so they are prone to taking their own photo even in possibly embarrassing moments and spreading the results online. Realizing all of this is what inspired us to put together this list of twenty crazy photos of celebrities partying.
In order for a picture to be up for possible inclusion on this list, it first and foremost needs to feature at least one famous person. For our purposes, it doesn't matter what they did to make a name for themselves as long as there is a sizable group that knows who they are. Due to that fact, there may be actors, athletes, musicians, YouTube personalities, models, or any other kind of star included among the entries to follow. Next, the image needs to feature the famous person in question looking as though he/she is having a great time partying. Finally, the resulting image needs to be one that it is reasonable to conclude that something crazy is going on.

20. Prince William And Kate Middleton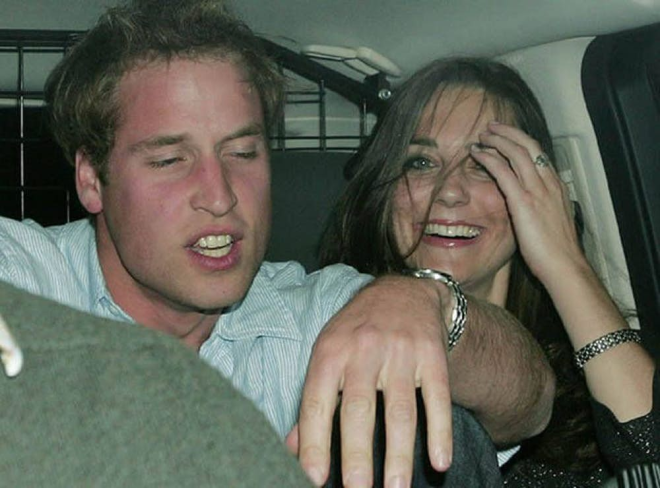 Often seen as a stodgy artifact of previous centuries, say what you will about the English Monarchy but there is no doubt that traditionally, in modern times, a great deal of self-control goes into their lives. However, that was a lot easier to keep up when these future kings and queens didn't have to contend with the paparazzi stalking their every move and capturing their more human moments. An example of a shot that the world would have been shocked by in years past, if a shot of Queen Elizabeth getting wasted in her youth was released, we can only imagine the shock it would inspire. While things have changed to a degree since Princess Diana dropped much of the artifice, this image of Prince William and Kate Middleton under the influence is crazy nevertheless.

19. Helen Flanagan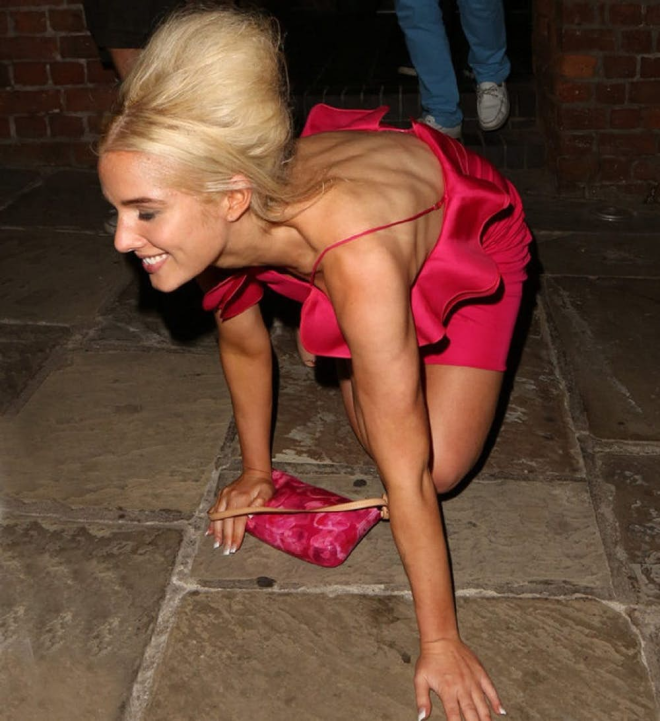 An English model that has been making a killing as a model for a long time now, Helen Flanagan was even voted the most attractive British celebrity in a poll put on by FHM magazine. Also an actor, she starred in the show Coronation Street from 2010 to 2012 and has recently made a return in the series she was so good in that she was nominated for a British Soap Award. Finally gaining attention for her appearances in "reality" TV, she appeared in a long list of shows in that genre like I'm a Celebrity…Get Me Out of Here, Celebrity Super Spa, and Celebrity Wedding Planner. So wasted in the moment this photo was captured that she was unable to stand up, she can be seen on all fours, and we can only imagine how dirty the surface she is crawling on was.

18. Cameron Diaz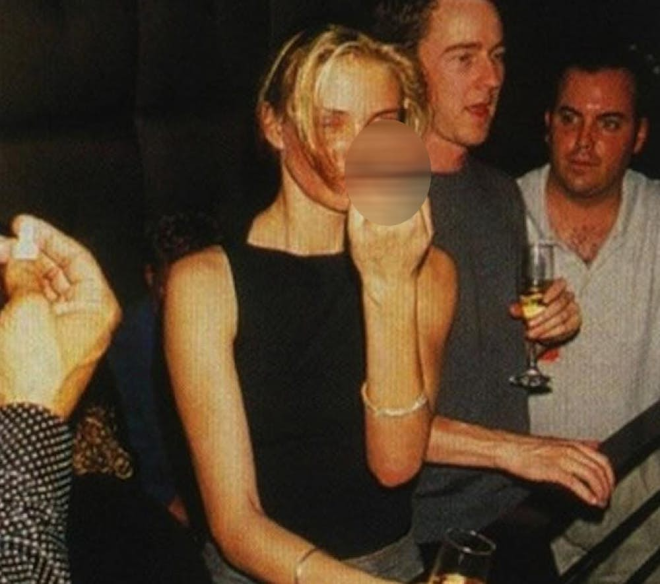 An actor that has played an out-of-control drinker a time or two in her career, Cameron Diaz was believable in movies like What Happens in Vegas and Bad Teacher, and now we have an idea why. Best known for films like The Mask, There's Something About Mary, Being John Malkovich, Any Given Sunday, and more, she has a long history of being a part of movies audiences connect with. Also one of the stars of the Charlie's Angels films, she and her co-stars in those movies created characters that a lot of people connected with and had a lot of fun with. Seen here clearly in the middle of a night of merriment, it seems that her attitude turned sour when someone opted to take her photo as her gesture speaks volumes.

17. Shia LaBeouf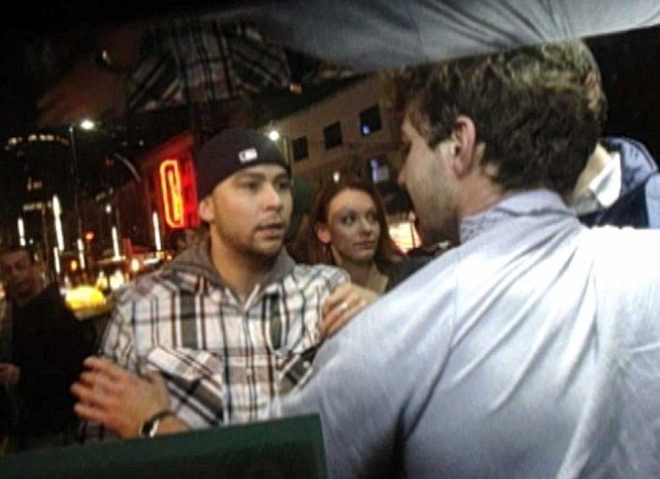 From an actor we are used to looking like she has undergone hours of beauty treatment to a guy that often seems as though he hasn't cleaned himself in days, Shia LaBeouf isn't your usual kind of star. Best known for films like the Transformers films, Indiana Jones and the Kingdom of the Crystal Skull, and Disturbiaamong others, he has several hit films on his resume. However, he also has a well-documented history of strange behavior that has served to make him a figure on the outskirts of Hollywood that seems to do strange things at every turn. As such, this image of him about to fight a complete stranger outside a bar before threatening another fellow that tried to help him with a stabbing isn't that shocking which itself is crazy.

16. Paris Hilton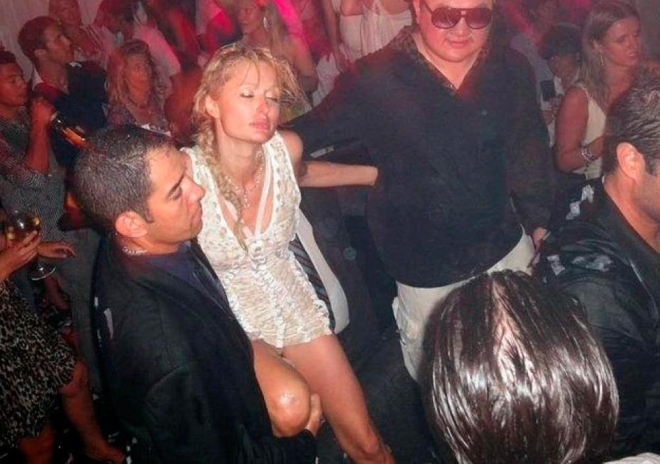 One of the more interesting modern celebrities, there doesn't seem to be that much to learn about who the person Paris Hilton is but her life story has a lot to say about the state of modern pop culture. Notable since she is the great-granddaughter of a hotel magnate, she owes her fame to her status and an intimate recording she appeared in being leaked to the world. Since then able to find success as a "reality" TV personality, movie star, and even as a singer, in the past, she did a great job capitalizing on her fifteen minutes of fame. Another key to her persona was the fact that her wild nightlife was chronicled by the tabloids, and here we have a perfect example of a shot of her they would have loved to get their hands on. Clearly feeling sloppy when this shot was taken, she is being aided in walking by a pair of dudes, and only a few decades ago, shots of celebrities like this one never would have seen the light of day.

15. Verne Troyer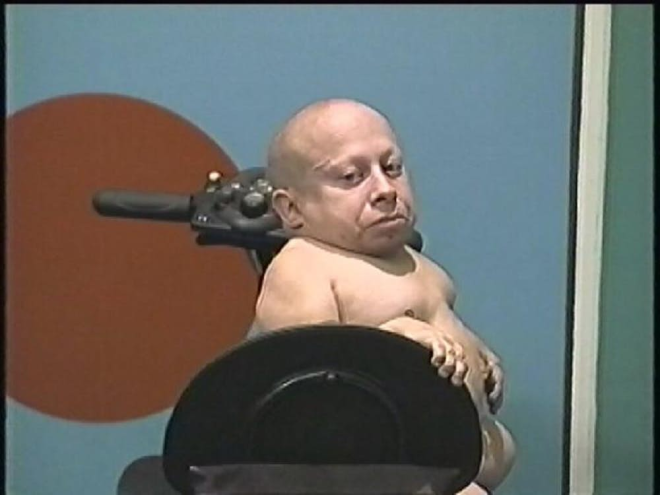 An overnight success who had been acting for years on end before finding the role that made him a star, early in his career, Verne Troyer appeared in movies like Jingle All the Way and Men in Black. Of course, when he was cast as Mini-Me and made his debut in Austin Powers: The Spy Who Shagged Me, his career went to a whole new level since that role had a huge spotlight on it. Hilarious in the film, it led to him getting a number of other roles but he'd find his fame dwindle, and six years later, he turned to the "reality" TV circuit to make ends meet. Cast in The Surreal Life, which featured a bunch of former stars living together, this shot emanated from a moment where he drove his scooter around while drunk and peed in the corner of a room.

14. Tara Reid
Part of the ensemble cast that made the surprise success of the 1999 film American Pie possible, in the immediate aftermath of that release, Tara Reid seemed like she may be set to be a huge star. Possessing a unique charisma and distinctive voice, her image was unlike any of the other people in the acting business at the time, and she was also very pretty which is a killer combination. Sadly, her life has fallen far short of our lofty expectations of her at the time, and her destructive lifestyle has had an effect not only on the way she looks a lot of the time but also on her ability to act. Seen here in a moment that exemplifies her lifestyle, in this photo, she is clearly under the influence and is unaware that the guy she is sitting on is so embarrassed by her that he is covering his face.

13. Christina Aguilera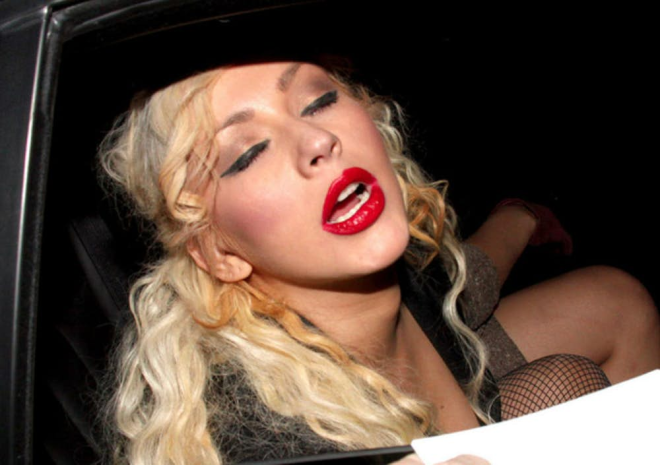 One of the biggest pop princesses of the late nineties and early two thousands, at one time, you could find photos of Christina Aguilera in a slew of popular publications every month. Best known for songs like "Genie in a Bottle," "Lady Marmalade," "Beautiful," and Dirrty" among others, her voice and choice of songs were among the strongest in the business. Finding a way to become well-known to a whole new generation when she landed the gig as one of the coaches on a competition show called The Voice, she will always be remembered as an important part of that series. However, we're guessing that she hopes that people forget about this image of her when she clearly had gone a bit too far with the partying and couldn't hold things together.

12. Mel Gibson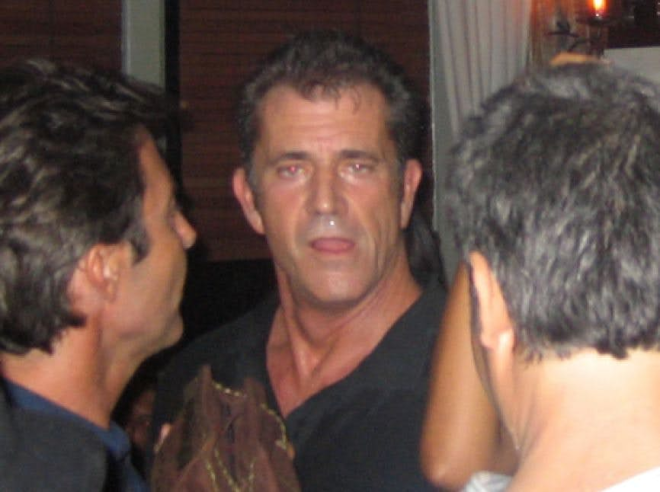 Oh, how the mighty have fallen, thankfully. An actor that not too long ago was seen as one of the most beloved figures in Hollywood, for several years, Mel Gibson was in massively popular films and had the reputation of a fun prankster. Best known for movies like the Lethal Weapon and Mad Max series, as well as Braveheart, Payback, Ransom, and too many more to list here, he had so much clout in the business it was incredible. All of that was prior to him being the subject of a pair of controversies involving racist and homophobic statements, and although his directing career has survived, his acting largely hasn't. Said to be inebriated when he said the things that got him in trouble, this photo of him looking like a violent jerk is another reason why he should probably stop the drinking.

11. Miley Cyrus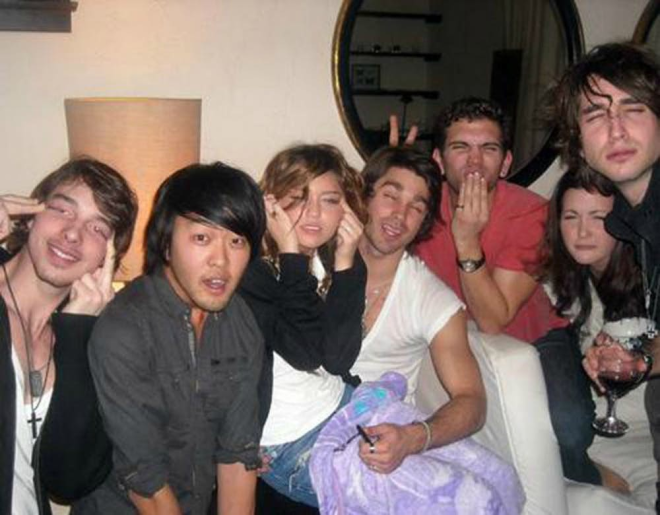 The daughter of the former country music superstar Billy Ray Cyrus, this young woman began her time in the spotlight playing a version of herself on a show that he appeared in as well. The star of the Disney Channel series Hannah Montana for several years, in it, her character was a teen that had a superstar singer alter ego that she wanted to keep a secret in order to lead a normal life. In real life, however, Miley Cyrus has never eschewed the spotlight since her career has depended on her releasing more hit songs like "Wrecking Ball," "The Climb," and "Party in the USA." That doesn't mean that she has always enjoyed the spotlight as she received a sizable backlash to this photo that was taken of her while she and her pals made very racist faces on camera while partying.

10. Avril Lavigne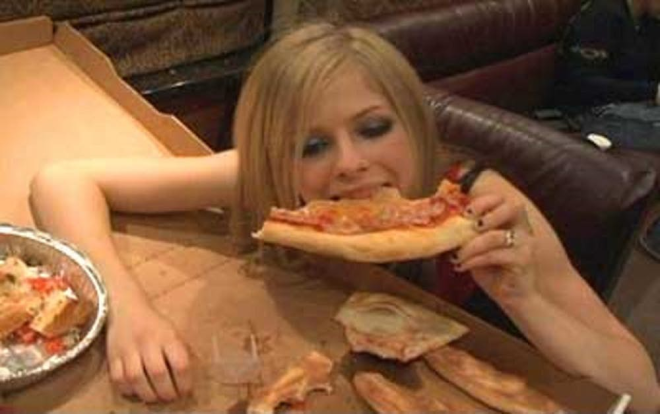 Someone that benefited greatly that a whole new genre of music rose to prominence around the time she became a star, Avril Lavigne owes her fame to the then-newfound popularity of pop-punk. Best known for songs like "Complicated," "Girlfriend," "I'm With You," and "My Happy Ending" among others, her music has been the soundtrack of many young people's lives. A person whose persona was also wrapped up in her fun-loving image, many of her music videos have featured her and some of her pals going crazy and having a good time. Evidently, she does the same thing when she isn't being recorded for clips to play along with her songs as this image of her drunkenly biting into a slice of pizza with gusto made us laugh at the situation.

9. Heather Locklear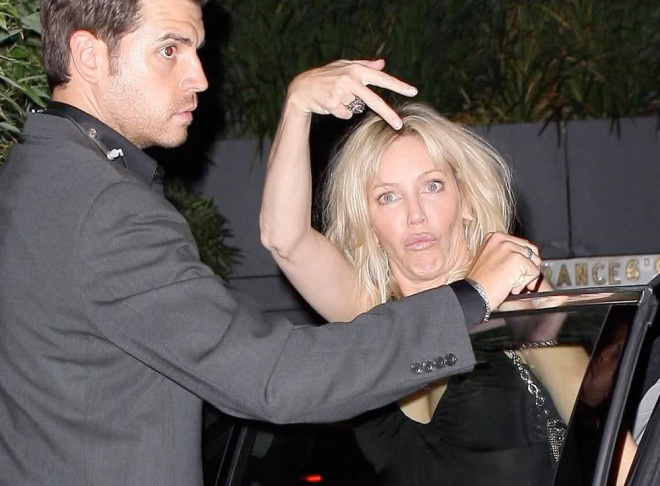 An actor that has been a mainstay of the entertainment world for decades on end, if there is one thing that has mostly remained static when it comes to Heather Locklear, it is her ability to find TV work. A major part of series like Dynasty, T. J. Hooker, Melrose Place, Spin City, LAX, and Hot in Cleveland among others, if a show is struggling, a lot of producers have turned to her to fix things since it works. Also well-known for her incredible looks, it is safe to say that she has served as fantasy fodder for the masses over and over throughout her career. Of course, this image of her goofily motioning while she is under the influence doesn't exactly play into that image of her.

8. Courtney Love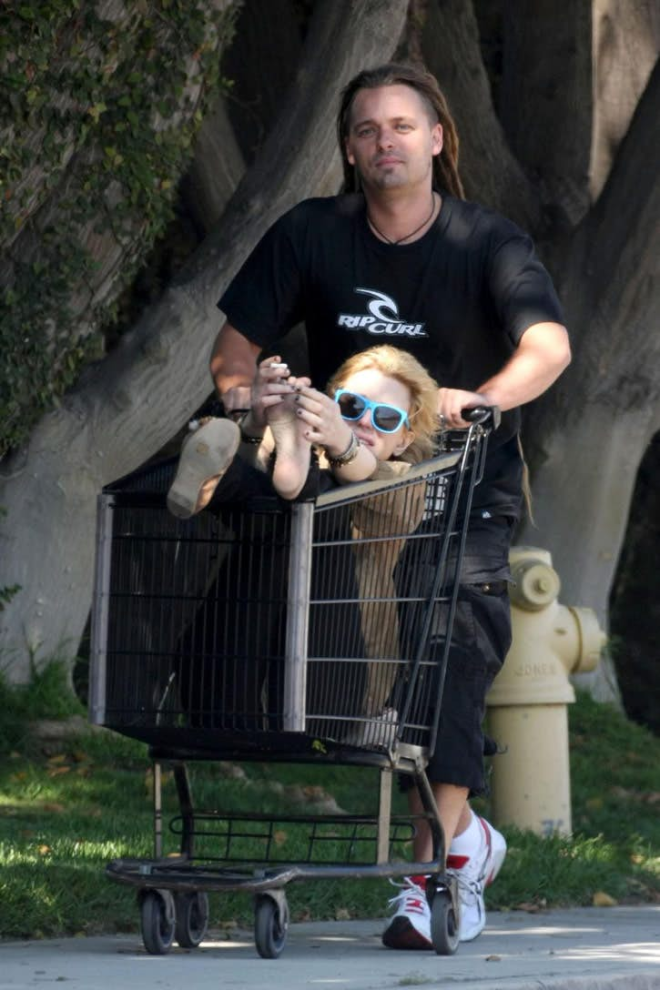 Someone with a very complicated history when it comes to her public persona, the career of Courtney Love has featured several notable phases. First off principally known as the wife of Kurt Cobain that had a band of her own called Hole, as their music included hits of their own, her reputation began to grow. Subsequently seen in respected movies like Man on the Moon or The People vs. Larry Flynt, she was never more respected than that time. Unfortunately, things seemed to go downhill from there as her career went off the rails when her behavior became ever the more erratic as she delved deeper into substance abuse. An example of the outrageous behavior that she seemed to exhibit on a daily basis at one point, here we see her being pushed down a street in a shopping cart in the middle of the day. Presumably under the influence at the time, the idea that she was partying in the afternoon says a lot.

7. Britney Spears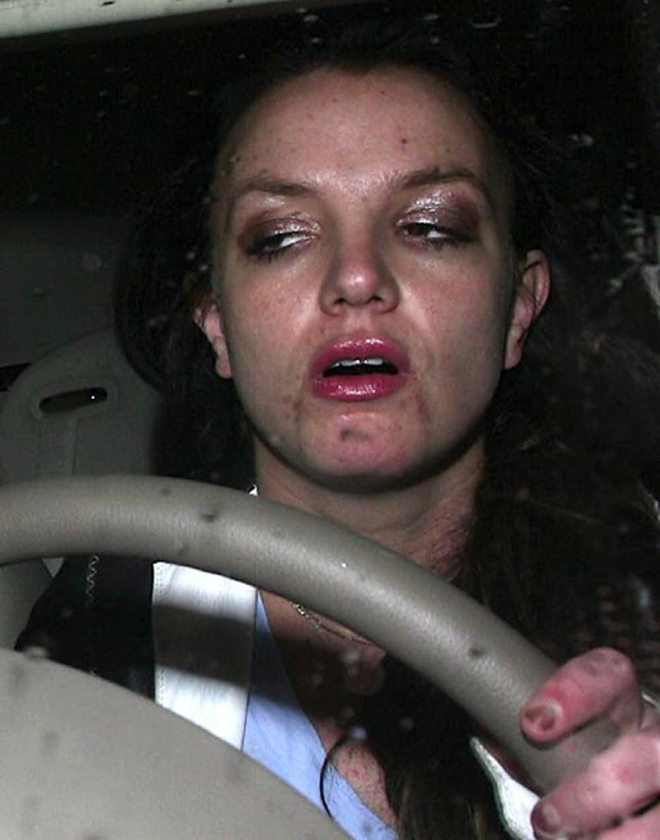 Earlier on this list, we featured a photo of Christina Aguilera wasted in a vehicle so it only makes sense that her principle rival, Britney Spears, would land here too but in a far worse situation. At one time arguably the biggest star in music, she released one hit song after another including the likes of "Womanizer," "'Til The World Ends," "I Wanna Go," and "Toxic." Still a major entity in the music business, she has spent the last while performing on an almost nightly basis in Las Vegas where millions of people have flocked to see her do her thing. Hopefully, being so close to the nightlife of that city won't drag her down as this image of her looking like she has thrown back more than a few as she sits behind the wheel is disturbing.

6. Rihanna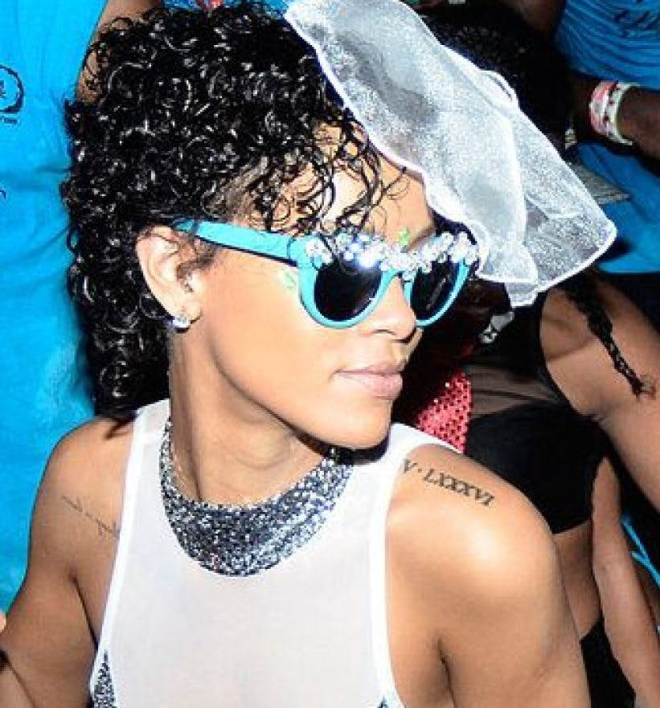 One of the biggest names in music, the career of Rihanna flies in the face of anyone that tries to claim that her business is on its heels since the advent of technology that allows free but illegal downloads. Releasing new music on a regular basis, most of her songs become big hits including the tracks "We Found Love," "Live Your Life," "Umbrella," and "Disturbia" among too many others to list here. Also someone that has created a fledgling acting career for herself, she has appeared in movies like Battleship and This is the End, on top of being cast in the upcoming film Ocean's Eight. Seen here getting crazy in the streets of Barbados during the Crop Over festival, the idea of a star of her caliber breaking free like this in the middle of a large group seems unfathomable.

5. Elizabeth Hurley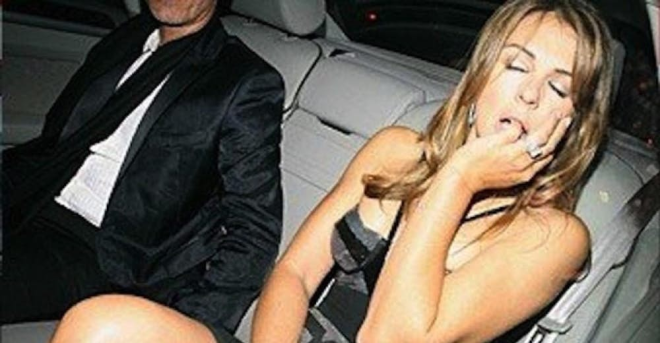 One of the most gorgeous actors in the history of the business in our view, Elizabeth Hurley first turned heads worldwide when she accompanied her boyfriend, Hugh Grant, on a red carpet. So incredible-looking in a revealing dress that it became the talk of the world, after that, moviegoers looked forward to seeing her on the big screen since any opportunity to have her around was a good one. Best known for films like EDtv, Austin Powers: International Man of Mystery, and Bedazzled, she has also recently become a TV star in the show The Royals. Looking as though she was drunk enough when this photo was taken that she couldn't even keep her eyes open, this is not the type of photo of her we are accustomed to seeing.

4. David Hasselhoff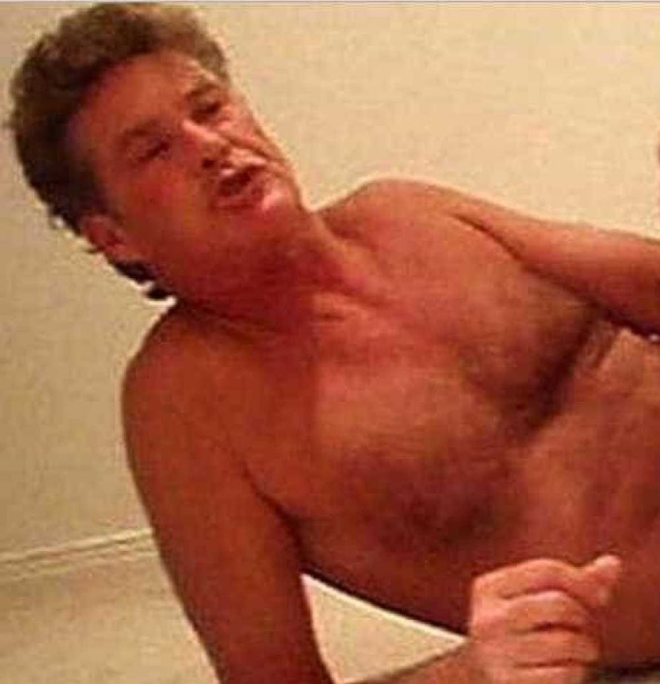 Often seen as a joke today, it can be hard to remember but David Hasselhoff has succeeded in the entertainment world in a gigantic way. A singer who has released many songs that were huge hits in various areas of the world, that part of his career is often ridiculed in North America but is impressive nevertheless. Also the star of shows like The Young and the Restless, Knight Rider, and various versions of Baywatch in the past, that last of those shows was one of the most watched shows on TV at its height. With all that in mind, it is pretty insane that he is perceived as a laughingstock by so many. However, an image like this one certainly didn't help things. A screengrab from a video of him eating a hamburger while wasted, his daughter shot the video to embarrass him into cleaning up, and it was so nuts it would have worked on us if we were in his shoes.

3. Lindsay Lohan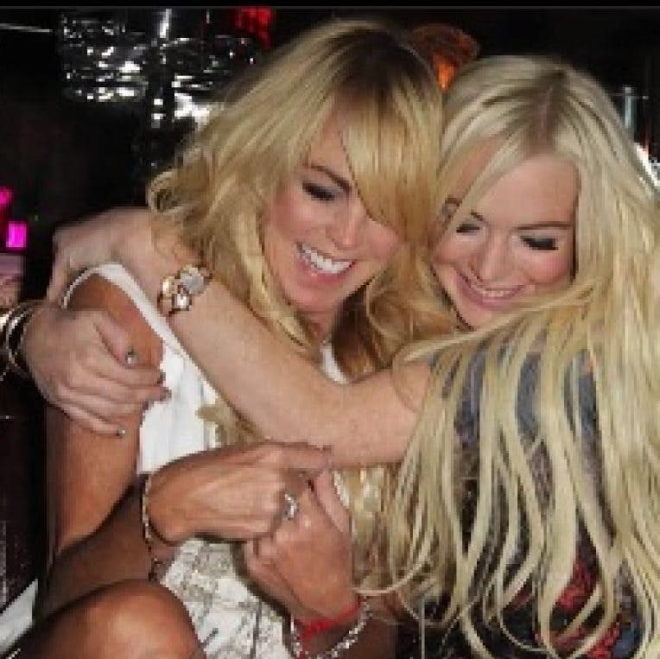 Someone that has fallen way short of our expectations for her, Lindsay Lohan's career started out with such promise that we were excited to see how far she could take things. Best known for her work in movies like The Parent Trap, Freaky Friday, Confessions of a Teenage Drama Queen, and Mean Girls, she was in a series of films that helped her create a loyal following for herself. Unfortunately, in the years since, she has consistently been the focus of tabloid headlines that have chronicled her fall from grace and has been a part of some truly awful movies like Liz & Dick. However, the grossest thing she did on camera was to appear in this image in which Lindsay and her mother are seen partying way too hard.

2. Kiefer Sutherland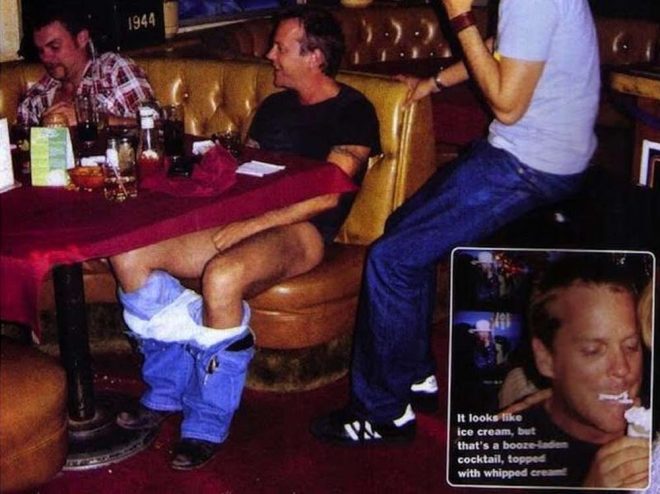 An actor whose career has shockingly been able to survive his many controversies, it is abundantly clear that alcohol has been a terrible force in the life of Kiefer Sutherland. Best known for movies like Stand by Me, The Lost Boys, Young Guns, Flatliners, Dark City, and many more, he has also starred in the hit shows 24and Designated Survivor. Quite accomplished, it is all the more impressive since he did much of this while fighting a substance abuse problem that would have crippled most people. In fact, his career has continued to be strong even as he was sent to prison for forty-eight days for DUI charges and was forced to apologize in public when he headbutted a fashion designer. In light of that, we're not too shocked that this photo of him with his pants down drinking in the middle of a bar exists, but we can imagine the controversy if another star was in his place.

1. Drew Barrymore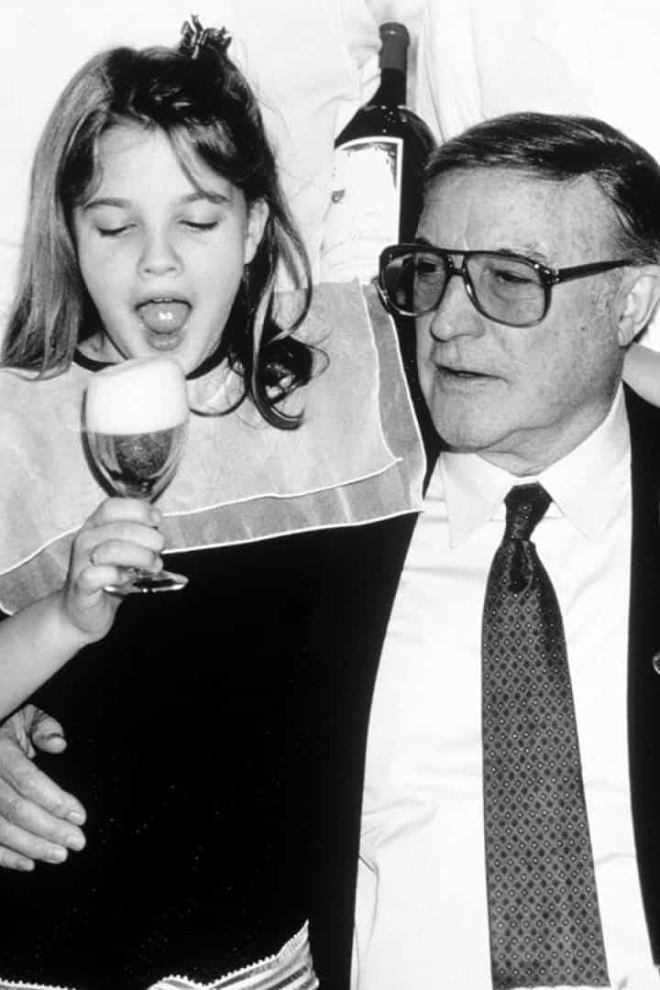 From one former child star that has struggled with substance abuse to another, this time around, we are looking at one of the former stars of E.T. the Extra-Terrestrial, Drew Barrymore. Best known for movies like the aforementioned Steven Spielberg production, The Wedding Singer, the Charlie's Angels films, Donnie Darko, and many more, she has been a public figure throughout her life. Very open about the fact that she was allowed to drink and do drugs at a very, very young age, there are images out there of her entering clubs and dancing away. However, this shot of her as a child seemingly about to have a drink in the presence of a grown man is extremely shocking and crazy because of what it says about the things child stars are allowed to do.