14. This fellow requested a toilet roll to be brought to him via Twitter. They brought it.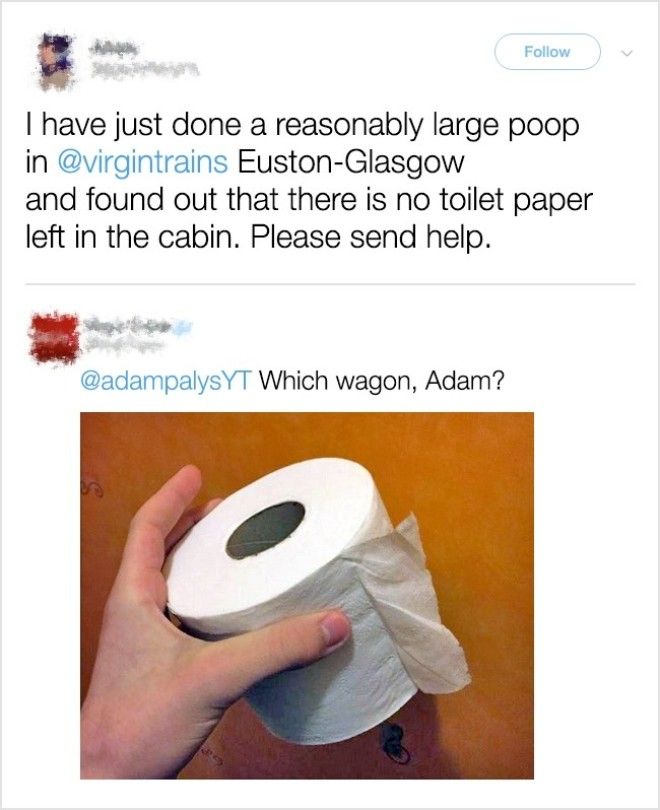 A young Britishman named Adam found himself in a very delicate situation: having visited the loo on a train, he discovered there was no toilet paper in the cabin. Not knowing what to do, he wrote on the wall of Virgin Trains' Twitter page. Not only did they answer, but they also helped to solve the issue.

13. A pilot of Frontier Airlines bought pizza for the passengers of a delayed flight
One of the planes of Frontier Airlines heading to Denver had to land in Wyoming due to bad weather conditions and had to stay on the runway for about two hours. The pilot, Gerhard Bradner, decided to brighten up the expectation of people exhausted by a long trip and ordered pizza for all 160 passengers with delivery right to the cabin.

12. A furniture company painted a pony together with a Tyrannosaurus Rex at the request of a client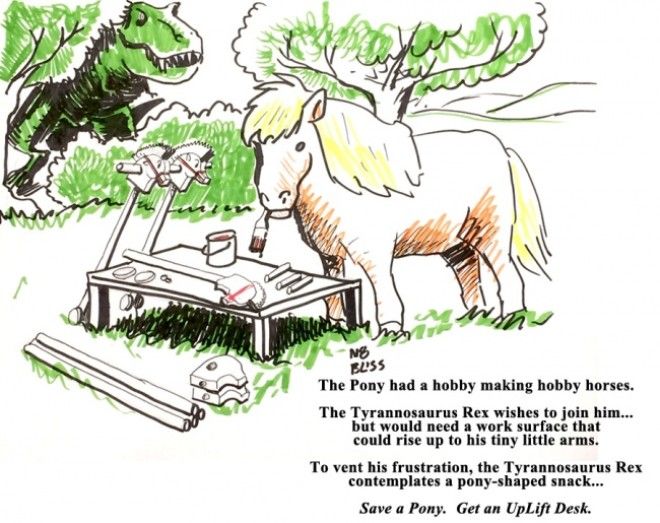 A user of Imgur with the nickname Pavis0047 ordered a table in The Human Solution company. Due to the delays in shipment, the table couldn't be delivered to him on time. In compensation, they drew a pony with a Tyrannosaurus Rex for the frustrated client as he had asked it in his joky letter.

11. Sainsbury's shop renamed one of its products as per a 3-year-old girl's request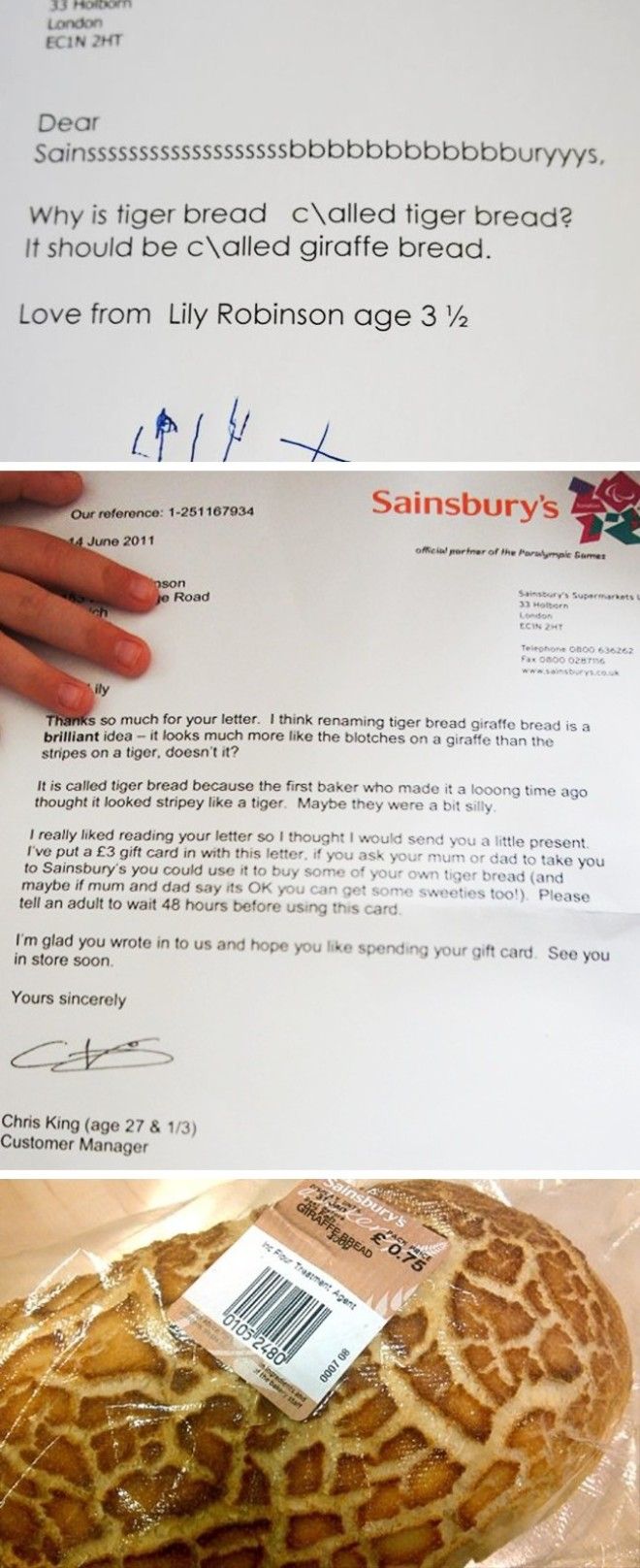 A letter written by 3-year-old Lily Robinson and addressed to a British retailer was posted by her mom on her blog. After having been spread around the Internet, Lily got an answer from customer manager Chris King of Sainsbury's. He wrote: "Dear Lily! I think renaming tiger bread giraffe bread is a brilliant idea — it looks much more like the blotches on a giraffe than the stripes on a tiger, doesn't it?" Later the giraffe bread really appeared on the shop's stalls.

10. A man was brought a steak right to the airport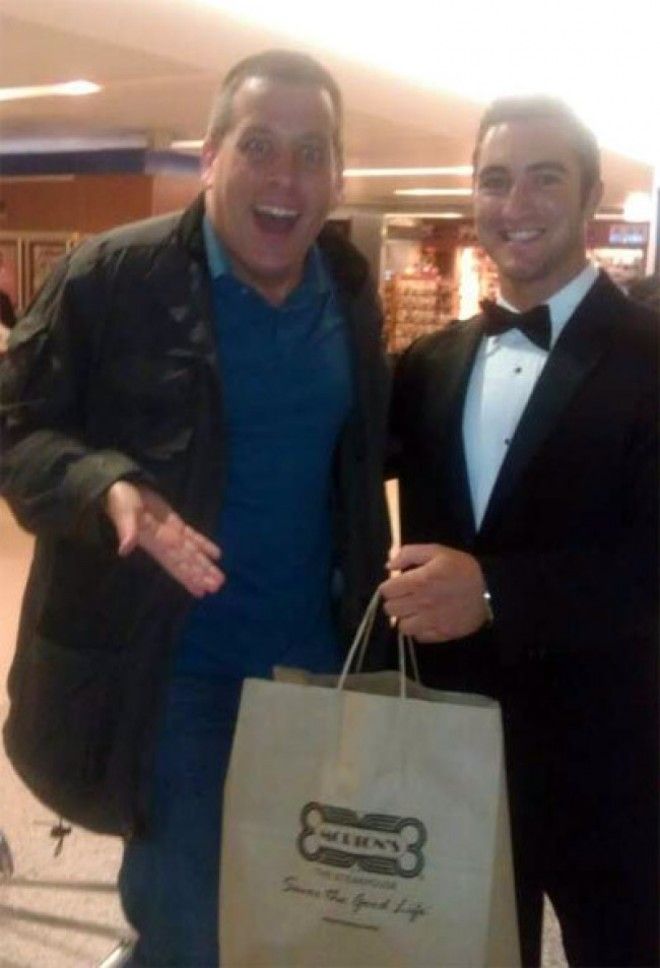 When leaving for another trip, American marketing specialist Peter Shankman wrote in jest on the Twiiter page of Morton's Steakhouse company a request to bring him a steak to the airport. The representatives of the company took the request seriously: on arrival he was waited by a man in a tuxedo, holding a packet of steak in his hands.

9. The developer of video games sent a game that was no longer on sale to its client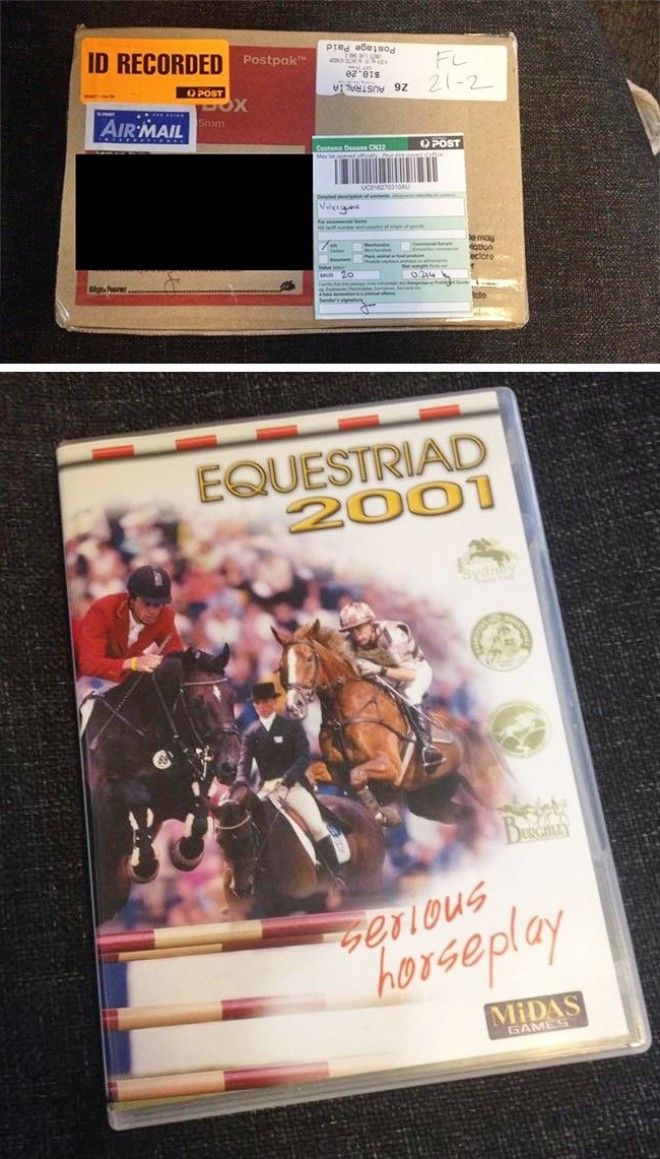 A girlfriend of an Imgur user with the nickname CapnDomovoi once confessed to him that she used to really like the Equestriad 2001 video game. The problem was that it was withdrawn from production over a decade ago. Having decided to try to please his beloved girl, this guy wrote to the developers of this game Tantalus company. After 10 days he got a parcel with the disk.

8. An American online-store sent a Christmas gift to its seller for nothing.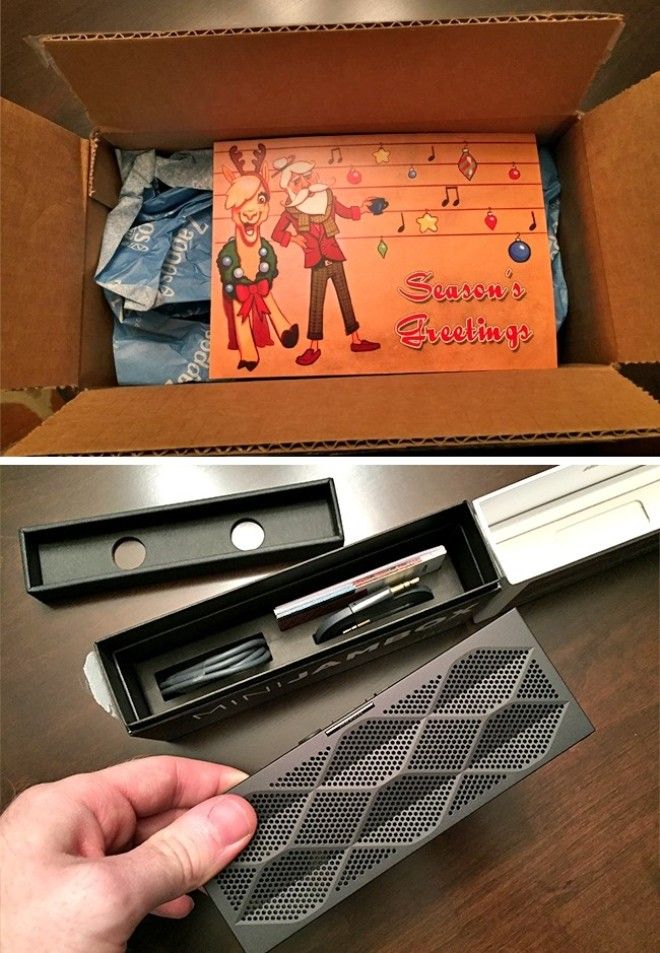 In the parcel, a surprised man found earphones for $100, and he made only one purchase in Zappos within the whole year!
An American online store for clothing and shoes is famous for its attitude to clients. For example, in 2011, the representatives of the company sent a bouquet of flowers to a woman who returned 6 pairs of shoes that didn't suit her sick mom. The same year they sent a free pair of shoes to a man that had arrived without footwear to his friend's wedding due to the mistake of a logistics company. Zappos holds the record for the longest customer service call: on April 4, 2017, an employee of Zappos was talking to a client for 10 hours and 51 minutes.

7. A customer service representative liked a picture of an Imgur user so much they sent him a pocket watch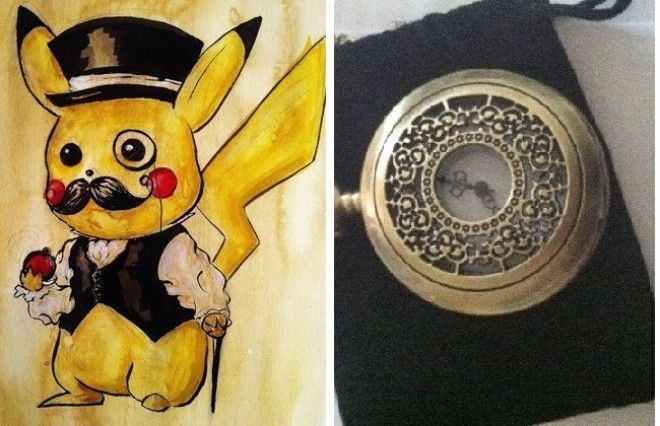 Another story of an Imgur user. A guy with the nickname Jettaboy04 placed an order in images printing service EasyCanvasPrints. The customer service employees got interested in the picture and asked what Pikachu is holding in his hands. Having found out that it's a pocket watch, they sent the same watch to their client as a present.

6. Domino's company saved the life of its regular customer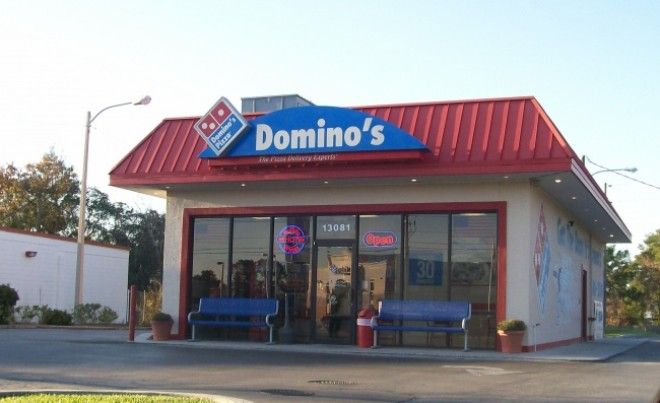 Kirk Alexander, an Oregon state resident, used to order Domino's pizza daily. When their regular client went silent for two weeks, the manager of this chain, Sarah Fuller, got really worried. The woman called the police, and when policemen came to Alexander's home, they found him in need of medical attention. After that, the man was taken to the hospital and his life was saved.

5. The manufacturers of earphones provided a girl with changeable embouchures for a long time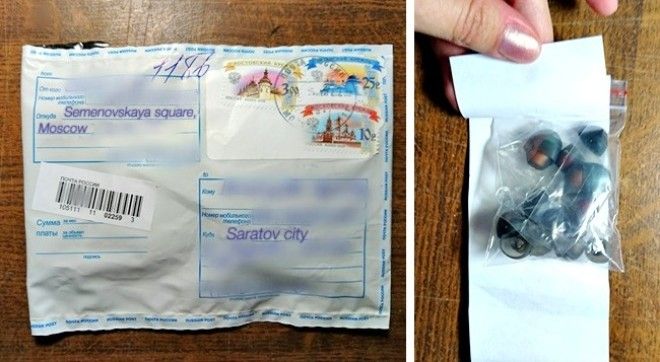 A visitor to the Pikabu website with the nickname fiKdiHovich found herself in a very familiar situation: she lost her earphone embouchures. To find out where she can buy them, the girl addressed the manufacturer Sennheiser. In response, they simply sent her 8 pairs of new embouchures.

4. Samsung company presented a phone to a man for his creativity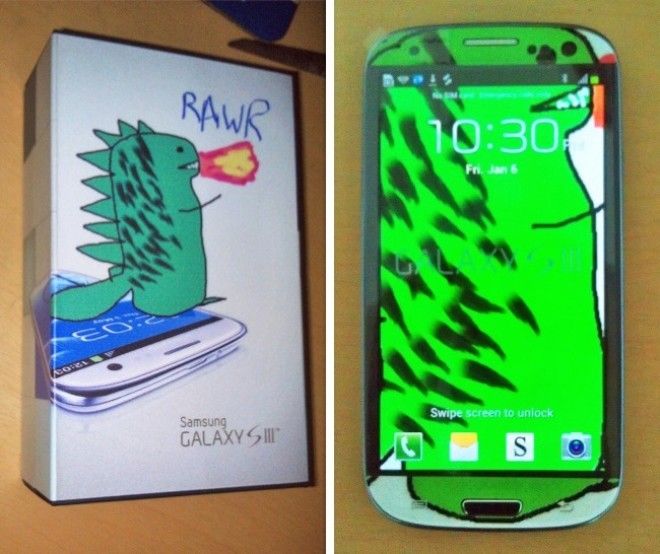 Canadian Shane Banneth is a big fan of Samsung technologies. Before releasing Samsung Galaxy S III, he addressed the company with a request to present him a new model, having drawn a funny picture of a dinosaur with the letter. At first, his request was rejected, but after Shane shared the story on the Internet, it became very popular. Finally, Samsung sent him a phone featuring his dinosaur.

3. Dell company replaced a defective monitor for its customer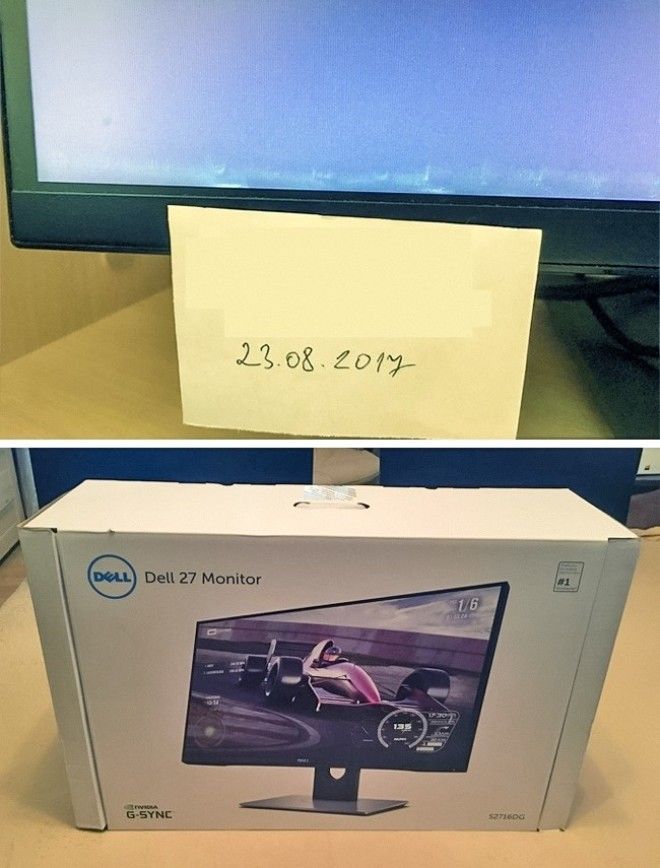 The story was shared by Pikabu user Cold86. He wrote that after one year of using a Dell monitor, a defect (white ripples) appeared on its screen. The man took a photo of the defect and sent it to Dell customer service. One month later a new monitor was brought to him.

2. Apple presented a tablet to a man whose wife didn't allow him to buy it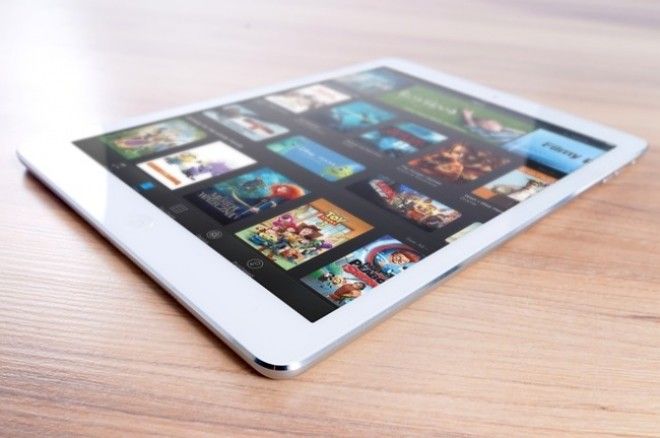 After the release of iPad 2, representatives of Apple were extremely attentive to the return of their goods. One case, in particular, attracted their attention: a tablet was returned with a message: "My wife said 'No'." This man got his tablet back with the following: "Apple says 'Yes'."

1. West Jet Airlines presented a Christmas miracle to its clients
In December 2013, the passengers of two West Jet Airlines flights were asked to come to the check-in counters where people were asked what their New Year wishes were. All wishes were written down and sent to a group of volunteers who bought all these items and brought them to the destination airport. After landing, the surprised passengers not only got their baggage, but New Year gifts as well. You can see their reactions in the video.