The concept might seem weird at first since, when people travel, they are usually looking to explore a new region of their country or the world—sightseeing new cities and things like that. However, some hotel rooms around the world are complete experiences in their own right. Some of these are ridiculously expensive, but there are also affordable places where you can spend a night and have the experience of a lifetime.

15. A Dream In Berlin – Arte Luise Kunsthotel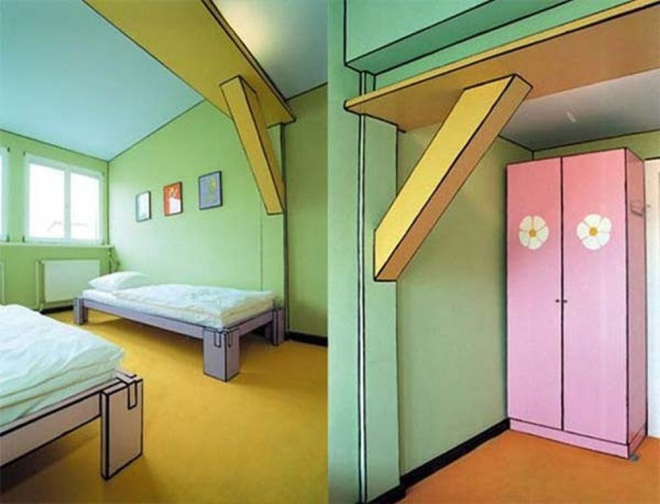 The German people are by far one of the most creative populations in the world. Sure, that creativity has not always been used for good, but ever since World War II, the world owes a lot to the Germans. That is true in many areas, and hospitality does not fall far from the tree. Germany has some of the most amazing hotels in the world, which is only fair since the country offers some of the most beautiful views a tourist could dream of admiring.
Tucked in Berlin, we have one special place called the Arte Luise Kunsthotel. The Luise is a unique hotel, the like of which you will not find anywhere else in the world. It has several different rooms that were designed to be unique by different artists. The most impressive of which we found is that this room was based on an old Sega game.

14. British Luxury – Mandarin Oriental London Hotel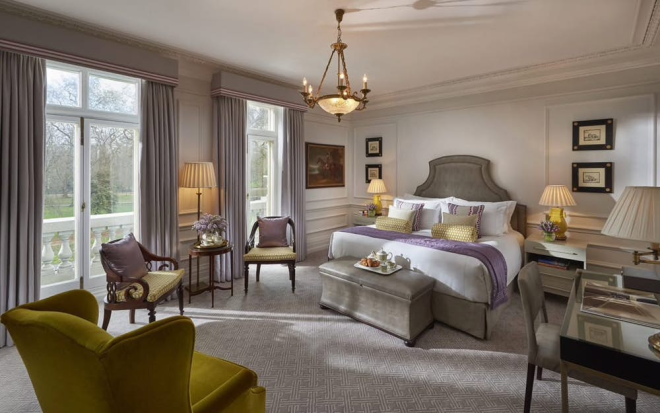 Sure, there are a lot of places in the world where you can enjoy an astounding view in a fantastic hotel room for a reasonable price. But since we are talking about some of the best hotel rooms in the world, we have to give some credit to the most expensive places. And when it comes to being expensive, there is hardly a place that can compete with the Mandarin Oriental London hotel, especially when we are talking about their Royal Suite.
This is the kind of luxury most regular people would need to work years for in order to be able to afford, but if you are someone who is willing to throw down £18,000 for a quick fix, this is the place for you. After all, you can't really compete with a room that has a bathtub under a fiber-optic chandelier.

13. Caribbean Paradise – Jade Mountain Resort (St.Lucia)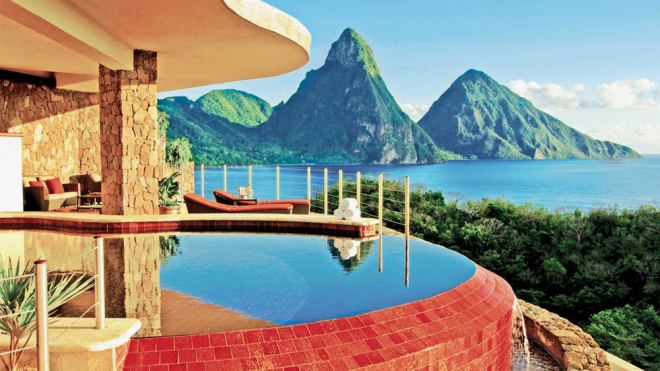 When it comes to beautiful views, the Caribbean sure has a lot of places you must visit if you are someone who enjoys the ocean and is willing to unload a serious amount of cash to experience being in a magical place. In the eastern part of the Caribbean, there is a tiny island named St. Lucia. The population of the island is somewhere around 180,000 people, much less than a medium-sized city in most places around the globe. Nevertheless, those 180,000 people have the luxury of enjoying some of the most beautiful ocean views in the world.
When it comes to the hotels on the island, we did some digging, and the most astounding view we found came from the Jade Mountain Resort. Moreover, it will be tough for anyone to get a better ocean view from a hotel room than the guests who stayed here.

12. Swiss Heights – Luxury Ski Lodge In Zermatt, Switzerland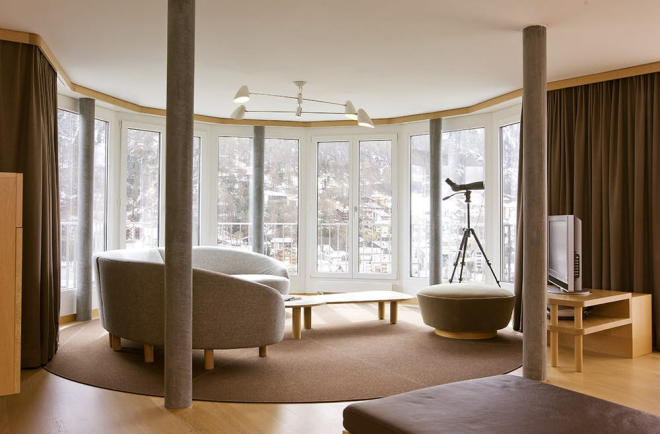 Sometimes, humanity awes us. What do people have in their minds when they decide to build stuff on the mountains? So much can go wrong when you are building a city on an un-leveled terrain. And yet, time and time again, the people who don't believe such things should be done are the ones left licking their fingers while the visionary folks who try their best and come up with these ridiculous ideas end up making a killing.
At least, this is what seems to be the case of whoever had the idea of building a luxury ski lodge in the city of Zermatt, Switzerland. It turns out that the Lodge was not only a good idea, but it was also a stroke of genius. A testament to that is that a suite in the five-star hotel costs a couple thousand dollars for a night.

11. The Place To Be – Ritz-Carlton (Singapore)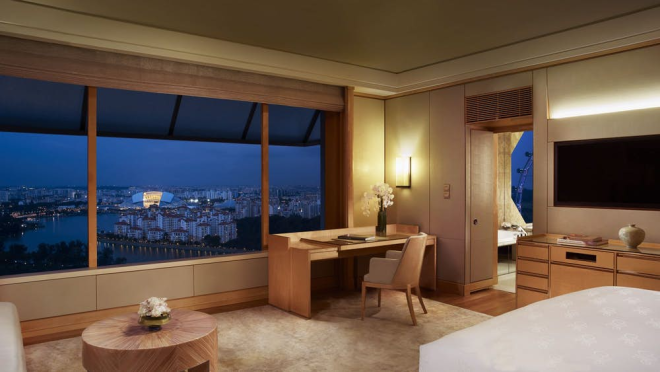 When we talk about traveling, the hotel room is just a part of the package deal. But it being luxurious certainly doesn't hurt the whole package. No place in the world today seems to be on the same level as Singapore. The southeastern Asian city state is one of the fastest-growing countries on the globe, and it is a must-visit for almost anyone who loves to travel. Everything about Singapore is different and unique in comparison to other countries.
Little facts like it being a city of more than 60 islands, having the world's first nighttime zoo, and having several man-made waterfalls are just parts of the package deal. It also helps that there are hotels in Singapore like the Ritz-Carlton, where you can enjoy what is arguably one of the most beautiful views in the world while you are not out exploring.

10. It Comes With Roommates – Giraffe Manor and Nairobi (Kenya)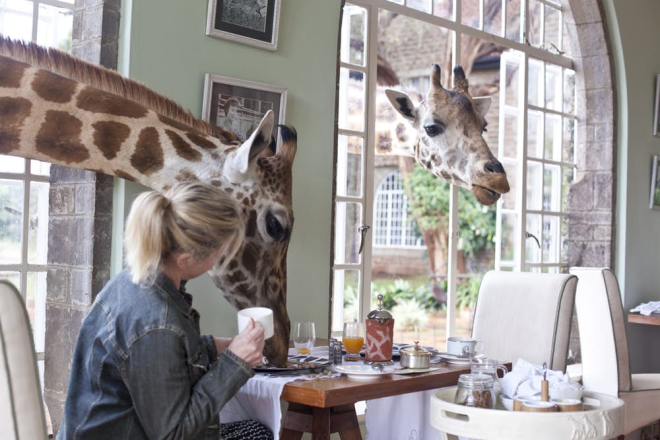 So, having roommates you don't even know sharing your hotel room when you are visiting a different country might not sound like a good idea at first. Actually, it does sound insane if we talk about it without the context. However, as soon as you learn that your roommates are not actually humans but several giraffes from an endangered species, your mind might take a 180 and really like the idea.
If anything, it sounds like a once-in-a-lifetime experience to share your living space with a bunch of giraffes. Don't worry, it doesn't seem like they actually stay in the room with you nor can they poop there. There are just windows where they can stick their head inside the room, so you can pet them or feed them some fruit. Anyone down for a visit to the Giraffe Manor and Nairobi, Kenya?

9. The Classy Miner Experience – Sala Silvermine in Vastmanland County (Sweden)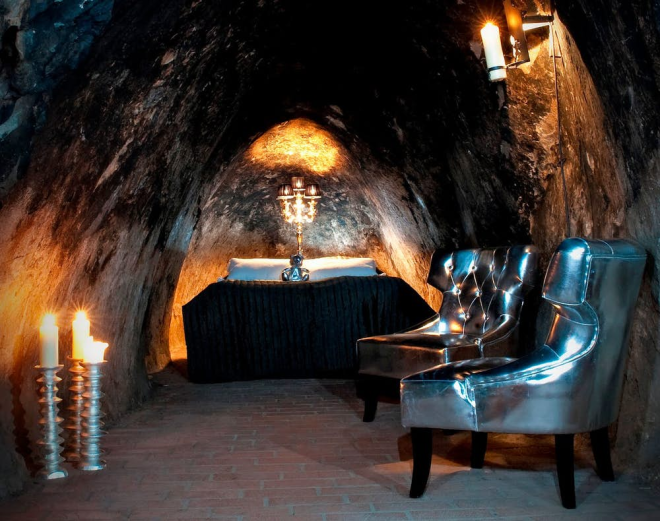 We really hope you don't start judging us because of some of these selections, but as weird as some of these hotel rooms might seem, you cannot deny that staying in each and every single one of them would be a unique and unforgettable experience. That has to be the case with this underground suite at the Sala Silvermine in Vastmanland County, Sweden.
No, there is no wordplay involved here, as this place is literally a hotel suite deep inside a Silvermine. The hotel claims that this suite is the world's deepest hotel room, and it does have some stats to back up that claim. It is 155 meters below ground. While you are in there, your cellphone won't work, so they give you an intercom radio to communicate with the staff. Any volunteers? It's just a little more than 500 bucks a night.

8. A Refreshing Vacation In Milan – Hotel Principe di Savoia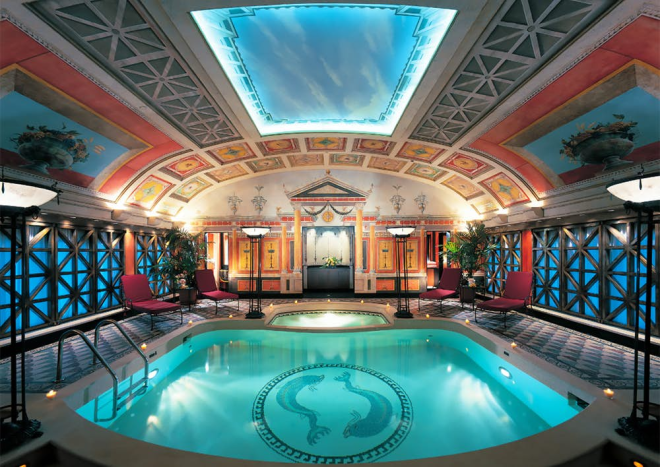 Nothing says classy like having a swimming pool inside your hotel room. Seriously, if you have enough money to spend on things like booking a vacation to a hotel room that has its own swimming pool, you have probably won the game of life already. Either way, even if some of us would have to save for years in order to be able to afford a luxury like this, it does seem like a good story you would want to tell your grandkids.
This is the presidential suite in the hotel Principe di Savoia, a place where we really do believe only princes and royalty have spent time. Of course, the hotel room is not just the swimming pool, it also has other rooms that are fully ornamented with whatever kind of luxury you could probably imagine.

7. Patagonia Dream – Explora Hotel Salto Chico In The Chilean Patagonia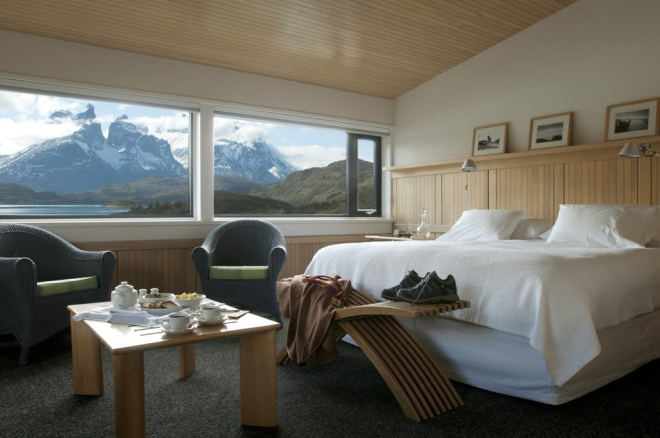 South America is a continent full of secrets and beautiful locations. One of the most famous landscapes in the continent is Patagonia. A sparsely-populated area in the southern end of the continent, this region englobes part of Argentina and Chile, and it is responsible for a lot of the tourism that goes through those two countries. Those facts are not at all surprising, given how beautiful the region is. When people think South America, they are usually thinking about Brazil's beaches or the streets of Buenos Aires. Still, the magnificent landscapes of Patagonia are some of the best views South America can offer.
That being said, few places there will offer you a view as astounding as this one from the Explora Hotel Salto Chico in the Chilean Patagonia. Yeah, Patagonia is a must-visit.
6. Hope You Are Not Afraid Of Water – Poseidon Undersea Resort (Near Island Of Fiji)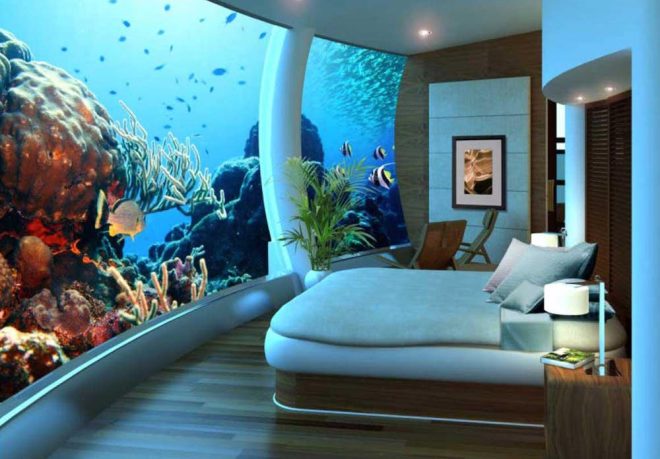 If we had to define the nightmare of a person with an extreme case of Thalassophobia, it would have to be this hotel suite at the Poseidon Undersea Resort. No, we are not kidding; this is legit. There is indeed an undersea resort near the island of Fiji. While this could be a nightmare for some folks, for the majority of us, this is something like a dream come true. If you love the ocean, it really does not get any better than this. The entire hotel is an underwater paradise.
Well, at least that was supposed to be the case. The truth is that the Poseidon Undersea Resort has been in the making for more than 15 years. And while we are sure this will be well worth the wait, imagine what the more than 150,000 people on the waitlist for a reservation are thinking.

5. A Classic – La Sirenuse (Positano, Italy)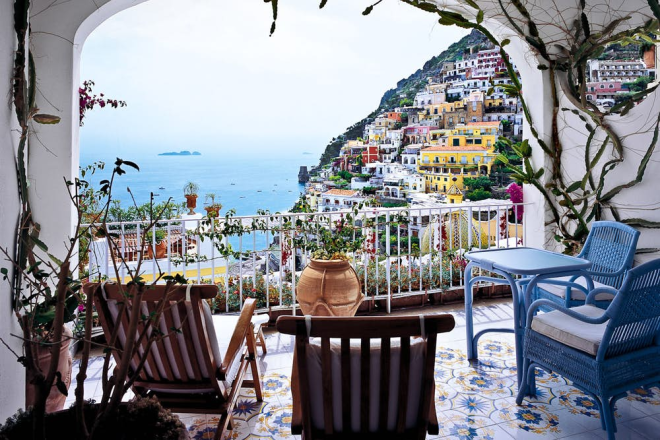 There is something about coastal European cities that is hard to emulate. They are kind of a novelty when it comes to vacation plans. You hear people talking about big centers and how fun it is to learn about the culture of a massive European capital and everything that has happened there over the centuries. But if you really want to learn about a culture and what makes a lot of those countries what they are, you must venture to places where globalization doesn't have as big of an influence as it has on the major cities.
When talking about Italy, we found the perfect spot for your next adventure. You won't find massive cathedrals or busy urban centers, but places like the Amalfi Coast have everything a traveler would want in a voyage. The name of this hotel is La Sirenuse in the town of Positano.

4. A Frigid Dream – The Kakslauttanen Igloo Village (Finland)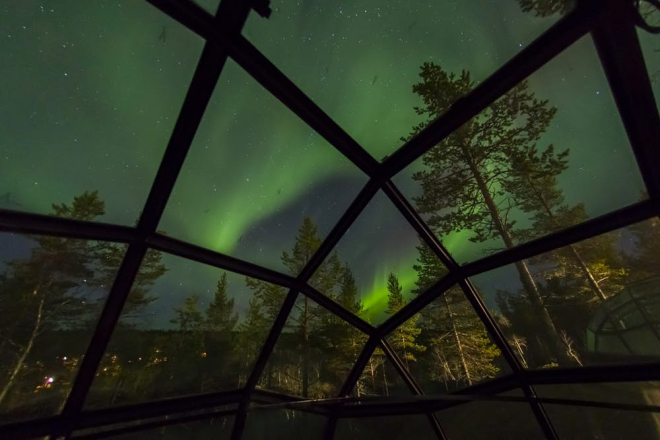 Some people like the scalding heats of a tropical beach in the summer, but there are also those who better enjoy snowy landscapes. This is a place for those people. If you are someone who loves the winter and wants nothing more than to spend your vacation in a place where you can thoroughly enjoy the winter experience, Finland has the perfect spot for you. The Kakslauttanen Igloo Village is as unique a place as they come. After all, how many spots in the world where someone can spend their vacation sleeping inside a glass igloo are there?
From dog sleds to skiing to reindeer sleds, there is no shortage of activities for a person to enjoy their vacation in this Finnish paradise. Would you rather sit on a beach and enjoy the sun or lounge inside your igloo and watch the aurora borealis?

3. Beautiful Doesn't Cut It – Mykonos Blu Resort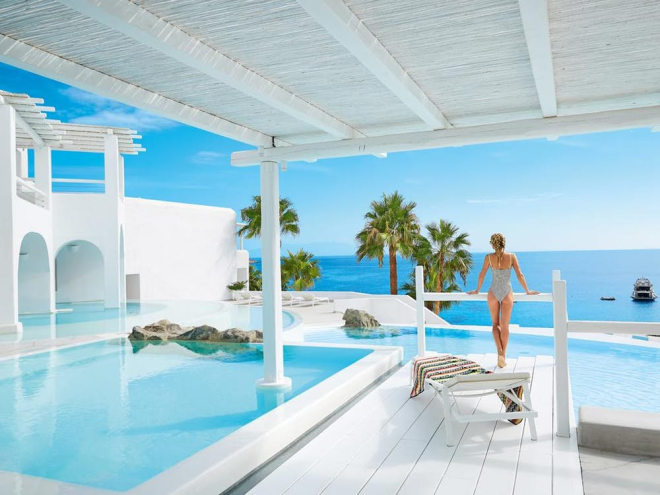 A lot of places are known for their waters. However, it will be hard for anyone to find a place with water as beautiful as the sea of Mykonos. Arguably the most famous Greek island for tourism purposes, there is good reason for this place to be known throughout the world. Mykonos is hardly a big place. The island's population is of just a little over 10,000 people. Nor is the island large in terms of territory, as it expands about 40 square miles.
Nevertheless, the tiny island is a place that has a history as grand as the amount of tourists it draws from all corners of the world every year. Do you need any proof of that? Well, according to Greek mythology, the island was formed from the petrified bodies of giants Hercules killed. There is also this stunning view from the Mykonos Blu Resort.

2. Not Too Far – Ice Suite At The Hôtel De Glace (Québec)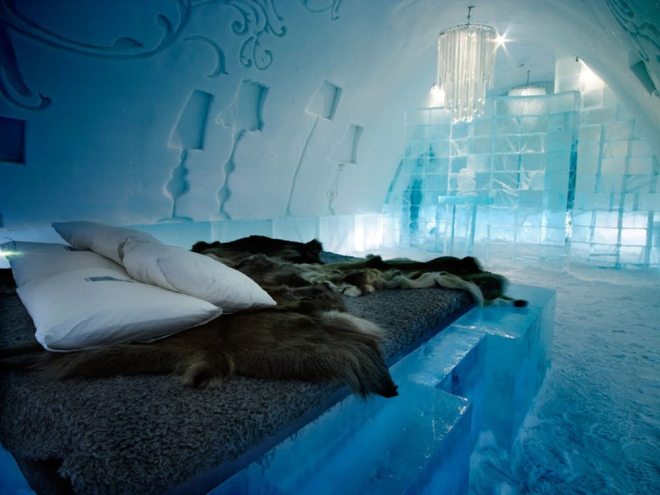 If you are one of our many North American readers, we found a sweet hotel room near your home turf. We are talking about the Ice Suite at the Hôtel de Glace in Québec. On their website, one of the lines the staff uses to invite people to spend some time in the hotel is that at the Hôtel de Glace, guests can experience the "ultimate Nordic adventure."
After taking a look at one of their rooms, we would not dare to defy that notion. We don't know how often the ancient Nordic folks lay in beds with frames made of ice, but it sounds pretty Nordic to us. On the other hand, if you are someone who does not enjoy the cold, we strongly encourage you to stay away from this place. Otherwise, this has to be one hell (pun intended) of an exciting vacation.

1. A Sweet Getaway – Hotel La Reserve (Paris)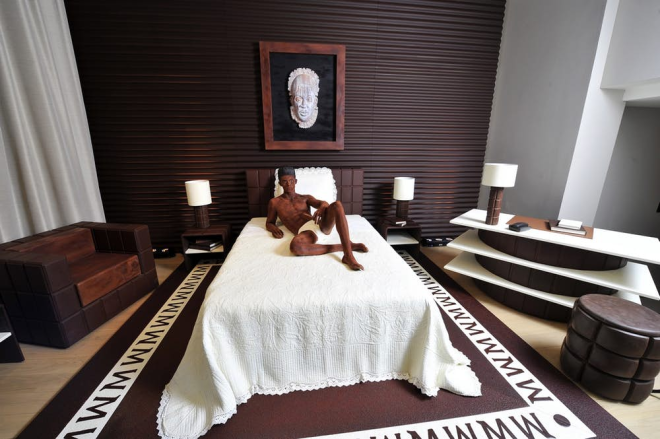 They say vacation is the perfect time for you to put on some pounds. After all, you spent the entire year getting your body ready for the summer or whatever time of the year you take your vacation. So, why not choose a place where you can put on enough pounds to keep you busy for the rest of the working year?
If you are a sweet tooth as we firmly believe many of our beloved readers are, get ready for a treat you probably did not expect. Hidden somewhere in Paris at the La Reserve hotel, there is one exclusive hotel suite that was designed by Karl Lagerfeld. The catch is that almost the entire suite is made of chocolate. Yes, you could eat your hotel room. How can anyone ever beat that? Just make sure you don't eat Karl's muse, Baptiste Giabiconi.