So you need an alternative for your NYE vacation. And while we all know Vegas, Miami, and New Orleans go off, well, we all know it. So if you're looking to travel to ring in 2017, and want a great party that the whole world might not be at, we suggest these 12 places that do NYE as well as anyone.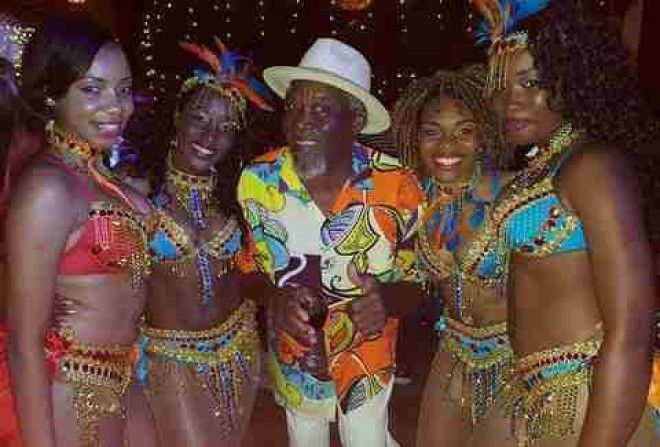 Jost Van Dyke, British Virgin Islands
Even after Hurricane Irma swept through the BVI this summer, the party at Foxy's must go on. The Caribbean's most sought-after Old Year's Night party will rage on in 2017, with a Roman Empire theme, which means togas aplenty. The party draws yacht owners from around the world to the bay at Jost Van Dyke, plus celebs like Michael Jordan and Richard Branson. They're all up in the VIP area, but down below there's an all-night concert on the beach where the young, rich, and beautiful ring in the new year like only wealthy people on vacation can.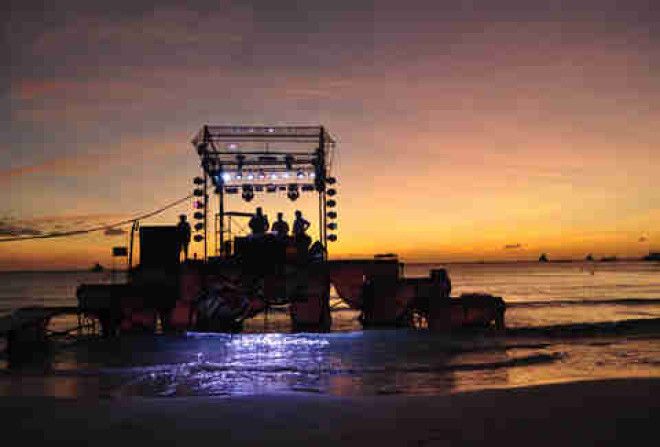 Boracay Island, The Philippines
The most picturesque place in the world to take in the final sunset of 2017 will be along White Beach on this tiny island south of Manila. The great thing about the party here is that it takes exactly zero preparation to go from your daylong beach pre-party to the full-fledged NYE party, since all the action centers on the strip of bars along the sand. Chill in shorts and flip-flops at night just like you would in the day, and watch the epic fireworks show near Station 2. If that countdown gives you a second wind? Just keep those shorts on and rage on until the sun comes up again on 2018.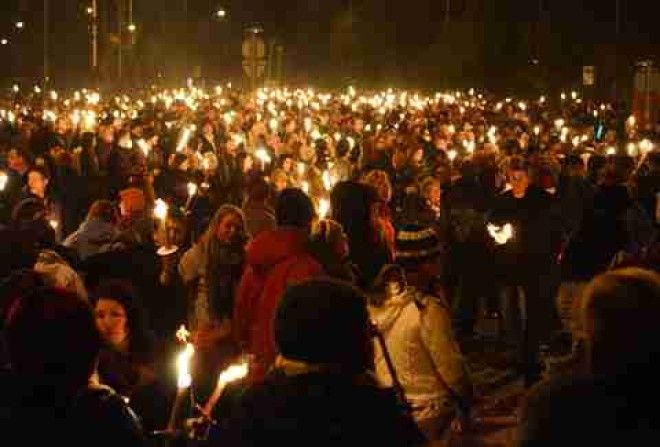 Edinburgh, Scotland
You hardy enough to loiter in city streets when it's 40 degrees and drizzly? Boy, has Scotland got an outdoor festival for you. Locals spend the three-day year-end celebration Hogmanay outside beginning December 30, when a processional of torch-carrying partiers walk from Parliament Square to Calton Hill for Edinburgh's New Year's Eve fireworks display. Round 2 goes down on the 31st, when street parties and music festivals dominate the daytime, and 4.5 tons of fireworks over Edinburgh castle dominate the night. This culminates in what some claim is the world's largest rendition of "Auld Lang Syne," sung by literally everyone pouring out of the city's bars. New Year's Day brings more outdoor rigors: a run down the Royal Mile, a polar plunge into the River Forth, or the traditional dogsled race.
Rio de Janeiro, Brazil
Rio is one of those places that never needs a reason to party, hence its status as one of the best party cities in the world. But on a day where every town on the planet is throwing some kind of party, it's no surprise Rio blows nearly all of them out of the water at Copacabana Beach. Revelers decked out in all white -- said to bring luck in the new year -- pack the shore, where the summer heat is made considerably more tolerable by the perpetual spraying of Champagne along the sand. At midnight, people ceremonially throw flowers into the ocean as a tribute to the sea goddess Yemanja, though the party is so raucous some don't even notice.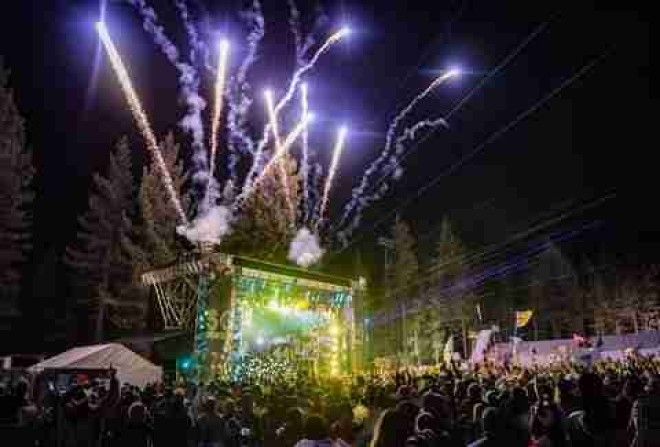 South Lake Tahoe, California
Even on a random weekend in January, South Lake Tahoe is one of the best small cities in America to spend the weekend. But on New Year's Eve? It's packed with Californians there to gamble, ski, and après-ski for the holiday, and hosts the annual SnowGlobe Music Festival, arguably America's best cold-weather EDM event. This year's headliners include the Zedd, Porter Robinson, and Dillon Francis, and even if you're not into electronic music the atmosphere the festival brings makes for a world-class party.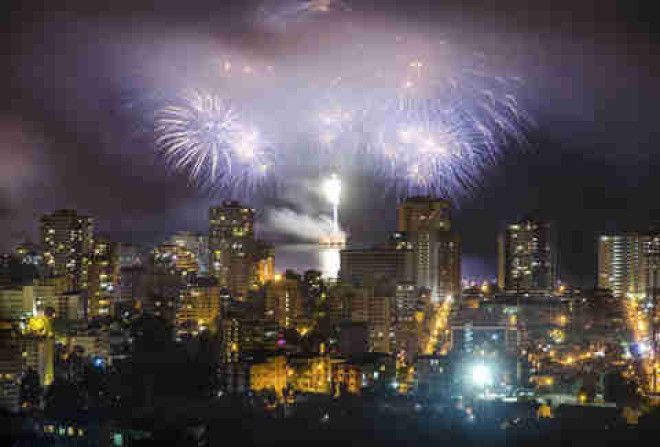 Valparaíso, Chile
Not to be confused with your favorite NCAA bracket-buster, this Chilean city (pronounced and spelled differently than that school in Indiana) boasts the second-longest NYE fireworks display in South America. And the display is pretty much an afterthought of the three-day bonanza that goes down on the beach in Chile's oldest port city. It all starts on December 28 and over the next three days roughly a million people make their way to the beach. The culmination is a pantheon of pyrotechnics, where 17 barges stretching from Valparaíso to Viña del Mar blast fireworks for nearly half an hour. Once it's over, the party most certainly is not, as tens of thousands from that million stick around and bang on until sunrise.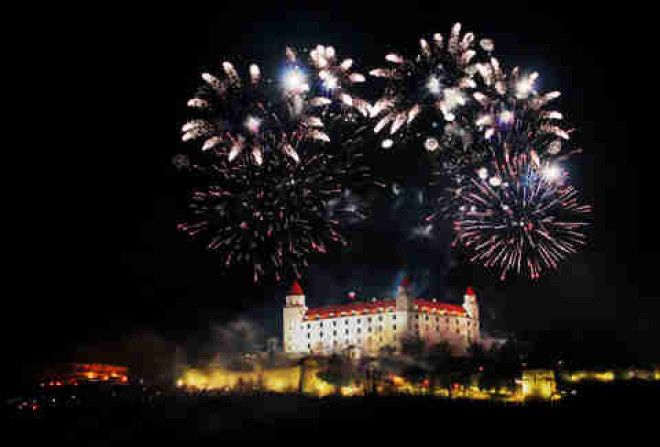 Bratislava, Slovakia
Yes, nearby Austria has a pretty solid New Year's scene as well. But the parties there are more the type you'd see in a Merchant Ivory film. The scene in Bratislava is like what you'd find in EuroTrip. Eastern Europe's best NYE goes down in the Slovakian capital's city center, which turns into a car-free pedestrian zone dedicated by day to live concerts and by night, epic parties on the Main Square and Hviezdoslavovo Square. The adjacent squares are surrounded by bars and restaurants overflowing with tens of thousands of people. And at midnight, fireworks explode over the Danube, as Slovakians use wooden noisemakers called rehtacka to chase away any of the past year's lingering bad vibes.
Berlin, Germany
You might actually see Berlin's famous New Year's Eve party on TV, since the annual Silvester celebration on the Party Mile near Brandenburg Gate draws a million people, and some first-tier rock bands. But what you probably won't see is the after-party in one of the world's best party cities, that can go till noon the next day. Or the annual Berlin Silvesterlauf the afternoon prior, a "pancake race" where runners have to flip pancakes as part of the event. Also not televised: the annual free 4K New Year's Day race, where people who got to sleep before 8am burn off a few of those New Year's drinks.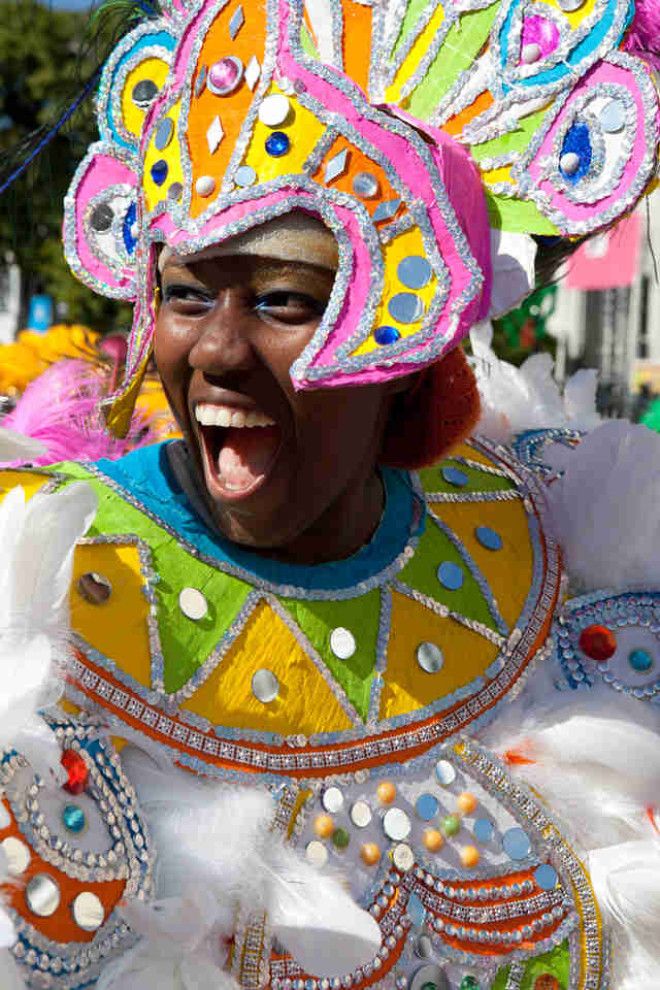 The Bahamas
Almost every country in the Caribbean has its version of Carnival. The Bahamas just chooses to do its version at New Year's, when boisterous Junkanoo parades fill the streets of Freeport, Nassau, Alice Town, and other cities around the islands. The parades are an island Mardi Gras ripe with small outfits, soca music, and the uninhibited vibe you're looking for on New Year's Eve. Most of said parades end with all-out beach parties and, of course, the requisite fireworks displays over the islands. If Nassau is your pick, also scope the behemoth Baha Mar, a $4.2 billion resort that's still coming online since opening in the spring. Keep the party going at posh pools, a white-sand beach, dope restaurants -- hit Cleo for exceptional Mediterranean small bites -- and a spanking-new casino, the Caribbean's largest.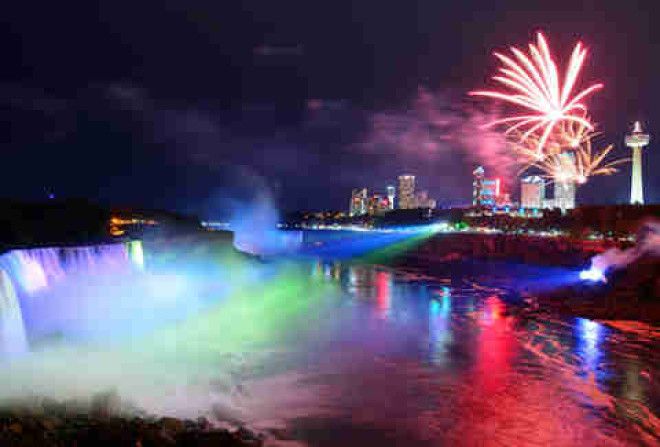 Niagara Falls, Ontario
Though this party takes place near the US-Canada border, the event is distinctly Canadian. You can see the fireworks from both sides, but the real party lies north of the border in Queen Victoria Park, where an all-Canadian lineup plays a nightlong concert leading up to not one but TWO Canadian fireworks displays. The biggest NYE crowd in Canada jams into the park and try and keep warm with food and drinks until the colors hit the sky over Niagara Gorge at midnight.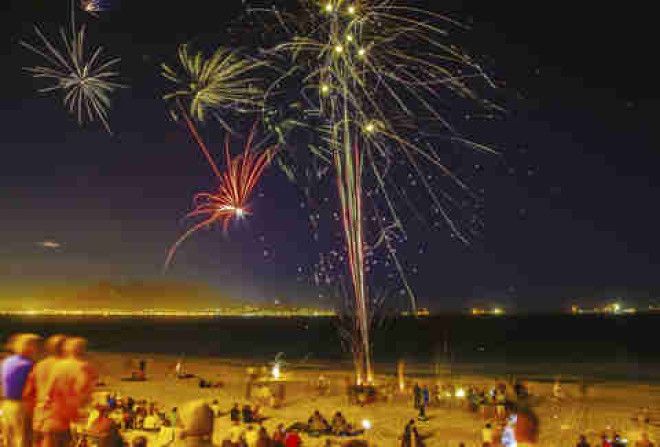 Cape Town, South Africa
Watching fireworks over the water is fun, until you find yourself 900 rows deep and looking up into the sky at fireworks that you can't even see reflect on the water's surface. However if you want to spend the warm summer day camped out atop Cape Town's Table Mountain, you can catch the show with a perfect view out over the water and the city below with minimal people blocking your view. And that's just the beginning of the party. The revelry continues well into New Year's Day, culminating in the Cape Town Minstrel Carnival Parade, where 10,000 people in painted faces wind their way through Cape Town to ring in 2018.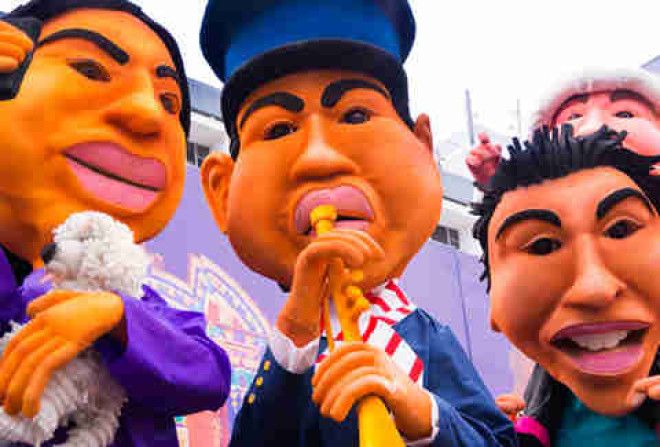 Quito, Ecuador
Has somebody who wronged you in 2017? Or maybe there's a celebrity or political figure who made your life miserable? Quito is your New Year's spot, which in addition to being one of the best up-and-coming food cities on the planet also has one of its coolest New Year's traditions. Here, locals take to the streets with scarecrow-like effigies called "viejos," made to represent people who did them dirty, sometimes with the grievances written right on the body. At midnight they burn them in the streets, symbolically purging the bad from the previous year and ringing in the good. Every little bar in every little neighborhood has a party, and people are welcoming to visitors who want to celebrate with them.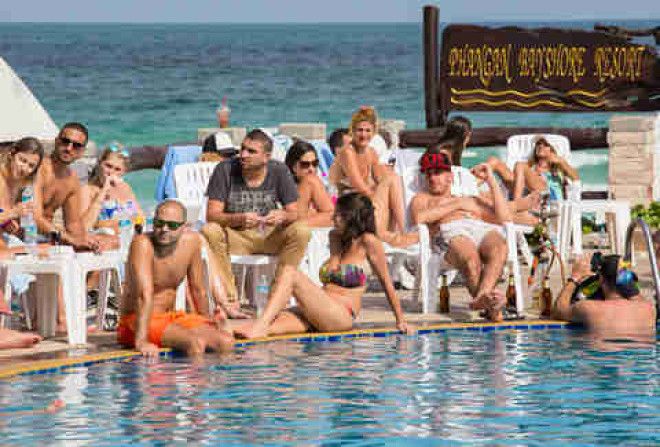 Koh Phangan Island, Thailand
By day, it's a breathtaking beach of emerald water and thick palm trees. But on December 31, this usually laid-back beach plays host to one of the most intense New Year's parties in the world, an almost-daylong celebration that runs from sunset well into the next afternoon. Haad Rin Beach is where most of the action is, so if you're trying to pace yourself, don't head that way until close to midnight. Then take your time hopping from bar to bar, where fire limbo, fire jump rope, and all kinds of other fire-filled activities await. The after parties can go on as long as you can, and on an island where every hotel is full of people staying out late, sleep might not be an option.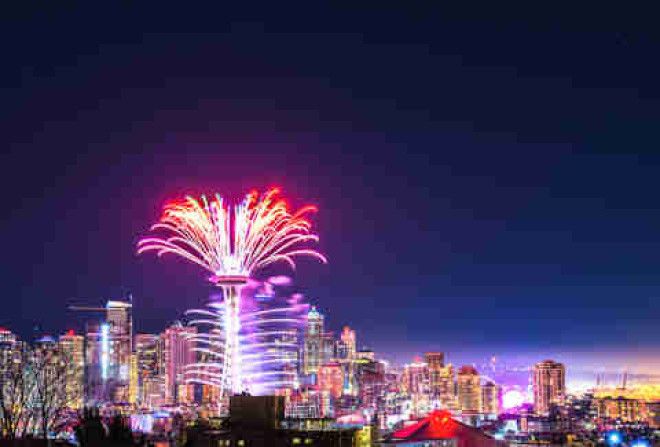 Seattle, Washington
Watching fireworks spring out from the Space Needle is one of the most iconic images of New Year's Eve in America, and the cool thing about Seattle is you can see it from a ton of different places. Sure, you can join in the revelry at Seattle Center, where the crowds are far thinner and far warmer than in Times Square. But for a bigger perspective head to one of the many parks with views of the Needle, such as Gas Works, Alki Beach, or Kerry Park, where all the best pictures of America's best skyline come from. Seattle also has some of the best and more varied beer in the country, so you'll have a lot more to celebrate with than just Champagne.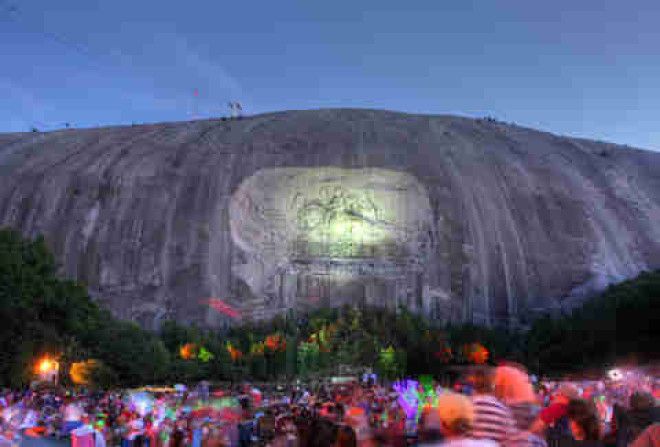 Atlanta, Georgia
For a less-freezing, cheaper ball-dropping experience, the ATL's annual peach drop over Underground Atlanta is an outstanding alternative. In a recent Wallethub study, Atlanta rated just behind Orlando and New York as the best city to ring in 2018, ranking highly for its expansive food and drink options and relative affordability. In addition to the peach drop, you can also hit up the Buckhead NYE Block Party, where this year the Grand Hyatt will host a silent disco and a headlining performance from Kap Slap.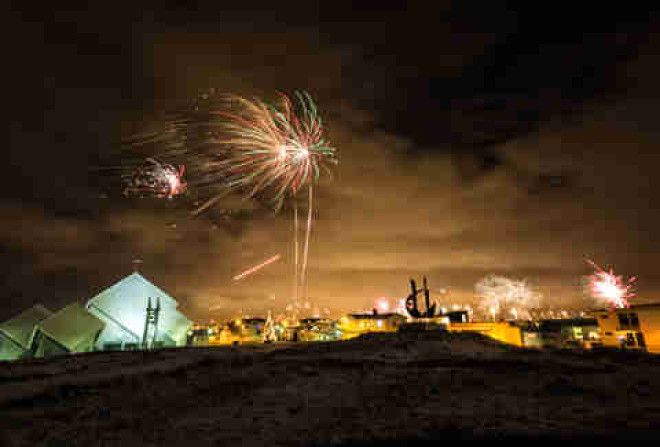 Reykjavik, Iceland
When you've only got sunlight for, like, four hours, any excuse to light up a fire in the middle of the afternoon seems like a good one. That's why Icelanders start the New Year's festivities a little before 4pm, with bonfire parties all over the city, meant to burn away the previous year's negativity. From there pretty much everyone in Reykjavik has their own little private fireworks show, leading up to the main national display with literally tons of fireworks exploding over the city. On good years, the Northern Lights have even been known to join in the fun, but even lacking those, Iceland's newfound reputation as a party destination has made its clubs on this night some of the best in the world. Icelanders are personally quite friendly, if in a droll way. Just make sure you pack your wallet, get ready for mind-blowing scenery