Can you imagine having a bad day caught on camera that will haunt you for the rest of your life? Women are even more criticized on a daily basis so constantly being photographed just leads to more opportunities to be scrutinized. Celebrities live their lives under the microscope and they know what they signed up for but you can't help but feel bad for these stars that were caught in unfortunate predicaments.
Celebrities' pasts follow them around wherever they go because there will always be these images of them that will be available for anyone to find whenever they want. Some of these celebrities may wish that they could just pay to have these photographs removed from the internet, but unfortunately, it is not always possible to do. Here are 15 paparazzi photos these female celebs wish were deleted from the internet.

15. Paris Hilton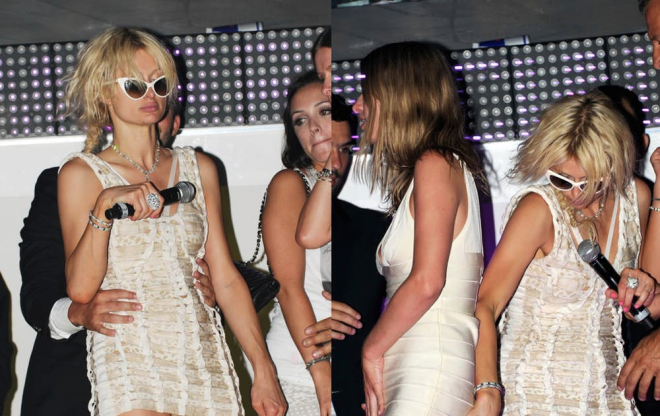 In the mid-2000s, Paris Hilton was constantly in the tabloid headlines for throwing crazy parties, getting wildly intoxicated, and spending loads of her father's money. It was a pretty regular occurrence for the blonde beauty to be seen posing for paparazzi photos at events and even tipping them off about where she would be and when.
Although Paris has taken up the art of disc jockeying in clubs, her wild party days have certainly calmed down a bit. The 36-year-old probably wishes she had not been so open to allowing photographers to get shots of her while she was that intoxicated. She claims to be serious about crafting her career as an entrepreneur but the hotel heiress will have to live with these photos of someone having to hold her upright while she was out of it at a nightclub for the rest of time.

14. Lindsay Lohan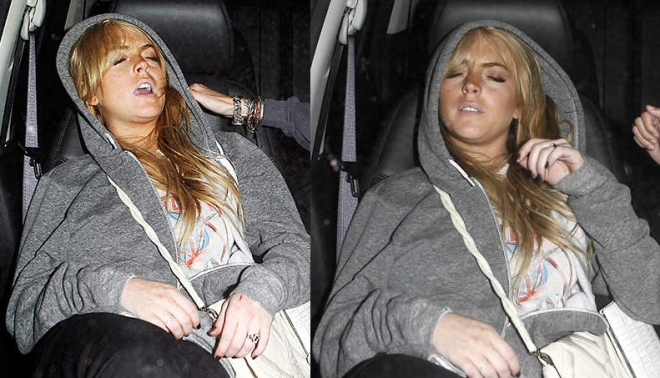 Lindsay Lohan has a long history of partying, drug use, and reckless behavior. The paparazzi certainly caught her in more than a few compromising situations over the years but some photos just stand out as worse than others. The actress has been arrested more times than one can count and has a terrible reputation in the entertainment industry.
Lohan has been charged with drug use and possession, driving under the influence, and even had to spend some time in jail for failing to attend a court-ordered class. Over the years, Lindsay has either stopped partying so much or has at least gotten better at hiding it. Even if she did manage to clean up her act, these photos would still impact her ability to get any decent work in the acting world.

13. Mariah Carey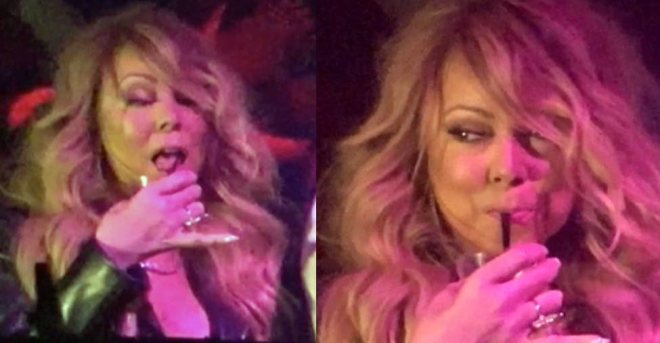 Mariah Carey has not had the easiest time over the last few years. She went through a divorce with the father of her two children, Nick Cannon, and also completely botched her performance of "All I Want For Christmas Is You" last year. The 47-year-old was caught back in 2016 by the paparazzi while she was out partying in Vegas.
The singer was looking pretty sloppy and sipping on a ton of drinks. This is not the first time that photographers have caught Carey looking a little worse-for-wear but these photos were certainly memorable enough for people to still be talking about them. Mariah was seen dancing with multiple men and continuously grabbed the microphone to lead the crowd in toasts and stood in the DJ booth for basically the entire night.

12. Kim Kardashian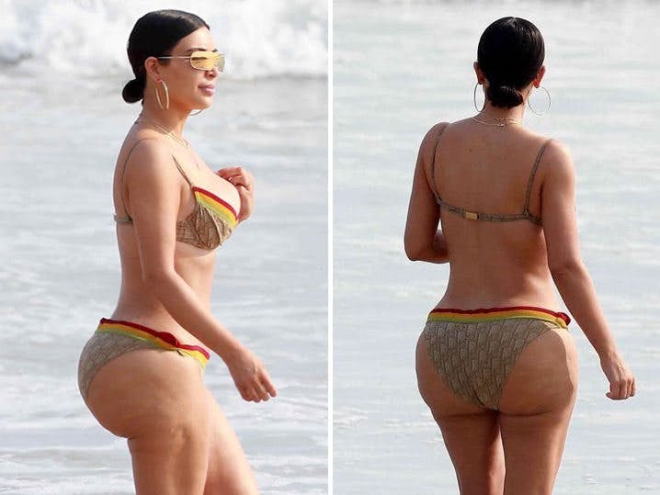 Earlier this year, reality star Kim Kardashian decided to take a trip to Mexico with some girlfriends for her sister Kourtney's birthday celebration. The Keeping Up With The Kardashians star was hoping to have a private vacation on a secluded island, but of course, the paparazzi discovered her location before long. Photos of the voluptuous mother of two on the beach in a bikini went viral almost immediately.
The images showed Kardashian's body in a new light and fans immediately began accusing her of Photoshopping her own photos way too much. The paparazzi captured shots of her backside with lots of cellulite visible. The reality star attempted to claim that the photographs had actually been retouched to make her look worse but the publicity damage had already been done.

11. Britney Spears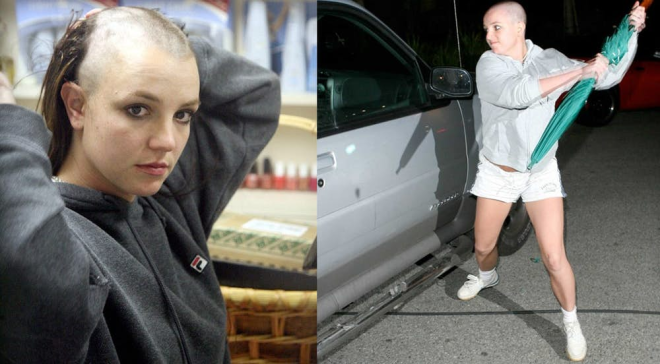 10 years ago, Britney Spears walked into a hair salon in Tarzana, California and shaved her hair off with a buzzer. The paparazzi caught the whole thing on camera, which made the pop singer furious so she walked out of the salon and attempted to whack a photographer's car with an umbrella.
Spears later apologized for damaging the paparazzo's SUV and claimed she got "a little carried away" preparing for a role in a movie, which was what led her to unleash on the photographer. Britney did not get the film role and was accused of trying to cover up drug use by shaving her head. These photos are now infamous and Spears' probably wishes she could delete them forever but unfortunately, they will continue to haunt her.

10. Christina Aguilera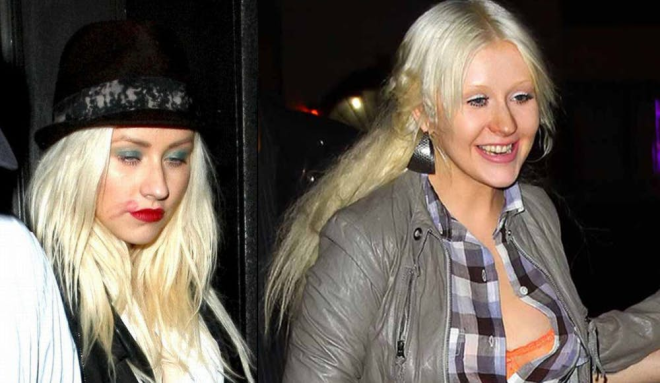 Christina Aguilera is a hit-making superstar but even the most famous of people can have rough days. Naturally, the paparazzi were there to capture her bad moment. Aguilera was into wearing heavy makeup for a few years at one point and it came back to bite her in the end. She was caught in this unflattering shot with makeup smeared all over her face after leaving an event.
On the other hand, the singer has been snapped by the paparazzi looking terrible in the exact opposite way. Christina has been photographed with no makeup on, her eyebrows appeared to be extremely thin, and her hair was looking all kinds of messy. Surely, the pop star would be a lot happier if these embarrassing photos did not exist on the internet.

9. Tara Reid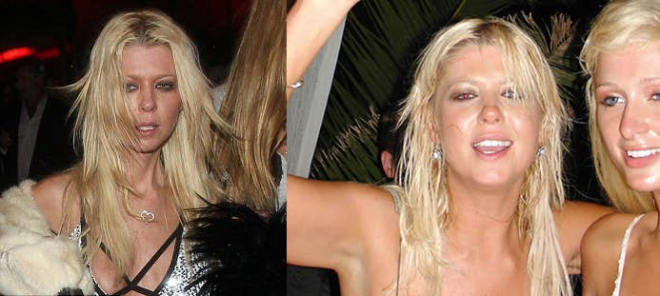 Tara Reid is sometimes referred to as the "original party girl" of the 90s. After starring in the American Pie films, she became known as a woman who liked to go out and drink, was photographed getting sloppy at clubs with other celebrities (note Paris Hilton above), and hooked up with a lot of men. She also frequently presented a worrying slender frame at events and has been accused of having an eating disorder.
Reid has always denied having an eating disorder but there was no denying her bad girl ways. There are more photographs of Tara Reid looking disorderly than one could count. The actress is now 42 years old and has slowed down on the partying a bit. Surely, the incriminating paparazzi photos have come back to haunt her in one way or another.

8. Miley Cyrus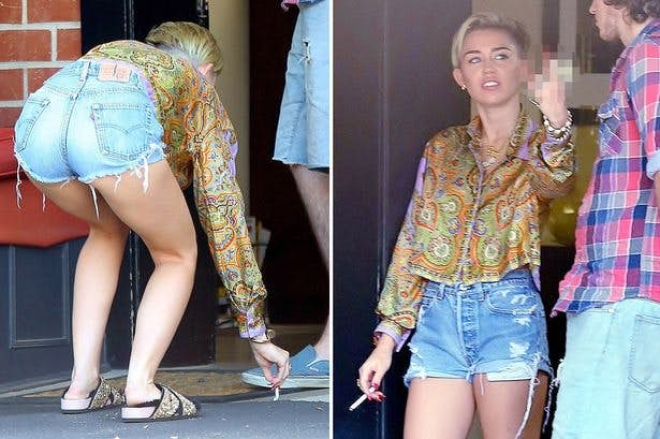 Miley Cyrus was once an innocent, young Disney Channel star but once she got older, she had a strong desire to break free of that image and try something new. For the first few years of her musical career, Cyrus did everything she could to make herself seem grown up and make it known that she could do whatever she wanted. She was known for her inappropriate behavior, suggestive dancing, risqué outfits, and recreational drug use.
Recently, Miley has gotten back together with her fiancé Liam Hemsworth and has decided to clean up her act. The singer has stopped smoking the devil's lettuce, grew her hair back out, and stopped dressing so outrageously. She is now a judge and a coach on the singing competition show The Voice. Cyrus' bad girl days may be behind her but unfortunately, the paparazzi photos will last a lifetime.

7. Nicole Richie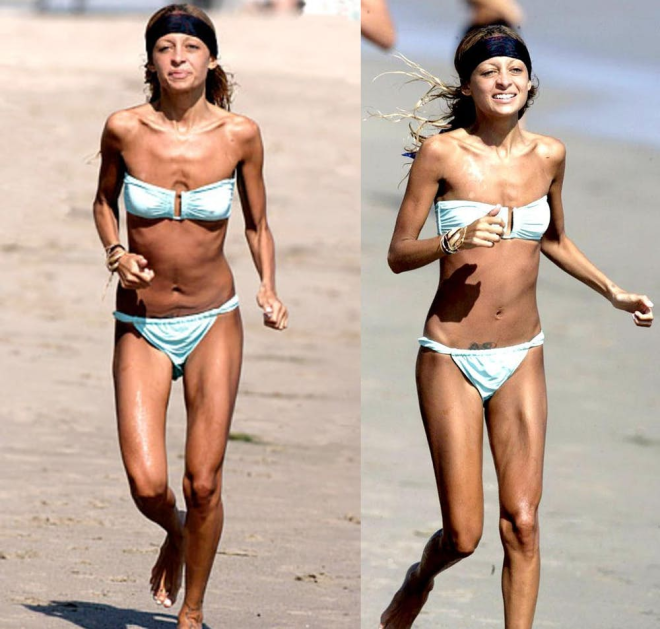 Nicole Richie is another reality star who was known for her partying ways but cleaned her act up as she aged. However, before Richie was the happily married woman with kids that she is today, she struggled with an eating disorder for some time. While she starred on the reality show The Simple Life with Paris Hilton, she was a bit overweight. Shortly after, she began to look thinner and thinner every time she was photographed.
Richie had been looking thin for months but when she shocked everyone when the paparazzi caught these photos of her running on the beach in 2006. She admitted that she was "too thin" and has since gone on to get help for her eating issues and has a healthy-looking figure. However, it cannot be pleasant to have to relive those tough times with the startling paparazzi photos.

6. Pamela Anderson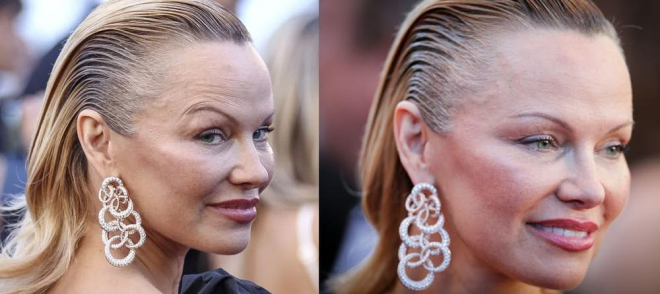 It is no secret that Pamela Anderson has had a lot of plastic surgery over the years but she had people shocked when she arrived at the Cannes Film Festival in 2017 looking almost unrecognizable. The Baywatch actress had her hair slicked back, wore minimal makeup around her eyes, and displayed pencil-thin eyebrows.
In some of the photographs from that evening, Pamela looked glamorous, however, some paparazzi caught some very unflattering shots of the 50-year-old. The shots captured the blonde bombshell in some bad lighting which revealed her clumpy hair gel, caked-on makeup, and pulled-back skin. The actress has been tight-lipped about the cosmetic procedures or surgeries she may or may not have had. Although, it is quite obvious that something was done because she looks a lot different than she did even just a few years ago.

5. Selena Gomez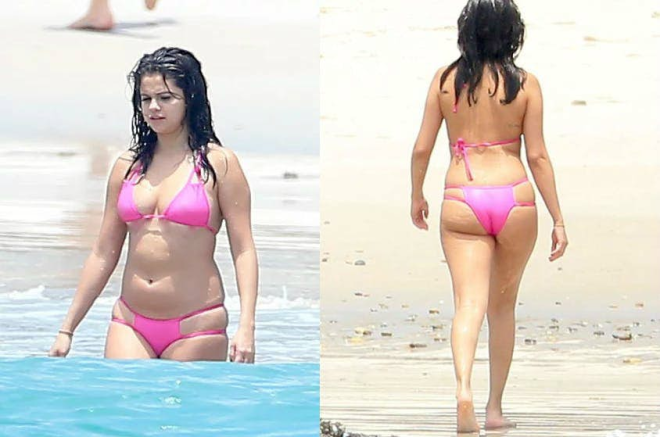 Selena Gomez is arguably one of the most attractive pop stars in the world. The singer is rarely spoken about negatively in the press but when photos came out of her wearing a not-so-flattering bikini, she got a taste of the hate that many celebrities deal with on a regular basis. Gomez was fat shamed because of the paparazzi photographs that were taken of her on vacation in Mexico.
Selena later said that she had never "been called fat" before and was shocked that she received so much criticism just because she was wearing a bikini that was "technically" a "little too small" for her. She called the entire incident "degrading" but said that she was not going to let the haters win by letting it bother her.

4. Bella Thorne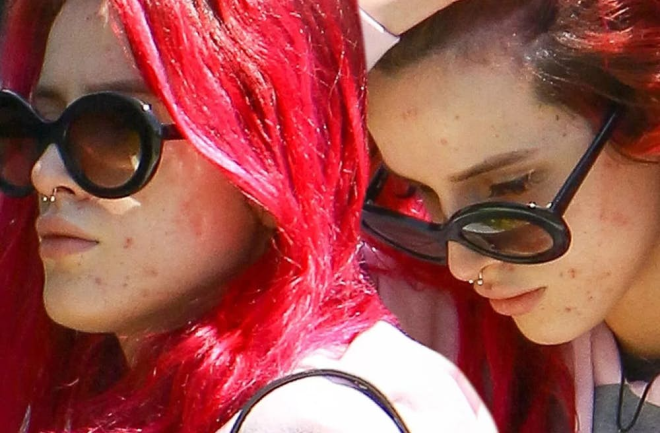 19-year-old Bella Thorne is constantly in the tabloids but after the paparazzi caught her without any makeup on and a face full of pimples, the former Disney Channel star opened up about her struggles with acne. She may not have been thrilled with the terrible paparazzi photo that captured her spotty skin but it did give her a platform to discuss a problem that many young women and men struggle with on a frequent basis.
The actress is now spotted on a regular occurrence without makeup and proudly displays her pimples for the world to see. While sometimes her skin is perfectly clear, other times it is completely covered with inflamed acne but she let other people know that it is "normal" to have to deal with skin problems and that she was not going to be made to feel "self-conscious" or "bad" about herself because of it. Regardless, she still probably doesn't love to see this photo of herself on the internet.

3. Beyonce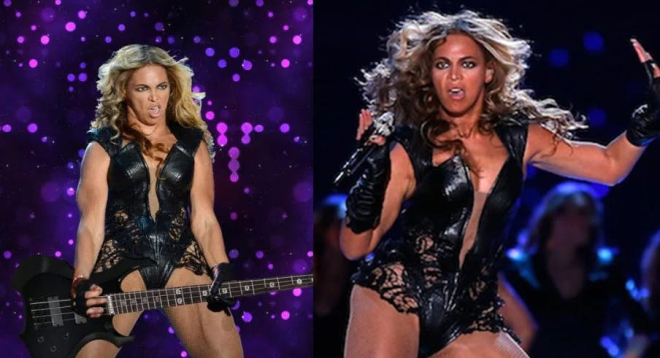 Beyonce quite literally shut down the Super Bowl after she performed at the halftime show in 2013. Her performance was unforgettable but the photos that came out afterward made an even bigger splash. Throughout her fierce performance, photographers caught some candid shots of the superstar dancing and her face did not look as flawless as she would have liked.
Beyonce is a celebrity who takes extreme caution and places a lot of thought into her appearance and her public image. When some of the photographs of her began to surface online, her representative reached out to news outlets like Buzzfeed, asking for some of the most "unflattering" ones to be "respectfully" changed. The photos remain up on the internet to this day and Beyonce is probably still working to get them removed.

2. Tori Spelling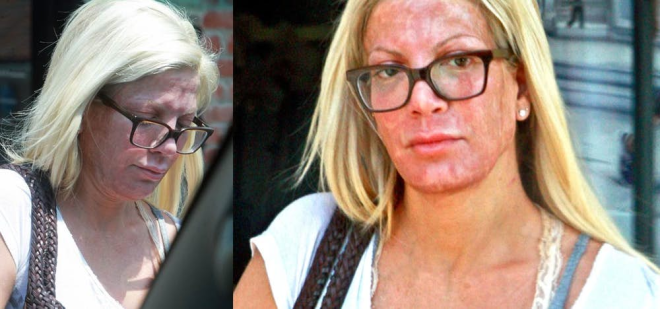 Celebrities spend lots of money and endure lots of pain to look and feel their best. The competition is high in Hollywood to look perfect all the time. Tori Spelling was just trying to get a skin peel done at the spa back in 2015 when the paparazzi caught her leaving and snapped shots of her horrifying skin.
A face peel takes off layers of skin and the results are often a red, blotchy face. It can take up to a week or more for the skin to completely heal and Spelling was most definitely aware of how she would look after the cosmetic treatment. Regardless, it was not exactly a great photo of her and she probably wished she had hidden her identity with a hat or brought an umbrella with her that day.

1. Tyra Banks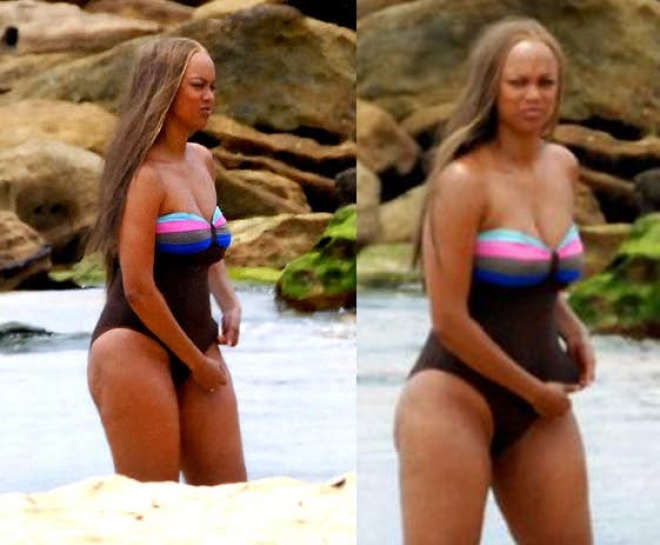 Over 10 years ago, Tyra Banks was photographed on a beach in a one-piece bathing suit. Paparazzi sold an unflattering shot to the tabloids and the supermodel was immediately slammed in the media for looking "fat." Headlines read "Thigh-ra Banks" and "America's Next Top Waddle." The star was so furious by the way the media was portraying her and the public was fat-shaming her that she delivered a now-famous speech on her talk show shortly after the photos surfaced.
Banks came out on stage wearing the exact bathing suit that she was photographed in. She explained in an empowering monologue that resulted in her telling all of her critics to "kiss [her] fat a**." The statement soon became one of the greatest moments in daytime talk show history and she received an overwhelmingly positive response from women around the world.