While you may not have pegged these movie stars as petite, it will surely be a learning experience to realize the height these 15 fantastic female movie stars embody. They are certainly above average. Along with their talent, fame, and undeniable beauty, they stand tall with model-like height, making them even more noticeable on star-studded red carpets and fancy movie premiers. And who doesn't love a celeb with more to marvel at? Tall and towering, these talents have us looking up!
Some of these 15 female celebs have been in the public eye for years, while others are relatively new to the Hollywood game, but all have one thing in common — lots of inspiring inches! Sure, we can put on a pair of 5-inch stilettos, but barefoot, most gals won't even come close to the height of these 15 honeys.
Take a look at these big screen beauties and their stats. Are you surprised by their height or were you already well-aware of their closeness to the heavens above?

15. Gwyneth Paltrow: 5'9"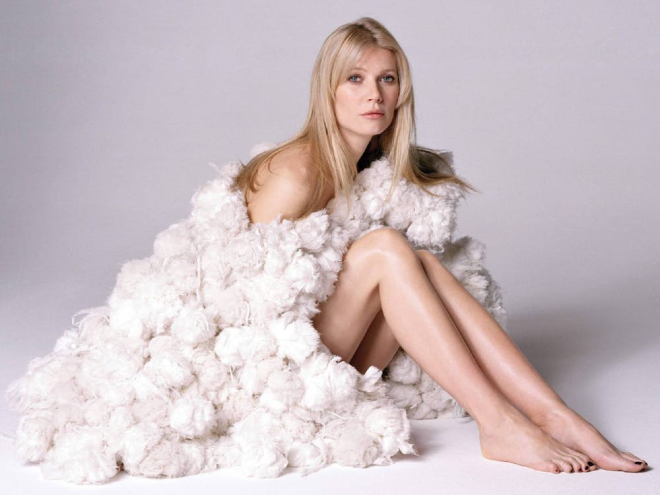 The talented and pretty Gwyneth Paltrow has been on the A-list for a long time, proving that a movie star with drive and determination can stay in the public eye for as long as she desires. Not to mention, with looks like hers, fans can't get enough of the fit and fantastic blonde beauty. At 45 years old, Paltrow looks better than ever, and she is always on top of her game. We all know she's a stunner, but did you realize that the actress is 5'9"? That's one tall drink of water! Whatever the actress is recommending on her Goop website is certainly working! We have adored the lovely actress in movies including Iron Man, Seven, Emma, Shakespeare in Love, Sliding Doors, and Shallow Hal, to name a few of Paltrow's best performances. Standing tall and powerful, this mom of two won't lose her love of the limelight anytime soon.

14. Katie Holmes: 5'9"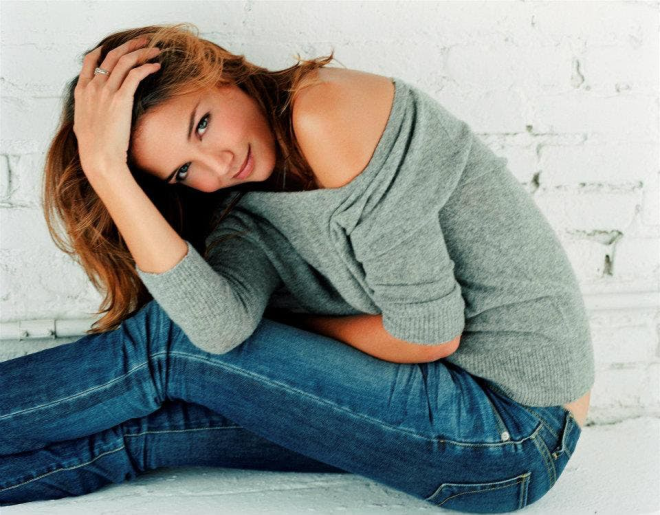 We first got to know the brunette babe, Katie Holmes, from her role on the popular TV show, Dawson's Creek. But since her days of portraying a lovelorn teen, Holmes has had a long-running career in movies and her star power isn't fading in the slightest. Fans loved watching the former Mrs. Cruise in movies including All We Had, Wonder Boys, First Daughter, Jack and Jill, Touched with Fire, and Batman Begins, as some examples of Holmes' fabulous work on the big screen. The mom is 5'9" tall, making her a real knockout with a great body and a gorgeous face to match. Rumor has it she's in a relationship with actor and comedian Jamie Foxx, but Holmes is a fox in her own right!

13. Jennifer Garner: 5'9"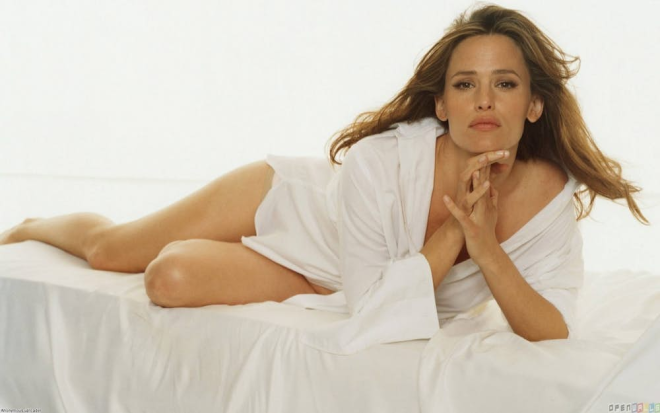 Jennifer Garner may no longer be with ex, Ben Affleck, any longer, but this talented and great-looking actress still has plenty to be proud of. She is a mom of three adorable kids, and at 45 years old, she is still acting with the best of them. Her all-American good looks and sweet personality make Garner well-liked, and she seems to be humble and caring. She is by no means a diva, making her a breath of fresh air among the Hollywood elite. When we think of tall actresses, Garner may not come to mind, but she happens to be 5'9", making her many inches above average. Have you seen the actress in 13 Going on 30, Juno, Dallas Buyers Club, or Ghosts of Girlfriends Past? If not, you're missing out on some terrific films. And Garner shines in every role.

12. Lily Cole: 5'10½"
The 29-year-old hails from the UK and has worked as a much sought-after model and actress. Her unique beauty has intrigued fans who can't take their eyes off the red-haired stunner. You might not have thought Cole was a short gal, but who knew this model and actress was so tall? If you've seen Cole on screen, her facial features likely had you mesmerized, thus making her height play second fiddle. But now, when you see Cole on screen, you'll surely notice her tall frame, as well as her model-like looks. Some of Cole's films include The Moth Diaries, London Fields, The Messenger, and Rage. Stay tuned for more work from this talented and tall star.

11. Liv Tyler: 5'10"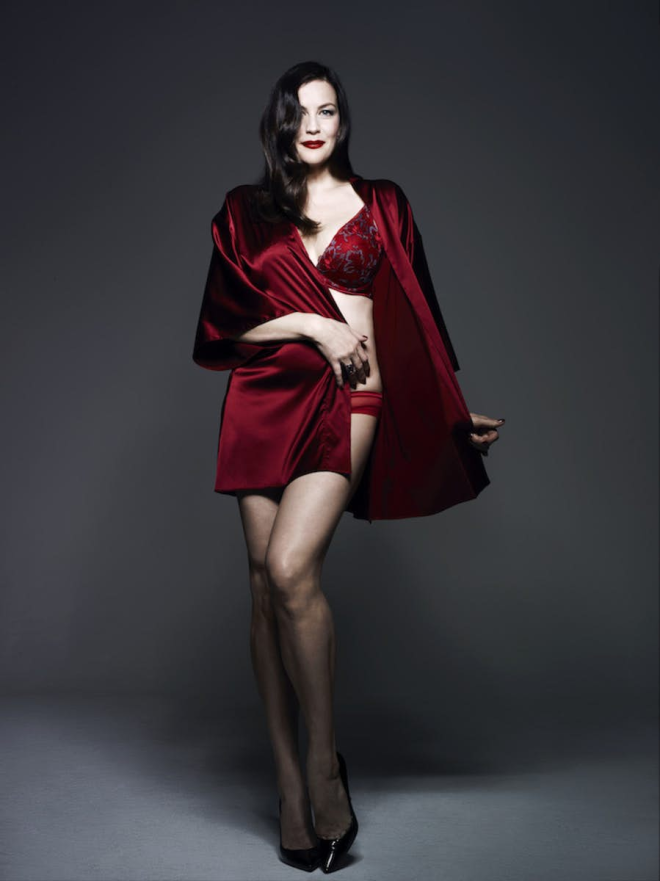 Liv Tyler is undeniably drop-dead gorgeous, but did you know she is also super tall? The big-screen actress and model stands at 5'10" tall, making her a breathtaking sight to behold. Her famous pop, Aerosmith rocker Steven Tyler, is a legend in his own right, but the lovely Liv is on her way to making entertainment history too. At 40 years old, the youthful-looking mom of three is a talented actress who's been in films including Armageddon, The Incredible Hulk, Dr. T. & The Woman, Empire Records, Lonesome Jim, Jersey Girl, One Night at McCool's, and many more. Her beautiful, flawless face, long and shiny brunette hair, and fab feminine figure make Tyler a fan favorite, both for her great looks and raw talent. Great genes surely run in the Tyler family. Long live Liv!

10. Mira Sorvino: 5'10"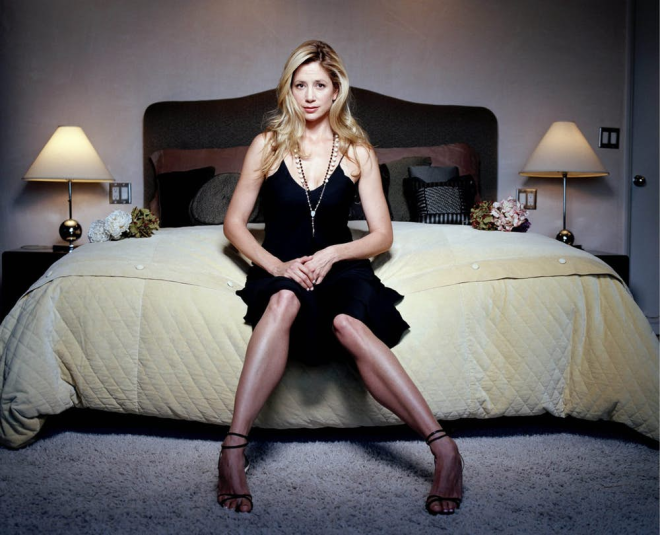 Can you believe Mira Sorvino is 50 years old? She looks like a woman who could pass for a decade, if not two decades, younger. Another thing that may surprise you about the stunning Sorvino is that she is 5'10" tall. Who knew? We all know Sorvino is a sight to be seen thanks to her youthful and natural beauty, but her impressive height may come as a surprise to some. If you are a Sorvino fan, you must have enjoyed watching her act in movies including Might Aphrodite, The Dutch Master, Mimic, Romy and Michelle's High School Reunion, Summer of Sam, Indiscretion, and At First Sight, among her many other films over the years. No matter the role, Sorvino gives her all and does a great job portraying her character. For Sorvino, fifty sure is nifty!

9. Melanie Griffith: 5'9"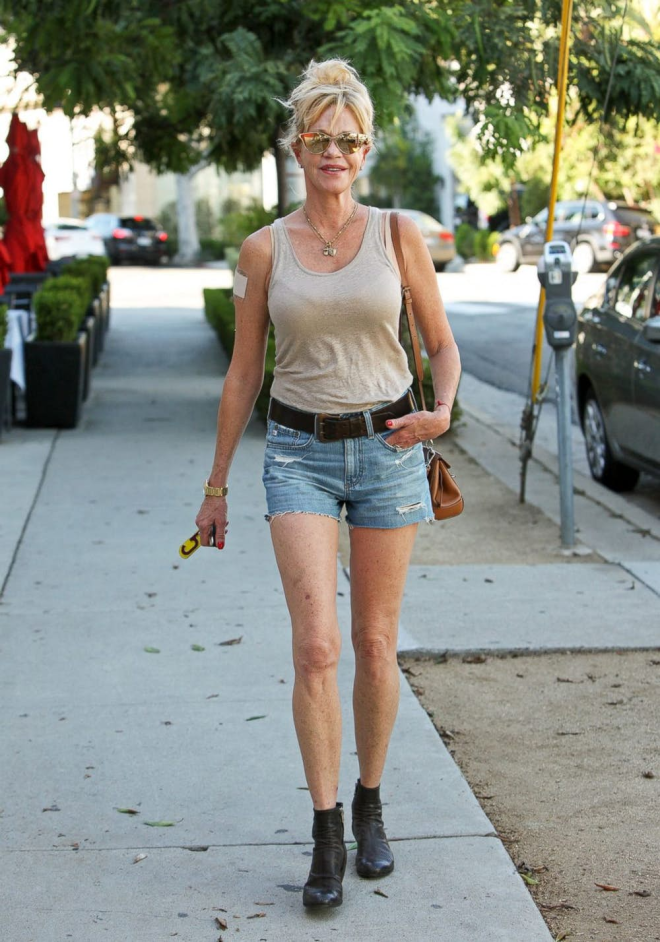 Actress Melanie Griffith has been in the entertainment business for decades and is beloved by fans of all ages. Her look and style have changed over the years, but she has always been a terrific actress and a sensual beauty. One thing fans may not know about Griffith is that she is tall. No wonder she seems to stand out from the crowd! Griffith's movie history is rich, and she's been in many films over the years. Some fan-favorites include Working Girl, Something Wild, Lolita, Body Double, Milk Money, The Bonfire of the Vanities, Pacific Heights, Mulholland Falls, and A Stranger Among Us. In this recent pic of the actress, she sports some super-short shorts, proving age is just a number. You rock those "Daisy Dukes," Mel!

8. Gal Gadot: 5'9"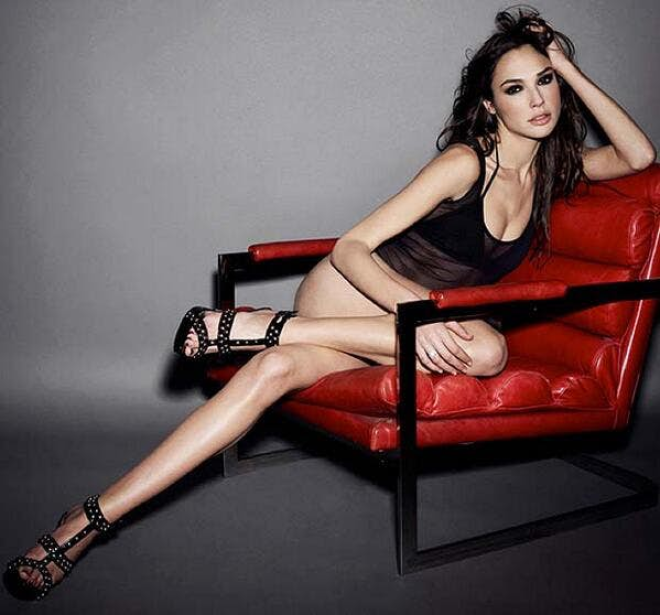 Israel-born actress, Gal Gadot is all the rage these days as she portrays Wonder Woman on the big screen. And a wonderous woman she is! At 5'9", the actress' beauty is only matched by her stature. The gorgeous Gadot has two children and has been married since 2008. She is 32 year old and is in the prime of her career. Along with her role as the star of Wonder Woman, you may have seen Gadot in films including Justice League, Keeping Up with the Joneses, Fast Five, Triple 9, Date Night, or Criminal. Gadot's beauty is evident, but the fact that she is so tall may come as a surprise to many. But no matter how tall the actress is, girls will always look up to her as an empowering role model.

7. Brooke Shields: 6'0″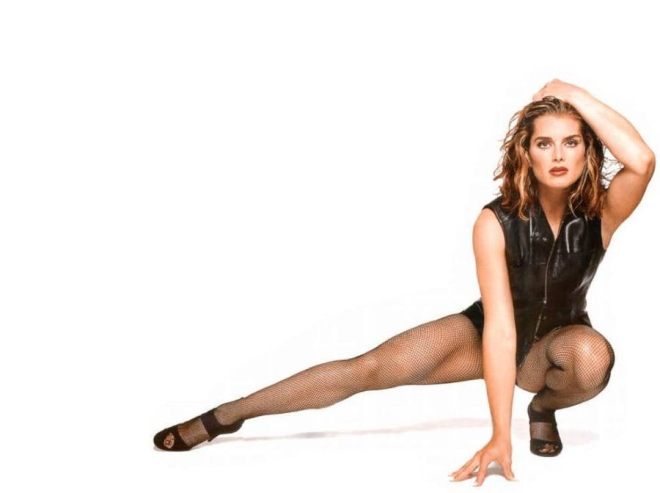 We've known actress and model Brooke Shields ever since she was a young girl. She's been in the spotlight ever since, and seems to only get more beautiful with age. Shields is now 52 years old, but you'd never know it's thanks to her gorgeous and youthful looks. Another shocker? Shields is 6-feet tall! We all know she isn't short, but there are not many women who are as tall as she is. Fans of Shields have followed her career over the years and enjoy watching her act. Some of her most memorable films include The Blue Lagoon, Pretty Baby, Endless Love, Sahara, Brenda Starr, The Muppets Take Manhattan, What Makes a Family, and Gone But Not Forgotten. In this sexy pic of Shields, we can see her long and lean legs, but now we have a sense for just how long they really are!

6. Queen Latifah: 5'10"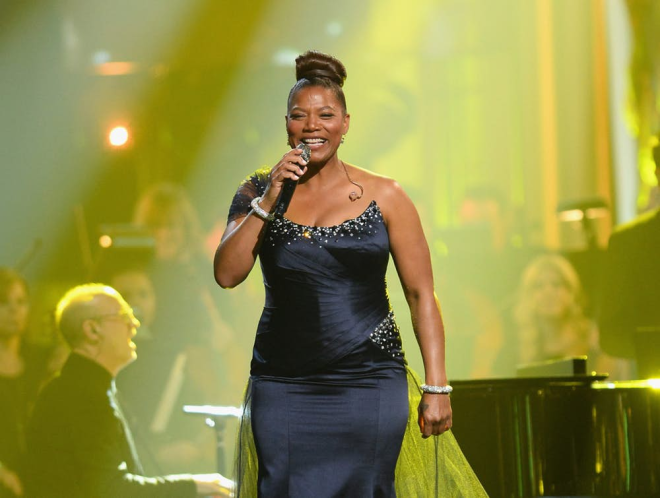 Many only know Queen Latifah as a rapper, but she is so much more. She sings, models, produces, acts, and then some. No wonder they call her a queen! At 47 years old, the long-time entertainer is proving that she can do it all, and do it all quite well. Her beauty is evident and her charm and talent are unstoppable. You may know how talented Latifah is, but did you know she is very tall as well? Yes, this glam gal is almost 6-feet tall, making her star power as impressive as her height. Have you seen her in the recent film, Girls Trip? Latifah will have you laughing from start to finish. The actress was also great in Set It Off, Beauty Shop, Just Wright, and The Secret Life of Bees. This woman deserves a crown!

5. Minnie Driver: 5'10"
The brunette beauty, the marvelous Minnie Driver is from the UK, but her wonderful talent on film is appreciated by audiences worldwide. Driver is a darling with her signature curly brunette hair, broad smile, and quirky attitude. She is simply stunning, yet effortlessly approachable. Her talent is raw and her unique personality always shines through. At 47, Driver is a doting mother of one son, mixing motherhood with making movies. Fans have adored the delightful Driver on the big screen in all her impressive roles. Some of her movies include Good Will Hunting, Return to Me, Beyond the Lights, The Phantom of the Opera, Ella Enchanted, Big Night, Circle of Friends, Sleepers, and An Ideal Husband. But do these fans know that Driver is 5'10" tall? Tall and terrific, the perfect match!

4. Blake Lively: 5'10"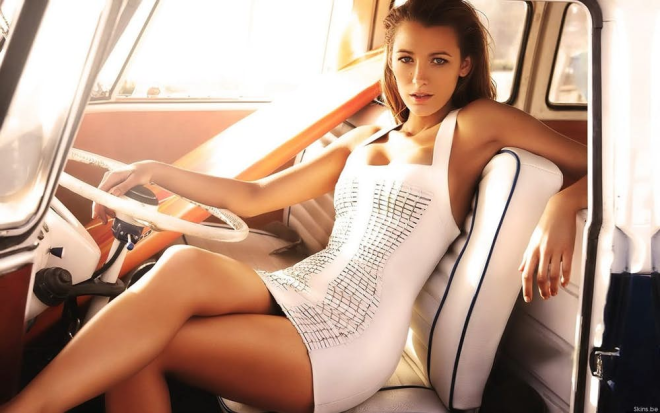 The blonde and beautiful Blake Lively is a movie star with an old soul with a modern twist. She is a screen-stealer in films including The Shallows, Green Lantern, The Town, All I See is You, Café Society, and The Age of Adaline, to name of few of the movie star's most popular films. It's evident that Lively isn't short, but who knew that she is an impressive 5'10"? Hubby Ryan Reynolds must love those long legs and her statuesque figure. It's no wonder that the lovely Lively also models and is adored by designers who want to dress the A-lister for movie premiers and interviews. Hopefully, Lively minds her posture, so she stays tall and stands with pride until she's in her 90s. For now, though, the 30-year-old looks pretty good to us!

3. Leelee Sobieski: 5'10"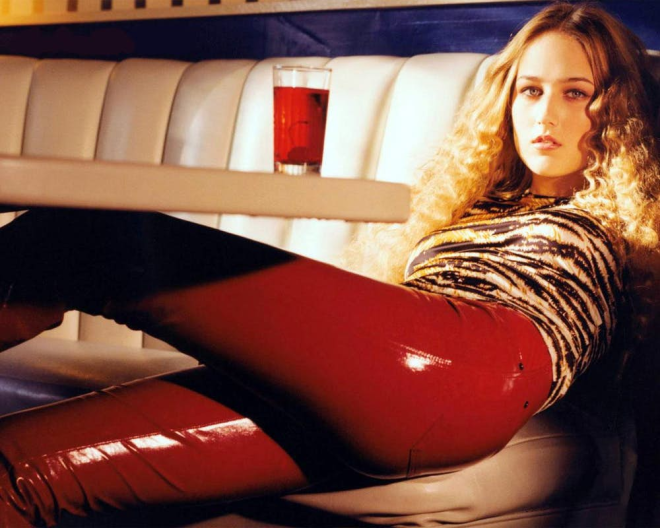 New York native, actress Leelee Sobieski is 34 years old and has been in the entertainment biz for years. Her beauty is delicate and captivating and her height — 5'10" — may be a shock to some who never knew how tall she is. Sobieski's tall frame is impressive, making her red carpet appearances a sight for fans to cherish. The actress' long blond hair, attractive features, sensual glare, and fit figure make her a standout Hollywood star. Some of the actress' films include The Glass House, Eyes Wide Shut, Deep Impact, Never Been Kissed, Finding Bliss, Joy Ride, The Wicker Man, and 88 Minutes. Sobieski is married and has two children. In this cool pic of the star, we are quite impressed with those slick red pants! And don't forget how long the legs inside them are!

2. Uma Thurman: 6'0″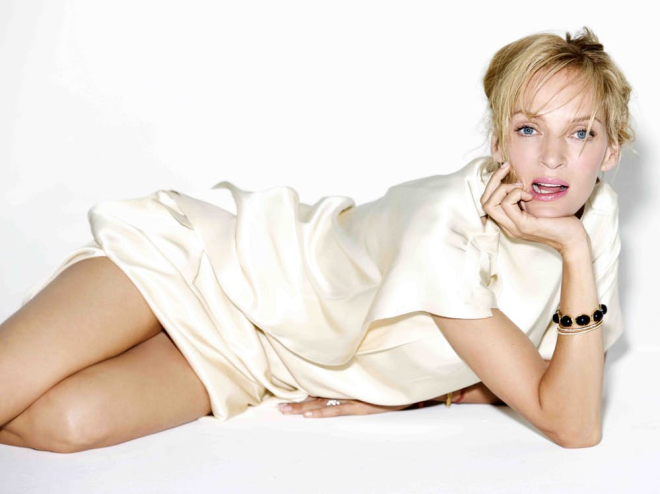 Fans from all over the globe are smitten with the amazing actress Uma Thurman and have been for years. After all, the star is 47 years old and has been in the entertainment business for some time. She is an odd beauty, some may say, but who needs another cookie-cutter starlet anyway? Most people know that Thurman is a tall woman, but just not exactly how tall. Did you know she is 6-feet tall? That's quite a body, and a gorgeous one at that. When Thurman is on screen, she simply steals the show. Her acting is beyond impressive, and fans could watch her for hours. Some of Thurman's more popular films include Pulp Fiction, Kill Bill: Volume 1 & Kill Bill: Volume 2, Batman & Robin, Beautiful Girls, Dangerous Liaisons, Mad Dog and Glory, and Gattaca, to name a few. No matter the role, Thurman gives her all and fans are at the edge of their seats. We bet Thurman will be in the biz for decades to come.

1. Tilda Swinton: 5'10½"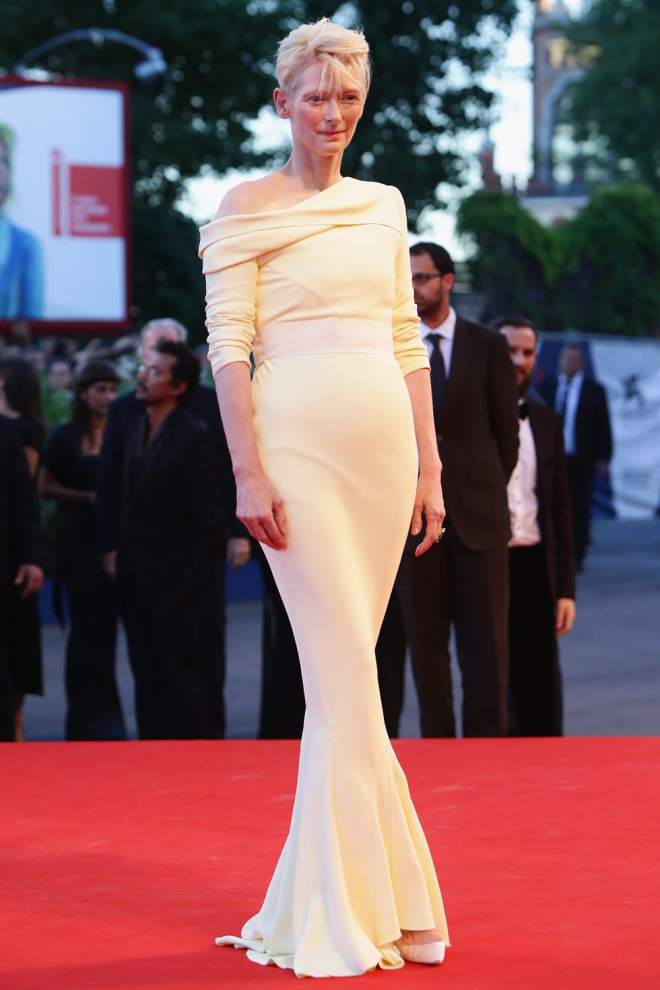 Actress Tilda Swinton is like a chameleon who looks like a completely different person every time we see her. But one thing remains the same — the star is over 5' 10" tall. That's quite tall, but Swinton carries her height with elegance and sophistication. The actress is from the UK, but her worldwide popularity is what keeps her shining in the limelight. Swinton looks quite youthful, making the fact that she is over 50 as shocking as her height. Perhaps you've seen the amazing actress knock it out of the park in her films like Doctor Strange, A Bigger Splash, I Am Love, The Grand Budapest Hotel, Michael Clayton, or Only Lovers Left Alive. No matter the role, Swinton's on-screen presence is truly captivating. In this lovely pic, we see how statuesque and stylish Swinton is. We expect to see much more of this talented woman in many more movies to come over the years. Stay tuned!