In Medieval Europe, it was believed that if the prisoners were fed well, they wouldn't return back as ghosts to haunt their killers. If the food and drink were of great quality, then it would be less likely for the prisoner to come back from beyond the grave. But if the food and drink were of poor quality, then it would be more likely that the prisoner would come back to torment his executioners.
Here in America, there are lists of approved foods that death row prisoners can choose from for their final meals, and the lists vary from state to state. A prisoner's last meal can be as indulgent as they want, or it can be as simple as they want. Or, it can be as weird and bizarre as they want.
Some of the meals that death row prisoners request are just downright strange. But there are plenty of unhinged criminals that end up on death row so it probably makes sense. Here are 15 of the weirdest last meal requests by death row criminals.

15. David Leon Woods – A Pizza And A Birthday Cake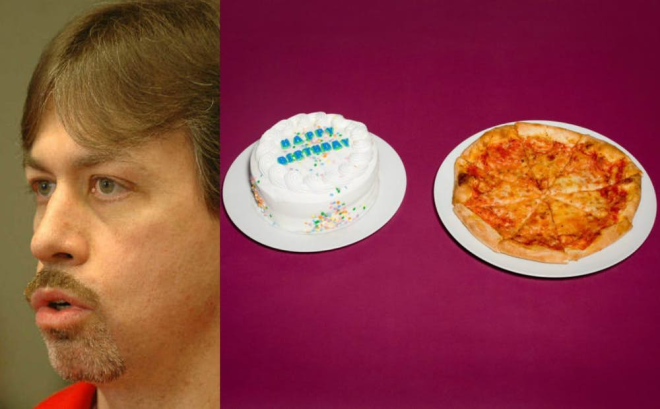 In April of 1984, David Leon Woods, along with two other accomplices, went to the home of Woods' neighbor, Juan Placencia, in Garrett, Indiana to steal a TV. When Placencia answered the door, Woods barged into the house and stabbed his neighbor. He repeatedly stabbed Placencia, killing him. Woods and one of his accomplices stole Placencia's TV, hid it, and later sold it.
The next morning, he called the police and pretended that he had gone over to Placencia's apartment to use the telephone where he found the body. But while under questioning at the police station, he broke down and confessed his crime. Woods was convicted of murder and sentenced to be executed. For his last meal, he requested a pizza and a birthday cake to eat with his family.

14. Gary Carl Simmons Jr. – Pizza Hut Supreme Deep Dish Pizza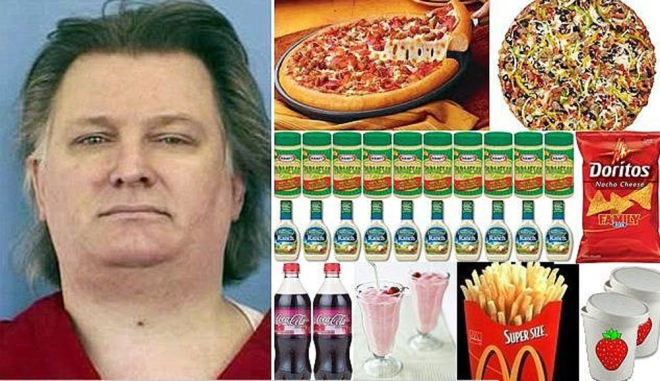 Gary Carl Simmons Jr. requested so much food that I'll just say he was a former grocery store butcher who was convicted in 1997 of capital murder in an extremely gruesome case.
For his last meal, Simmons Jr. requested more food than anyone could eat—one Pizza Hut Supreme Deep Dish pizza with double mushrooms, double onions, double jalapeño peppers, and double pepperoni; a second pizza with three cheeses, olives, bell peppers, tomatoes, garlic, and Italian sausage; 10 eight-ounce packs each of Parmesan cheese (that's 5 pounds of cheese!) and ranch dressing (10 cups of dressing!); 8 ounces of jalapeño nacho cheese; 4 ounces of sliced jalapeños; 2 twenty-ounce Cherry Cokes; 2 large strawberry shakes; two pints of strawberry ice cream; and one family-sized bag of Doritos nacho cheese flavor. That's 29,000 calories of food.

13. John Wayne Gacy – A Bucket Of KFC Original Recipe Chicken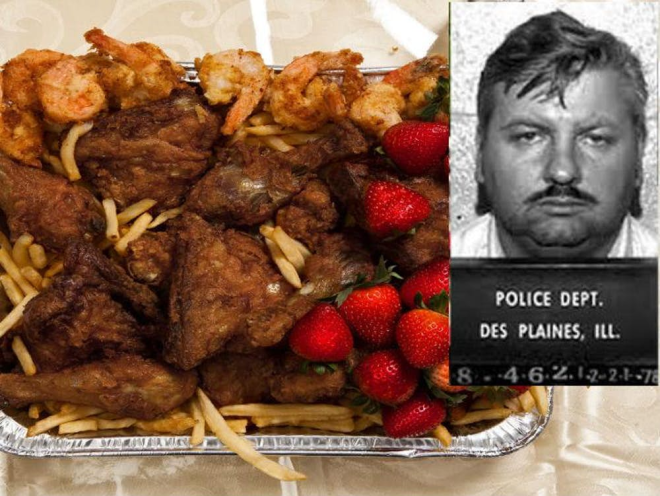 John Wayne Gacy was an infamous serial killer who became known as the "Killer Clown" due to his charitable services at fundraisers, parades, and children's parties where he would dress up as "Pogo The Clown," a character that he created. Between 1972 and 1978, he s*xually assaulted, tortured, and murdered at least 33 teenage boys and young men in Cook County, Illinois. He buried 26 of them in his backyard.
Gacy was convicted of 33 murders and sentenced to death. For his last meal, he requested fried shrimp, a bucket of KFC original recipe chicken, fries, and a pound of strawberries. A pound of strawberries. I like strawberries as much as the next person, but a pound of them? That's a lot of strawberries.

12. Stephen Wayne Anderson – Two Grilled Cheese Sandwiches
While serving time at the Utah State Prison for multiple counts of aggravated robbery, Anderson murdered an inmate, assaulted another inmate, and assaulted a correctional officer. In 1979, he escaped from prison and began working for narcotics traffickers, committing at least one contract killing in Salt Lake City, Utah. The following year, Anderson broke into the home of 81-year-old Elizabeth Lyman and shot and killed her before ransacking her home for money.
He was arrested by police and later admitted to the crime. He also admitted to six other contract killings he carried out in the Las Vegas area prior to Lyman's murder. Anderson received the death sentence for his crimes. For his last meal, he requested two grilled cheese sandwiches, a pint of cottage cheese, a Hominy/corn mixture, a slice of peach pie, chocolate chip ice cream, and, weirdly, radishes.

11. Gerald Lee Mitchell – Bag Of Jolly Rancher Candy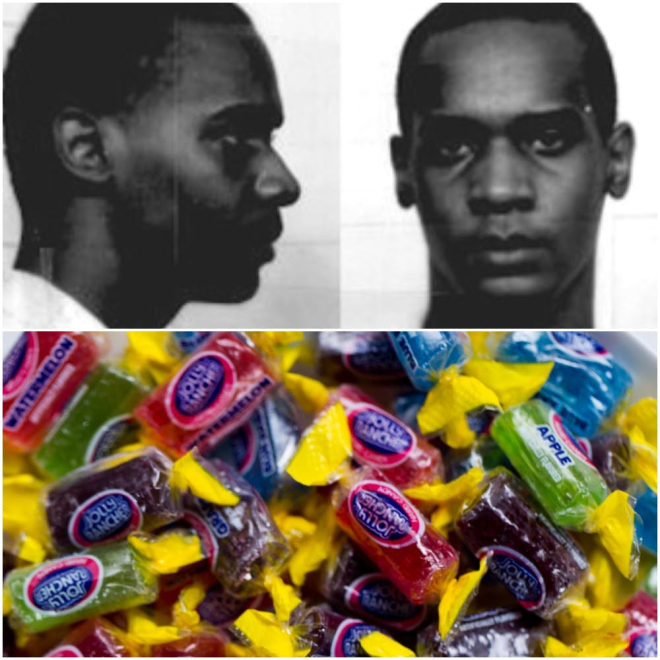 In 1985, Gerald Lee Mitchell met his 20-year-old victim, Charles Marino, and the victim's 15-year-old brother-in-law, Kenneth Flemming, in a Houston neighborhood park, offering to sell the pair some marijuana. The drug deal was just a ruse, however, and Mitchell held them at gunpoint and forced them to drive to a vacant lot where he robbed them of their cash and car keys before shooting them both. Fleming survived with a hip injury.
Mitchell was later arrested while driving Marino's car. That same day, he had murdered another man when the latter refused to hand over a necklace he wanted. Mitchell was ultimately sentenced to death for both murders. For his last meal, he requested a bag of Jolly Rancher candy in assorted flavors. Mitchell was clearly a candy lover to the very end.

10. Marion Albert Pruett – Pizza Hut, Burger King And…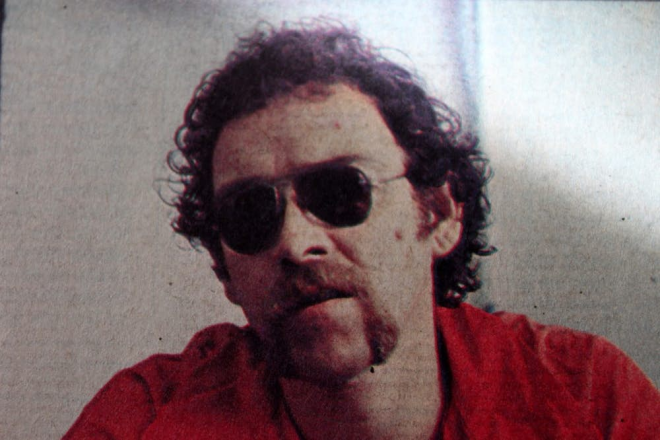 Marion Albert Pruett was a serial killer who committed five murders all in 1981; three of the murders occurred in the same week. He murdered Peggy Lowe, a Mississippi loan officer, Bobbie Jean Robertson, a clerk at a convenience store in Arkansas, and two others in Colorado. He also murdered his common-law wife, Pamela Sue Barker, also known as Michelle Lynn Pearson, in New Mexico. Pruett received death sentences for Barker's murder, in addition to the murders in Colorado and Mississippi.
For his last meal, he requested stuffed-crust pizza from Pizza Hut, four Burger King Whoppers, a large order of French Fries, three two-liter Pepsi bottles, fried eggplant, fried squash, fried okra, and a whole pecan pie. The reason why Pruett ordered so much food was because he originally intended to share the meal with another inmate who was to be executed the same day.

9. Philip Workman – Large Vegetarian Pizza To A Homeless Person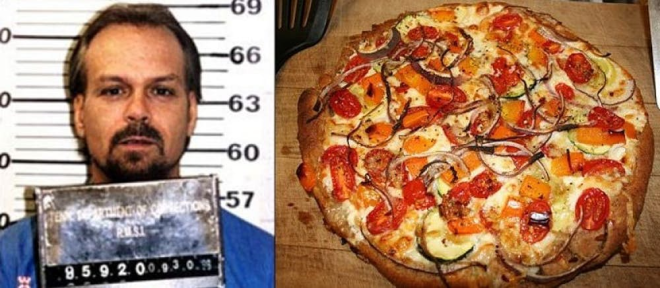 Philip Workman was a cocaine addict who hitchhiked to Memphis, Georgia in August of 1981, where he robbed a Wendy's with a .45 caliber semi-automatic pistol. During the robbery, one of the employees activated a silent alarm that called three Memphis police officers to the scene. Workman attempted to flee on foot across a nearby parking lot and shot and killed one of the officers who gave chase. He was found guilty of murder while on trial and given a death sentence.
For his last meal, Workman requested that the prison give a large vegetarian pizza to a homeless person. However, the prison officials refused to honor his request and Workman declined to eat anything. People from all over the country honored his request and donated enormous amounts of pizza to homeless shelters in Tennessee.

8. Ronnie Lee Gardner – Lobster Tail While Watching The Lord Of The Rings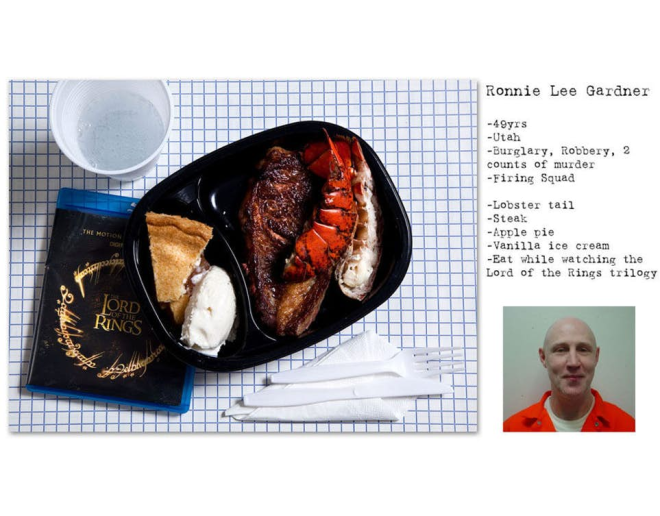 Ronnie Lee Gardner was high on cocaine when he robbed the Cheers Tavern in Salt Lake City, Utah in 1984. He shot a bartender in the face, killing him, and only got less than $100 from the robbery. The police arrested three weeks later, thanks to a tip. While on trial for the murder, he shot and killed an attorney during an unsuccessful escape attempt using a gun he smuggled into the courtroom.
He was found guilty of the bartender's murder and sentenced to death. For his last meal, Gardner requested steak, lobster tail, apple pie, vanilla ice cream, and 7-Up before starting his 48-hour fast while watching the entire Lord of the Rings trilogy and reading Divine Justice. His lawyers said his fast was motivated by "spiritual reasons."

7. Dobie Gillis Williams – 12 Candy Bars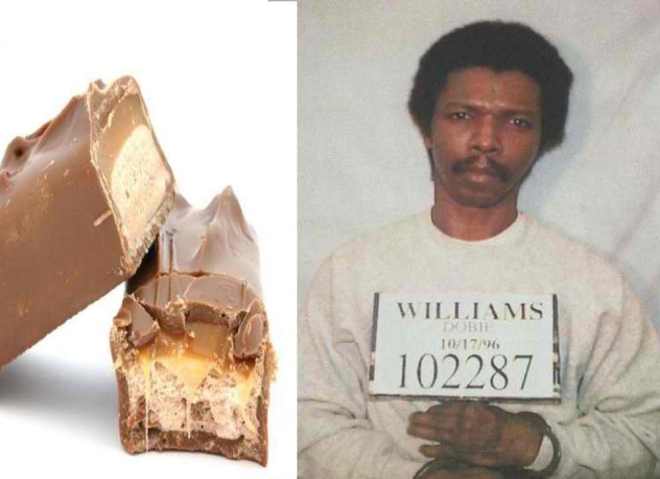 Dobie Gillis Williams was on a five-day furlough from Camp Beauregard when he broke into the rural home of Hebert and Sonja Knippers in 1984. After breaking into their home through the couple's bathroom window, he attempted to r*pe Sonja before stabbing her. Williams left the house the same way he came in, and a fatally-injured Sonja opened the bathroom door and was helped by her husband to a couch where she passed away.
Williams was eventually arrested, charged with first-degree murder, and sentenced to death. For his last meal, he requested twelve candy bars and some ice cream, showing that he was a major chocolate addict. Talk about a sugar rush.

6. James Edward Smith – Rhaeakunda Dirt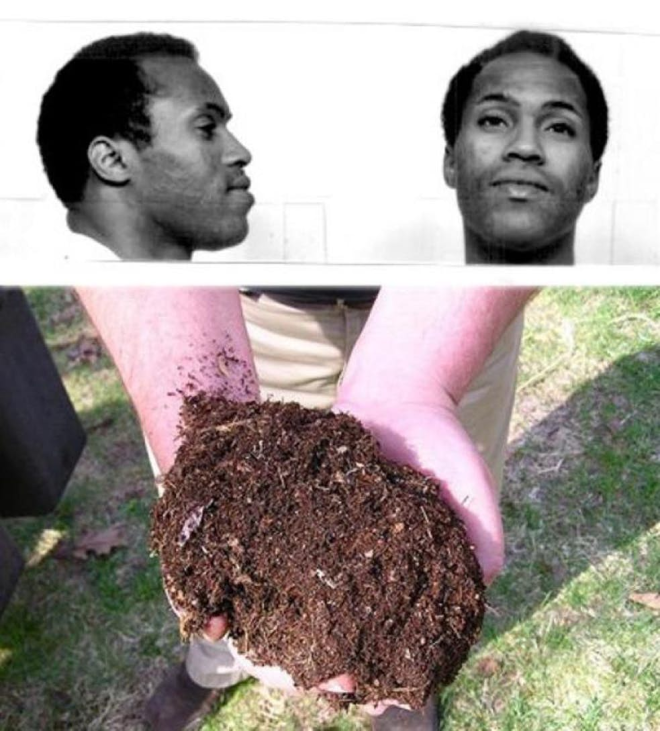 Debra René Wilson was counting money from the cash drawer when retail merchant James Edward Smith entered the office of the Union Life Insurance Company in Harris County, Texas in 1983 and pointed a gun at her, demanding money. After Harris collected the money from an insurance executive, he fired a bullet into the executive's heart, killing him, then fled the scene on foot. However, he was caught in a nearby parking lot by an office worker, a work crew, and a businessman. Harris was convicted of capital murder and sentenced to death.
For his last meal, he requested rhaeakunda dirt, which is frequently associated with voodoo rituals, so he could perform a voodoo ritual. His mother said her son was a kind and caring child until he started practicing black magic, voodooism, and witchcraft. But dirt wasn't on the list of approved foods for last meals, so the prison gave him what they probably considered the closest thing—yogurt.

5. Lawrence Russell Brewer – Everything Or Nothing???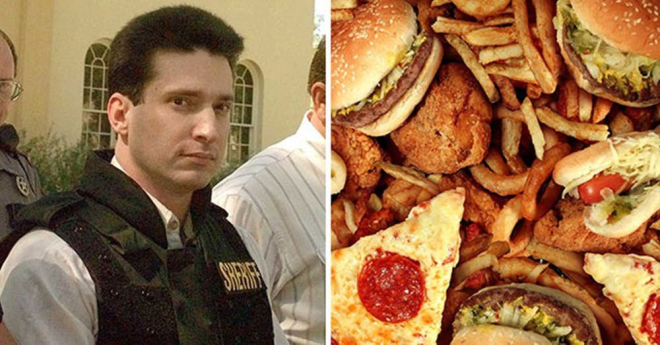 Like Gary Carl Simmons Jr., Lawrence Russell Brewer requested more food than anyone could realistically eat. Brewer was a white supremacist who, along with two other white supremacists, murdered a 49-year-old African-American man in Jasper, Texas in 1998 by dragging him to death behind a pickup truck and was sentenced to death.
For his last meal, he requested two chicken fried steaks and sliced onions dripping in gravy; a triple-meat bacon cheeseburger with everything on the side; one cheese omelet with ground beef, tomatoes, onions, bell peppers, and jalapeños; a big bowl of fried okra with ketchup; one pound of barbecued meat and half a loaf of white bread; three fajitas with all the toppings; a Pizza Hut Meat Lovers pizza; a pint of Blue Bell vanilla ice cream; a slab of peanut butter fudge with crushed peanuts on top; and three root beers. When the food came, Brewer declined to eat anything, saying he wasn't hungry.

4. Ricky Ray Rector – Cherry Kool-Aid And…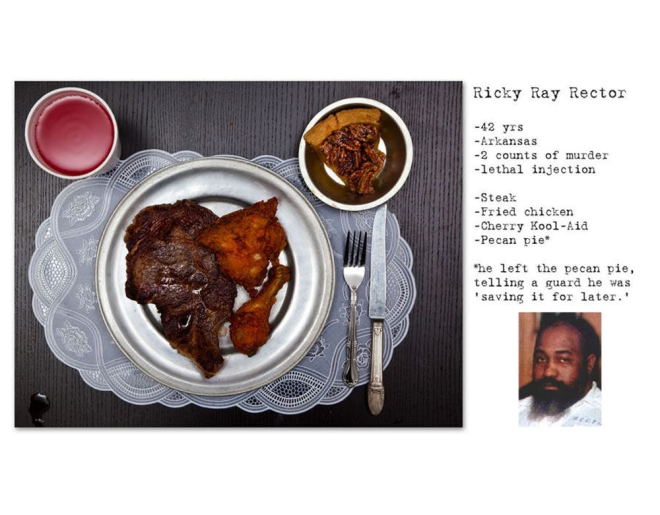 After one of Ricky Ray Rector's friends was denied entry to a dance hall at Tommy's Old-Fashioned Home-Style Restaurant in Conway, Arkansas in 1981, because he couldn't pay the $3 charge, Rector became enraged and pulled a pistol out from his waistband. He fired several shots, wounding two people and killing one. Rector fled the crime scene in a friend's car and wandered the city for three days until his sister convinced him to turn himself in. But he shot the police officer who negotiated his surrender in the back and failed to kill himself with a gunshot to his head.
He was convicted of the police officer's death and sentenced to death. For his last meal, he requested a steak, fried chicken, cherry Kool-Aid, and a slice of pecan pie. Nothing strange about his request, but Rector didn't eat the pecan pie, saying he was "saving it for later." It was disposed of following his death.

3. Thomas J. Grasso – Mussels, Burger King And Spaghetti-Os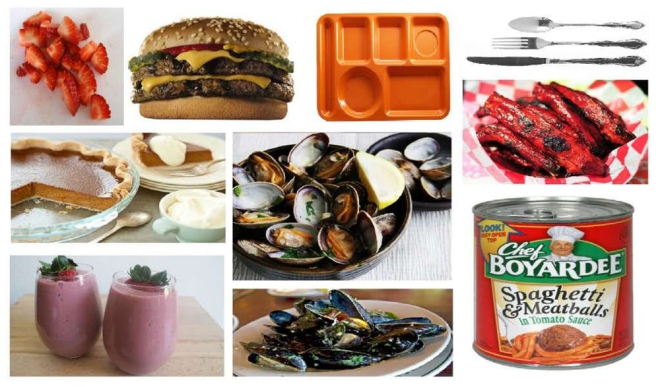 Thomas J. Grasso strangled an 87-year-old woman using her own Christmas lights at her home in Tulsa, Oklahoma in 1990. Six months after the murder, he murdered an 81-year-old man by the name of Leslie Holtz in 1991 in Staten Island and stole his Social Security check. He was caught the following year by New York detectives investigating Holtz's murder and, within two weeks, confessed to both murders. Three years later, he received the death penalty.
Grasso's final meal included two dozen mussels, a double cheeseburger from Burger King, half-dozen barbecued spare ribs, diced strawberries, two strawberry milkshakes, and strangely, a can of Spaghetti-Os. However, he later complained that the kitchen staff didn't bring him his Spaghetti-Os. "I did not get my Spaghetti-Os," he said in his final statement. "I got spaghetti. I want the press to know this."

2. Joseph Mitchell Parsons – Three Burger King Whoppers And Hubba Bubba Bubble Gum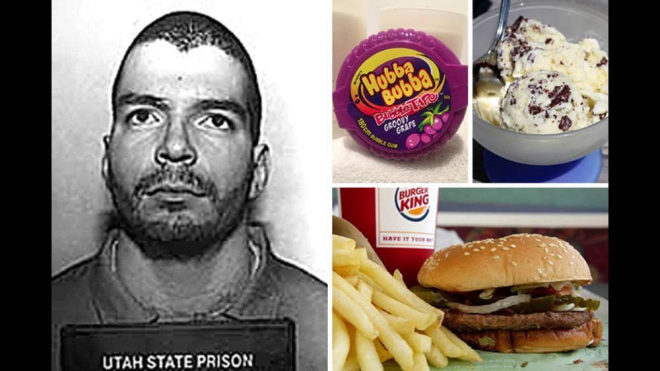 Joseph Mitchell Parsons was already a fugitive on the run when he committed murder in August of 1987. He was hitchhiking along Interstate 15 near Barstow, California when he was picked up by a 30-year-old concrete laborer named Richard Lynn Ernest, who was on his way from Loma Linda, California to Denver, Colorado for a construction job. After Ernest pulled over to a rest stop, he was stabbed to death by Parsons, who stole his car. Parsons assumed his victim's identity but was eventually found out later that same day and promptly arrested.
He pleaded guilty to motor vehicle death, aggravated robbery, and first-degree murder, and was sentenced to death. For his last meal, he requested three Burger King Whoppers, two large orders of fries, a chocolate shake, chocolate chip ice cream, and a pack of grape Hubba Bubba bubble gum. He also requested to share his food with his brother and cousin.

1. Victor Feguer – One Olive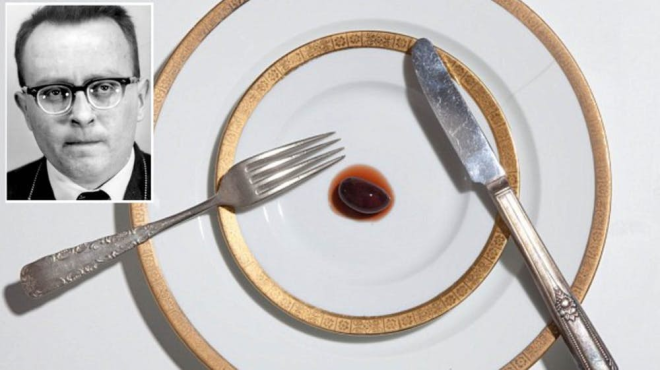 After Victor Feguer arrived in Dubuque, Iowa in the summer of 1960 and rented a room at a rundown boarding house, he began calling physicians out of the local Yellow Pages, eventually coming across Dr. Edward Bartels. He called Bartels up and claimed there was a woman who needed medical attention. But when Bartels stopped by, Feguer kidnapped and killed him. He was arrested a few days later while attempting to sell the doctor's car.
Feguer was convicted of murder and sentenced to death by President John F. Kennedy himself since, at that time, only the former president could commute a death sentence. For his last meal, Feguer requested a single olive with the pit still in it. But he didn't eat it. The olive was found in his suit pocket and was reportedly buried with him.