The best comedies of a year never lose our attention (a concession so many "dumb comedies" have to make, apparently) A few can even be thoughtful and get under the skin. Yes, really. Will Ferrell can act like a fool in the name of saving his family; a Pakistani boyfriend can tell the most inappropriate 9/11 joke of all time; a burgeoning screenwriter can tell his Instagram-addicted girlfriend about his Batman spec script as she seduces him in a Catwoman outfit. Absurdity is not divorced from quality, as evidenced from the best comedies of 2017.
Let's face it: this wasn't a year for laughter. But some bright minds still squeezed some wit out of the madness, much to our surprise. Here, we celebrate the movies that will put you in a fit.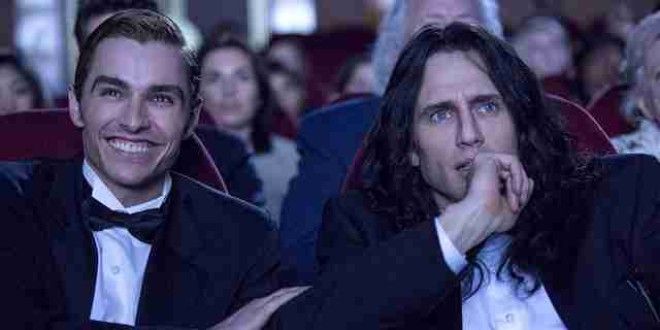 12. The Disaster Artist
Released: December 8
Cast: James Franco, Dave Franco, Seth Rogen, Alison Brie
Director: James Franco (As I Lay Dying)
Why it's great: There are no half-measures with Tommy Wiseau, the failed actor/secret millionaire behind the notoriously awful cult drama The Room, and there are no half-measures in The Disaster Artist, James Franco's dramatic telling of the film's bizarre backstory. Franco goes full Daniel-Day-Lewis to become Wiseau, who latched onto his young, acting classmate Greg Sestero (Dave Franco) and drove them both to the hell of inert, overproduced, melodrama-making. The arc of the movie is jaw-dropping. When Franco's Wiseau rolls up to Los Angeles for the first time, he unloads motivational-poster wisdom; when he arrives on The Room set for Day 1, he mutates into a hybrid of masochistic Hitchcock and coked-out Ozzy Osbourne; after his fallout with Greg, Wiseau takes on the mannerisms of a 6-year-old. Most of the time we're laughing. But the sadness of The Disaster Artist is occasionally overwhelming. Just as Franco lives on the fringes of mainstream, his take on Wiseau is a stark lampoon that defies every imaginable convention. "YOU ARE TEARING ME APART, LISA!" has never felt so... terrifying. -- Matt Patches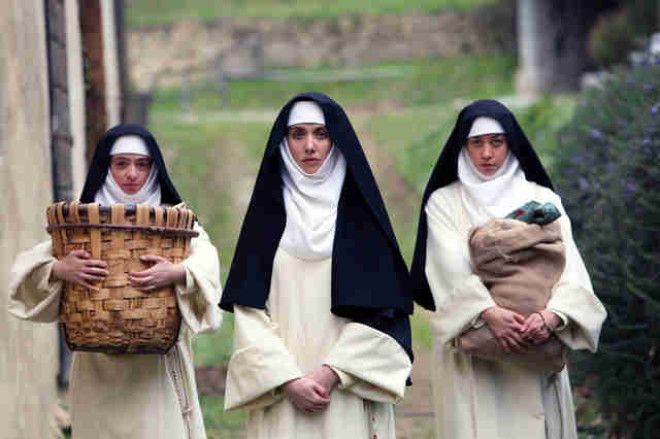 11. The Little Hours
Released: February 10
Cast: Alison Brie, Dave Franco, Aubrey Plaza, John C. Reilly
Director: Jeff Baena (Life After Beth)
Why it's great: The nuns in The Little Hours are... bad at being nuns. That's the basic premise here, and while it should probably only amount to a decent four-minute sketch, a murderers' row of talent -- Brie, Franco, Plaza, Reilly, Kate Micucci, Nick Offerman, Molly Shannon, Fred Armisen, Adam Pally, and Jemima Kirke among them -- helps this low-budget, Middle Ages-set comedy find legs. Plaza brings the same unhinged ambition you might have loved in Mike and Dave Need Wedding Dates, and if you aren't already familiar with Micucci's manic brilliance, you're in for a treat. She's the biggest revelation here, and she'll leave you wanting more. There are plenty of laughs to be had as she and her fellow emotionally unstable novitiates lust after a handsome servant-on-the-run (Franco) and experiment with "partying" -- and even witchcraft. Amid the borderline-offensive gags and the sacrilegious romance, The Little Hours still finds time to squeeze in jabs at powerful institutions that rely on blind faith. It's one of those times where the word "irreverent" really fits -- it's gleeful irreverence. Clocking in at a tight 90 minutes, this one, with its ruthless energy, is a particularly good and wacky antidote for any bad week. -- Sean Fitz-Gerald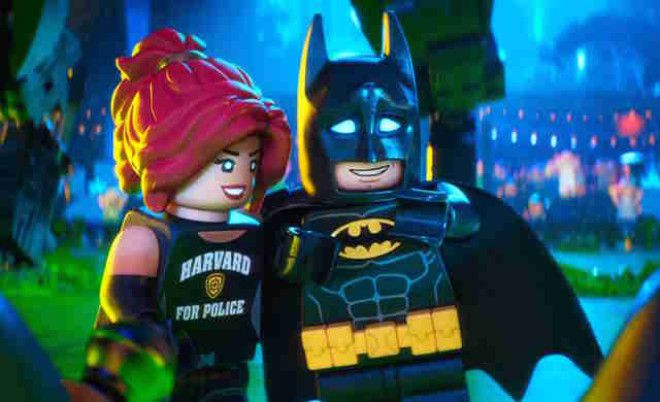 10. The LEGO Batman Movie
Released: February 10
Cast: Will Arnett, Zach Galifianakis, Michael Cera, Rosario Dawson
Director:Chris McKay
Why it's great: Like 2014's The Lego Movie, a potentially brain-damaging sugar-high of a film, The Lego Batman Movie succeeds by working way harder than it needs to. In addition to serving as a kid-friendly, Naked Gun-style spoof of the superhero genre, director Chris McKay and his four credited co-writers craft a Batman story that feels rooted in the damaged psychology, guarded humanity, and deep yearning of the character. This Batman has Bat-feelings to go with its Bat-jokes. With his gravely voice and withering sarcasm, Will Arnett's take on the character puts Ben Affleck's recent big screen version to shame. Even if the plot swerves out of control a bit in the final stretch as the cartoon action ramps up, falling prey to the same over-emphasis on action set-pieces as its live-action blockbuster counterparts, it still manages to keep the wheels on the Batmobile from flying off. Feel free to take it for a spin. -- Dan Jackson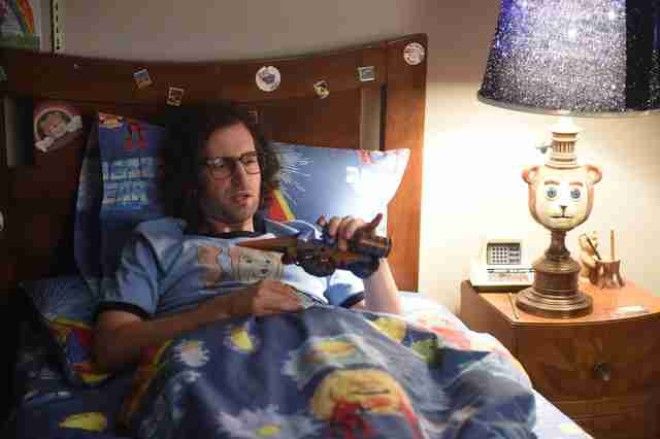 9. Brigsby Bear
Release: July 28
Cast: Kyle Mooney, Claire Danes, Mark Hamill, Greg Kinnear
Director: Dave McCary (Saturday Night Live)
Why it's great: This indie hit stars Kyle Mooney as James Pope, a Kimmy Schmidt-esque ex-captive who becomes hell-bent on DIY-finishing his favorite TV show -- a kind of Doctor Who-meets-Barney educational program -- after it abruptly stops production. The Mooney vehicle is like a movie that's been beamed in from a distant planet, but it actually comes from Dave McCary, the SNL star's longtime collaborator. Their first feature film exchanges the duo's usual oddball tone for something a little more darkly serious (think Hal Ashby's Being There), and plays like a love letter to cinema and friendship. It might feel like a bait-and-switch to longtime Mooney fans, but it's a riveting emotional journey you won't want to skip. With any luck, it might also be their calling card for more similarly poignant fare. -- SFG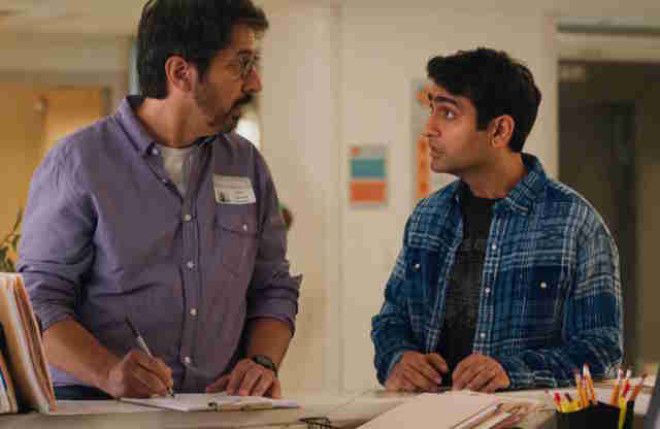 8. The Big Sick
Released: June 23
Cast: Kumail Nanjiani, Zoe Kazan, Ray Romano, Holly Hunter
Director: Michael Showalter (Hello, My Name Is Doris)
Why it's great: Nanjiani and his wife Emily Gordon adapted their real-life meet cute, and an encounter with illness that landed Emily in the hospital just months afterward, into this moving, melancholy rom-com -- like a Terms of Endearment for the Trainwreckera. Fans of the comedian's stand-up or work as Silicon Valley's Dinesh will go nuts for The Big Sick's steady stream of laughs; one taboo-busting 9/11 joke-for-the-ages had my theater howling. But when the couple's life takes a turn for the worse, and Kumail's Pakistani heritage pressurizes the situation with demands of arranged marriage, Nanjiani's fans will cling to the jokes like a life preserver. Anchored by his sensitive performance, and bolstered by Romano and Hunter as Emily's fretting, foulmouthed parents, The Big Sick is a reminder that fate is fickle, self-determination is fickler, and we all deserve a good laugh-cry once in awhile. -- MP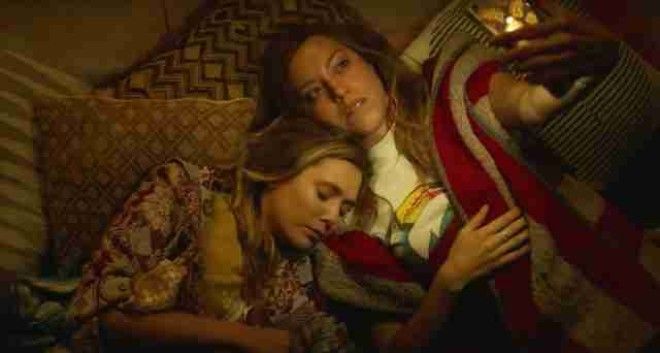 7. Ingrid Goes West
Released: August 11
Cast: Aubrey Plaza, Elizabeth Olsen, Wyatt Russell, O'Shea Jackson Jr.
Director: Matt Spicer
Why it's great: Your Swimfan references are officially outdated -- Ingrid Goes West is the new standard for tech-enabled stalking. After the death of her mother, an unhinged Ingrid (Plaza) cashes out her $60,000 inheritance, moves to Los Angeles, and pursues Taylor (Olsen), an Instagram star with a knack for pairing avocado toast food porn with Ralph Waldo Emerson quotes. Taylor's feed provides Ingrid with everything she needs to infiltrate the influencer's life, a con which spins faster and faster out of control with every double-tap "like." Spicer snaps some truly frightening images in this descent into digital hell -- a zombified Ingrid scrolling through her feed as ants crawl over empty Corona bottles is downright apocalyptic -- but Plaza's manic take on social media addiction brings the real fire. You'll never look at your iPhone the same way again. -- MP


6. Landline
Released: July 21
Cast: Jenny Slate, Edie Falco, John Turturro, Abby Quinn
Director: Gillian Robespierre (Obvious Child)
Why it's great: This ripe, relationship comedy is set in the 1990s, a time of pay phones, cigarette-friendly bars, floppy disks, and harder-to-keep secrets. The writer-director's characters all have them: a rebellious high school senior (Quinn) flirting with boys and heroin for the first time; her soon-to-be-married sister (Slate), who questions everything after a hookup with an old flame; their mother (Falco), who works around the clock and takes flak from all involved; and their father (Turturro), a wannabe playwright who may or not be carrying on a decade-long affair (the discovery of a dirty poetry stash sends the sisters hunting for answers). Like
Obvious Child
did for cautious millennial daters,
Landline
surveys and questions the value of steady relationships. The sprawling story tests Slate's dramatic chops (while feeding the former
SNL
player plenty of comedy gold), delivers newcomer Quinn a breakout role, and gives Robespierre the chance to whisk us around New York City with the cool of Woody Allen or Hal Ashby.
Landline
could be the set-up for a great television show, but as a movie, it's a daring and decadent slice of life.
-- MP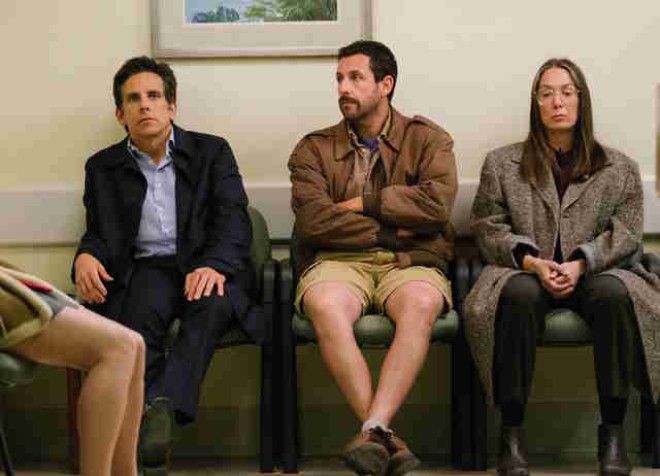 5. The Meyerowitz Stories (New and Selected)
Released: October 13
Cast: Adam Sandler, Ben Stiller, Dustin Hoffman, Elizabeth Marvel
Director: Noah Baumbach (The Squid and the Whale)
Why it's great: When Danny (Sandler), Matthew (Stiller), and Jean (Marvel), three half-siblings from three different mothers, gather at their family brownstone in New York to tend to their ailing father (Hoffman), a lifetime of familial politics explode out of every minute of conversation. Their narcissistic sculptor dad didn't have time for Danny. Matthew was the golden child. Jean was weird... or maybe disturbed by memories no one ever knew. Expertly sketched by Baumbach, this memoir-like portrait of lives half-lived is the kind of bittersweet, dimensional character comedy we're now used to seeing told in three seasons of prestige television. Baumbach gives us the whole package in two hours. -- MP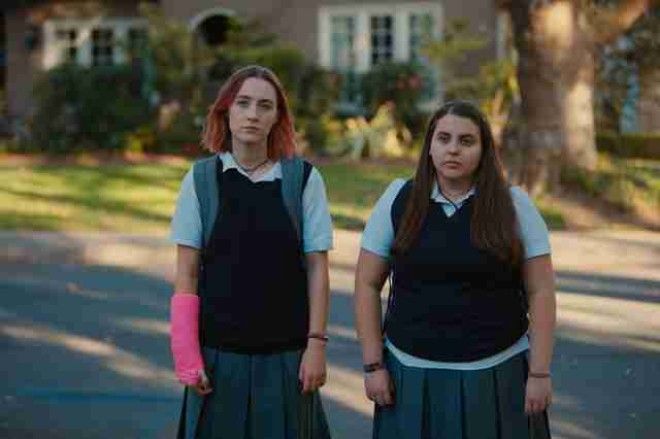 4. Lady Bird
Released: November 10
Cast: Saoirse Ronan, Laurie Metcalf, Tracy Letts, Lucas Hedges
Director: Greta Gerwig
Why it's great: Senior year of high school is less like a roller coaster than a Tilt-a-Whirl, daily life wildly spinning in one direction as existence spins in another. This dizzying, frustrating, exhilarating right of passage is the focus of actress Greta Gerwig's first directorial effort, the story of girl named Lady Bird (her given in name, in that "it's given to me, by me") who rebels against everyday Sacramento, California life to obtain whatever it is "freedom" turns out to be. Set in the early 2000s, a time when Dave Matthews' "Crash Into Me" regularly melts hearts, Lady Bird charts a year-in-the-life through precision recreation of shared moments: the arguments with parents, the math quiz meltdowns, the arguments with parents, the life-or-death musical tryouts, the arguments with parents, the fleeting first-time sexual encounters that mean everything, and of course, the arguments with parents. Laurie Metcalf is an understated powerhouse as Lady Bird's mother, a constant source of contention who reconciles with poverty through her daughter's success. It's a tragic note in total complement to Gerwig's hysterical love letter to home, high school, and the history of ourselves. -- MP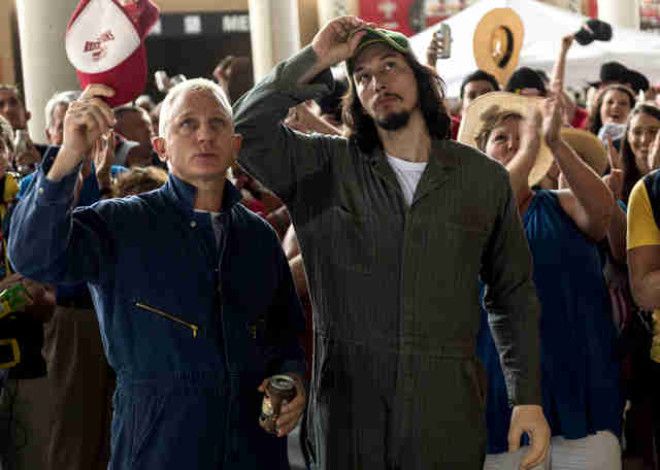 3. Logan Lucky
Released: August 18
Cast: Channing Tatum, Adam Driver, Riley Keough, Daniel Craig
Director: Steven Soderbergh (Ocean's 11)
Why it's great: Soderbergh, the mastermind behind the Ocean's franchise, possesses Danny Ocean's keen sense of operation and attention to detail (no one shoots mundane insert shots quite like him). With Logan Lucky, the filmmaker gifts those of us without bespoke tuxedo collections the heist movie we deserve: a bluesy, Southern-fried, NASCAR-set bank job where pick-ups do the heavy-lifting, gummy bears and cleaning solution make the vaults go boom, and blue collars are worn with pride. No one believes Jimmy and Clyde Logan (Tatum and Driver), known around West Virginia for their bad luck "curse," could rob the Coca-Cola 600 race. How they stick it to the naysayers is one of the most pure fun times I've had at the movies this year. -- MP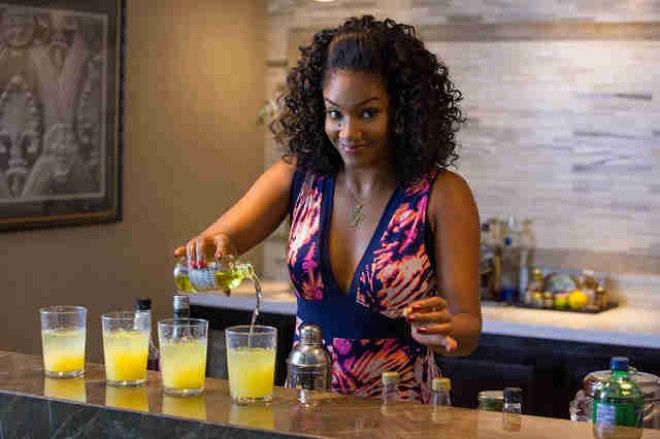 2. Girls Trip
Released: June 21
Cast: Regina Hall, Jada Pinkett Smith, Tiffany Haddish, Queen Latifah
Director: Malcolm D. Lee (Barbershop: The Next Cut)
Why it's great: Holy shit, this movie is funny. Riding the most basic premise (four friends take a wild vacation in New Orleans!) to the most obvious conclusion (they have a blast, then they get upset, but in the end, they're best friends!), Lee and his four female cohorts bring the R-rated comedy back to where it belongs: a perverse wonderland where dick jokes slay and spray-peeing on a crowds of unsuspecting bystanders is a religious experience. Girls Trip is as pure as Old School or Bridesmaids, and like both, boasts a breakout star. Haddish steals every scene, and a bit where she viciously fellates a banana while lubricating with a grapefruit, pulp flying in every direction, is the defining image of 2017. -- MP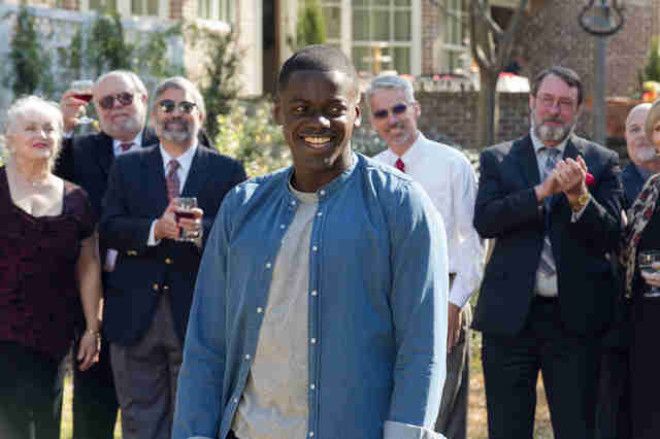 1. Get Out
Released: February 24
Cast: Daniel Kaluuya, Allison Williams, Catherine Keener, Bradley Whitford
Director: Jordan Peele
Why it's great: It's a short leap from the socially conscious sketch comedy of Key & Peele to the psychological terror (and resulting laughs) of Get Out. Peele's directorial debut begins as like an update of Guess Who's Coming to Dinner?, Kaluuya's Chris harboring the appropriate amount of skepticism over meeting the upper-crust white parents of his girlfriend Rose (Williams). As the weekend hours pass, Chris stumbles into a racially charged conspiracy that only Peele, a student of Wes Craven and horror masters of yesteryears, could conjure up. Littered with one-liners and laced with tension, Get Out is a ravenous masterpiece tailor-made for America's current climate. -- MP