Hubba-hubba! Jennifer Lawrence has a hot new bodyguard, and Us Weekly has the exclusive scoop on the mystery man.
The Oscar winning actress, 24, was photographed on the cobblestoned streets of Manhattan's Tribeca neighborhood on Wednesday, June 10, with an incredibly cute accessory in tow: a dashingly handsome man trailing her from behind.
A source tells Us Weekly that the good-looking guy is her new bodyguard Greg Lenz. "Jennifer likes the hot ones!" one insider tells Us, adding that the actress was downtown to go apartment shopping. For the occasion, Lawrence was dressed in a pair of faded denim shorts, loose gray top, and heels. She accessorized her chic city outfit with a printed bucket bag and panama hat, leaving her blonde tresses down in loose waves.
Lenz, however, stole the show with a puppy in tow. Lawrence's security detail, dressed in navy slacks and a crisp blue button-down, was snapped adorably holding the actress' little dog up against his chest. With his tall, dark, and handsome features, it's no wonder why Lawrence chose Lenz to protect her.
Jennifer Lawrence and her bodyguard exit a hotel in Tribeca on June 11, 2015
He then joined Lawrence again on Thursday, June 11, where he was snapped leading Lawrence out of a hotel. The bodyguard looked like a J.Crew model in a printed blue and white gingham button-down and jeans as he clutched Lawrence's puppy in one arm and held her duffle bag in the other. The
Hunger Games
star, meanwhile, looked casual in a black dress, matching flats, and bug-eyed shades.
Lenz is Lawrence's second hot bodyguard within one year. Last December, the star's security detail in L.A. created such a frenzy via social media, that Uslater exclusively revealed his identity as Justin Riblet. "He's very popular amongst the ladies in Jen's team," a source close to Lawrence told Usat the time.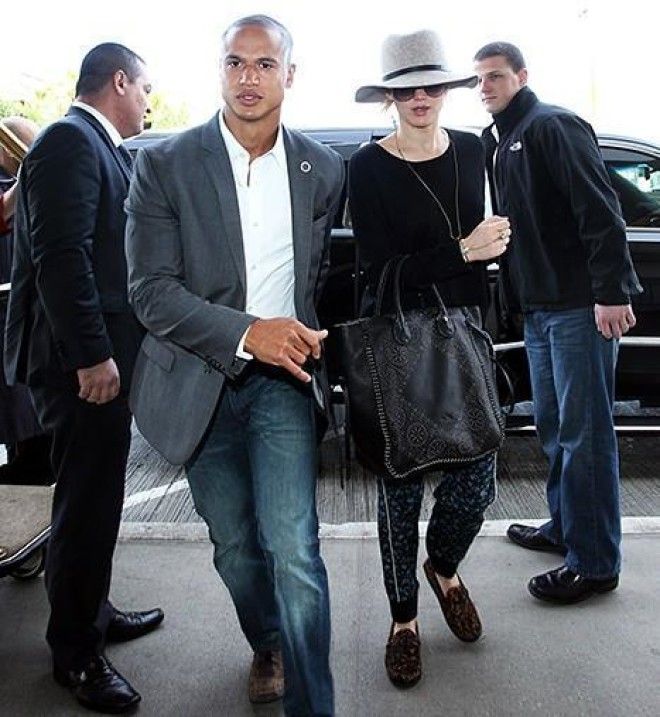 Jennifer Lawrence and her bodyguard Justin Riblet arrive at LAX on December 14, 2014
What exactly happened to him? "It's common for them to switch off guys dealing with the more intense clients," one of the insiders tells Us
.
While J.Law fans may be rooting for a romantic connection between the star and her new hot guard, it turns out that Lenz is actually a married man, sources tell Us
.
As previously reported, Lawrence herself has been dating Gwyneth Paltrow's ex,Chris Martin
,
since last summer.