Kate Middleton, Prince William, Prince Harry, Prince George, Prince Charles, Zara Phillips, Mike Tindell, Mia Grace, Peterand Autumn Phillips, and their children Savannah and Isla attended the Festival of Polo match at Beaufort Polo Club in Tetbury, England.
William, 32, and his younger brother Harry, 30, both played in the polo match as their loving family watched from the sidelines.
Kate Middleton and Prince George walked around the polo match in Tetbury, England on June 14.
The Duchess of Cambridge, 33, wore TopShop maternity Leigh jeans and a Me + Em striped navy top with Sebago "Bala" shoes as she watched her eldest child, Prince George. The ensemble was much more casual than yesterday's Trooping of the Colour Catherine Walker Astrid coat dress, which she wore for her first public appearance after giving birth to Princess Charlotte in May.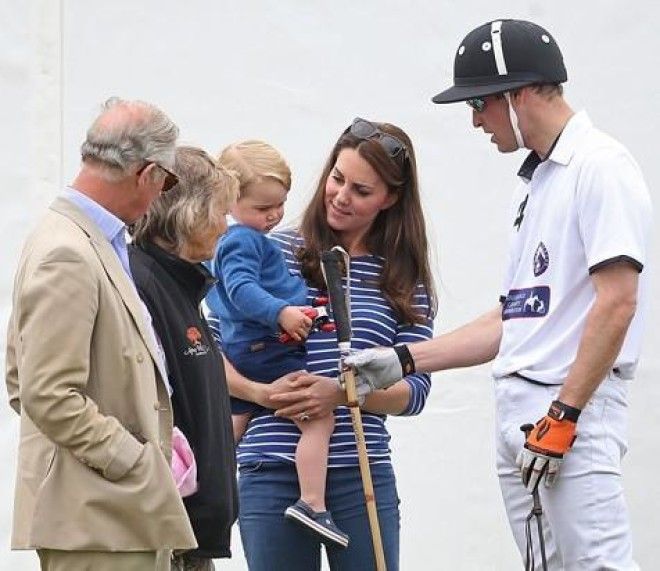 Kate Middleton, Prince William, and Prince Charles admired Prince George at the polo match on June 14.
Like always, the almost-2-year-old tot stole the show, wearing a blue Olivier Baby cardigan that costs around $107, blue Crocs, and Mayoral navy shorts, as he ran around the horses and played with a toy car.
"George had a lot of fun," an onlooker tells Us. "When he saw his cousins rolling around on a hill, he wanted to get involved too, so he raced over the slope and tried to roll. Kate was with him and they were lying in the grass together. He's so cute."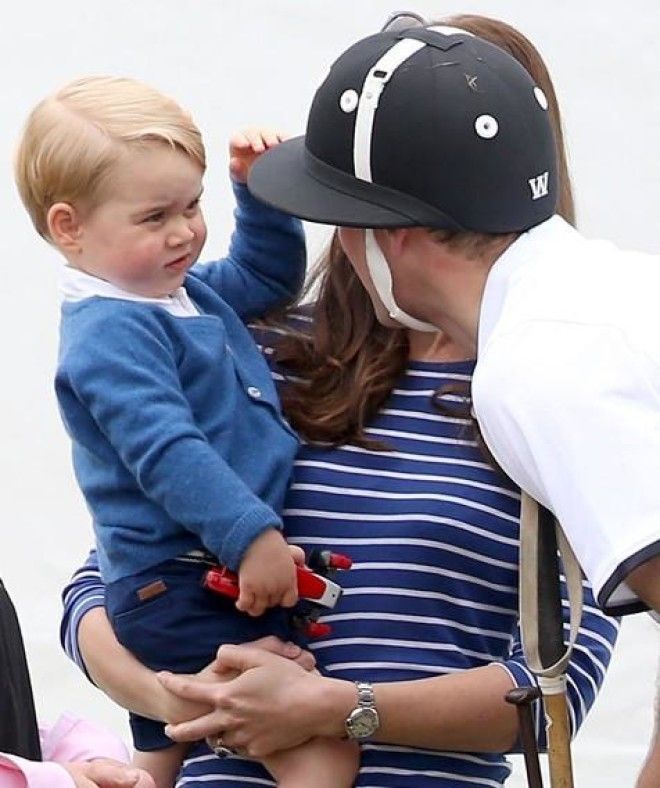 Prince William talked to his son Prince George on June 14.
On Saturday, George made his Buckingham Palace balcony debut to celebrate his great grandmother's 89th birthday. The family returned to
Kensington Palace later in the day, taking helicopters home.