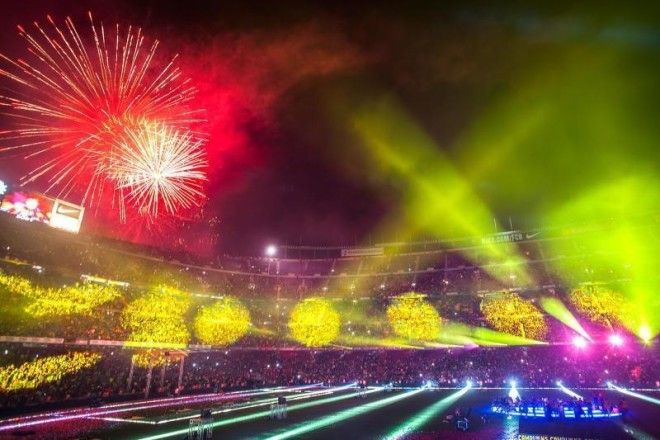 FC Barcelona players celebrate with La Liga, Copa del Rey and Champions League trophies during their victory parade after winning the UEFA Champions League Final at the Camp Nou Stadium in Barcelona, Spain.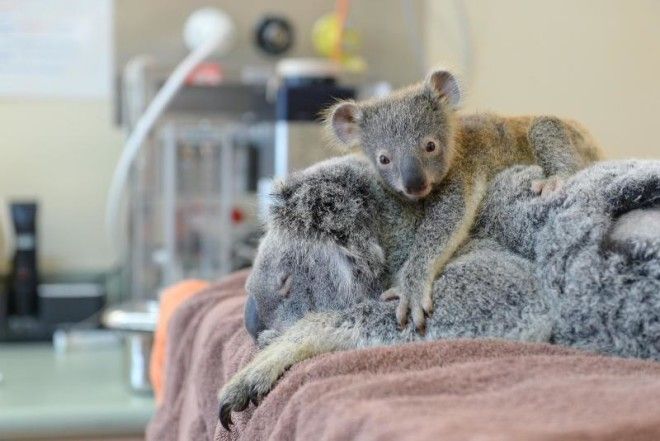 A young Koala named Phantom is seen clinging to his mother Lizzy while she undergoes lung surgery. Lizzy was injured after she was hit by a car, although vets say that she is recovering well.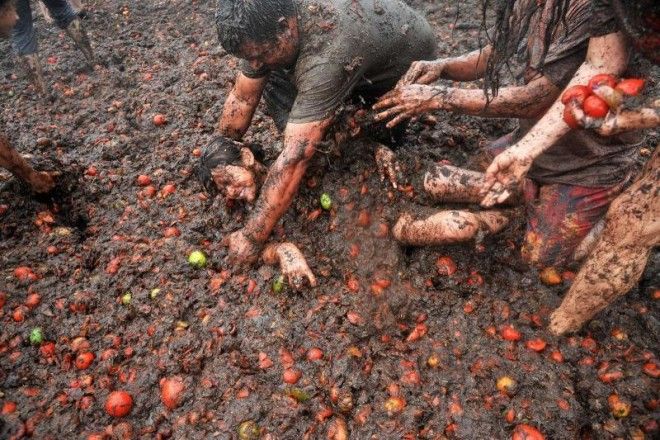 People participate in the ninth annual tomato fight festival, known as "tomatina", in Sutamarchan, Colombia.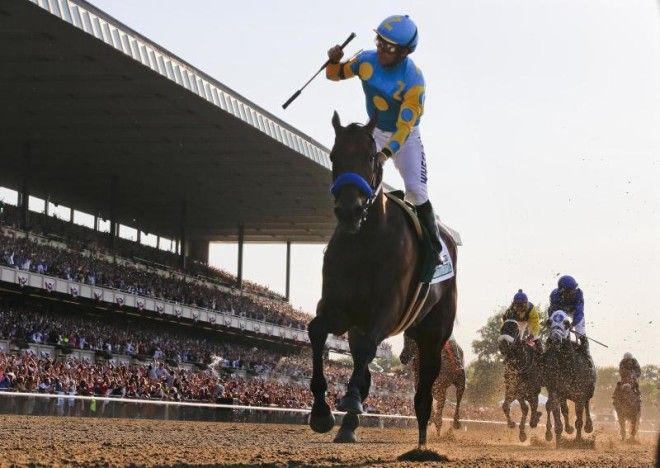 Victor Espinoza reacts after crossing the finish line with American Pharoah to win the 147th running of the Belmont Stakes horse race at Belmont Park in Elmont, N.Y. American Pharoah is the first horse to win the Triple Crown since Affirmed won it in 1978.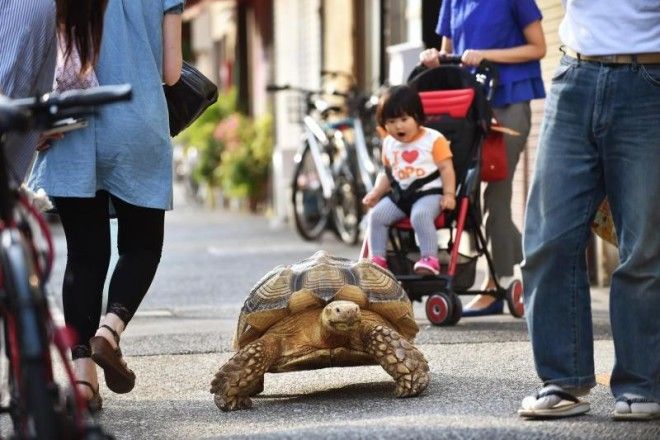 Bon-chan, a 19 year old male African spurred tortoise, is seen causing a stir while walking with his owner Hisao Mitani on a street in the town of Tsukishima in Tokyo. Bon-chan loves fruit and vegetables and is often offered carrot and cabbage pieces by cheering neighbors when he is out.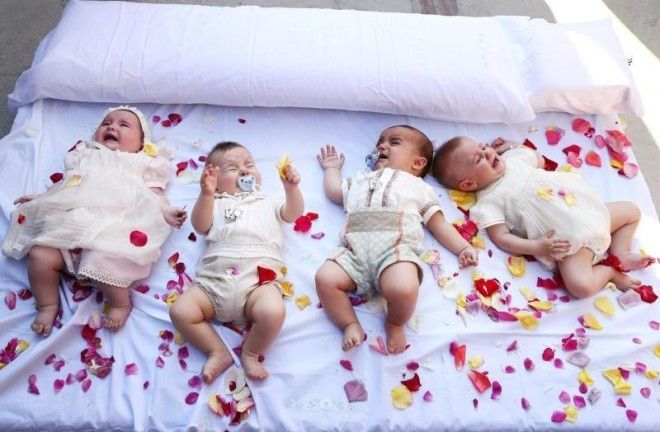 Babies cry as they lie on a mattress in a street during 'El Colacho', the 'baby jumping festival' in the village of Castrillo de Murcia. Baby jumping (El Colacho) is a traditional Spanish practice dating back to 1620 that takes place annually to celebrate the Catholic feast of Corpus Christi. During the act - known as El Salto del Colacho (the devil's jump) or simply El Colacho - men dressed as the Devil jump over babies born in the last twelve months of the year who lie on mattresses in the street.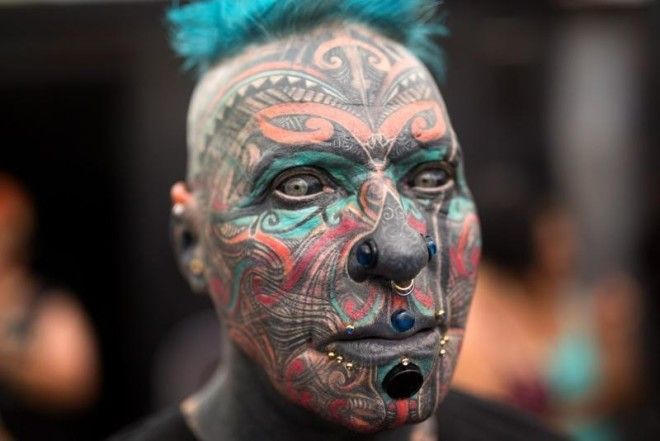 A man, whose face is completely covered with tattoos, poses during the three-day annual tattoo festival in the coastal Israeli city of Tel Aviv. Some 50 tattoo artists, Israelis and foreigners, take part in the festival to show their skills.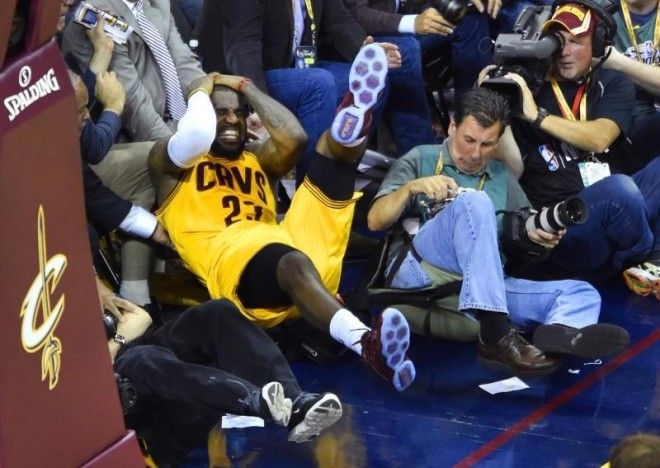 Cleveland Cavaliers forward LeBron James falls into a camera man on the sidelines during the second quarter of game four of the NBA Finals at Quicken Loans Arena. The Warriors won 103-82.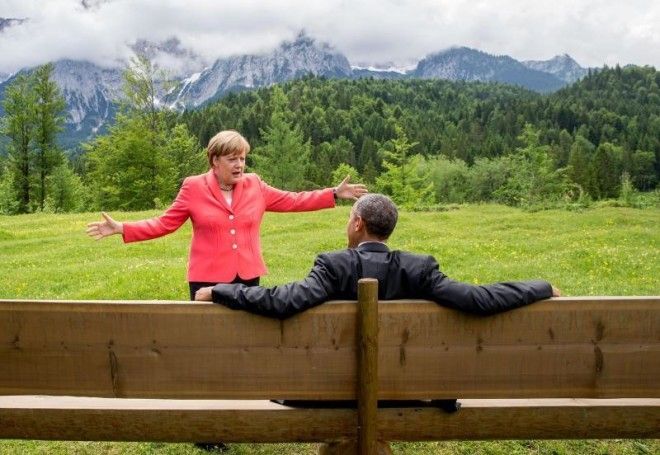 German Chancellor Angela Merkel speaks with U.S. President Barack Obama at Schloss Elmau hotel near Garmisch-Partenkirchen, Germany, during the G-7 summit.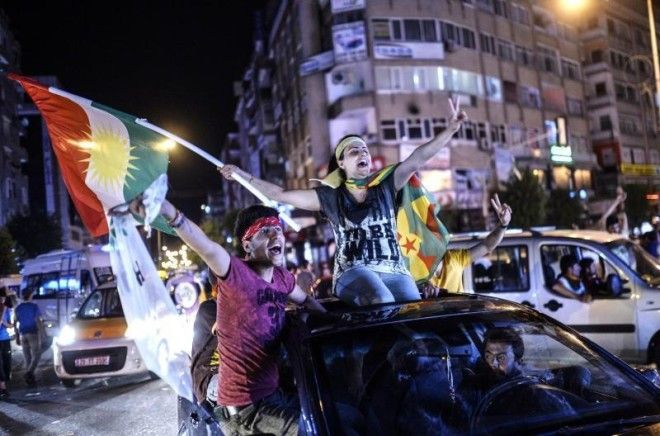 Young supporters of pro-Kurdish Peoples' Democratic Party hold Kurdish flags as they celebrate the results of the legislative election, in Diyarbakir, Turkey.
Graffiti adorns mounds of rubble from the bombed buildings that continue to scar the landscape of Gaza City, Gaza. The devastation across Gaza can still be seen nearly one year on from the 2014 conflict between Israel and Palestinian militants. United Nations official figures said that the 50 day war left at least 2,189 Palestinians dead, including more than 1,486 civilians, and 11,000 injured. 67 Israeli soldiers and six civilians were killed.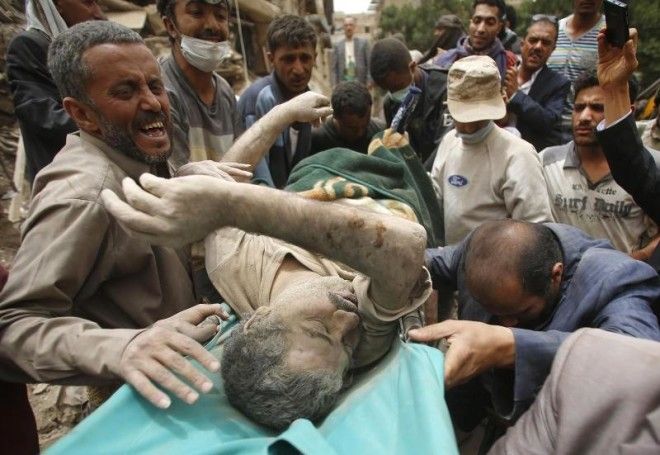 People carry the body of a man they uncovered from under the rubble of houses destroyed by Saudi airstrikes in the old city of Sanaa, Yemen.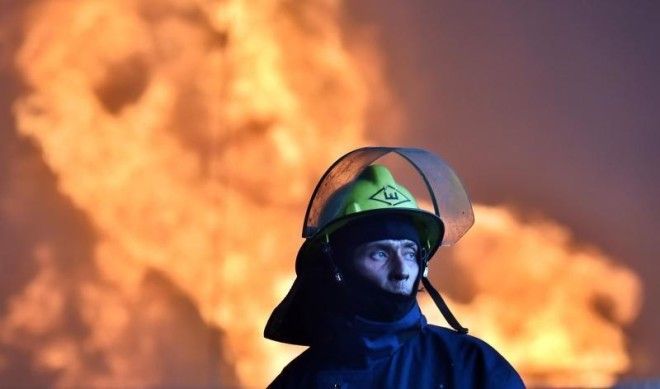 A Ukrainian firefighter works to extinguish a fire at a fuel depot in the village of Kryachki, some 30 km southwest from Kiev. Ukraine urgently evacuated hundreds of residents from the site of a series of fuel depot blasts near Kiev that set off a ferocious fire and left several people missing and at least one confirmed dead.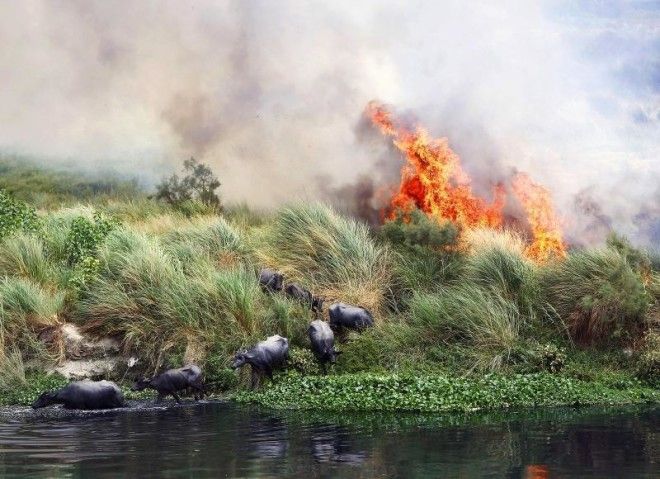 Buffalos escape a fire, which is spreading on a patch of land by the Yamuna river, on a hot summer day in New Delhi, India.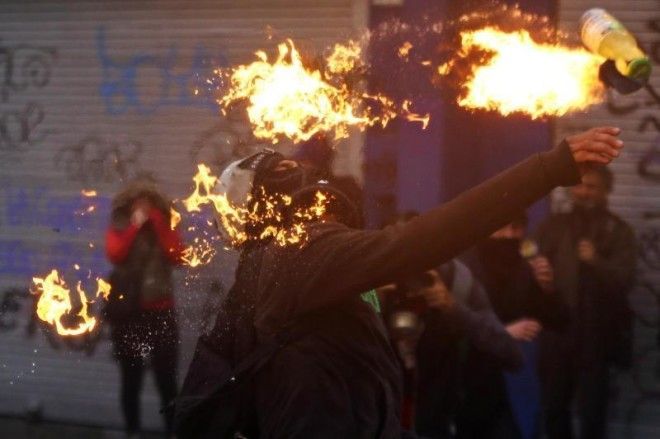 A protester throws a petrol bomb towards the police during a march, demanding more participation in the education reform discussions, in Santiago, Chile. Teachers began on June 1 an indefinite strike in protest against the newest education reforms that are being discussed in Congress and promoted by Chile's President Michelle Bachelet's government.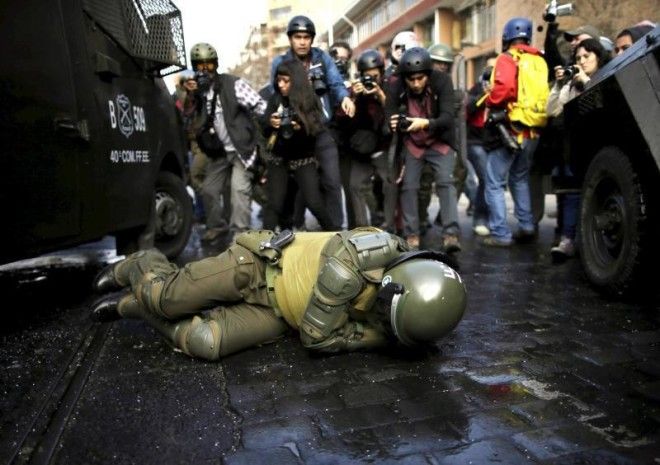 A policeman lies on the ground during a clash with students demonstrating to demand changes in the education system, in Santiago, Chile.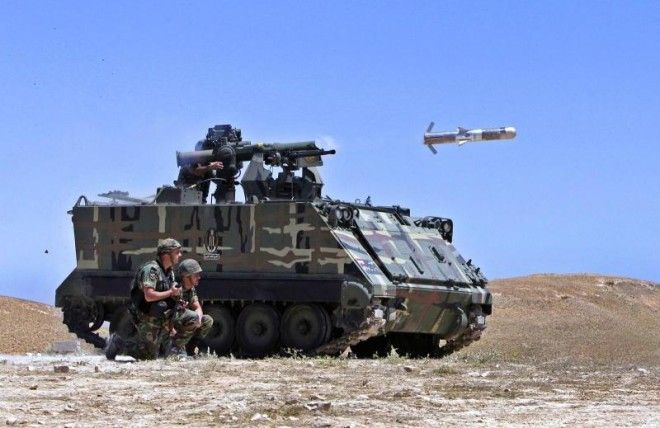 A Lebanese army vehicle fires a TOW-II missile in the village of Taybeh, near Baalbek, eastern Lebanon. The Lebanese army has conducted a live-fire demonstration of advanced missiles supplied by the United States to help combat Islamic extremists along the country's volatile border with Syria.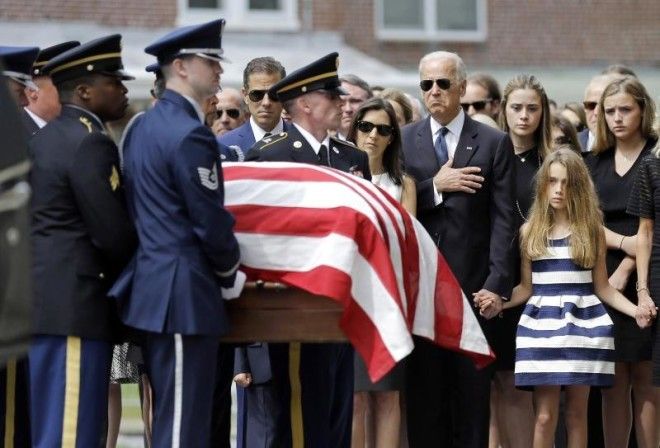 Vice President Joe Biden, accompanied by his family, holds his hand over his heart as he watches an honor guard carry a casket containing the remains of his son, former Delaware Attorney General Beau Biden.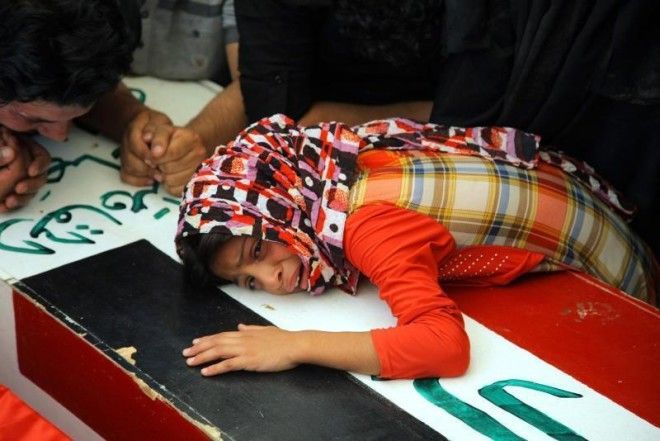 Zahra Mahmoud, age 11, grieves on her father's coffin during the funeral procession of 15 militia members of a Shiite group, Asaib Ahl al-Haq, or League of the Righteous, who were killed in Beiji from fighting with Islamic State militants south of Baghdad, Iraq.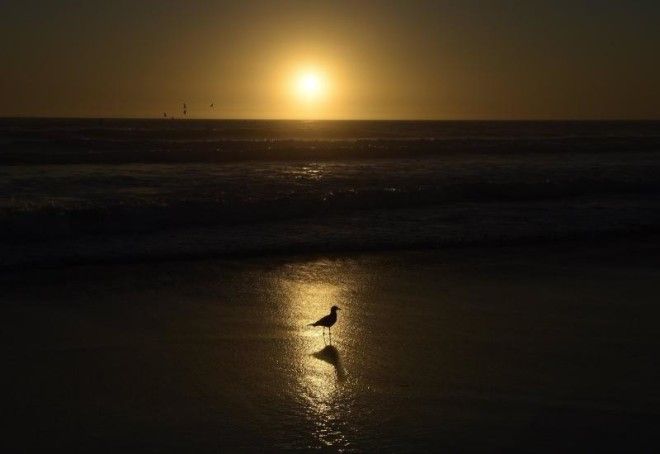 A seagull is silhouetted on the shoreline at sunset in La Serena, Coquimbo, Chile.