The Admiral X Force 145 is not your everyday mega-yacht. The 465-foot vessel takes luxury to eye-popping new heights. Not only is the yet-to-be-built boat huge; its lavish interiors are punctuated by crystal chandeliers and solid marble floors.
Two pools, two movie theaters, two helipads, a garage, multiple gym facilities, and a bi-level pool area merely scratch the surface of what
this incredible boat will offer.
Though the price is only available on request, The Daily Mail estimates it will cost over $1 billion. Would that make it the world's most expensive yacht? Only if it gets built before spring 2018, when 4Yacht's Triple Deuce, a 722-foot leviathan, is set to be completed.
The Italian Sea Group project was dreamed up by Dobroserdov Design in a partnership with Admiral Centro Stile. They provided us an artist's rendering of what the ship will look like when it's commissioned and completed.
Feast your eyes on the Admiral X Force 145. It doesn't get much more luxurious than this.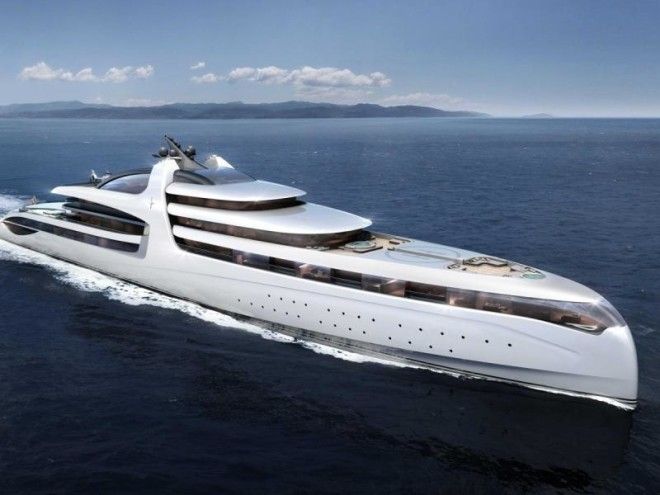 The X Force is longer than two jumbo jets or one-and-a-half football fields.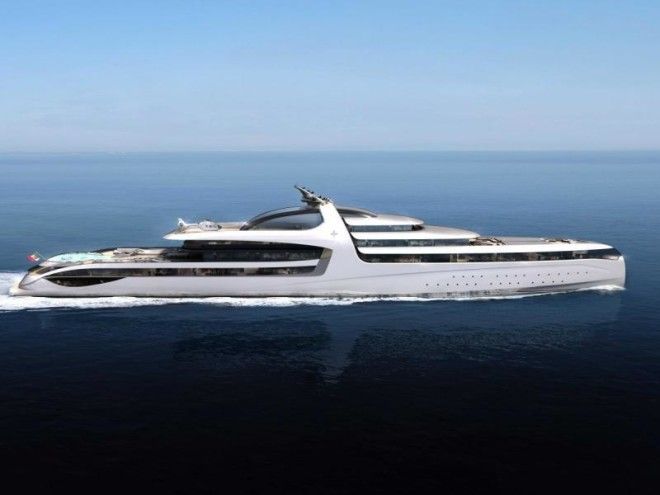 Inside, the yacht is packed with extravagant details. This main salon area is massive.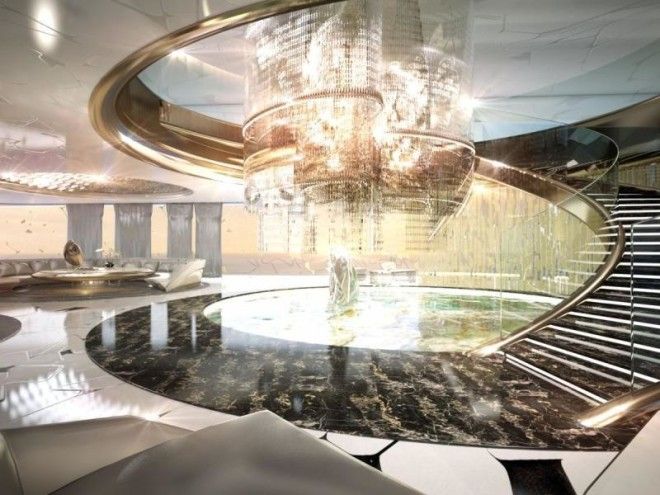 The centerpiece of the salon is a huge chandelier surrounded by a circular staircase.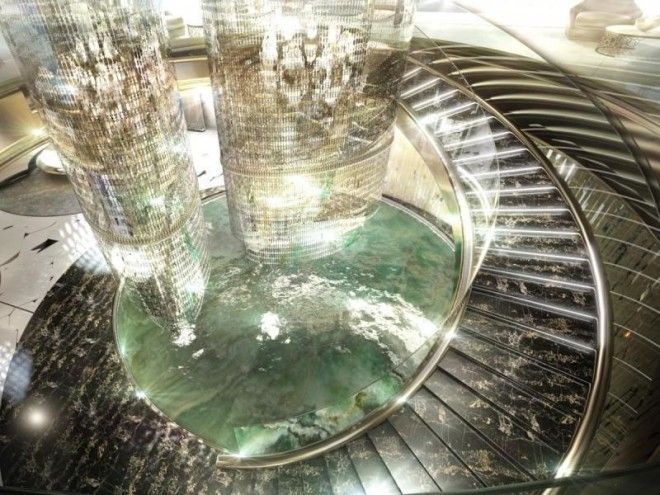 The glittering fixture hangs over an indoor pond accented by glass sculptures.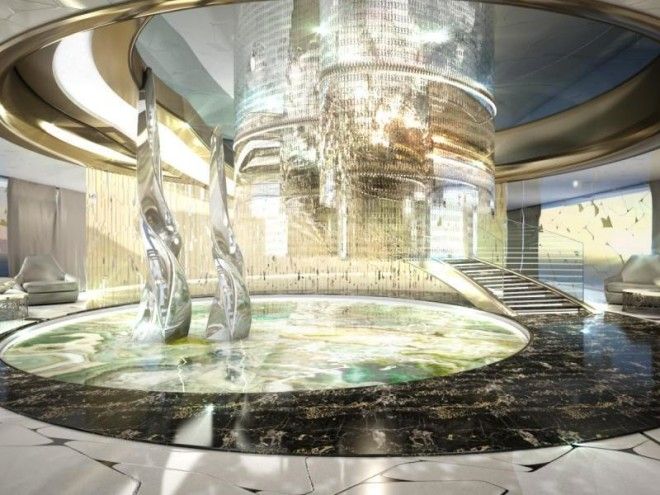 Surrounding the water feature is a sitting area for all the guests you could possibly bring aboard.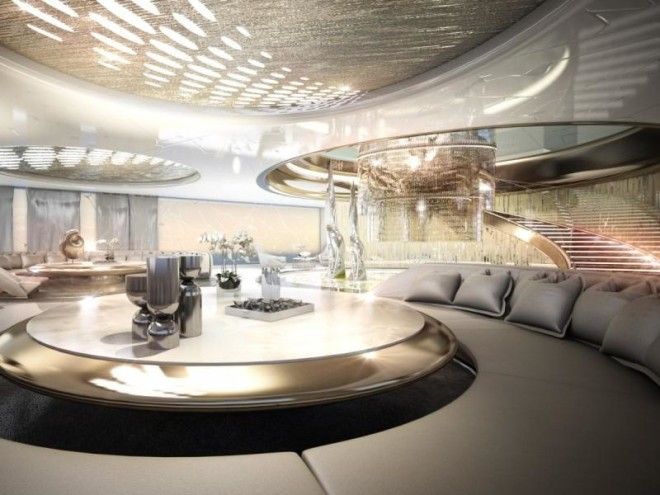 Toward the front of the boat, the master bedroom is a sight to behold. This entire half deck is reserved for the owner.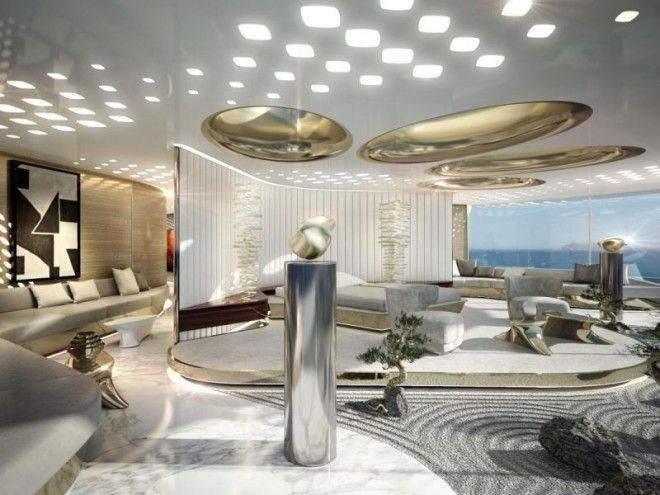 Surrounded by a Zen garden, the suite is certainly a place of utmost tranquility.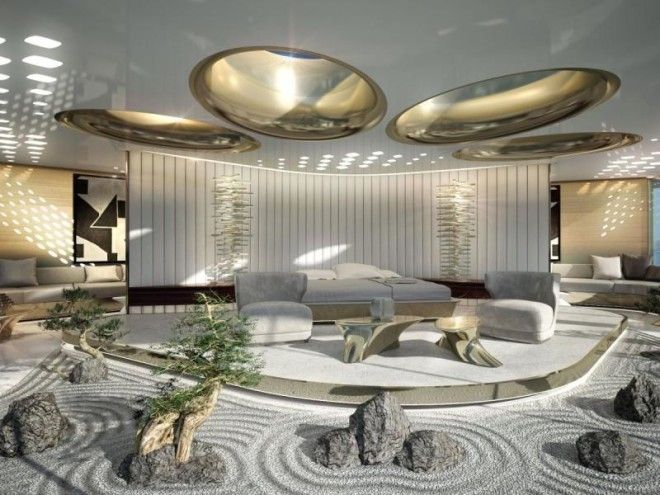 In addition to floor-to-ceiling windows, three skylights let in tons of sunshine.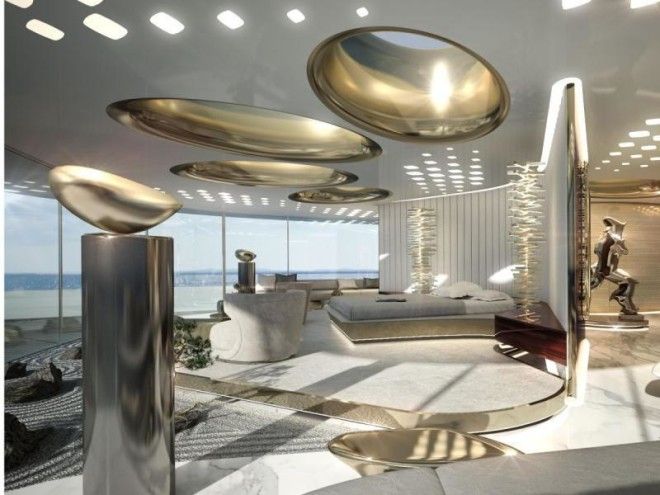 With solid marble floors, the hallways are as grandiose as those of a five-star hotel.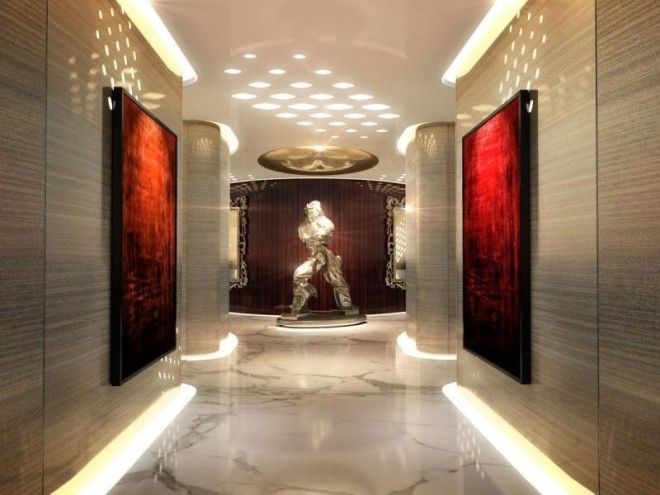 The guest suites are smaller than the master room, but not by much.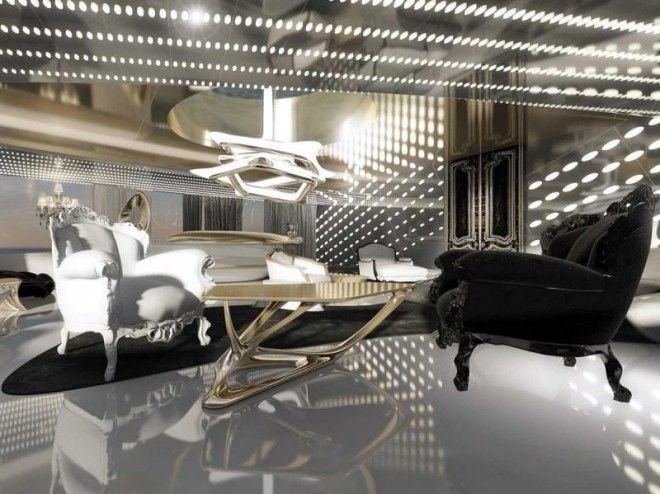 The guest bedrooms also have seating areas ...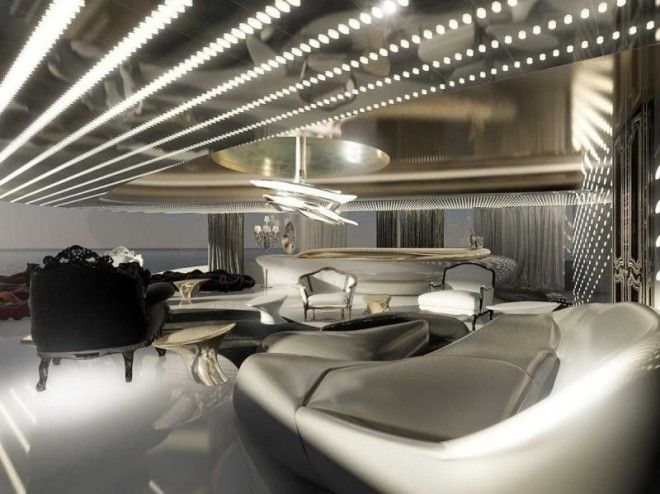 ... which open up to their own in-suite balcony.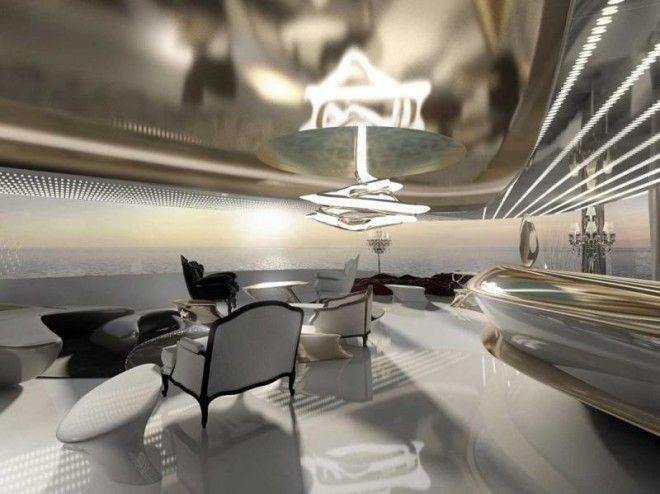 Suite renderings present an eclectic décor, but that may change in the final ship.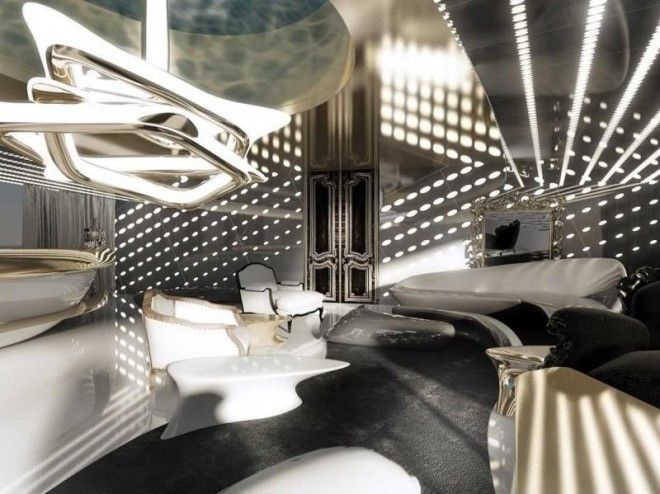 Other lounge areas dot the boat, some of which feature open-air balconies.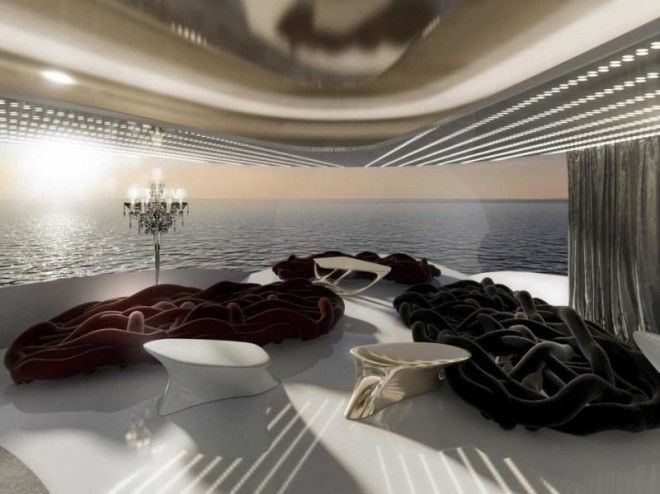 Not a single corner was cut in the design of the bathrooms.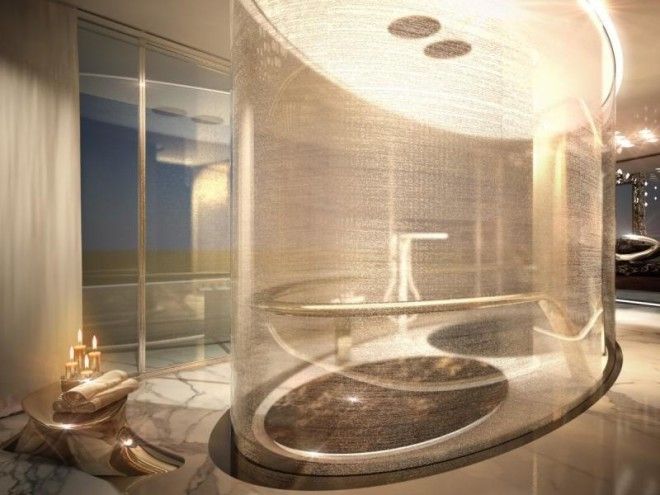 On top of their roomy square footage, bathrooms are outfitted with gorgeous baths and marble touches.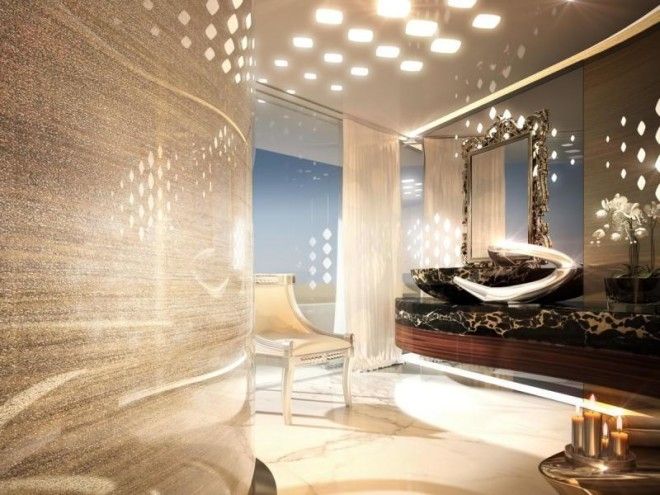 A full dining room sits on one of the lower decks.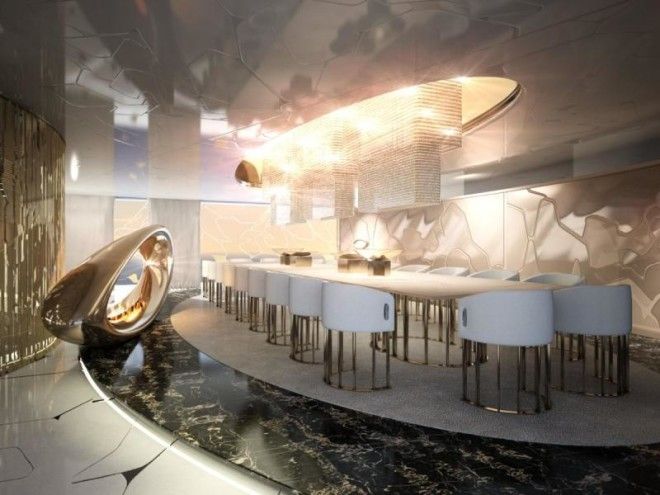 A bi-level spa and bar at the back of the boat makes for a total party room. Another pool is located on the top deck.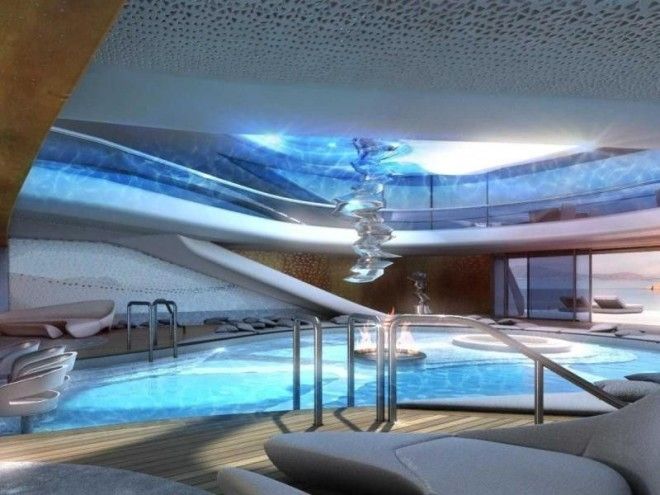 When the sun falls, a 360-degree ring of lights illuminates the yacht's perimeter.