If you love dessert, and you are always fond of new tryings, don't miss out this beautiful jelly cake, the latest trend from Japan. Let's present the cutest, fun dessert — raindrop cake! It's getting viral throughout the web recently, The cake is made with agar, a common analog to gelatin in Asian cuisine, which makes the cake melt in your mouth.
Let's see how we can make it our own.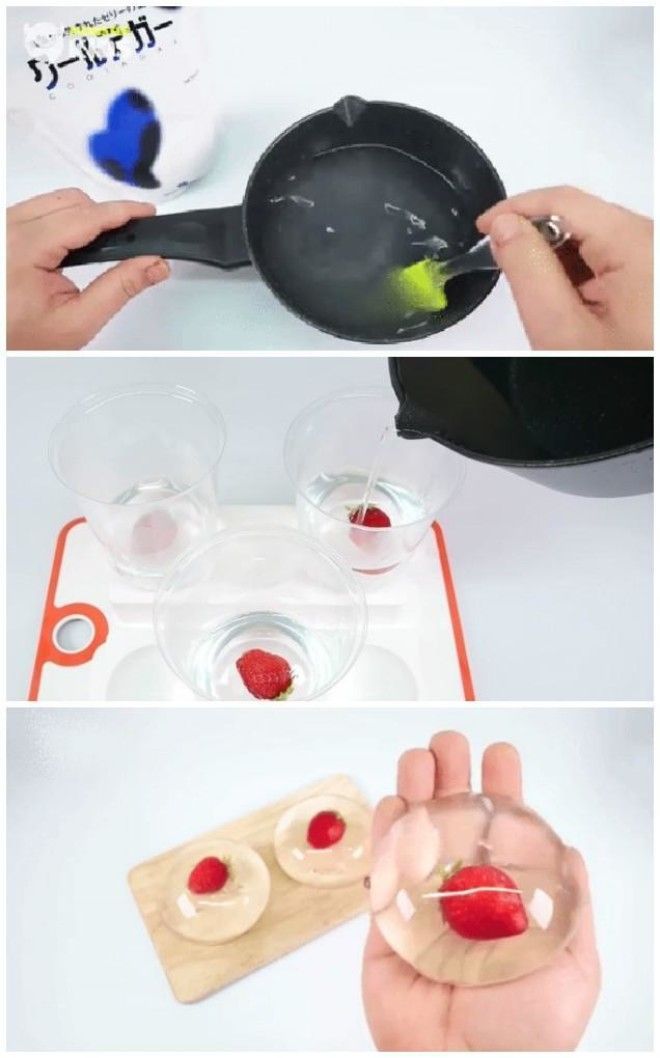 Ingredients
agar powder – can be found at the Asian grocery store or online.sugar
granulated sugar
water handy
Water : 100ml (3.4oz)
Agar powder : 4g
How to:
Start by putting 32 grams (about 6.5 teaspoons) in a pot. Add a bit sugar for better taste. Fill a measuring cup with 800 ml of water. Combine a bit of the water with the powder to form a sort of paste, dissolving the powder a bit.
Gradually add the rest of the water.Stir to make sure there are no agar powder clumps in your mixture.
Take the pot to the stove top and turn the burner to high. Bring the agar mixture to a boil. and when it's done the mixture should be slightly thicker and have the consistency of liquefied Jello.
Let the mixture cool down; pour the cooled mixture into round-bottomed plastic cups, filling about a quarter of the way.
Pop inside a strawberry or other favorites you love
Fill the cups with the rest of your mixture.
Once the cups are filled, let it solidify a bit, then turn the cups over, slowly spinning it in circles until your raindrop cake releases from the mold. MonsterKids shows how easy and fun to make this cutie raindrop cake! If you love this idea, go search for different recipes you love to try and will certainly surprise your family and friends!