The Championships, Wimbledon has the strictest dress code of all the major Grand Slam tennis tournaments. The players must wear white. All white. It's tradition. The All-England Club, where the tournament is played, takes this rule very seriously.
The dress code dates back to the 1800s, when tennis was played at social gatherings. The sight of sweat spots through colored clothing was thought unseemly, especially for women, and "tennis whites" became an institution.
Wimbledon has carried on this strong tradition, even after the US Open allowed colored clothing in 1972.
And the dress code has only gotten more strict in recent years. Last year, the Club issued 10-part "decree" included in the competitor's guide all players must follow. Included in the decree are new rules revolving around the wearing of white, including stipulations like:
"White does not include off-white or cream."
There can only be "a single trim of color no wider than one centimeter."
"Any [colored] undergarments that either are or can be visible during play (including due to perspiration)" are not allowed.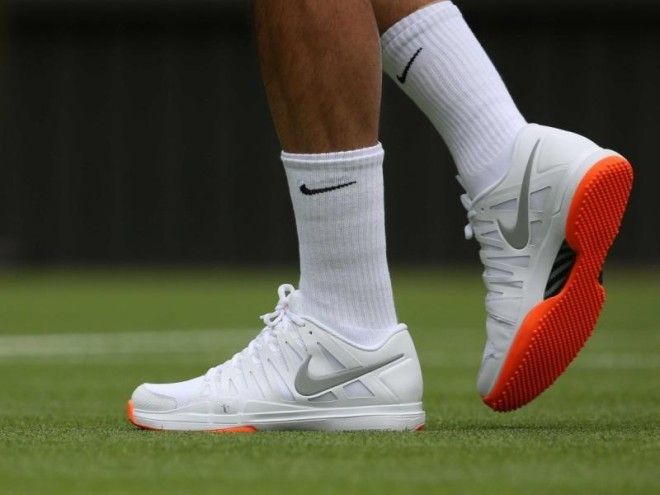 In 2013's tournament, seven-time Wimbledon champ Roger Federer was told his orange-soled shoes were too much and he would need to switch them for the next match. "My personal opinion: I think it's too strict," Federer said in a press conference.
Players have also claimed Wimbledon's argument of upholding tradition doesn't hold water. In 2014, Martina Navratilova — who has won the tournament nine times — was told the blue stripes on her skirt crossed the line. She questioned how that was possible, since she's worn the same type of outfits at Wimbledon throughout her long and storied career. Some of the pieces are even held by the Wimbledon Museum.
"I think they've gone too far," she told The New York Times.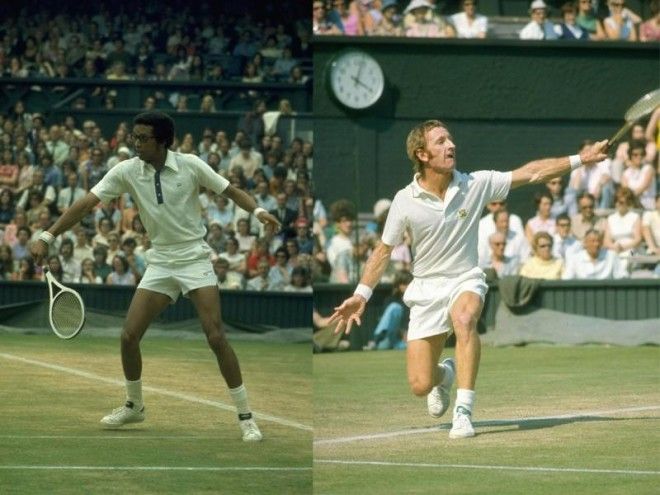 GettyArthur Ashe playing Wimbledon in 1975 and Rod Laver playing in 1960. In today's tournament, Ashe's outfit would probably break the rules.