Adam Kalkin has designed a home with the name of the Old Lady House but it is far from being a cosy cottage for a granny. Instead it is a modern masterpiece designed from three shipping containers in Califon, NJ. The home is spread out over three containers wide and two tall and it has sides that are made almost entirely out of glass.
All of the surfaces and décor in the home have been constructed to give the home an industrial look, including the concrete floor, the glass sliding doors, huge glass panes, stainless steel, columns and beams. There is a mixture of natural designs to make sure the home fits it within the natural surroundings. Materials such as mahogany have been used for the sliding doors and fir has been used for the floors of some of the smaller rooms of the house, such as pantry, laundry room and half-bath.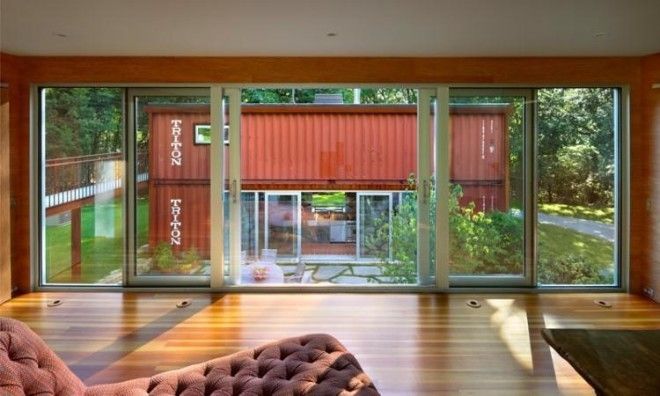 In the main living area of the Old Lady House there is a kitchen island of 12 feet in length and this offers stunning views out over the forest while the owner is preparing and cooking food. Close to the kitchen are two huge sofas and these have been placed close to the cosy fireplace, which gives the home a comfortable warm space to overlook the woodland at night and during the winter.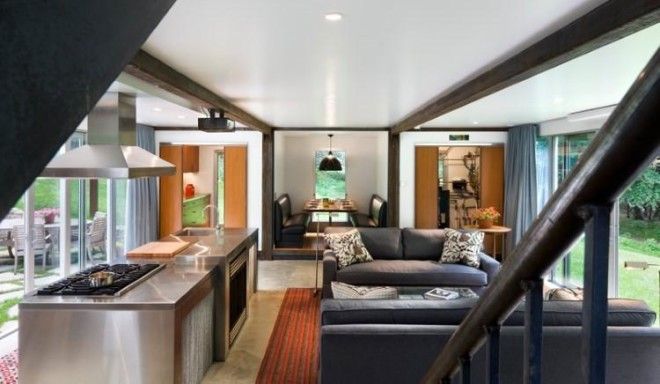 You might think that the corrugation of the shipping containers would make the home interior take on an ugly appearance. However the corrugation is cleverly hidden behind drywall and this means that from the inside you would never know that the home is made from shipping containers. The exterior of the shipping containers have been painted in a colour that is rustic and perfect for the woodland setting.