Depending on who you talk to, a suit just isn't complete without a tie.
The right tie
. If you pick the wrong one — whether it's inappropriate for the occasion or it's mismatched with your shirt — it can throw off your entire outfit.
Choosing a tie in a print or width that doesn't fit into your office's dress code or follow the attire requested on wedding invites is amateur hour. So, we enlisted East Dane's accessories buyer, John Wong for help. He's walking us through the accessory's ins and outs and answering all the questions guys mull over when getting dressed, like: When is it appropriate to wear a skinny tie? What is the difference between formal ties and casual ones? Silk or cotton or denim or wool or knit? Fleur-du-lis or stripes?
Read what Wong has to say above the versatile piece, below. You might want to take notes.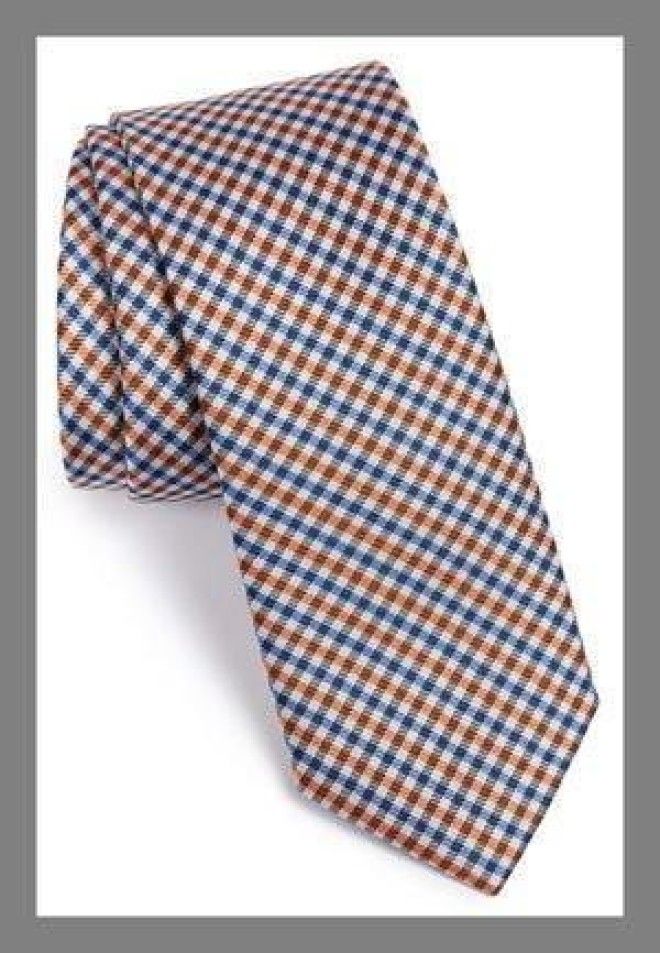 1901 'Payne' Check Silk Tie, $39.50.
The sheer number of tie options to shop can be intimidating — what happened to the classic silk tie?
"
Historically ties have been based on silk but with the development of the slimmer suit, as well as more casual unlined styles over the past few years, ties have expanded to a large variety of fabrics that range from cotton and wool to cashmere and even leather," the seasoned accessories buyer told us. "Variations expand even further when designers play with how the fibers are woven — either in a twill fabric or knitted into a sweater-like texture."
"As fashion for men has expanded, so has the color selection — it's easy to make a simple blue suit look different with a bright tie in orange or red. One way many designers bring color into their designs is with the use of small repeated shapes like a foulard pattern or a classic, regimental stripe."
What's the deal with skinny ties? When and where should guys wear them?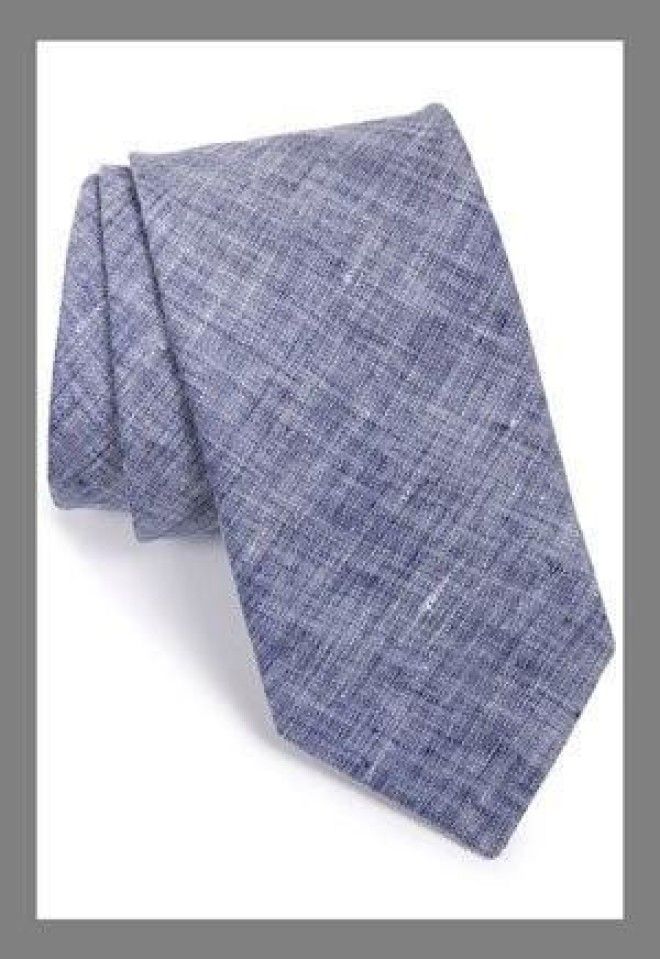 Todd Snyder White Label Woven Linen Tie, $95.
According to Wong, it's less about the occasion than it is about your build and the types of suits you look best in. "When deciding on when to wear a skinny tie, it's important to look at the suit and shirt that you'll be wearing it with. A skinny tie should be worn with suits that are cut slim, with narrow lapels and dress shirts that also have slimmer collars," he explains "The scale of the tie should match the rest of your outfit."
"Another important factor is to recognize the type of suit that is flattering on you," the accessories buyer emphasizes. "A great example is if you look at Adam Scott on
Parks & Recreation
, who pairs a skinny tie with his slim suits and classic oxford shirts that are perfectly tailored to his thinner frame. If Chris Pratt wore the same style, his height and build would overwhelm the suit and tie."
Skinny ties are usually seen as more relaxed or more fashion forward so you should consider where you will be wearing it. "You're probably safe to wear a skinny tie if you work in a more creative or relaxed environment, such as an advertising or architecture firm, less so if you work in more traditionally corporate environment, such as an investment bank or law office," Wong concedes.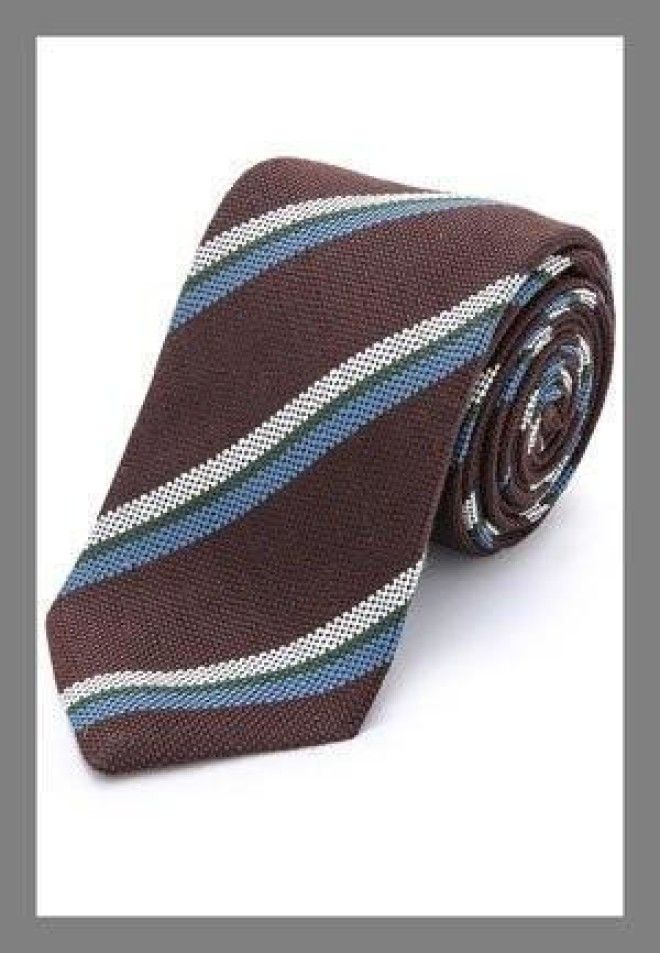 Drake's Striped Silk Jacquard Tie, $108.50.
What type of tie is best to wear to work?
When deciding on the type of tie to wear in a corporate environment versus an more causal or startup setting, "an easy first step is to look at your colleagues," says Wong. "What color, width and fabric are they generally wearing?" Are the ties you're noticing on guys around the office traditional or quirky, or colorful to muted? This is telling about what type of necktie you should be wearing to work.
"For men, your tie is one of the first things that people will look at — so you need to decide how much you want to stand out (or fit in) and find a color or pattern that help you achieve that." For corporate dress codes we suggest the traditional and muted route; those with laid-back dress codes can experiment with quirkier, more colorful, more fashion-forward styles.
Romance is running rampant this summer, or so your Google Calendar tells you. What sorts of neckties are good choices for weddings?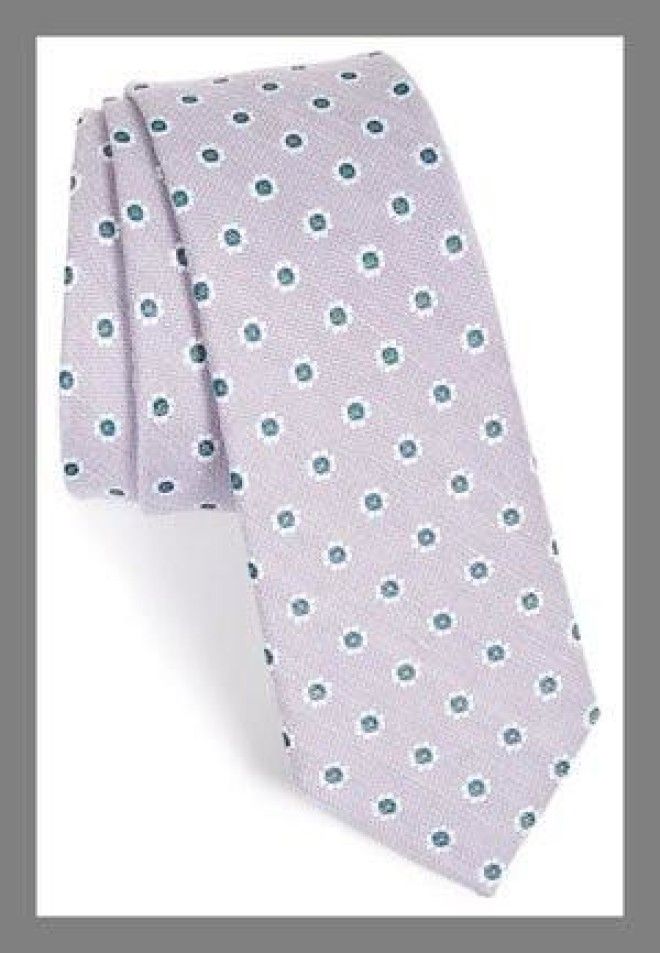 The Tie Bar Floral Silk Blend Tie, $19.
"For a summer wedding, it's easiest to look at the same type of fabrics you would wear in your suit: Lightweight cotton, linen blends, and for certain situations seersucker." Wong's personal favorites are Drake's silk knotted ties; many of the brand's colors and patterns will work well in your permanent collection as well.
Your tie selection will vary on whether your event is in the daytime or evening, cocktail or black-tie attire — but Wong's suggestions should fuel you with ample ideas.