They say your wedding day should be one of the most memorable experiences of your life.
And it would have been for Justice Stamper before a car wreck nearly took it all away. She and her husband, Jeremy, were married on August 1, 2014, in tranquil Hungry Mother State Park, in a country sunflower-themed ceremony before family and friends.
Justice and Jeremy were first married at Hungry Mother State Park. All photos by Kayla Williams, used with permission.
On August 20, 2014, just weeks after her wedding, Justice Stamper was in a traumatic car accident that erased every last one of her wedding memories. From planning and cake tastings, to walking down the aisle, to her and Jeremy's honeymoon in the Smoky Mountains.
All of it — gone.
It took her months to work up the courage to admit to her husband that she had no recollection of the day they had dreamed about together for so long.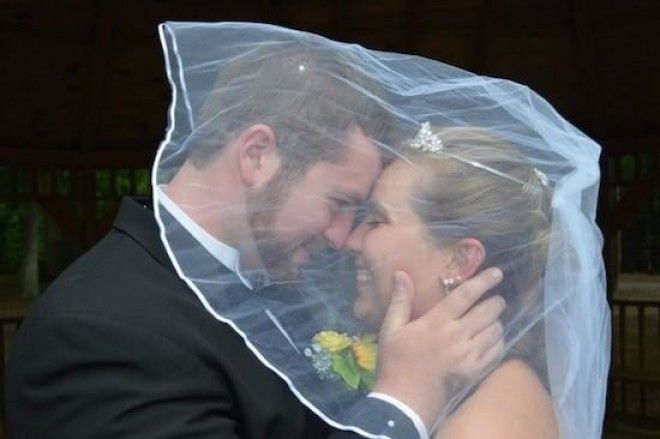 It was one of the happiest days of their lives but the joy was short-lived.
When she finally told Jeremy, he promised her they would do it all over again. He started a GoFundMe fundraising campaign to scrape together enough money to give Justice a wedding day she'd remember forever. One even better than their first.
And as of this writing, Jeremy has raised nearly double his original goal of $5,000. There's never a good time for tragedy to strike, but for some people, it hits at the absolute worst moment.
In 2007, Katie Spinks suffered an epileptic seizure just hours before her wedding and woke up not knowing where she was and not even recognizing the tuxedoed man standing across from her. She only remembered her husband-to-be halfway through the ceremony.
In 2013, Amanda Karth suffered an extreme heart attack the night of her wedding that knocked her unconscious for days, wiping away the happy memories of her nuptials in the process.
And in 2014, just two months before his wedding to fiancee Leizl, Rowden Go Pangcoga was diagnosed with stage four liver cancer. Doctors said he'd never make it to the ceremony.
Each of these brave individuals, along with their loving partners, found a way to overcome the obstacles.
Katie made a memory book full of photos so she'd never forget her wedding, her kids, and her life with her husband. Amanda renewed her vows with her groom in a tender ceremony after their story gained wide attention.
Rowden and Leizl moved their wedding up almost a full month and were married in a hospital. All because the moment meant that much to them.
And on August 1, 2015, Justice Stamper will have her moment – one that she and her husband will share forever.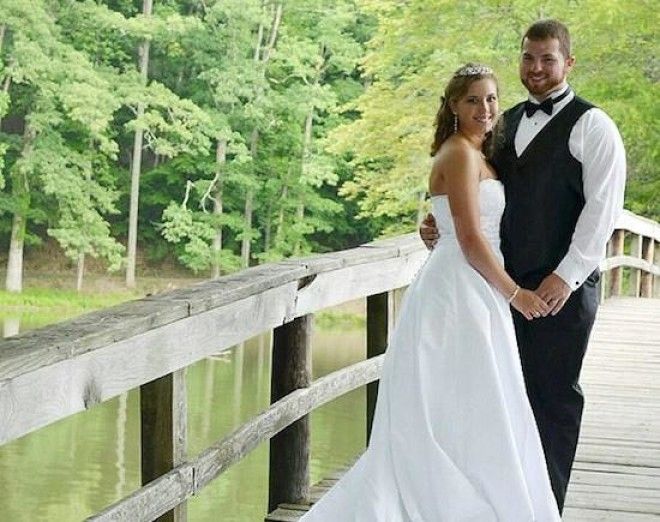 Justice and Jeremy will get married again on August 1.
Love is built on these shared experiences – weddings, births, and all the day-to-day moments in between. It's built on an ability to look back in awe of everything you've been through together.
The good and the bad. Jeremy and Justice will tie the knot for the second time, and this time in front of not only their family and friends, but everyone who helped them make this great day possible.
And afterward, they'll finally be able to put the accident behind them and begin a new chapter of their lives together.