Fans in cosplay, or role-playing costumes, invaded San Diego Comic-Con.
At this year's annual celebration of comics, TV, movies, anime, and gaming, we've seen screen-accurate Stormtroopers, superheroes, and Anna and Elsa of "Frozen" dressed for battle on the Fury Road. We went ahead and rounded up photos of the best cosplays. And we will continue to update this post as the Con unfolds.
Jared Leto's Joker in the coming "Suicide Squad" has nothing on this glam Clown Prince of Crime.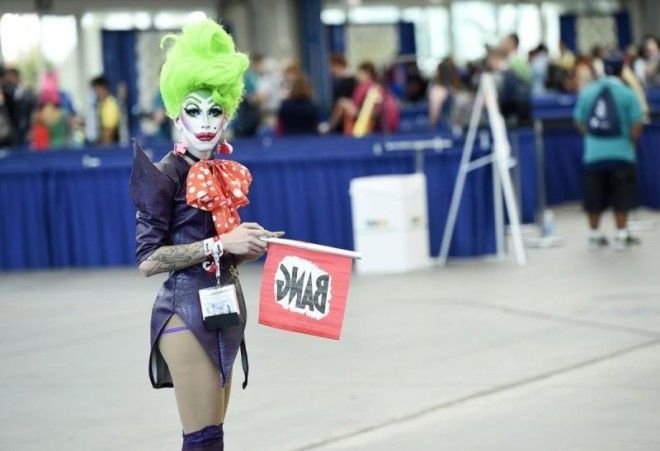 Batman better watch out for this Joker-Penguin hybrid.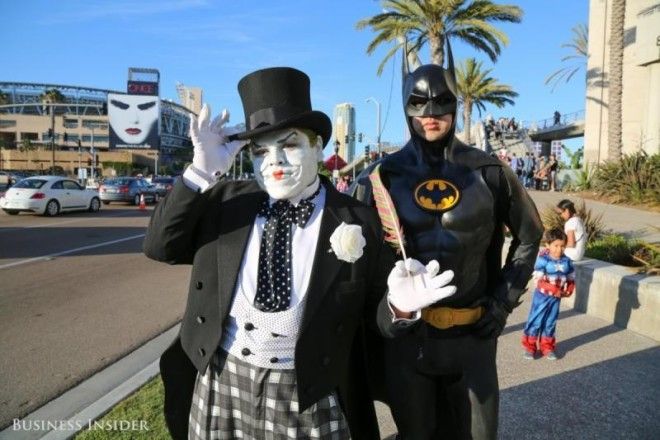 What would Joker be without his main squeeze, Harley Quinn (who we'll see in the new "Suicide Squad" movie)? She's joined by a flirtatious Poison Ivy.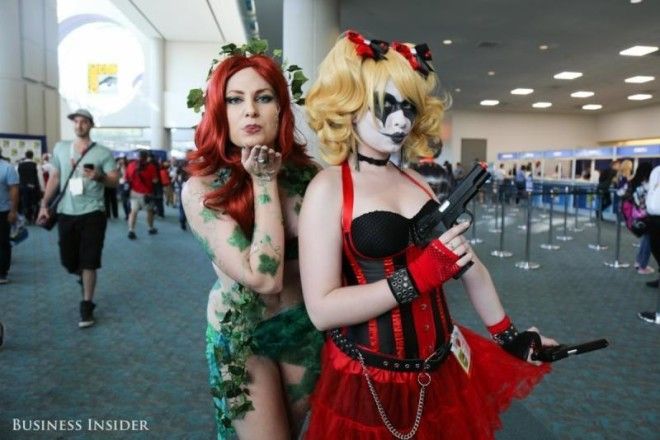 A team of Black Widows takes on the Silver Surfer.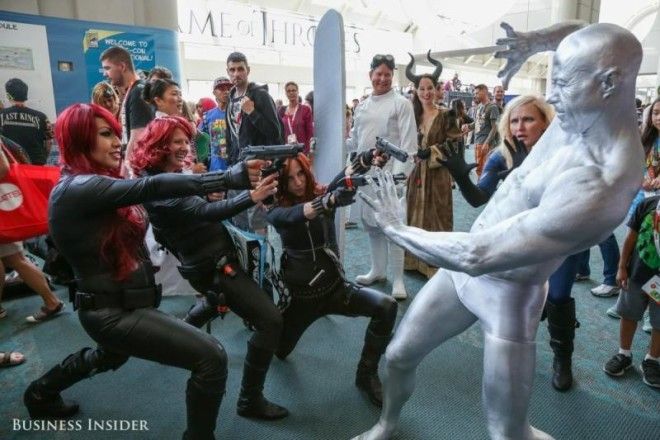 Yaya Han, cosplaying as Medusa from Marvel's "Inhumans," is a professional cosplayer and a celebrity in her own right.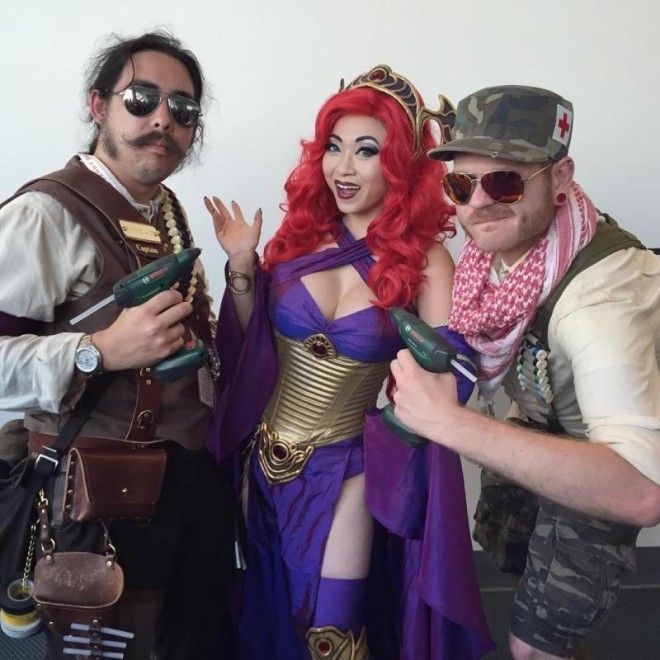 Galactus is the baddest of the bad guys in the Marvel universe.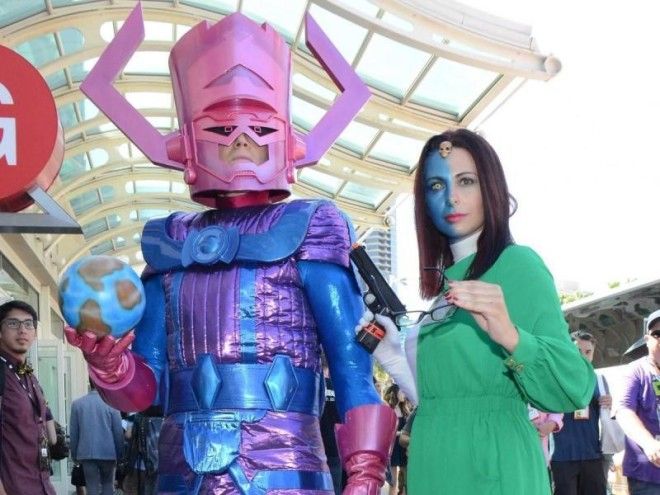 Predator and Cyberman from "Doctor Who" duke it out.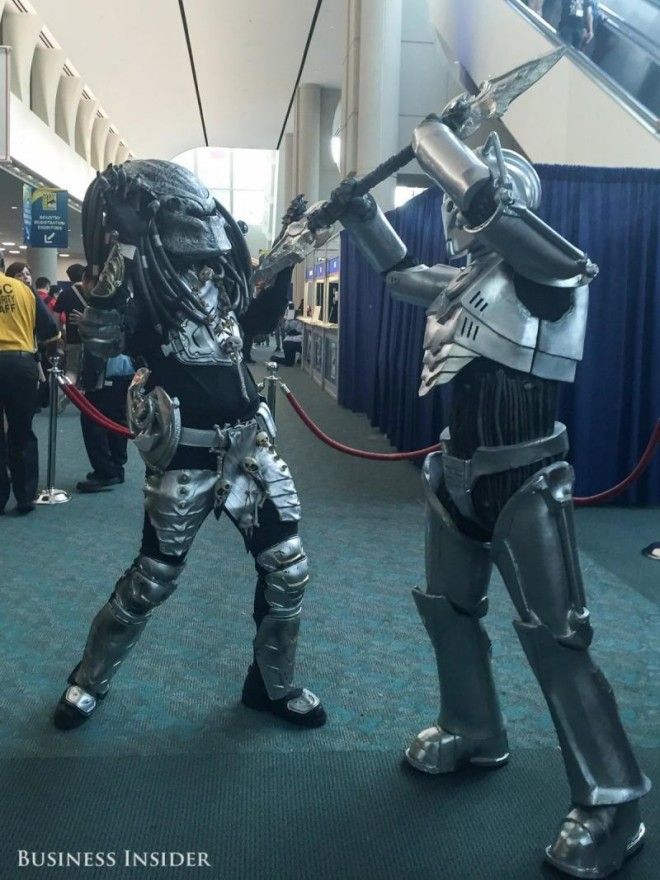 The Merc with a Mouth is undoubtedly a star at this year's Con. We love this Deadpool-Stormtrooper crossover.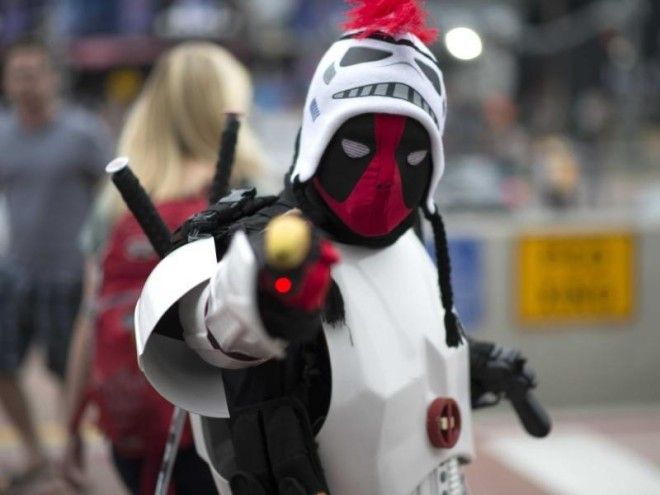 Turns out, Deadpool is a big Disney fan.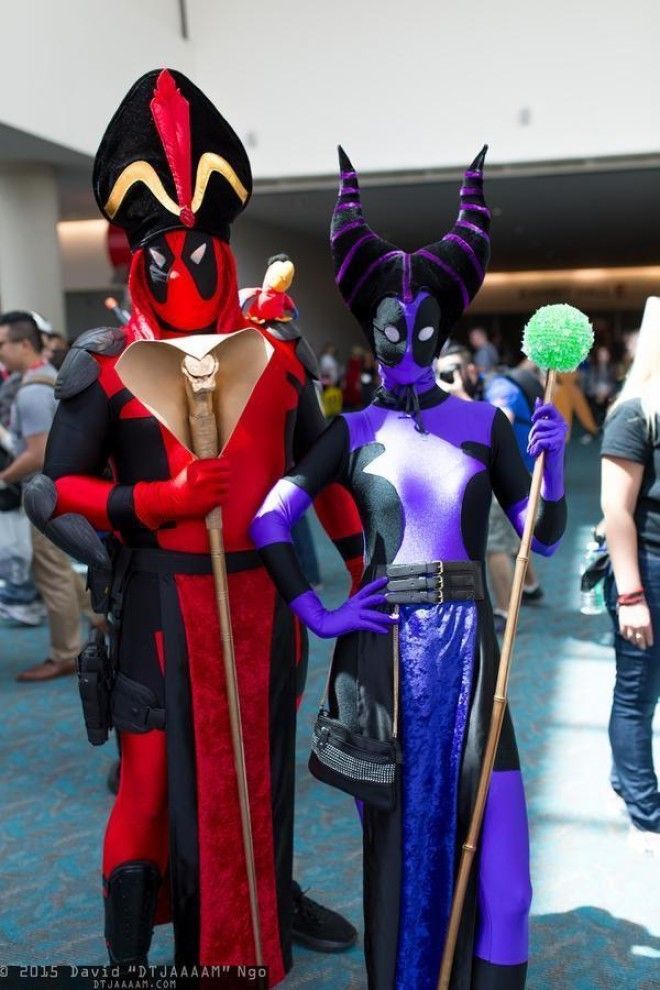 A throwback, Hades from Disney's animated "Hercules" takes a vacation from the depths of hell.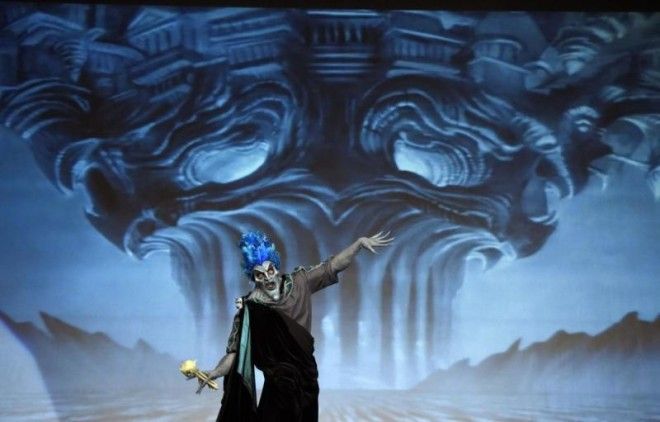 Maleficent from the original animated classic "Sleeping Beauty" and Angelina Jolie's rendition in "Maleficent" catch up with a warrior Snow White on the lawn. Because where there are villains, there are princesses ...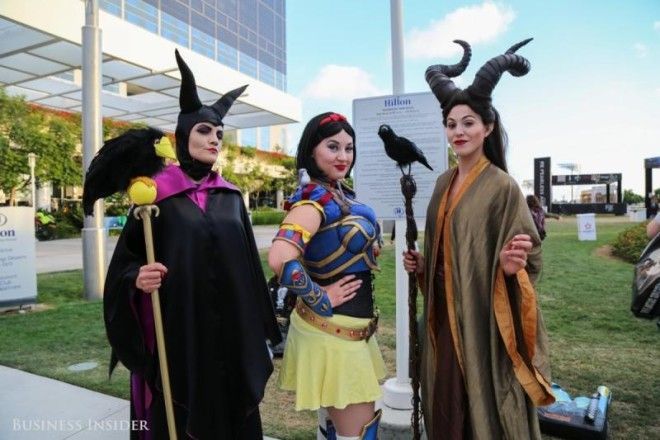 Cinderella takes on the showroom floor in style.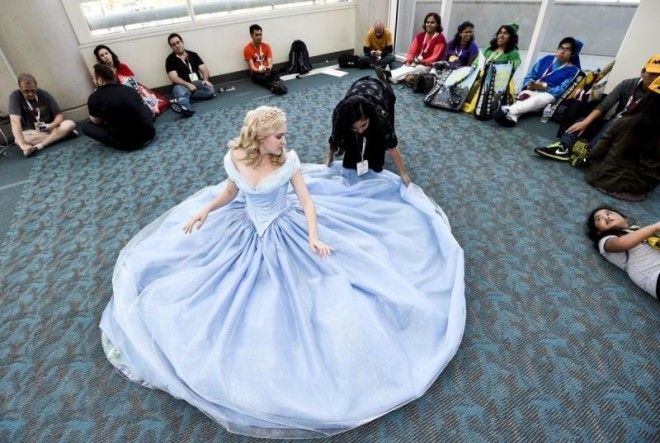 "Frozen" cosplay is as popular as ever.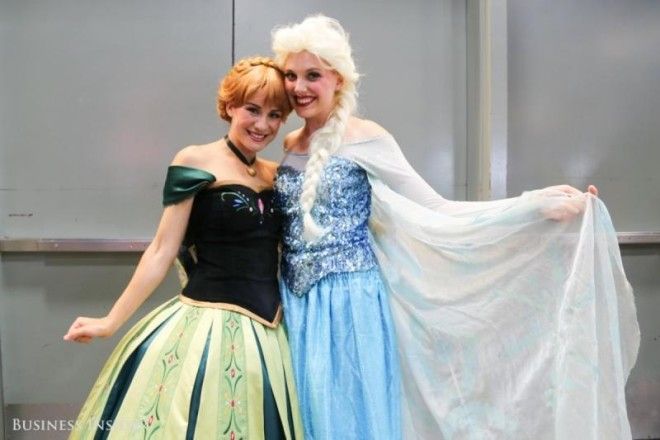 Anna and Elsa dress for battle on the Fury Road in this creative "Frozen"-"Mad Max" crossover.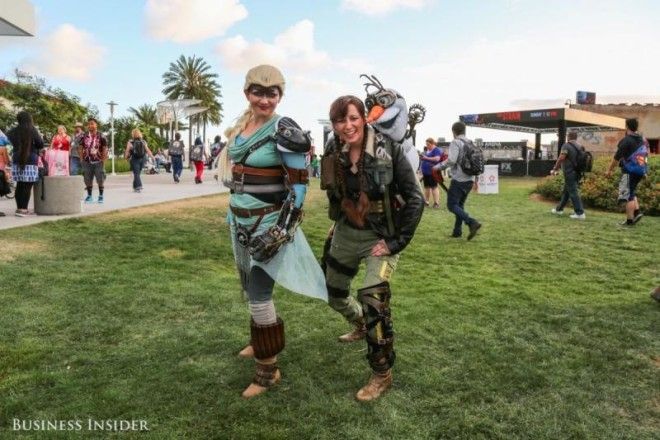 Olaf rides eternal, shiny, and chrome!
"Mad Max" cosplay is huge this year. We've seen everyone from Immortan Joe to the breeders.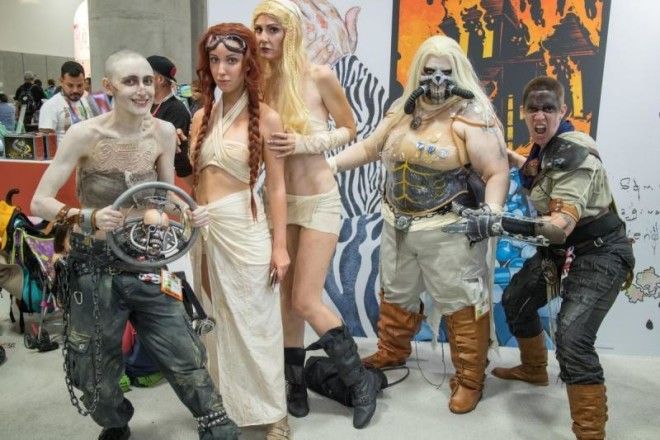 The movie's flame-throwing guitarist is on hand to amp everyone up.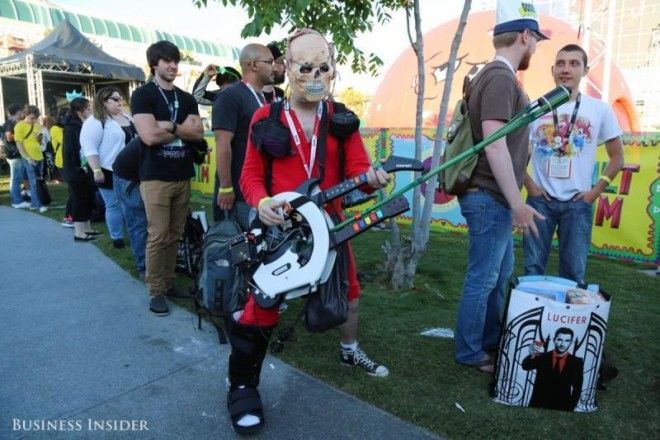 The family that cosplays together, stays together. How cute are these War Boys?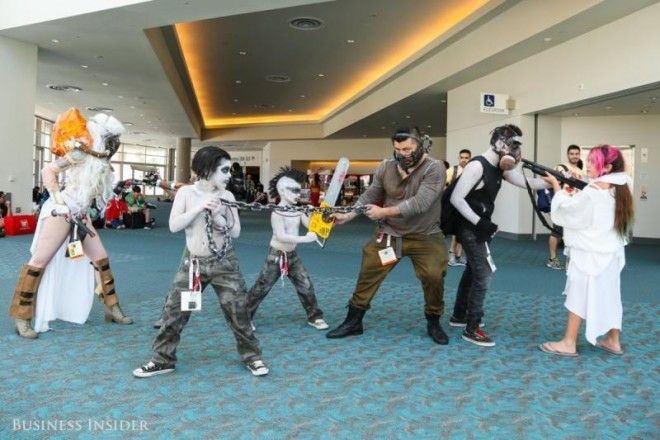 This little Nux has a fake blood line tethered to his dad, who's cosplaying as "Mad" Max.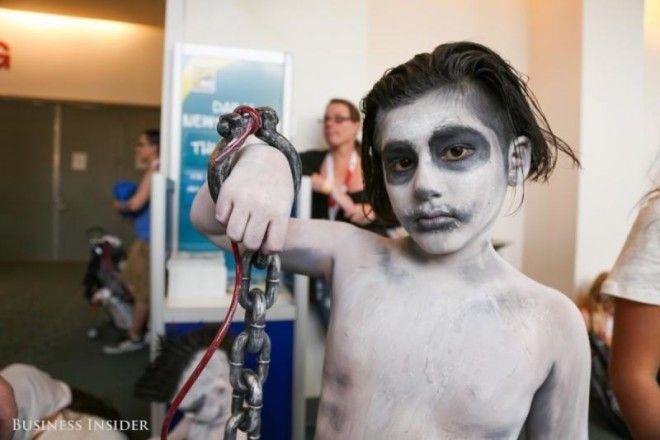 Not to be outdone, the cast of "Jurassic World" strikes this pose of Chris Pratt's character taming the raptors. Again and again.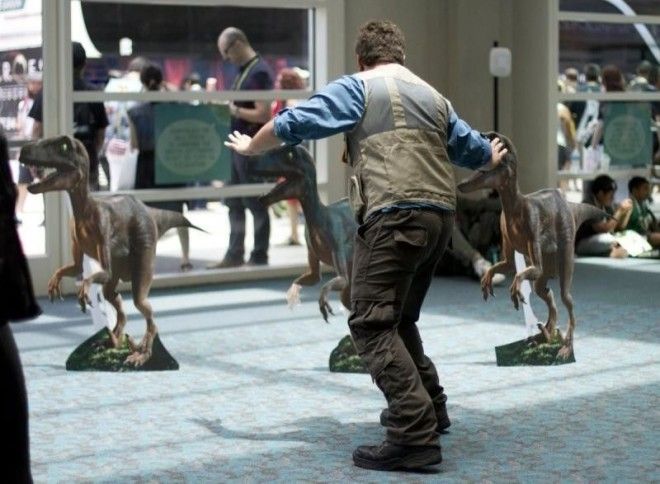 Thor wrangles an unusual set of raptors.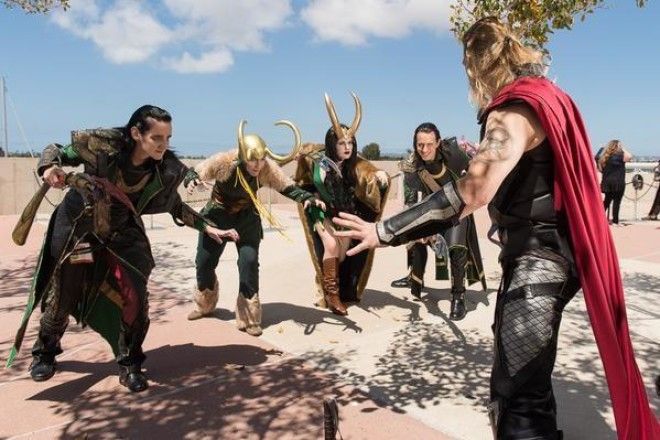 These raptors in masks are a little less intimidating.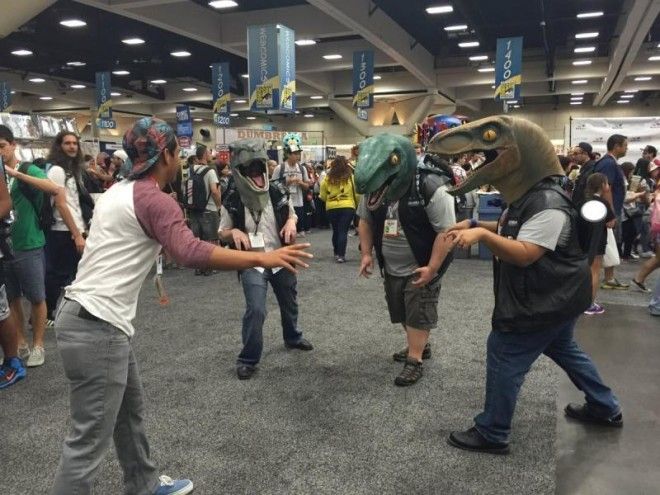 Jimmy Buffett, the surprise star of "Jurassic World," struggles to balance margaritas on the showroom floor.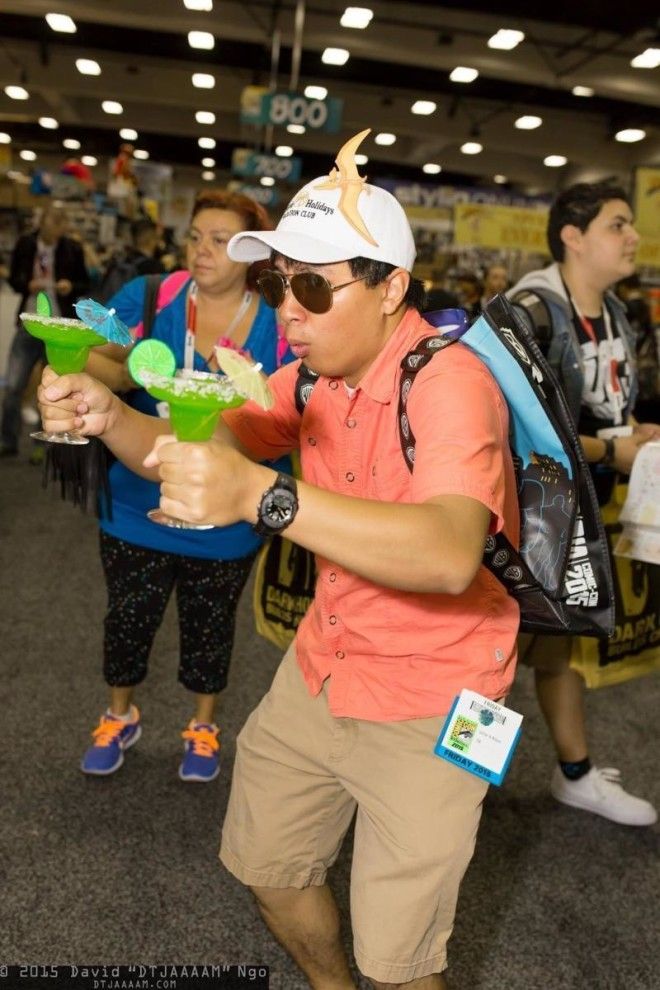 It's no surprise "Star Wars" has a monster presence at the Con, with stars of the coming sequel in attendance. Chewbacca and Boba Fett get a Steampunk makeover.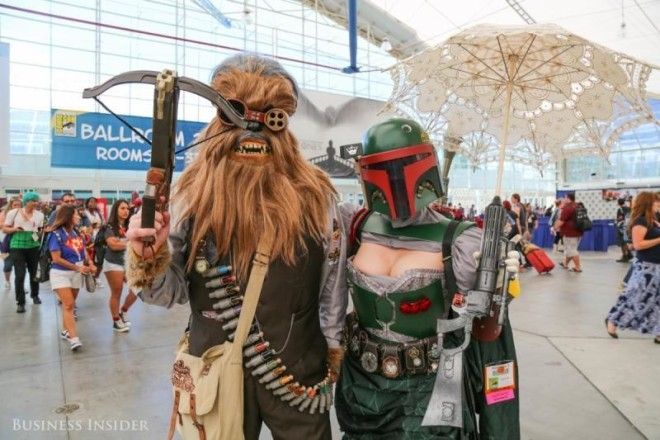 We love Boba Fett's jetpack adorned with roses.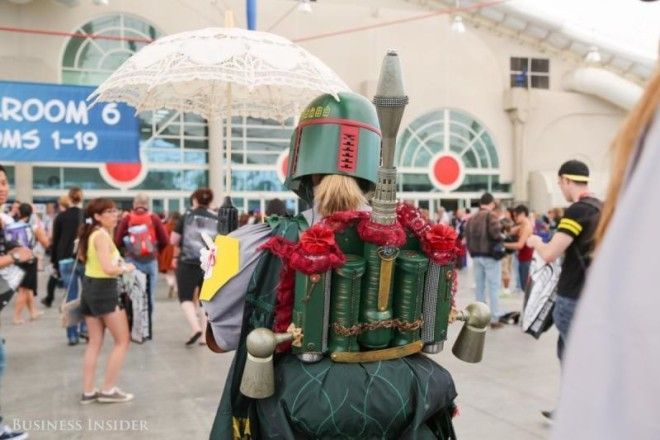 Steampunk Leia and Darth Maul buddy up for a photo.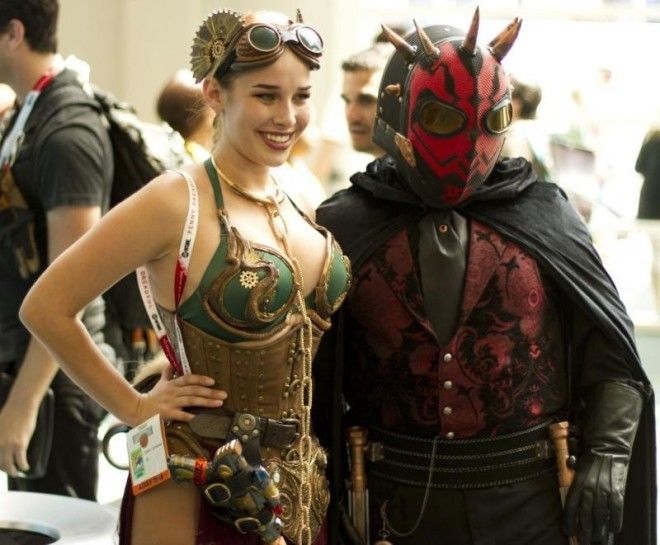 Another Princess Leia takes a portable vacuum to her "walking carpet" companion.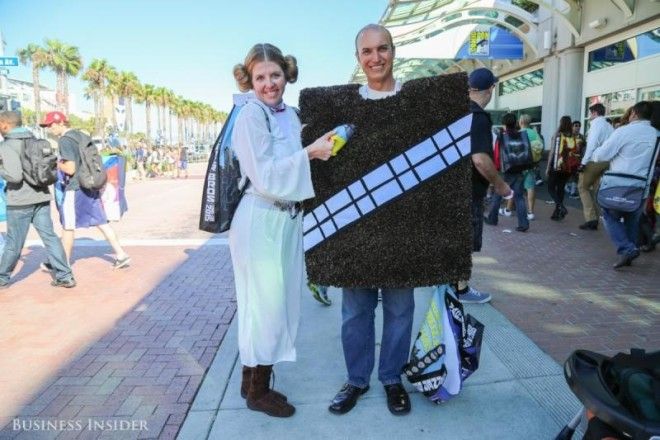 This Darth Vader looks as if he may prefer Princess Peach's racing car over the Death Star.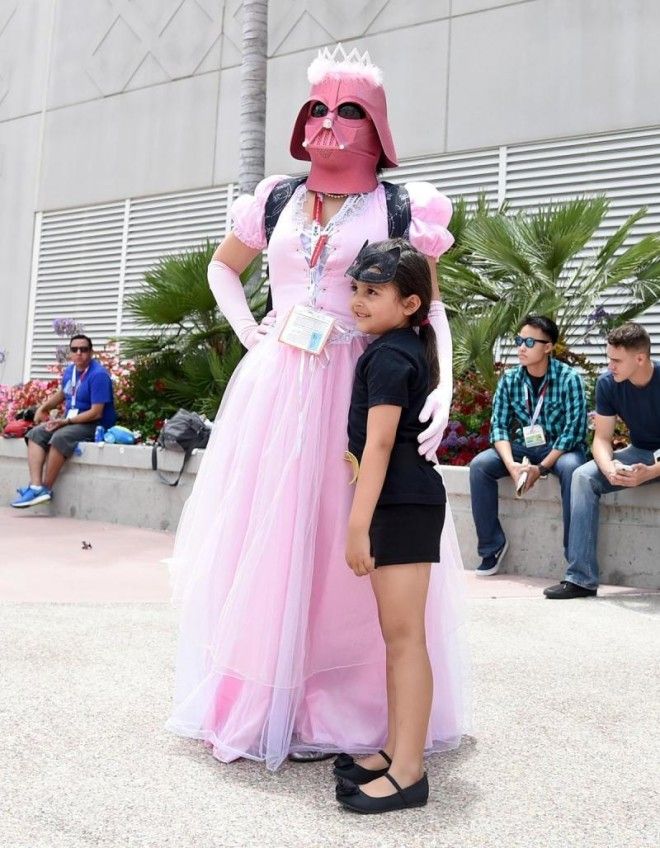 Some people prefer to build their costumes. This cosplayer constructed an Admiral Ackbar helmet out of a balloon, papier-mâché, and craft wiring.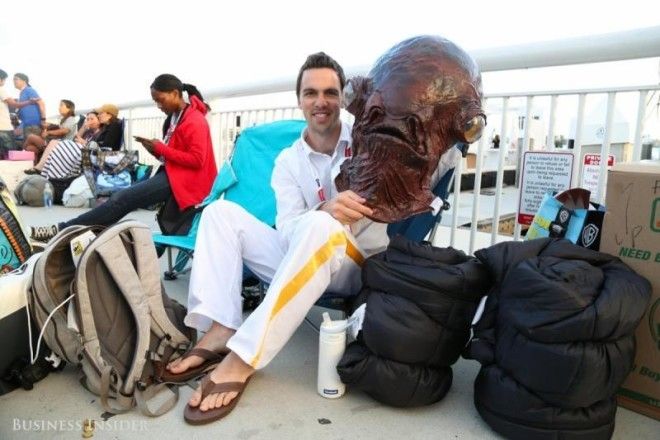 The detail is incredible.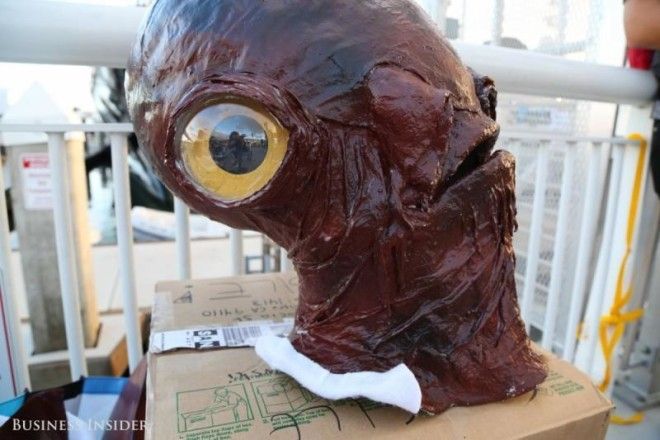 Darth Vader and these Boba Fetts keep it real classy.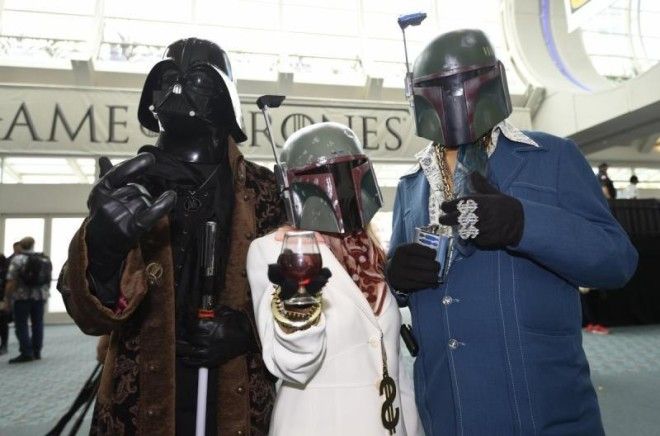 A plum-colored Twi'lek fighter pilot prepares to defend the Rebels.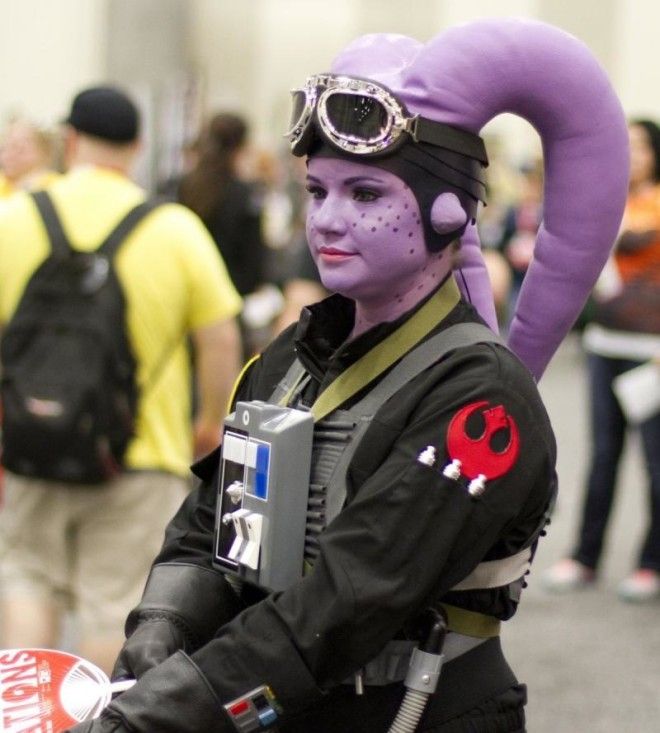 Of course, none of the "Star Wars" cosplayers would be here without George Lucas. This cosplayer walked the showroom floor shouting, "We can fix it in post," and, "Those are my movies, dammit."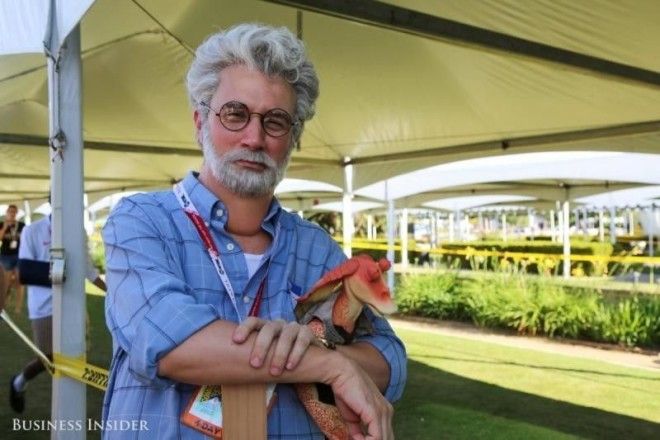 His sign says "Jar Jar 4 Life!" on one side, and "Greedo shot first!" on the other.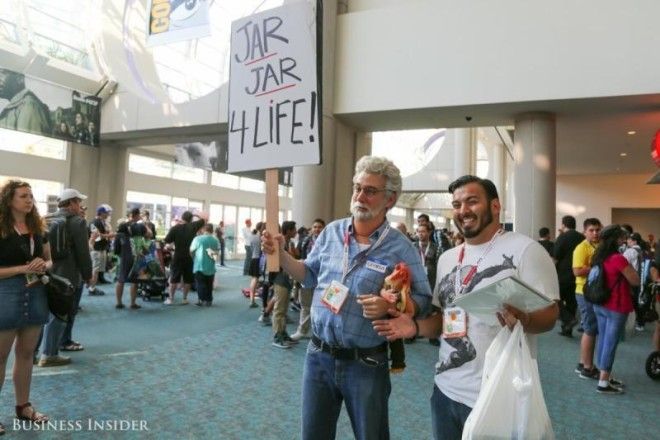 We saw much, much fewer "Guardians of the Galaxy" cosplay in 2015. Groot is a timeless fan favorite, however.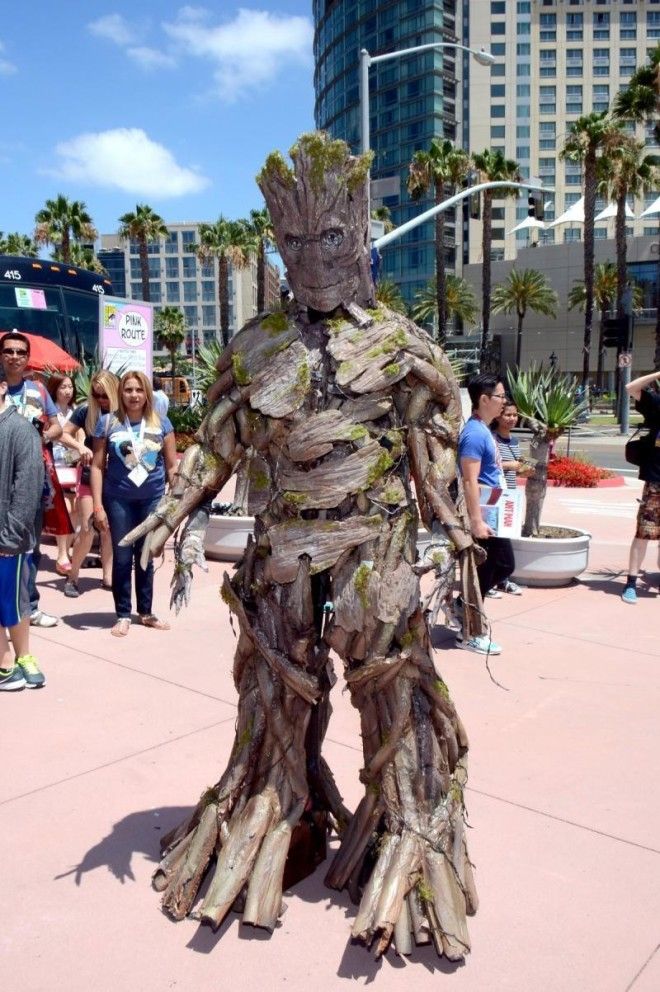 Superheroes are in no short supply. This cosplayer bears a "stark" resemblance to Iron Man.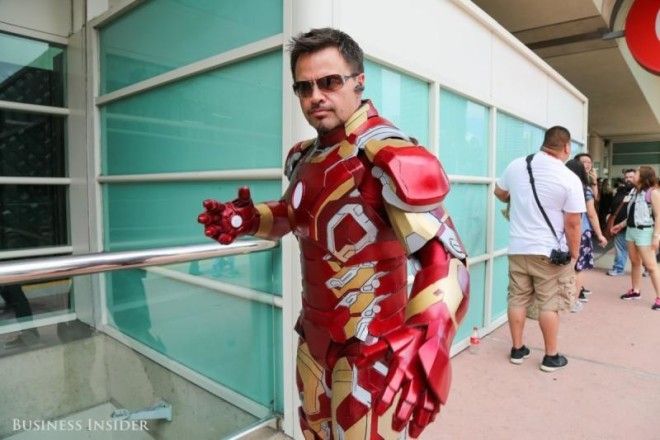 Looks as if Iron Man made this femme Hulk angry.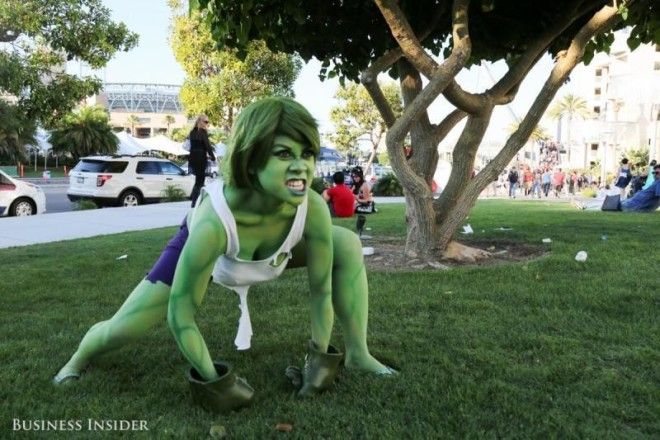 Mystique rocks a skull belt like the original comic book character.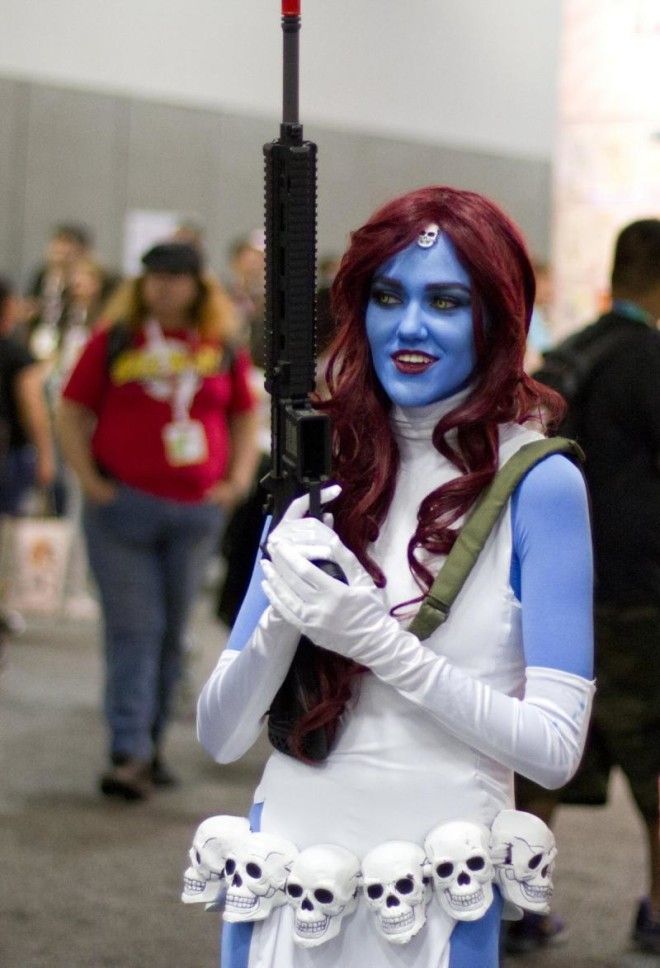 Spider-Man weaves through the crowds outside the showroom floor.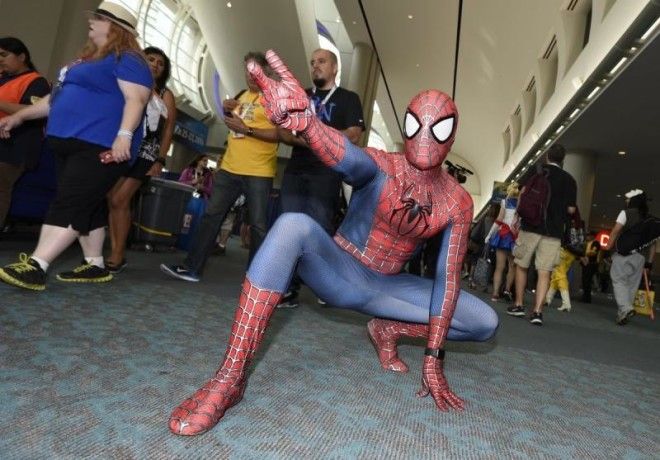 Wonder Woman and Aquaman protect the streets of San Diego.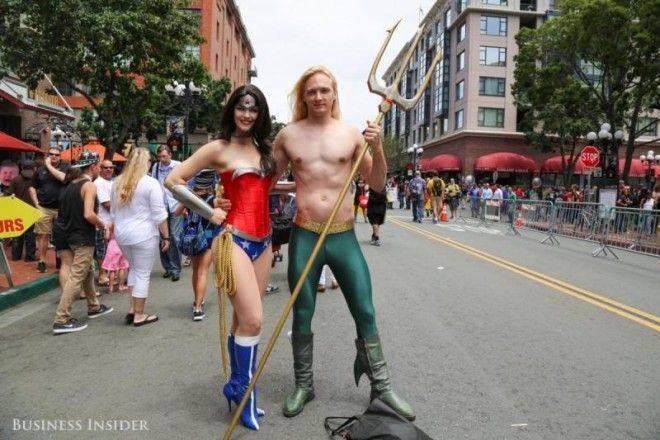 Defenders of good and justice can be found everywhere. Effie's outfit is on fleek, per usual.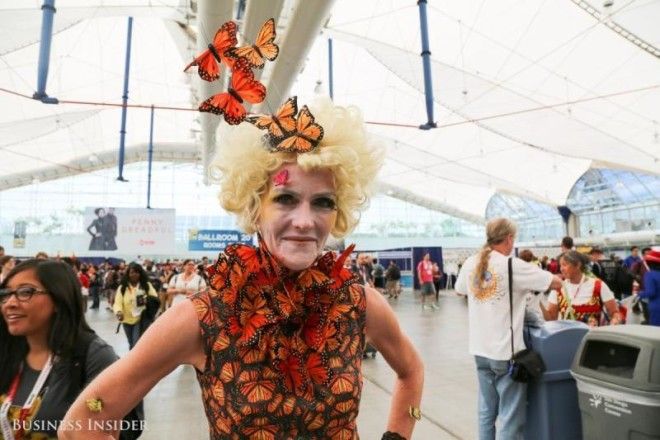 A colorfully dressed Kimmy Schmidt reminds us to be tough.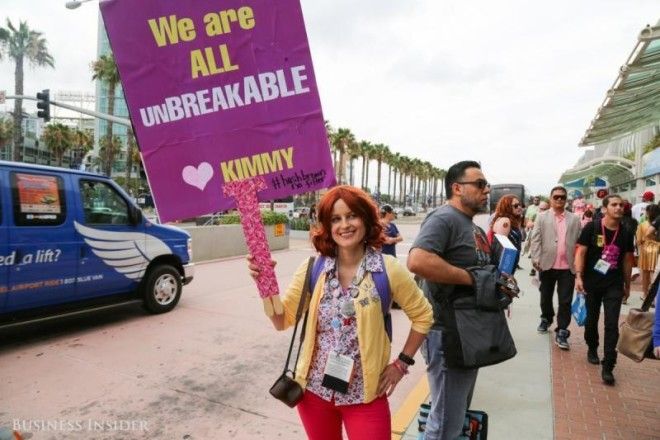 The Teenage Mutant Ninja Turtles set out in search of pizza.
Bumblebee from "Transformers" has a great view wherever he goes.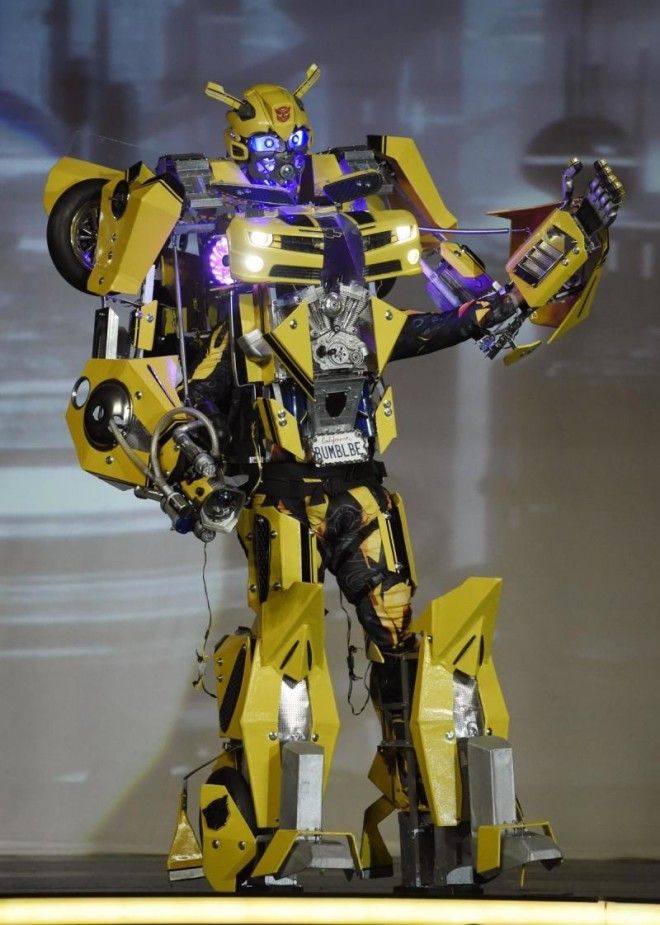 It's Morphin Time! Power Rangers Dino Super Charge characters pose with a mini Ranger.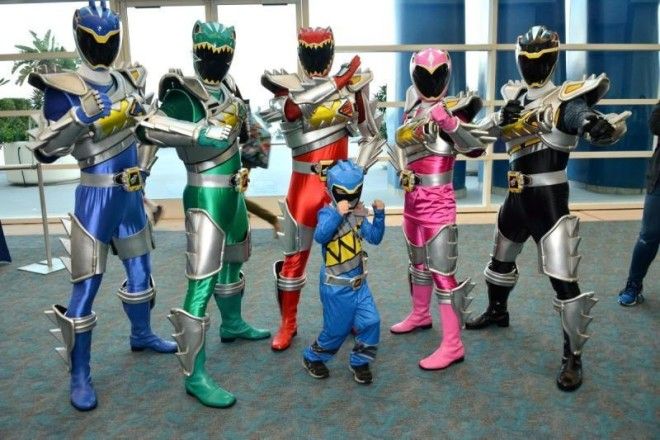 "Game of Thrones" is another hugely popular cosplay. This Tyrion Lannister mask made us do a double-take. It's made of Silicon and a mold constructed using high-resolution photos of Peter Dinklage.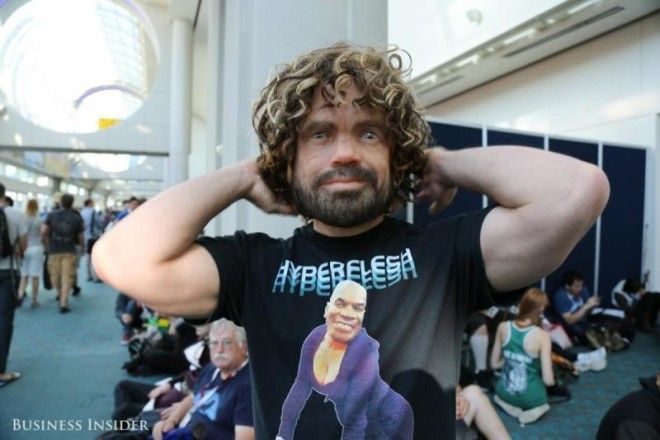 Brienne of Tarth and Shae travel with some K-9 companions ...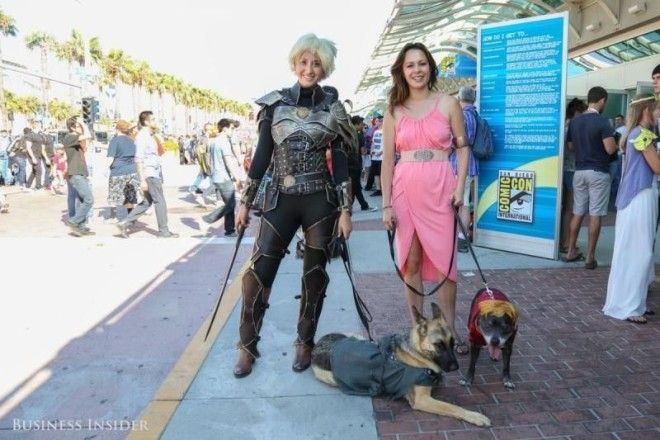 Their three-legged German Shepherd cosplays as Jamie Lannister, while the Staffordshire Bull Terrier dresses as Tyrion Lannister.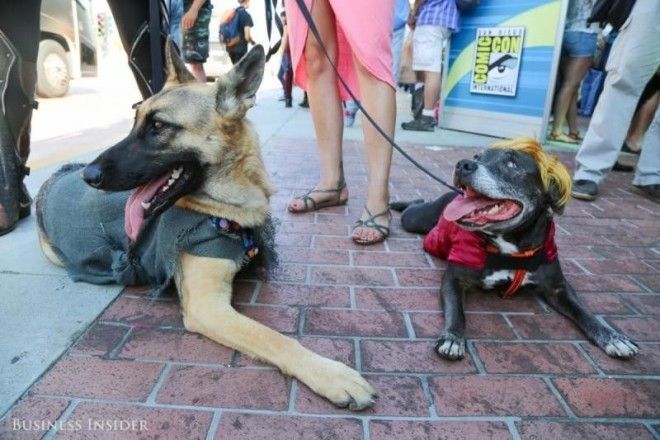 This female Night's King has her piercing blue eyes on the realm.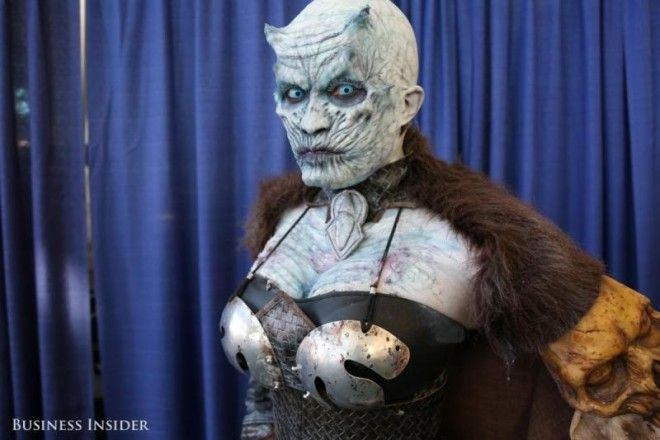 What's more unnerving than one Mad Hatter from Tim Burton's "Alice in Wonderland"? Two.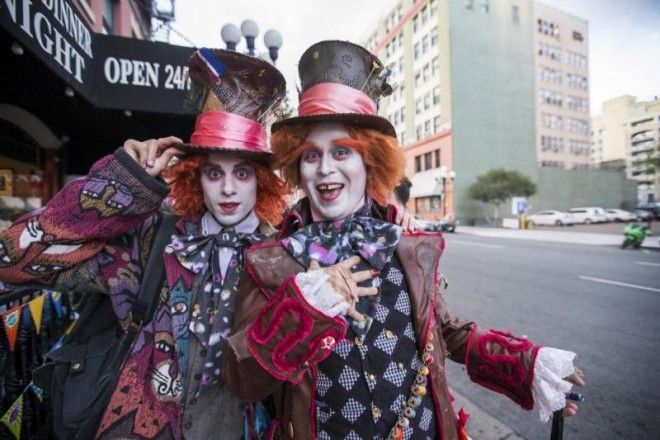 The White Rabbit and Alice are late to a very important date.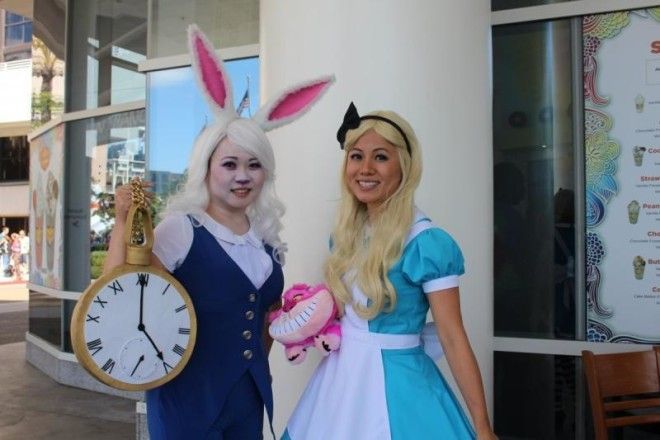 Vanellope von Schweetz, from "Wreck-It Ralph," races around the showroom floor in her candy-coated cart. It took a week to make.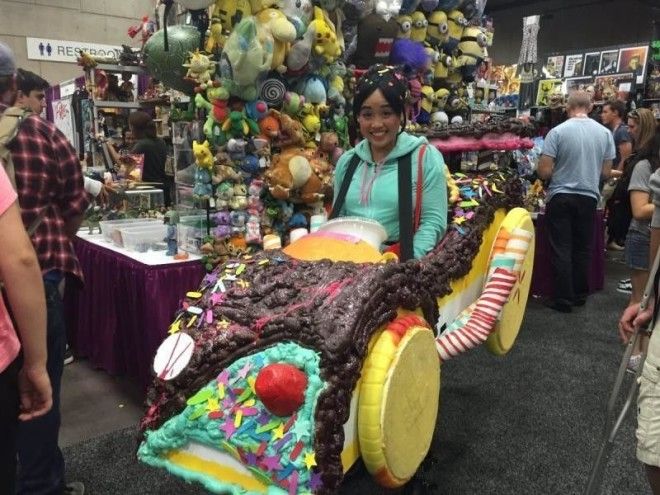 Cosplays inspired by video games are among some of the most detailed and impressive. Here are two characters from "Mass Effect."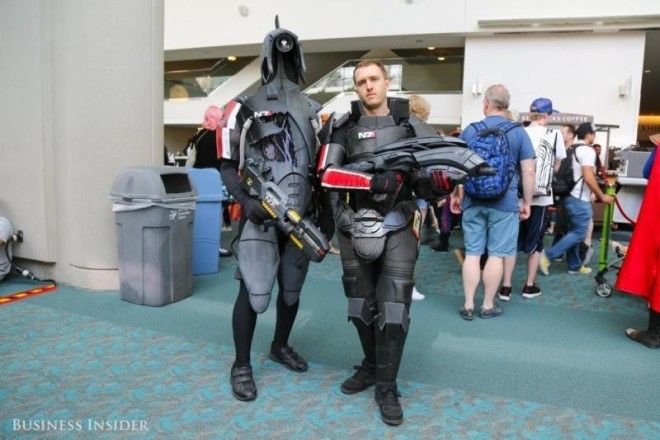 Since this cosplayer's character had a hole through his chest, he used a car backup camera and a tiny screen to create the illusion that people were seeing through him.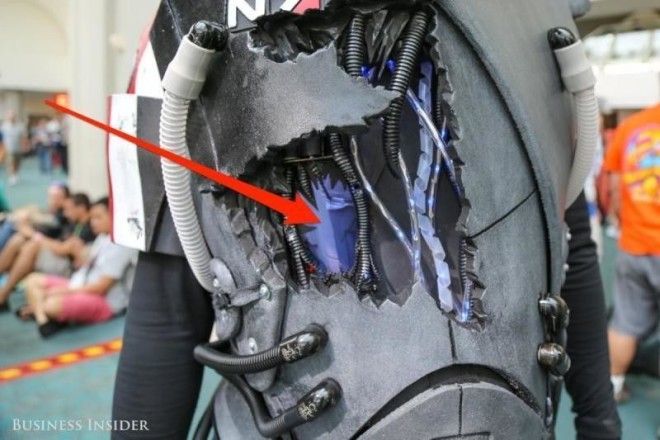 The three protagonists of "Destiny" show off some pretty intimidating weaponry at the entrance.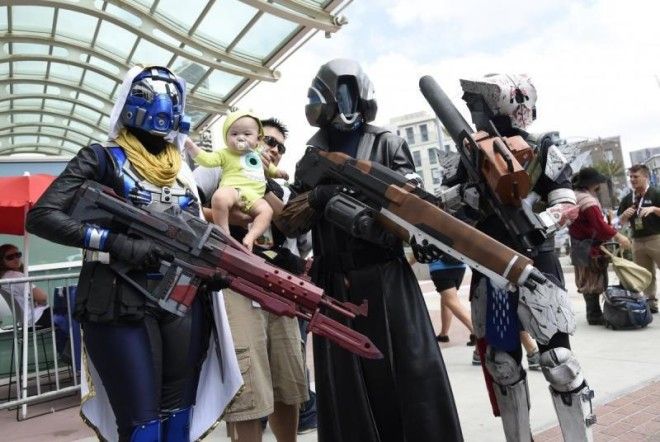 This "Fallout: New Vegas" character takes a break from the Mojave Desert to enjoy Con.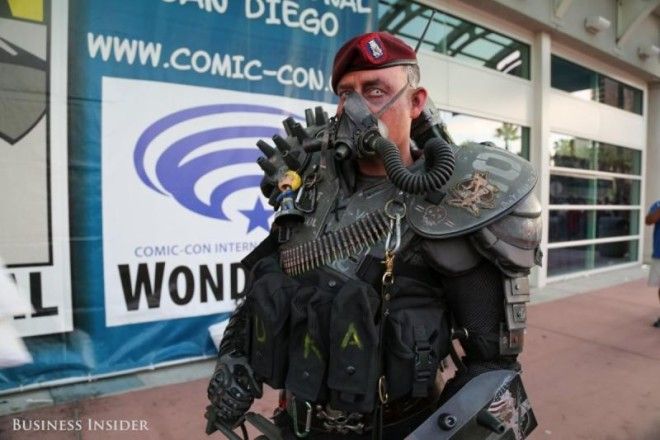 Scarecrow and the Mistress of Fear from "Batman: Arkham Asylum" video game say the best part of cosplaying is "making children cry." The worst part is the heat.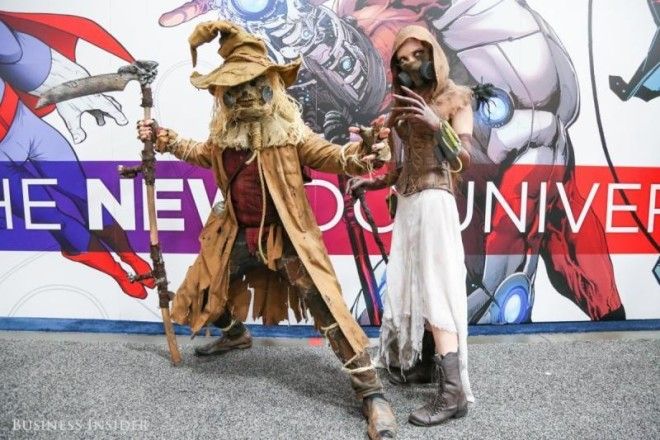 Her wrist piece emits "fear gas" with the push of a button.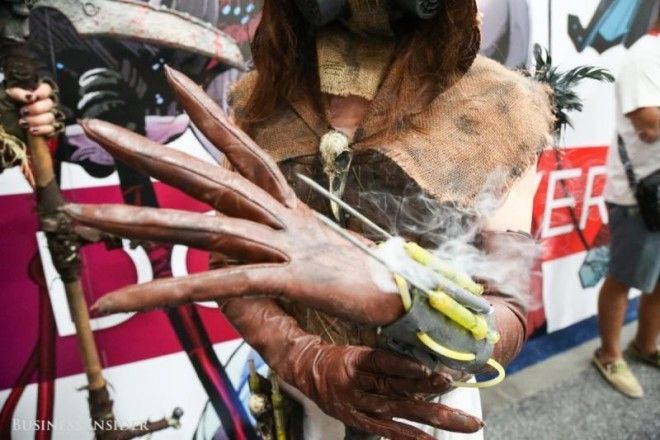 The "Battleborn" gang is all here!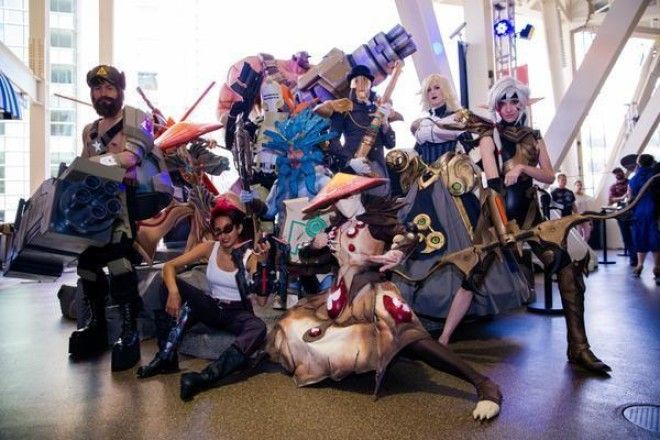 This Minecraft character looks as if it popped right off the computer screen.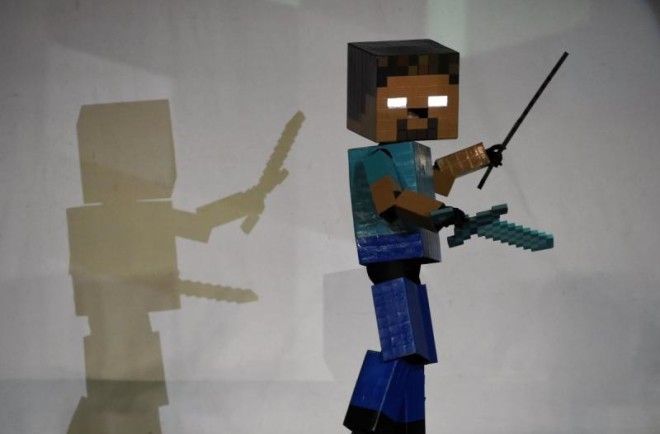 Still, some of our favorite cosplays remind us of movies we love that we haven't seen in years — including Doc Brown from "Back to the Future," which celebrates its 30th anniversary in 2015.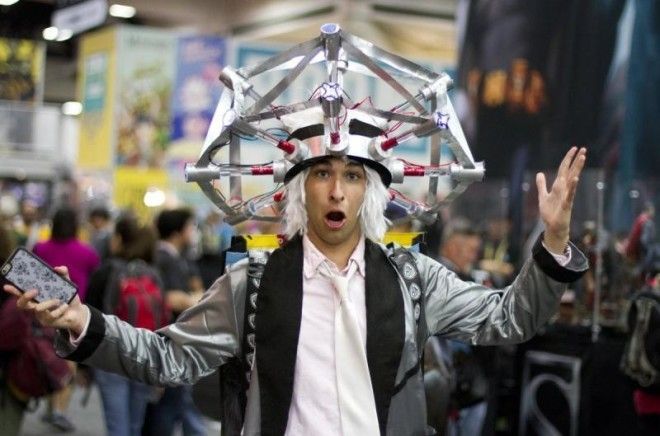 A reptilian Skeksis from the 1982 film "The Dark Crystal" stalks the floor.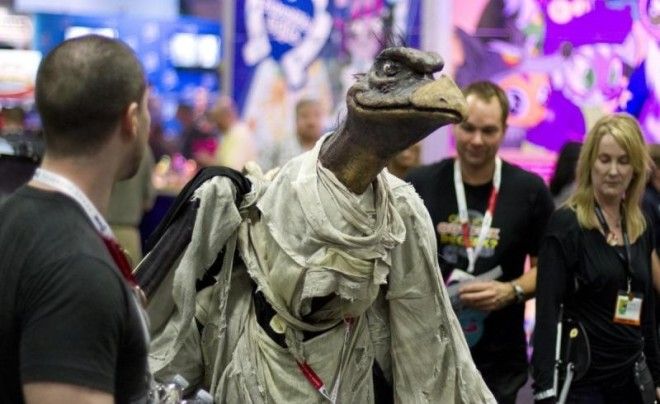 Badda boom! It's Korben and Leeloo from "The Fifth Element."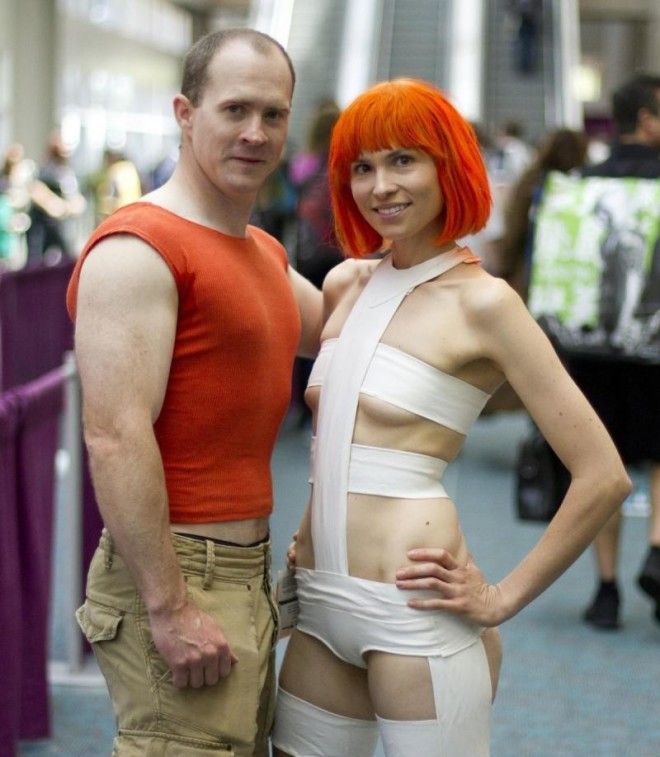 Cut the Hall H line? The cast of "Kill Bill" will cut you.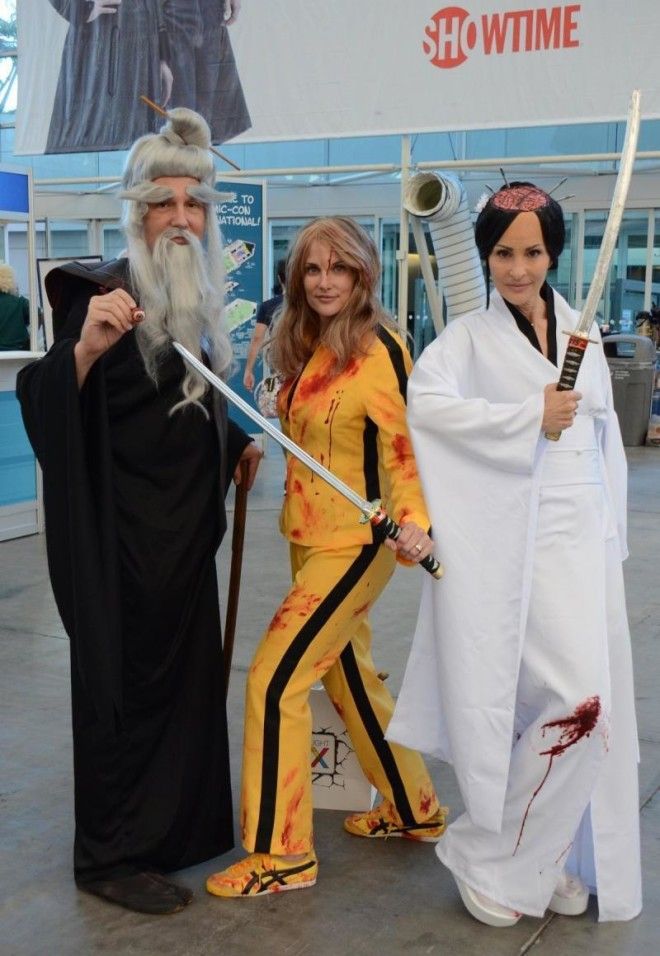 The most adorable Carl Fredricksen from "Up" is there. Of course, Dug came along for the adventure.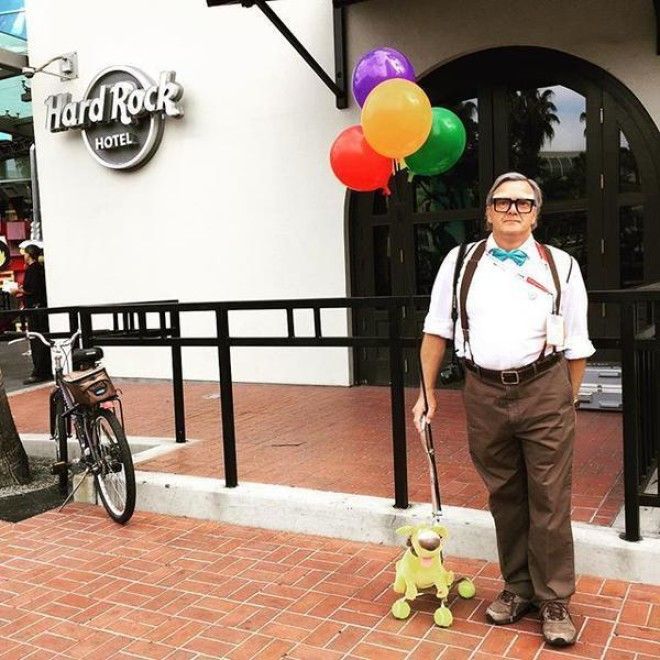 At this year's Comic-Con, we've seen everything from dancing robots ...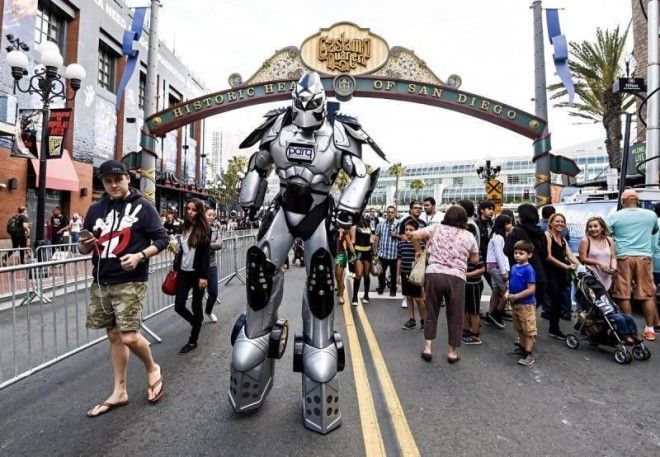 ... to Mayor McCheese, ruler of the magical world seen in the McDonald's commercials ...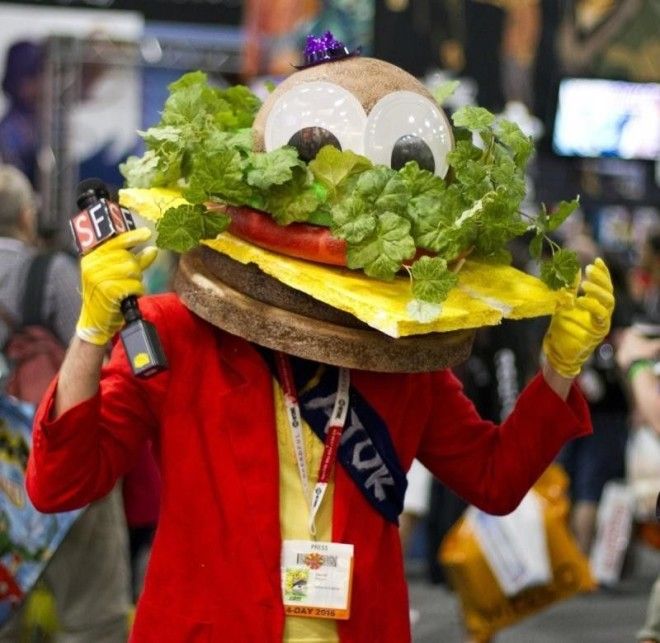 ... to lurking Grinches. Fans are certainly bringing their A-game in 2015.