It would not be out of line to state that the 1940 Disney movie classic, Fantasia, is one of the most iconic animated films ever made. From therein, the Mickey Mouse and broom fueled sorcerers apprentice scene is likely the most memorable of all. Thus it is only slightly tongue in cheek that the German art collective, Inges Idee, would chose that name for their whimsical take on a power pole – Die Zauberlehrling – The Sorcerer's Apprentice.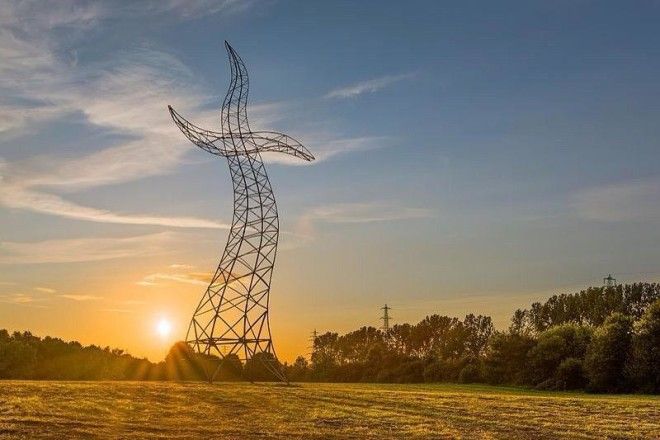 Erected in 2013 for the second Emscherkunst exhibition series, (the "world's largest outdoor art show"), the work is a 35 meter high, 10 tonne steel homage to those dancing brooms. By careful placement and construction, the arms of the Zauberlehrling appear to wave, or 'dance,' as one approaches on foot. Located on the banks of the Emscher river in the city of Oberhausen, near the Gehölzgarten Ripshorst public park, the work has become a steady draw for art lovers worldwide. From certain views, one sees real power poles, bearing their transmission line burden, with the frolicking Zauberlehrling in front. The sense of freedom that view portrays is what inspired the artists of Inges Idee. The Zauberlehrling is proportioned based on those real towers, deepening the overall effect. While the annual art event has come and gone, Inges Idee's work remains for us to enjoy.
The collective, formed in Berlin in 1992 by artists Hans Hemmert, Axel Lieber, Thomas Schmidt, and George Zey, has completed dozens of works worldwide, several of which are iconically large like the Zauberlehrling.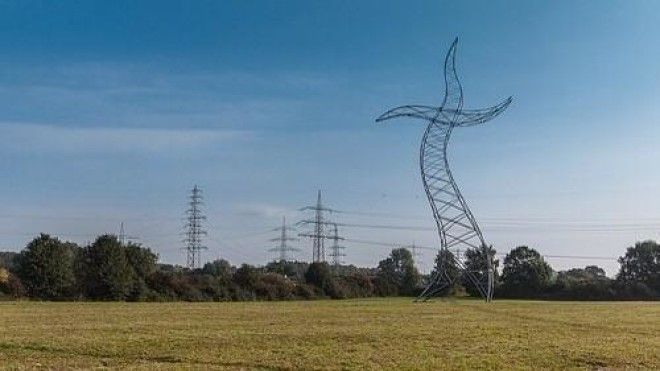 Art from industry, or the trappings thereof, isn't a new idea, per se. Recycling old stuff, especially tools, vehicles, and formerly industrial items, has a long history. What probably began with a farmer or mechanic with an artistic bent has become, in some instances, successful business, as Inges Indee exemplifies – If they've not only survived, but obviously thrived in the last 23 years, they must be doing something right. This basic principles of recycled industry into art is certainly what spawned the Steampunk movement to a great degree. The trappings of that are based on late 19th century steam powered machinery, and very much reflect their roots.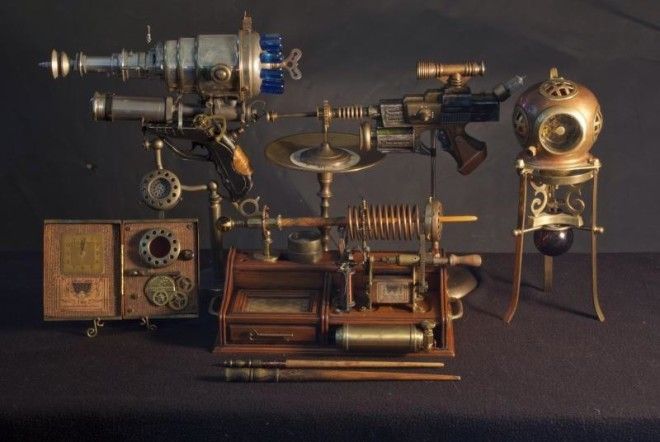 What began as reclaiming discarded items has also become big business. Take a look through the offerings of Urban Remains, and you'll see those discards carrying some pretty hefty price tags – acast brass doorbell plaque for $350, and $895 for a mid-nineteenth century soda bottle. The remarkable success of the American TV series, American Pickers both reflects and may well have furthered such prices for yesterday's castoffs.