People often joke about how bad airplane food is, but have you ever given thought to
why
that's the case — and whether it's even true anymore?
Airlines have been seriously stepping up their game lately in the food department, serving up restaurant-quality meals that diners just happen to be eating while they're miles above the ground. Take Delta, for example, which has assembled an impressive culinary team that includes celebrity chefs Michael Chiarello and Michelle Bernstein, as well as master sommelier Andrea Robinson.
The team's newest member is Atlanta-based Linton Hopkins, a James Beard Award winner whose establishments include Restaurant Eugene, Holeman and Finch Public House, and he is the founder of H&F Bread Co. Since winning the Delta gig in 2013, he's been developing meals for travelers in the airline's Delta One cabin on flights from Atlanta to Europe.
BI Studios recently spoke with Hopkins about the small-artisan approach he's bringing to his menus, the factors that make cooking for a plane so challenging, and how eating on a plane can be just like dining in a restaurant — except 30,000 feet in the air.
BI Studios: What was your background before you became a chef with Delta?
Linton Hopkins:
I woke up in my 20s after graduating with a degree in pre-med from Emory University, and realized that I could spend the rest of my life cooking and make it my career. I grew up in Atlanta cooking alongside my mother and later in after-school and summer jobs, but it wasn't until I saw a book entitled "Guide to Cooking Schools" that I imagined a career in the professional side of food. I then attended the Culinary Institute of America in New York, followed by stints in New Orleans and Washington, DC, where I met my wife Gina. We then returned to Atlanta a bit more than 11 years ago to open Restaurant Eugene together.
Who are your biggest culinary influences?
LH:
First and foremost, my grandfather Eugene, who we named our first restaurant [Restaurant Eugene] after. He cured his own ham, made his own biscuits, and vinaigrette when he made a salad — he didn't believe in bottled vinaigrette. He was a good, from-scratch cook and used the freshest ingredients. It's what I uphold every day both at home and in my restaurants.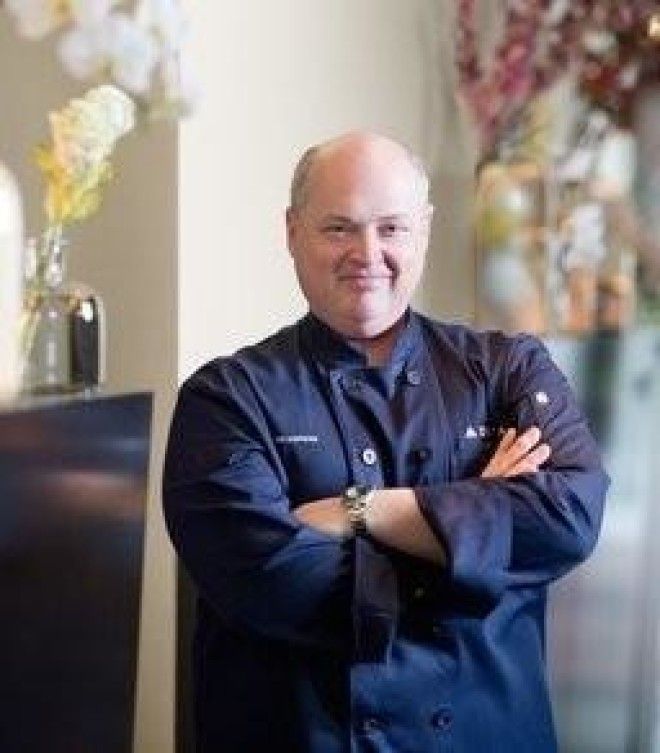 Tell us about the competition you entered to become a Delta chef.
It was called the Cabin Pressure Cook-Off, with my friends and colleagues Hugh Acheson, Kelly English, and George Mendes; it was fun. It was presented like the show "Chopped," beginning with the four of us preparing a signature appetizer and presenting it to the judges, who included Christina Grovic from Food & Wine, and key members from Delta and its culinary team, like master sommelier Andrea Robinson, chef Michelle Bernstein, and Mark Maynard-Parisi from the Union Square Hospitality Group. One chef was cut after each stage.
What did you make for the appetizer?
LH:
A Georgia peach salad with charred Vidalia onions, crispy bacon, and fresh herb salad. Luckily, the competition was in early August so the peaches and the onions were still perfect. It was like putting Georgia on a plate — it was an expression of summer and who I am as a chef, where I am from.
For the next round, we had to build an entrée that could be reheated. I made a chicken dish with butter beans and fresh tomatoes, and then for the dessert challenge I baked my signature chocolate chip cookie. Improving food on an airplane is not about pyrotechnics of food; it's simply about making a great, comforting chocolate chip cookie and serving it warm.
What's your philosophy in cooking for Delta?
LH:
Our philosophy is exactly the same as in our restaurants: from-scratch, seasonal, local, zero additives, and zero preservatives. The ingredients for Delta are sourced from the exact same Southern farmers and artisans that I use at Restaurant Eugene. We've created a way for the small good-food world to participate in big-food solutions and tell the story of these amazing local producers through each menu. Our philosophy is exactly the same as in our restaurants: from-scratch, seasonal, local, zero additives, and zero preservatives.
How did you change the menus when you started?
LH:
Since Delta headquarters and I are both in Atlanta, we've had the opportunity to set up a completely new model for the airline's food supply chain. We bake fresh bread every day at H&F Bread Co. and built our commissary kitchen, Eugene Kitchen, to prepare all of our meals for the flights. We also switched the menus to a seasonal rotation. Think tomatoes in summer and butternut squash in winter.
Is there a reheating process on the plane?
LH:
Yes, there are ovens on the plane. It's a 325-degree oven — compact and efficient. All food has to be fully cooked and boarded cold, in order to maintain food safety standards. This is why chicken is oftentimes dry. They can't board raw chicken and try to cook it in the air. Flight attendants are there for your safety; they are not there to be chefs. Our strategy was not to change equipment, but to change the quality of the ingredients and preparation.
One dish that's perfect for the plane is chicken pot pie. H&F Bread Co. makes our puff pastry; we use pasture-raised chicken from
White Oak Pastures in South Georgia; we cook the stock, chicken,
vegetables, and sauce at Eugene Kitchen then deliver it all to Gate Gourmet, Delta's catering company, to prepare for the planes. The puff pastry
and creamy filling are loaded on separately, and then the crisp pastry is placed on top right before the dish is served to the guest. It works in that environment; you get crispy and creamy and savory, perfect in fall and winter.
Crab cakes, which are also on the summer menu, work extremely well. We take Chesapeake Bay crabmeat and dress it with house-made mayonnaise, fresh herbs, a lot of bright lemon, and serve it warm with coleslaw. It's delicious.
What food would you never prepare because it just wouldn't work?
LH:
Being able to guarantee a steak's temperature is really tough because everyone wants to have a great steak cooked to their liking. It's our job to find a preparation that will work for the environment. We recently partnered with Cuisine Solutions using sous-vide cookery to make dishes like the Herb Crusted Beef on the summer menu. It's made with beef short ribs that have been cooked sous-vide for 72 hours and are still pink in the center. They're tender and eat like beef tenderloin. We've got one year under our belt, so we now know the construct of dishes that will work successfully on a plane.
Can you walk us through the process for testing and developing a menu for Delta?
LH:
I always begin with an ingredient list of what is available for a particular season. This list includes fresh vegetables as well as artisans with whom we have developed relationships. I then sit with my culinary leadership team and brainstorm potential dishes utilizing items from that list.
We then present it to Delta's team and together we collaborate on the final menu revisions. It's great because I'll introduce new things like asking a flight attendant to on-board pesto and spoon a dollop of it on a dish just before it's served, and they can tell us whether that will work within the flight attendant's steps of service.
Next, Gate Gourmet helps out with logistics for the menu's service, like sourcing a new nesting cup that holds a sauce perfectly. They go through each step of the pre-service process and do one last taste test with us and Delta's leadership team, who give the final OK for the
menu.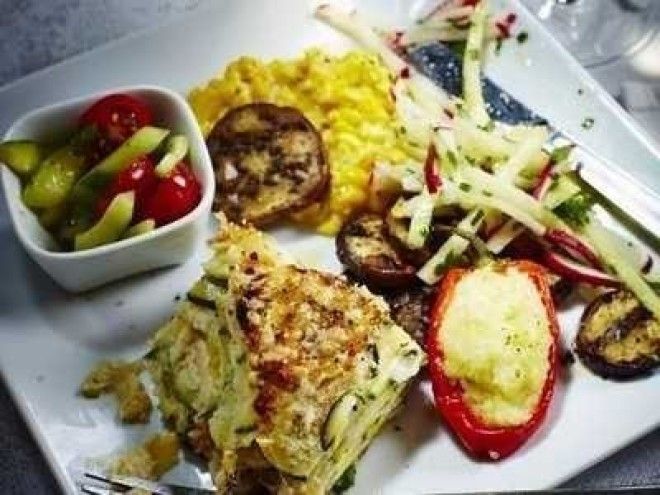 Do you ever talk to passengers about the food that they've eaten on a menu you've created for Delta??
LH:
?Absolutely. I've worked two flights — the first was from Atlanta to Paris and recently I traveled from Atlanta to Rome. On the first flight, when I came out from behind the curtain in my chef whites to serve the food, one woman was like, "This peach cobbler better be as good as my grandmother's!" She later told me that it was.
There was a moment on both flights where I felt like I wasn't in a plane at all. We were at 30,000 feet over the Atlantic and I felt like I was in a small restaurant. It was really special. There were retirees flying to Paris, there was a young honeymoon couple, and this flight was going to be one part of the lasting memory they will have of the trip. Part of why I love the restaurant business is the memories we help people make. It's no different in the air, and there's no better way to make a memory than with good food and a glass of wine.
When you fly, do you prefer window or aisle?
LH:
?I'm a window guy. I love the view.
Do you have a pet peeve when you're flying?
LH:
?I prefer people not bring food onto a flight from the airport; it gets messy. I think airlines need to invest in making the food better than what someone can buy prior to boarding. It shows they care about their customers and I like that Delta is committed to doing this. They are generous, open partners who have allowed us to completely rethink how and why we have food on the plane. They are thoughtful; they want to innovate. I think most people would be willing to pay if they knew the food was high quality and was going to taste good. If I was offered a beautiful, fresh turkey and avocado sandwich for $10, I'd buy it.
You're famed for your Holeman and Finch burger. What are the components of a perfect burger?
LH:
It's not about one perfect style of burger; it's really about the ingredients. Top quality beef, with just enough salt to release the flavor. Kraft American cheese because it's the best American cheese. When tomatoes are in season, a fresh slice of tomato with raw Vidalia onion — it's like having a tomato-onion salad on top. Avocado and smoky bacon barbecue sauce on occasion.
Ketchup or no ketchup?
LH:
I actually like pickles and mustard on my cheeseburgers. Then I dip the burger into the ketchup.