Werk! Britney Spears showed off just how flexible she is while donning a blue and white striped bikini in Hawaii on Friday, July 24. The "Piece of Me" songstress stretched her slimmed-down bod and did the splits on the sand while vacationing with her two sons, Jayden and Sean, in Kaui.
The Princess of Pop, 33, has been showing off her yoga skills as of late. "Namaste," she captioned an impressive photo of herself in an intimidating pose on Instagram earlier this month.
"She's been working hard to look good," a source reveals in the new issue of Us Weekly. "She's single and feeling confident and happy," the insider adds of the songstress, who split from boyfriend Charlie Ebersol last month.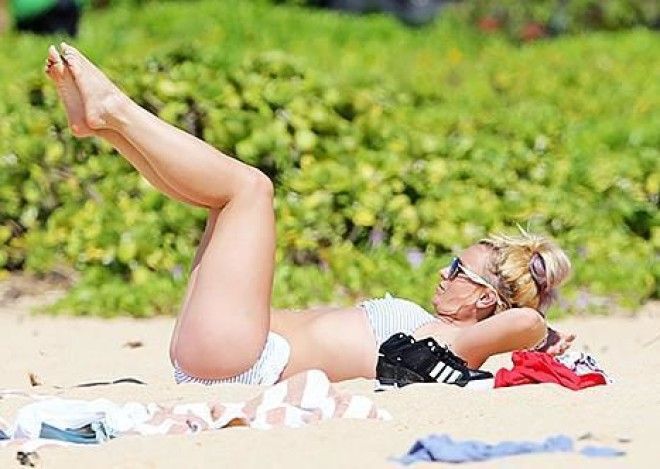 "She's constantly burning everything off," another source tells Us of Spears, who slays during her
Britney: Piece of Me
Las Vegas residency. Spears, who still enjoys snacks including potato chips and sweet tea, also works up a sweat in Drenched Fitness classes, a high-intensity interval training class.
"I think she's drawn to it because it's a tough workout," Drenched Fitness creator Julie Kennington tells Us. "It's cardio as well as strength-training."