We're suckers for a good taco (I mean who isn't, really?) ... a handmade blue-corn tortilla filled with spit-roasted pork, caramelized onions, Queso Fresco and salsa verde ... it's the stuff dreams are made of.
Erin Mosbaugh heads to the Mexican capital in search of the city's finest.
Taco de Carnitas at Taqueria Miranda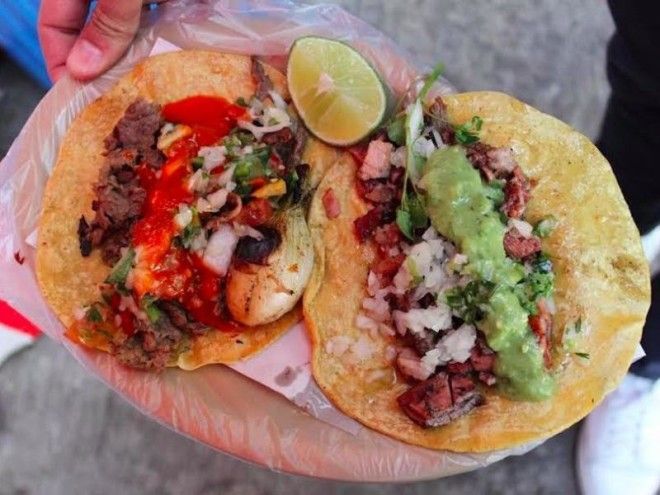 Stroll up to this stand in Colonia Cuauhtemoc and you'll see señoras forming tortillas by hand, men slicing al pastor from well-manicured rotisserie spits (called trompos), and cooks chopping juicy carnitas on large wooden cutting boards. While you can't go wrong with any of the tacos — or any of the made-from-scratch salsas, for that matter — it's the carnitas, or pork shoulder cooked low and slow in lard, that wins our vote. Pair the pork with tangy tomatillo- and jalapeño-based salsa verde for a transcendent taco experience.
Tacos de Chamorro at José Guadalupe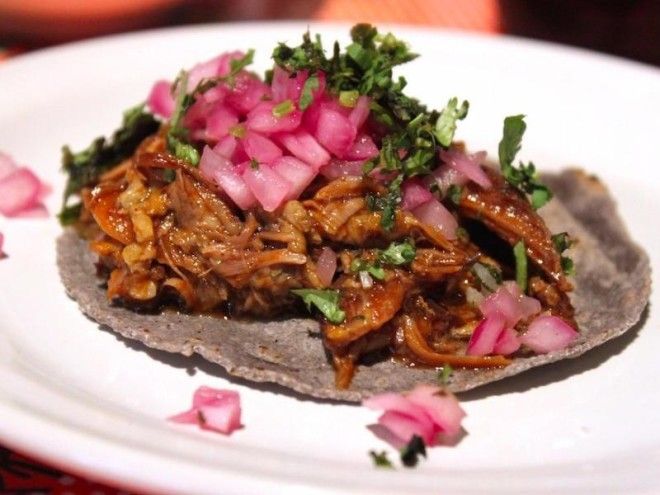 Celebrity chef Zahie Téllez dishes up pink-corn
pozole
laced with ginger and miso at this 12-seat counter in the trendy Mercado Roma, but the comforting soup is not the only draw at José Guadalupe. It would be a sin to miss Téllez's
chamorro
, or pork shank, which she braises in adobo for 16 hours until it's juicy and pull-apart tender and serves on handmade blue-corn tortillas. Téllez recommends that you load up your chamorro taco with her smoky, garlicky chile de arbol salsa.
Pastor de Arrachera at Los Parados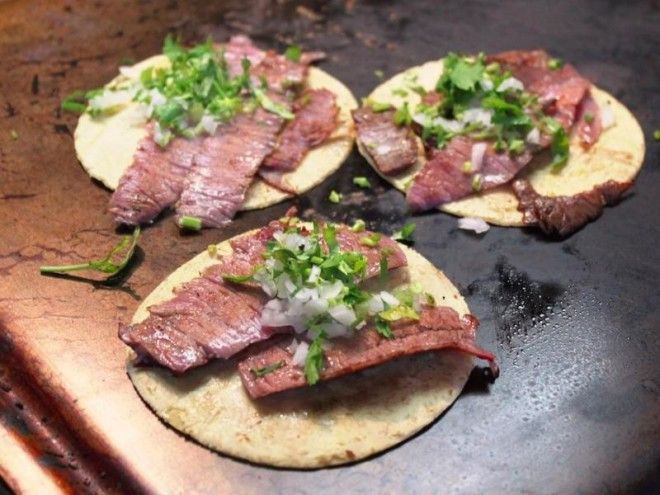 There's no seating to be found at this no-frills taqueria in Roma Sur, but that doesn't deter locals from lining up for the
pastor de arrachera
, or skirt steak cooked on a vertical rotisserie spit. Watch in amazement as the trompo masters swiftly slice the steak from the spit onto warm tortillas, top it with onion and cilantro, and hand it to salivating customers. Dress your tacos with smoky chile de arbol salsa, pickled onion, and a squeeze of lime, then inhale.
Taco al Pastor at El Farolito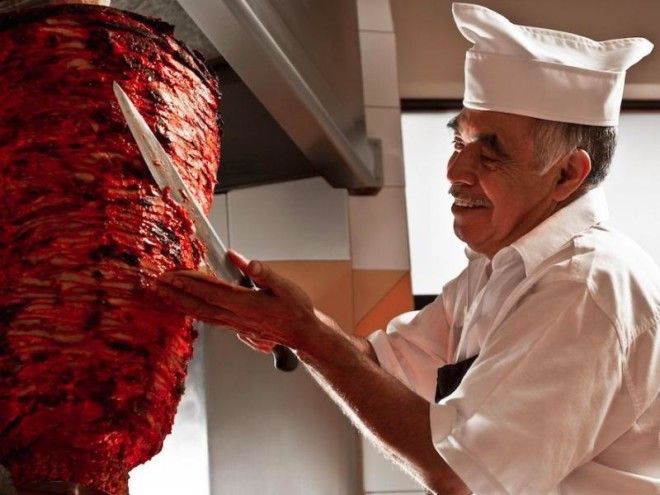 The first El Farolito opened in Condesa in 1962; now there's a total of 26 locations throughout Mexico City. The chain's success is directly related to its consistency, cleanliness, and addictive al pastor tacos, which feature pork shoulder stained orange with achiote, pineapple juice, and vinegar. The marinated meat is spit-roasted over charcoal then sliced onto handmade tortillas along with bits of juicy pineapple, creating a harmony of sweet, sour, and smoky flavors.
Tostada de Pulpo at Cocina Conchita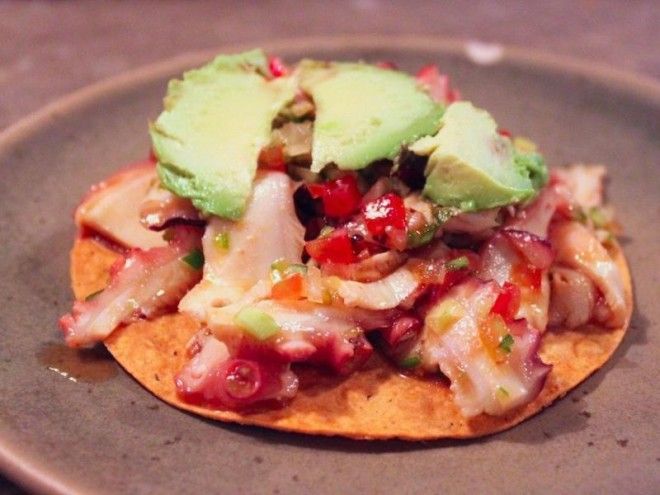 Although no Mexican would ever call a tostada a taco, this octopus number is too good not to mention. Cocina Conchita chef Diego Hernandez hails from Baja California, which means he knows his way around high-quality seafood. Belly up to the raw bar, order a few mezcals, some fresh blood clams, and a scallop ceviche. Continue your
mariscos
feast with an unbeatable tostada topped with fresh octopus sourced from Baja, seasoned minimally with olive oil, lime, sea salt, and chile serrano. Finish the meal with another mezcal because it's only right.
Pescado a la Talla from Contramar
This DF institution draws fashionable Chilangos with its beachy vibe and seafood-focused grub. While you can't go wrong with the tuna tostada dressed with chipotle mayo, avocado, and caramelized onions, it's the
pescado a la talla
that leaves the biggest impression. One side of the butterflied snapper is covered in a red spice rub, while the other half is smothered in a green, parsley-heavy salsa. The grilled fish is served with tortillas on the side, resulting in a thoroughly enjoyable DIY taco situation.
Taco de Carnitas at Rincon Tarasco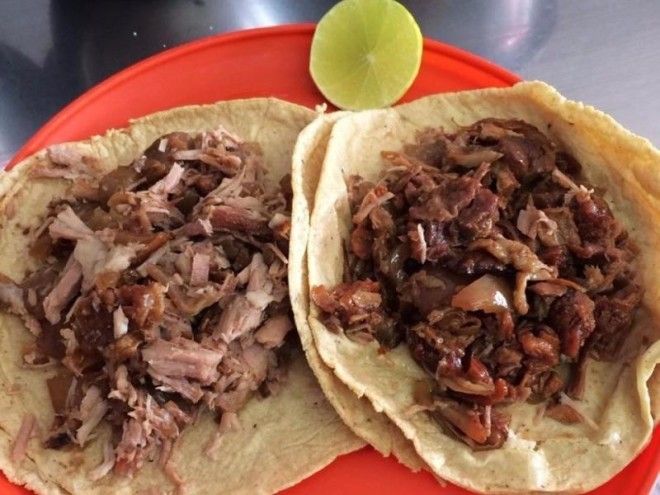 People flock to this neighborhood favorite to buy kilos of carnitas on weekends. Even if you're not trying to feed an army with pork braised for hours in lard, you should come for a couple
tacos de mixiote
made with
maciza
(juicy shredded pork shank) and
cuerito
(gelatinous pork skin). The taqueria is open from 9am until 3pm Tuesday through Sunday, but you best get there early to ensure you have the top-tier pick of available meat.
Taco de Lengua at Cantina Del Bosque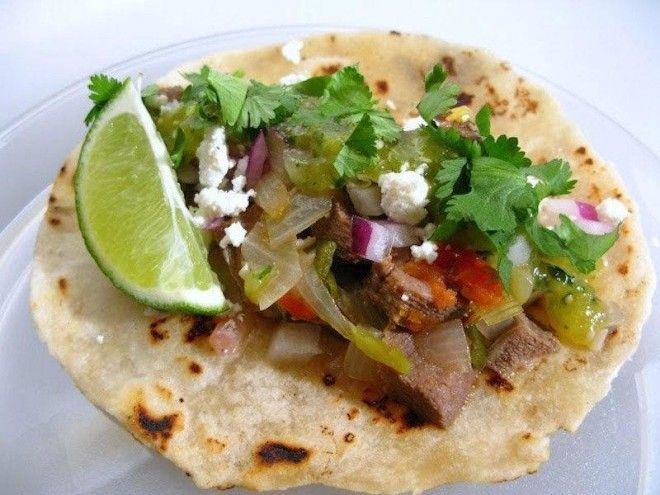 Located in the colorful neighborhood of San Miguel Chapultapec, this cantina is the definition of an old-school Mexico City institution. The restaurant is famous for its salt-baked fish, but if you're hankering for meat and tortillas after downing a couple micheladas, it would be wise to order the
lengua
(beef tongue) tacos. The meat is both tender and crisp, and pairs perfectly with the salsa verde available upon request. After you get your taco fix, take a tour of nearby Casa Gilardi, built by renowned Mexican architect Luis Barragán.