Artist Caroline Caldwell is my new favorite human being.She decided that people needed some ideas for how to compliment each other on things besides looks and physical appearance.
Why? Well ... the whole looks-complimenting thing is kinda played out dontcha think?
So she collaborated with fellow artist-writer Van Nguyen and bam.
Here are her non-physical appearance ideas, and I love them.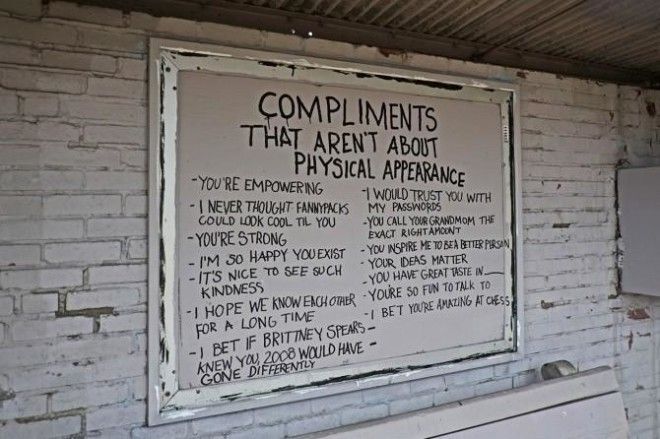 Used with permission from artist Caroline Caldwell. By the way, getting permission is a great way to compliment an artist! Just sayin'. Caroline's other fabulous works that I INSIST you check out are on her website Dirt Worship. Just read these through a couple times and enjoy, then head on over to her site. Go on. I'll wait.
I'm writing them all out (with her permission, natch) so we can memorize them all and make the world a more fun place. You in?Here we go.
COMPLIMENTS THAT ARENT ABOUT PHYSICAL APPEARANCE
1. You're empowering.

2. I never thought fannypacks could look cool 'til you.

3. You're strong.

4. I'm so happy you exist.

5. It's nice to see such kindness.

Can I just say if anyone told me this, I would do an emotional cartwheel???
6. I hope we know each other for a long time.

7. I bet if Britney Spears knew you, 2008 would've gone a lot differently.

Oh man. This one hits me (baby, one more time) close to home and my 2008 heart. <3 you, brit!
8. I would trust you with my passwords.

9. You call your grandmom the exact right amount.

10. You inspire me to be a better person.

11. Your ideas matter.

12. You have great taste in ______.

Sandwiches? Friendly baristas in your neighborhood? Weird American tourist spots? You get me.
13. You're so fun to talk to.

Especially if you're giving these amazing compliments! Geez!
14. I bet you're amazing at chess.

I'm so bad at chess but I like that you think I'd be good at it. Yes, I'm responding to this art like it's a person, so what?! :) Ahhh. That felt good. We all deserve to be seen (and complimented) like this.