From the mansions of Beverly Hills to the hipster bars of Silver Lake, LA charms visitors to its palm tree-lined streets.
But if you're pondering becoming a resident you'll want to get a handle on the true cost of living in the City of Angels.
Will your income provide you with enough money to live in Entourage-style splendor? Find out with our guide to the cost of living in Los Angeles.
Find out now: How much house can I afford?
LA home pricesIn the last five years, sale prices on LA homes have appreciated 78.5%. Though the LA housing market took a hit during the Recession, it now looks to be going strong. That's great news if you already own a home in LA and you want to stay put or refinance. For first-time homebuyers, though, the LA market can be tough to break into. Take a look at how home prices in LA have been climbing.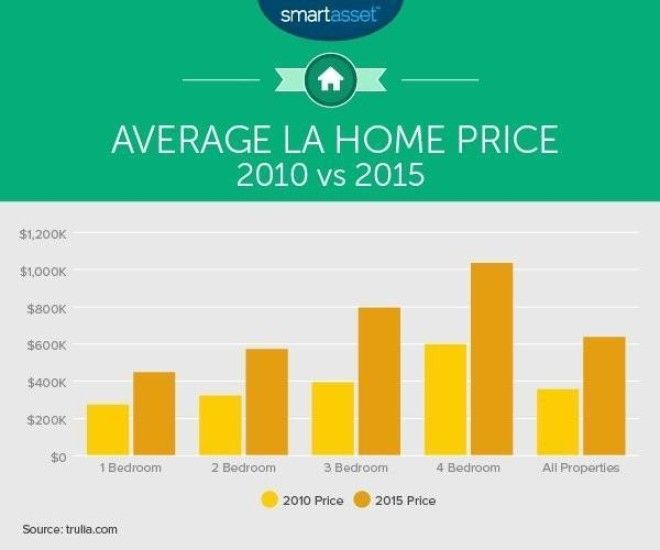 As far as year-on-year growth in home prices, LA lags behind its pricey neighbor to the north, San Francisco. Between 2014 and 2015 housing prices climbed 11.3% in LA, compared to 20% in San Francisco.
LA rentStill haven't decided whether you should rent or buy? Let's take a look at the rents in LA. According to myapartmentmap.com, the average rent on a one-bedroom LA apartment is $1,949. That's almost twice the national average rent for a one-bedroom, a mere $977. Need two bedrooms in LA? Expect to pay around $2,846. Compare that to the national average two-bedroom rent at $1,196. The LA price is a whopping 137% higher.
Of course, renters should expect to pay higher prices in the fancier neighborhoods of LA and to look for bargains in neighborhoods that haven't yet made it big. Want to really save on rent? You may consider moving outside of the city. The average rent on a two-bedroom apartment in Bell, California is $1,315. That's a big price difference for a roughly six-mile difference in location.
Find out now: Is it better to rent or buy?
LA utility costsOnce you've decided where to live you'll need to set up utilities for your new abode. The basic monthly utility bill for a 915 square foot apartment in LA is around $110.71. That's cheaper than Chicago ($122.38) and New York ($130.44) but more expensive than San Francisco ($106.58).
Compared to New Yorkers, Angelenos enjoy much cheaper internet. A month's worth of internet will cost you $39.50 in LA compared to $60.27 in the Big Apple.
Getting around LA: transportation costsLots of us think traffic when we think LA. Driving around in cars seems like an integral part of the Los Angeles experience, as seen in some of the city's most iconic films. Think Cher learning to drive in Clueless or the Dude in The Big Lebowski crashing his car in spectacular fashion.
Unfortunately, LA gas prices make being stuck in traffic all the more painful. According to gasbuddy.com, the average price of a gallon of gas in LA in July 2015 was $4.29. That's almost 55% higher than the national average of $2.77. Although LA traffic is famously bad, Angelenos don't actually have the longest commutes in America. That honor goes to SmartAsset's hometown, New York City.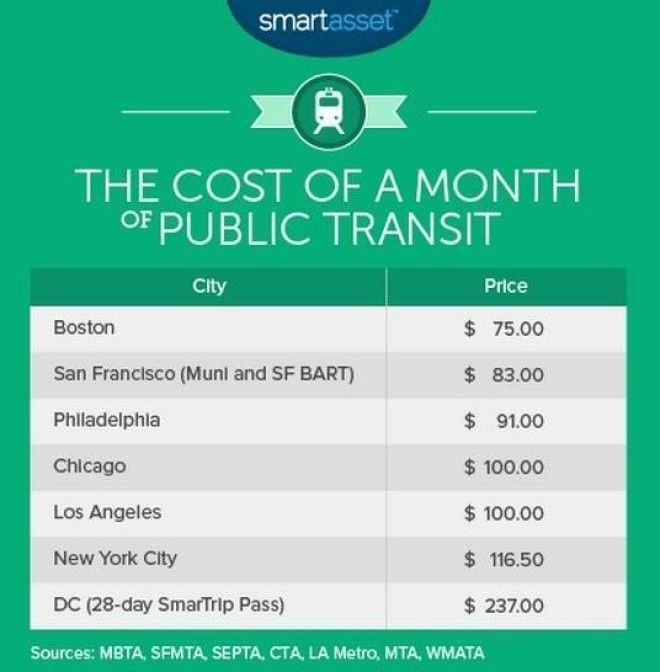 Want to avoid driving altogether? You'll have to rely on LA's public transportation. The base fare for a single ride on the LA Metro is $1.75, with reduced rates available to seniors, disabled Angelenos and K-12 students.
A 30-day pass on the LA Metro will set you back $100. That's the same as a 30-day pass on Chicago's public transit and $16.50 cheaper than a 30-day pass on New York City's MTA.
The bad news? LA's 30-day transit card is $25 more expensive than its Boston counterpart. Take a look at how public transportation costs stack up in major US cities: The cost of food in Los AngelesThe LA food scene just keeps getting better. From food truck tacos to upscale farm-to-table fare, LA has foodies covered. According to Numbeo, the average cost of a mid-range meal for two people at an LA restaurant is $56. That's $11 above the national average. A cappuccino in LA will set you back $3.89. Not terrible considering the national average price is $3.72.
California wines and produce are deservedly famous, but does that mean they're priced out of reach? Nope. They're an opportunity for saving money on food in the produce aisle. A pound of tomatoes in LA will cost you around $1.44, well below the US average of $1.78. Apples, oranges and potatoes in LA all cost less than the national average. A mid-range bottle of wine to go with your meal will cost you $10. That's two dollars under the national average. Score!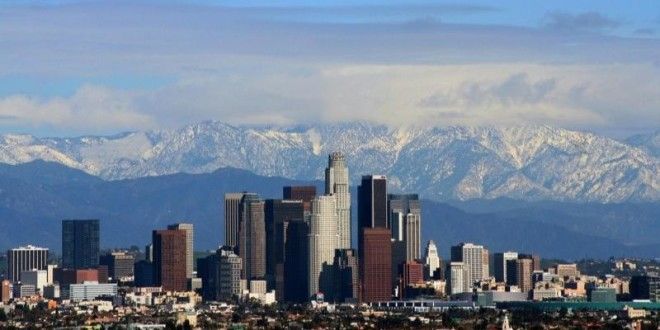 LA prices tend to be higher than the national average.
Healthcare costsWant to see a Primary Care Physician (PCP) for a routine visit? According to Castlight Health you should expect to pay around $121. That's less than in the state capital of Sacramento ($219) and in ultra-expensive San Francisco ($251). A visit to a PCP is also cheaper in LA than in Boston ($193), Portland, Oregon ($216) and Chicago ($165).
The extras
Now that you know how much the basics will set you back, let's talk about the cost of extras in LA.
It shouldn't come as a surprise that LA prices tend to be higher than the national average. A movie ticket that would cost $10 in an average US city will run you $13 in LA. A pair of men's leather business shoes will cost around $102.25 in LA, compared to the national average price of $86.42. That's a mark-up of a little over 18%.
Don't forget to take sales tax into account. The baseline sales tax in Los Angeles county is 9% but some places, including Santa Monica and Culver City, have rates of 9.5%. That 9.5% is on par with the sales tax in Seattle, but far higher than the sales tax in Portland, Oregon, which boasts no state or local sales tax.
The LA lifestyle doesn't come cheap, but the sunshine and avocados can make up for a lot.