Before traveling to Bolivia I received mixed opinions on whether the country was a worthwhile destination to add to my itinerary.
Because I wanted to find out for myself firsthand, I – thankfully – made sure I did.
Now, Bolivia is one of my favorite travel destinations on the planet.
Here's why:
It Offers One-Of-A-Kind Adventures
Where else can you bike the world's most dangerous road, explore the planet's largest forest and hike the Earth's longest continental mountain range all on one vacation?
From La Paz, you can sign up to cycle the Death Road, a 43-mile narrow path with a steep drop-off known for being extremely dangerous.
Bolivia also offers a gateway to the Amazon Jungle, and tours are often cheaper than from other countries. Once in Rurrenabaque, you can decide whether you want to go to The Amazon or The Pampas, which has excellent opportunities for wildlife viewing (although it can be quite a harrowing experience).
Additionally, the Andes Mountains run through Bolivia and offer adventurous options like trekking, climbing, mountain biking, horseback riding, kayaking, bird watching and more.
It's Budget-FriendlyActually, it's more than budget-friendly. To most Westerners, it's downright cheap. Many have no problem traveling for less than $20 per day depending on the activities done.
With basic accommodation for less than $10 per night, local food for less than $1 and cheap transportation, you can spend a lot of time here for very little. For example, one night a group of six new friends and I went to the Hard Rock Cafe, a more touristy option but also loved by locals, for a night out. All seven of us ordered food, drank cocktails nonstop and orders bottles of wine. At the end of the night, the bill was still less than $70 total.
There Is An Undiscovered Wine RegionWhile most travelers are aware of the delicious vinos to be had in Argentina and Chile, Tarija in Bolivia features an undiscovered wine region. Surprisingly enjoyable, what makes these grapes unique is they're grown around 6,000 feet in elevation. Head to La Valle de la Concepción, or Conception Valley, which features boutique vineyards and bodegas to partake in wine tasting. Bolivian vino is simple; nothing too complex but drinkable and fitting with the country's seemingly unpretentious, "anything goes" philosophy.
You'll View Unworldly Terrain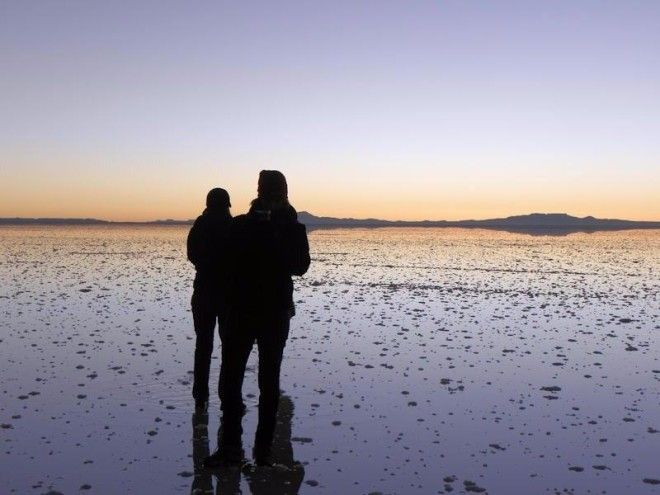 After journeying across the Soleli Desert, I am convinced Bolivia has the most unusual landscape on Earth. I witnessed hot pink lagoons filled with flamingos, sparkling yet toxic lakes, active and inactive volcanoes, enormous deadly geysers, surreal rock formations, an old train graveyard, smoking hot springs and the world's largest salt desert, among other bizarre sights. From La Paz, I also went horseback riding through Moon Valley, which appears like a desert full of stalagmites and rainbow-colored mountains, reminding me once again how unusual yet beautiful the country's landscape was.
You'll Get High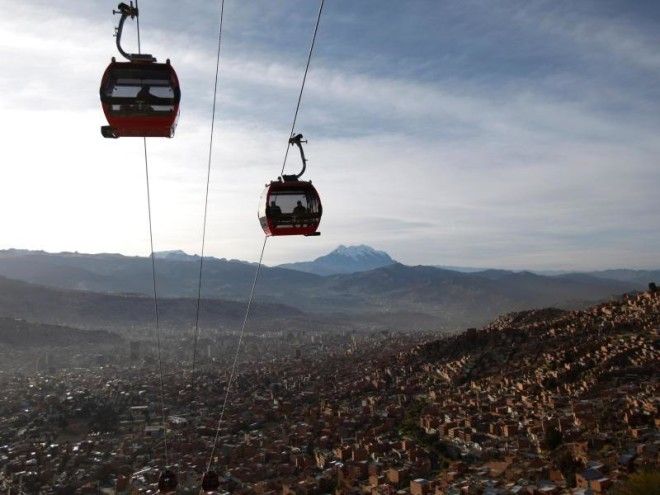 In terms of altitude, Bolivia is a very high country. For example, at 11,975 feet, La Paz is the world's highest de facto capital city. You'll get to take part in some of the planet's highest activities. Visit the world's highest navigable lake, Lake Titicaca, at 12,464 feet, relax at the world's highest beer spa in La Paz and take a cable car up to the tallest Jesus statue in the world, Christ de la Concordia, at 112.2 feet tall.
There Is A Vibrant CultureIndigenous culture is visible in Bolivia, and visitors can witness locals in time-honored dress, taste traditional foods and learn about ancient customs. Even in the big cities like La Paz you'll see locals dressed in a traditional pollera skirt and bowler hat. Visitors can sample cuisine that has been influenced by the Andes region — with ingredients like corn, potatoes and quinoa — as well as the arrival of the Spaniards, with staples like rice, chicken and pork.
Cultural festivals, like the indigenous Carnaval in Oruro, Alasitas in La Paz and La Virgen de las Nieves in Italque and Copacabana are still celebrated. You'll also encounter rituals done for Pachamama, or "Mother Earth," who provides life, food and safety for the people. For example, when toasting with a drink, locals will usually pour a bit on the floor in honor of Pachamama. Moreover, you can head to the "Witches' Market" in La Paz and purchase a mummified llama fetus. When locals buy a new home, they offer the item to Pachamama by burying it under the foundation for good luck.
Visible History Still Exists TodayThrough architecture, storytelling, ruins and colonial towns you'll learn much about Bolivia's history. One of the most famous historical cities in Bolivia is Potosi. Founded in 1545, the city held an abundance of silver and was once the wealthiest city in all the Americas. Sadly, Potosi's isn't the happiest of stories, as many indigenous people died in the mines working in unimaginable working conditions, which are still visible today. Exploring Potosi you'll take in colonial architecture, grand churches, industrial monuments, artificial lakes, a complex aqueduct system and patrician houses. This combined with the fact it's such a prime example of a silver mine in modern times has put Potosi on the UNESCO World Heritage Site list.
The Locals Are FriendlyBefore heading to Bolivia, I was warned about dangerous locals who were out to get tourists. This, as usual, was advice given to me by people who had never actually visited the country. In my experience, most of the locals I met were extremely friendly and excited to get to know more about my culture. A bit of Spanish may be necessary for this, as many Bolivians don't speak English. Even so, if you need help most locals will try their best to point you in the right direction.
Of course, watch your belongings and use common sense; however, I traveled through the country as a solo female and made it through without a problem.